Emma NextGen Premium mattress: two-minute review
Announced in April 2023 and released not long after, the Emma NextGen Premium mattress is something of a departure for a sleep brand that's made its name selling memory foam and hybrid mattresses. With three thin layers of foam sitting on top of tall 18cm pocket springs, it appears to have more in common with traditional pocket sprung mattresses than with other hybrid beds that you'd find in our best mattress guide.
The advantage to having such a deep spring layer is that it facilitates airflow and helps the NextGen Premium regulate temperature, and unlike many hybrids it doesn't feature foam side supports around the springs, again helping with airflow but, I discovered, resulting in less edge support than I'd have liked.
Emma rates the NextGen Premium as a 6.5/10 medium firm; having slept on it for the past month, I'd suggest that this is understating its firmness a bit. My previous mattress was a firm pocket sprung mattress with a memory foam top layer, and the NextGen Premium feels only slightly softer than that; I'd rate it more as a 7 or even a 7.5.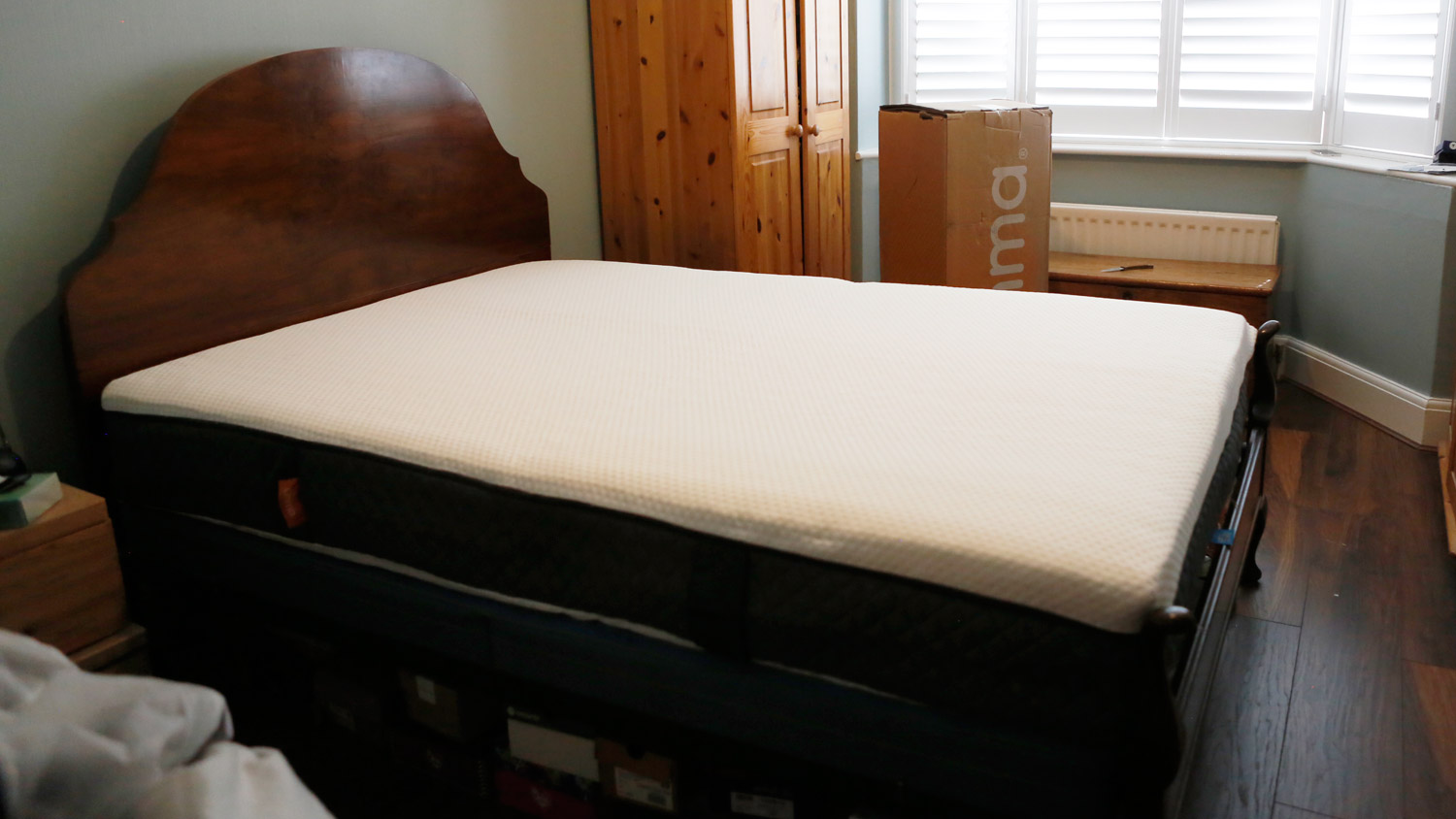 Hybrid and sprung mattresses tend to be a bit more bouncy and responsive than all-foam models, which means that they often don't deliver as well when it comes to motion isolation, and while the top memory foam layer in the NextGen Premium brings with it some sink-in comfort, it's not enough to completely deaden motion transfer. While the motion isolation isn't bad in the NextGen Premium, it's not brilliant; neither I nor my partner were disturbed by each other's movements in the night, there was definitely some small awareness of them. My subsequent tests confirmed that there's a bit of motion transfer going on, but not really enough to be a deal-breaker.
The Emma NextGen Premium comes in at the lower end of the premium price bracket, with a double selling for £959 at RRP. Mattress sales are a constant thing at Emma, but the brand switches up which mattresses are included in its sales on a regular basis; when it's reduced (which it is at the time of writing), the NextGen Premium can be had in a double size for £575.40, which to me feels like a much more realistic price.
I've been sleeping on the Emma NextGen Premium mattress for the past month, along with my partner, and we've found it to be good in terms of comfort, support and motion isolation, excellent when it comes to temperature regulation, and decidedly lacking in edge support. Does this mattress really live up to its NextGen and Premium descriptors? Let's take a closer look.
Emma NextGen Premium mattress review: price
Emma's second most expensive mattress
Double is £959 at RRP but often sells for £575.40
No extras included
Emma's mattress range has been through a bit of a shake-up over the last few months, so I'm never entirely sure what I'm going to find when I visit its site (which, as TechRadar's Sleep Editor, is something I do on a regular basis). Right now the Emma NextGen Premium mattress sits in the middle of the Emma range in terms of price; the Emma Original is the cheapest, with RRPs starting at £311, while at the premium end of the range you'll find the Emma Luxe Cooling mattress from £1,198.
The NextGen Premium is closer in price to the Luxe Cooling mattress than to the Original; here are the RRPs for each size, along with the discounted prices that you'll often pay:
Single: RRP £659 (often sells for £395.40)
Small double: RRP £799 (often sells for £479.40)
Double: RRP £959 (often sells for £575.40)
King: RRP £1,119 (often sells for £671.40)
Super king: RRP £1,249 (often sells for £749.40)
At the time of writing there's a 40% discount available on the Emma NextGen Premium in the Emma mattress sales, and while I feel that at RRP this mattress is overpriced, with the discount it's a much more attractive prospect. If you visit the Emma site and the NextGen Premium's selling at full price, I'd suggest you wait for a bit as it'll definitely be reduced again within a few weeks. And if you can hang on until the next big sales event (which will likely be Black Friday), you may find the NextGen Premium at a deeper discount.
Emma doesn't include any extras such as mattress protectors or bedding with your mattress, however you'll get free delivery and returns, plus a 200-night trial period and 10-year guarantee.
Emma NextGen Premium mattress review: specs
Emma NextGen Premium mattress review: materials and design
25cm deep, five-layer hybrid design
Four layers of foam including Halo memory foam
18cm pocket springs arranged in seven support zones
The Emma NextGen Premium mattress features a five-layer design that seems to have been conceived to keep the amount of foam inside to the bare minimum. Most of the inside of the NextGen Premium is taken up by an 18cm layer of pocket springs of varying gauges, arranged into seven zones in order to provide the right level of support for different parts of your body: head, shoulders, chest, lower back, hips, thighs, and feet.
The deep layer of springs gives this mattress a good amount of bounce and the zoning does the job pretty well; you definitely feel that the bits of you that need extra cushioning are well looked-after.
There are three foam layers on top of the sprung layer. The top layer is Emma's Halo memory foam, designed to mould to your body shape and provide sink-in comfort and pressure relief, and to help keep your spine aligned. Beneath that is a layer of Point Elastic Airgocell foam for breathability and temperature regulation, followed by a heavier support foam that further enhances spinal alignment and reduces pressure points.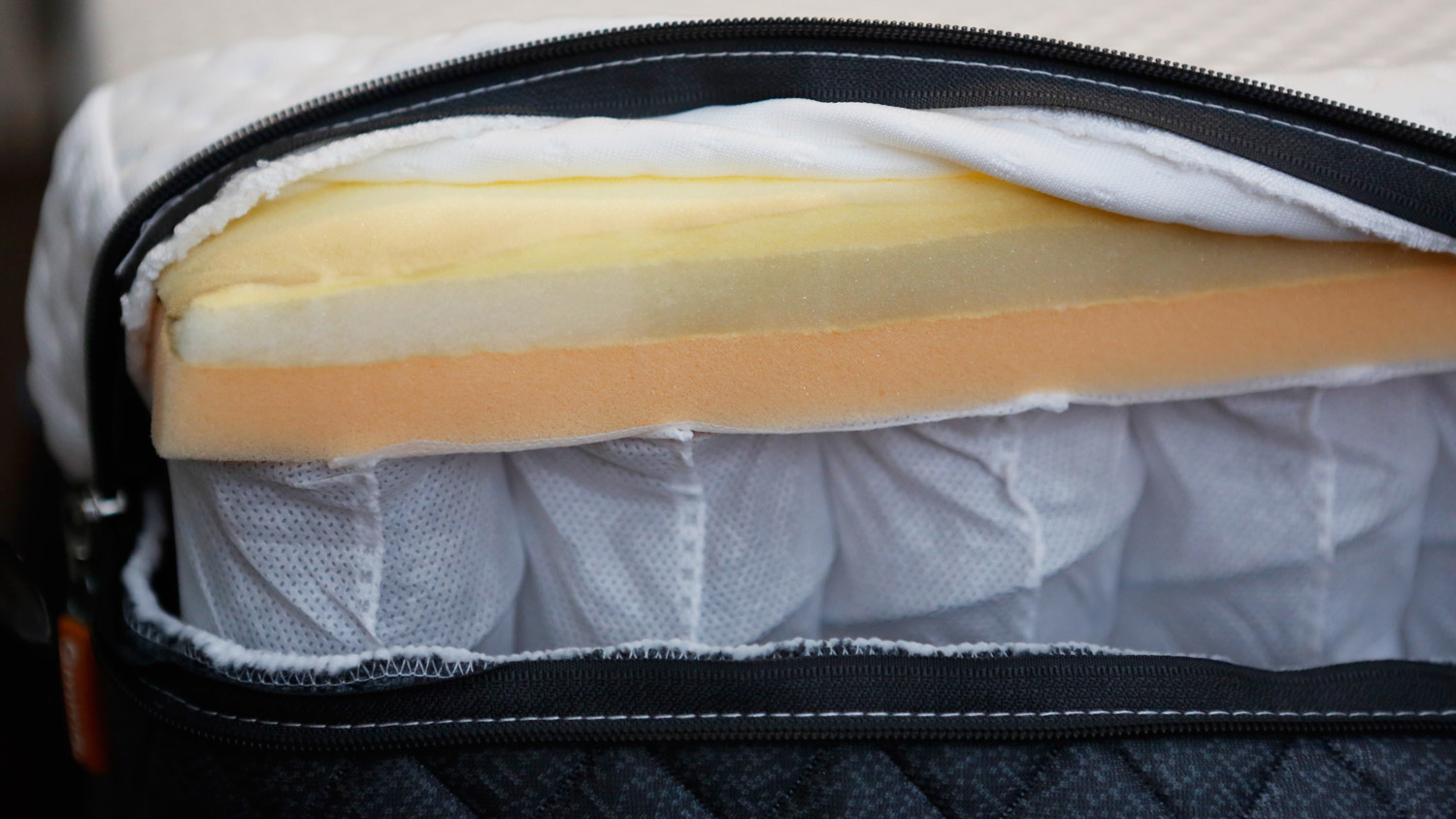 There's a final layer of HRX base foam beneath the springs, and the whole mattress is wrapped up in a breathable, moisture-wicking cover; the top cover can be unzipped and machine-washed if you so wish. The cover also features handles on the side, which are a welcome addition and make the business of rotating the mattress a lot more straightforward.
Emma's making a big deal about the reduced carbon emissions of this mattress, which is largely down to a serious reduction in the amount of foam you'll find, compared to other models. In fact, it kind of feels like an exercise in figuring out how little foam Emma can get away with. The foam layers are a little thin (the top memory foam layer is maybe just over 1cm thick), and there's no foam edging to constrain the sprung layers; those springs run right to the edge of the mattress, which I don't think helps when it comes to edge support (I'll return to that later).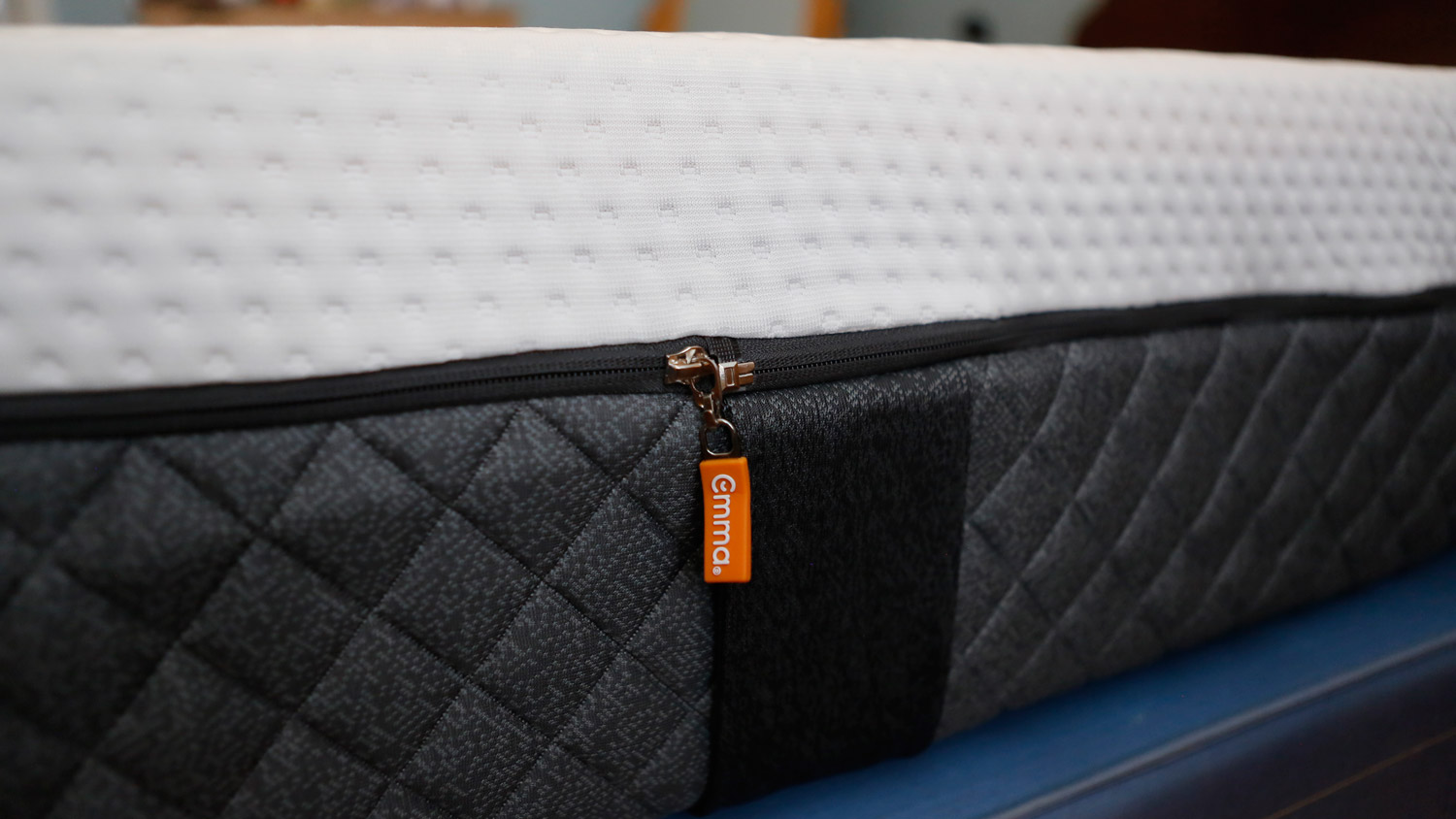 Coming to the Emma NextGen Premium from a traditional tufted mattress that featured a spring layer topped with memory foam for comfort, I was surprised and just a little disappointed by how loose and slightly insubstantial the Emma feels by comparison; particularly the top cover. It's undeniably soft but the material doesn't seem all that tough to me. I'm sure many people value the ability to unzip the top cover and wash it, and I've no doubt that a heavier material would be harder to wash and a lot harder to put back in place afterwards, but personally I'd much prefer a more heavyweight and resilient non-removable cover that does a better job of holding everything together.
Design score: 4 out of 5
Emma NextGen Premium mattress review: comfort
Medium-firm feel that's suitable for all sleep styles
Zoned support keeps everything cushioned and aligned
Memory foam layer provides a little sink-in comfort
The Emma NextGen Premium is rated a 6.5 medium-firm feel by Emma, and both my partner I expected it to feel just a little bit softer than it turned out to be. I'm 6'3" and weigh around 10.5 stone, and while for much of my life I've preferred a firmer mattress, as I get older I find myself appreciative of a little more cushioning for my tired joints. My partner is shorter and more compact, and tends to sink a little deeper into any mattress than I do, but again she's been looking for just a little more sink-in comfort from a mattress.
Both of us have been finding our old mattress just a little too firm of late, and the Emma NextGen Premium seemed like the perfect antidote. It's definitely less firm than our previous mattress, but just a little more softness wouldn't go amiss for either of us. 
For me, when I'm lying on my back on the NextGen Premium I feel like I'm lying on top of it more than sinking in. I am, however, a total combination sleeper who switches between back, stomach and side sleeping throughout the night, and I generally end up sleeping on my side, and fortunately there's just enough sink in the NextGen Premium to cushion my undeniably skinny frame in that position. I've also found that the zoning in the spring layer means that moving slightly up or down the bed can make a big difference in how well cushioned and supported I feel.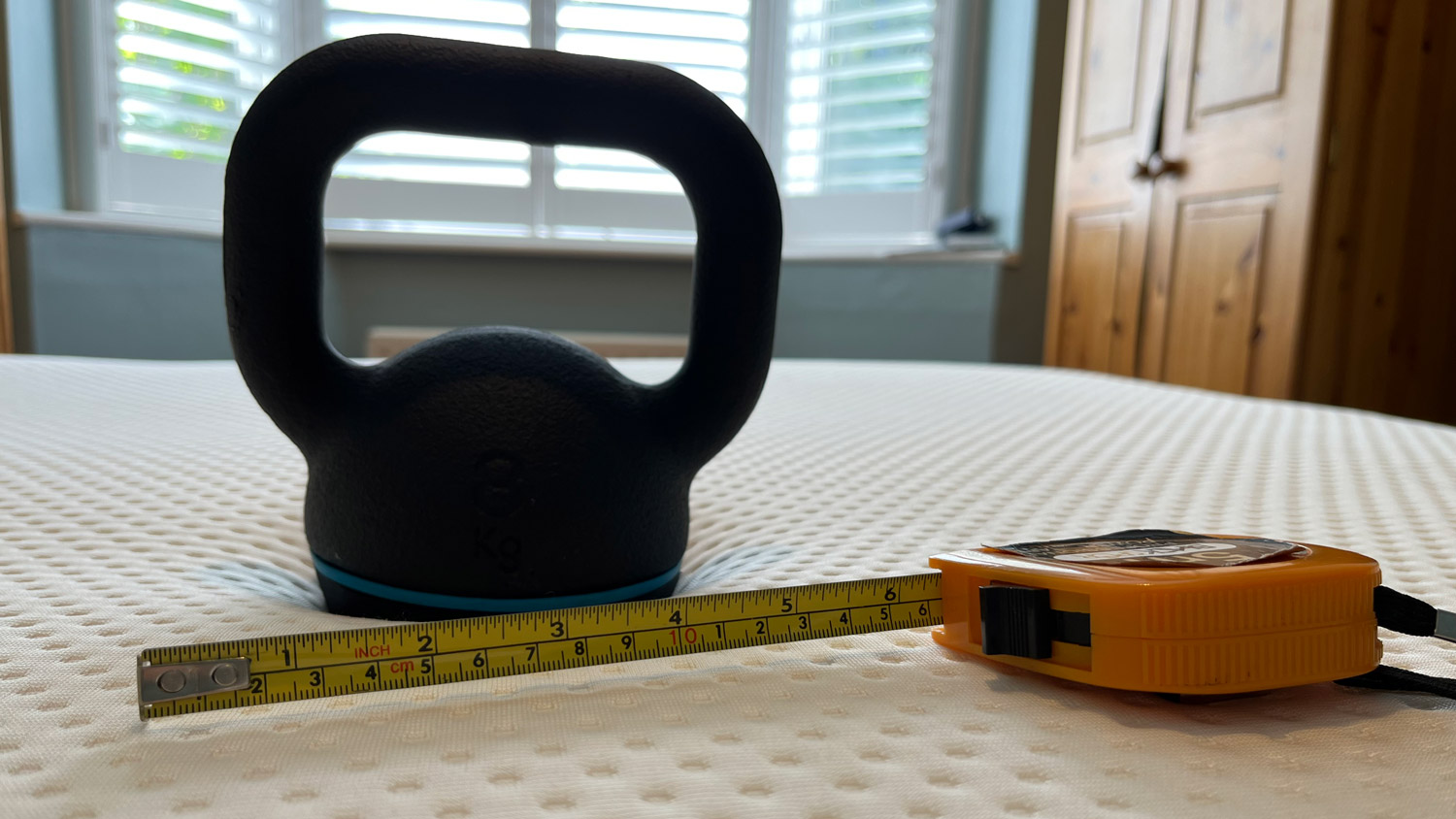 To get a proper scientific measure of the comfort, I placed an 8kg kettlebell on the Emma NextGen Premium to see how far it sank in. In the middle of the mattress the kettlebell sank in by around 5cm, while nearer the edges it sank by about 4cm. This tallies with my estimation of the NextGen Premium's firmness, and I'd suggest that it should suit most sleeping styles.
Comfort score: 4 out of 5
Emma NextGen Premium mattress review: temperature regulation
Temperature-neutral
Deep sprung layer provides plenty of airflow
Didn't get hot even during a heatwave
Because of its spring-heavy construction I wasn't expecting any temperature regulation issues with this mattress. And in this respect the Emma NextGen Premium lived up to my expectations.
It's not specifically a cooling mattress, however it does feel temperature-neutral. In a month of sleeping on it in the UK summer, including a couple of hot weeks when the temperature rarely dipped below 20ºC, the only times I felt myself getting hot in the night was when the ambient temperature simply got too warm; the mattress itself maintained an admirably comfortable temperature.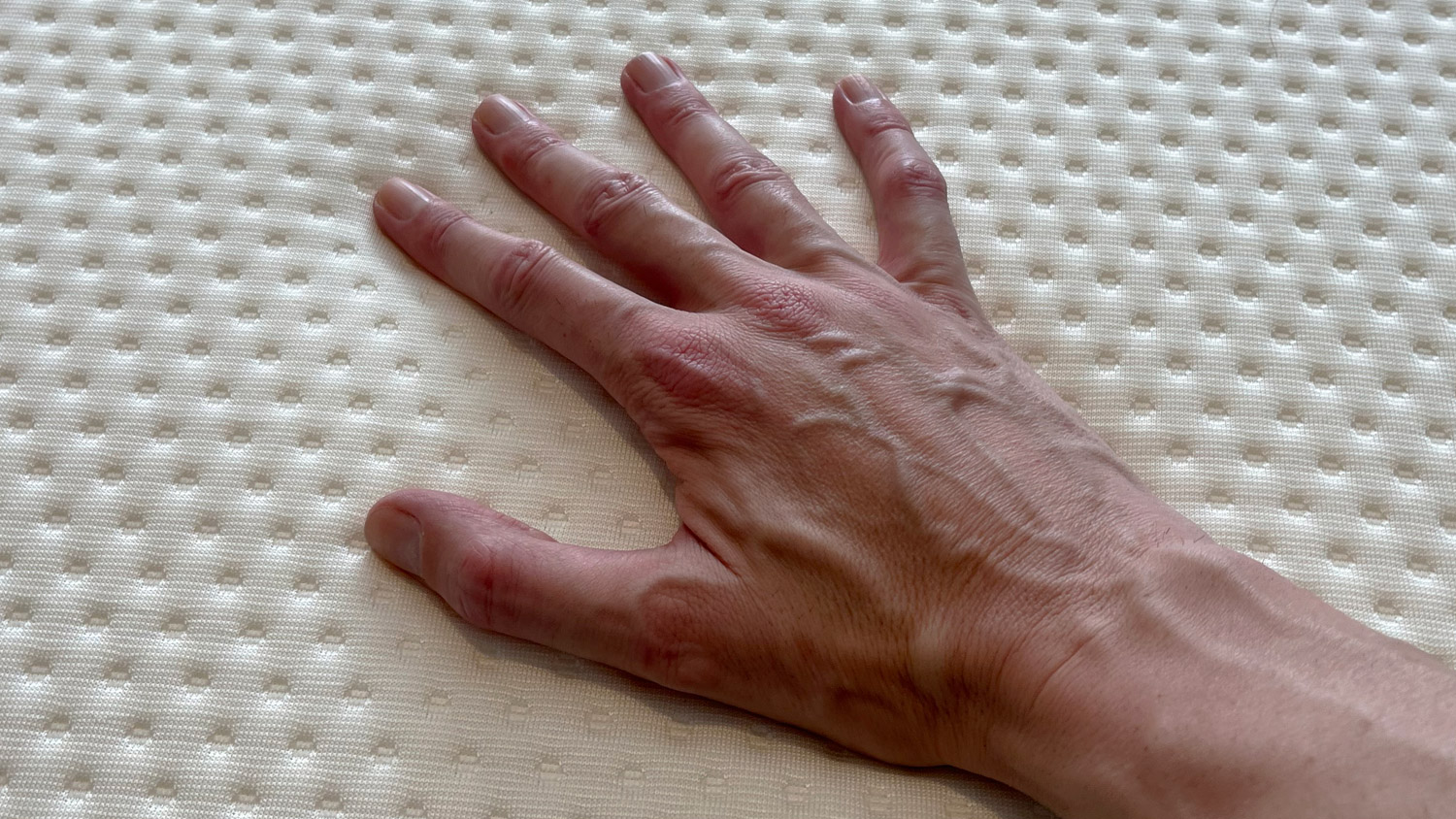 This isn't especially surprising; 18cm of the Emma NextGen Premium's 25cm depth is made up of pocket springs, which means much more airflow through the mattress, and it barely gives the other 7cm of foam any chance to absorb heat. While the breathable cover and Airgocell foam certainly play their part in the NextGen Premium's temperature regulation, it's clearly the pocket springs that are doing most of the heavy lifting, and the fact that they're not encumbered by airflow-restricting side supports doubtless helps (although that's a mixed blessing).
Temperature regulation score: 4.5 out of 5
Emma NextGen Premium mattress review: motion isolation
A little motion transfer, due to the deep spring layer
Foam deadens things slightly, so still a good choice for couples
The springs in the Emma NextGen Premium are about three times as tall as the three top foam layers combined, and consequently I wasn't expecting the greatest motion isolation from this mattress. However, even though it's quite a responsive mattress, the foam does a pretty good job of absorbing the bounce from the pocket springs.
As a result, while there's still a bit of motion transfer going on, it's not really enough to cause a disturbance; you're aware of a partner moving about while you're lying awake in bed, but it's not something that would actually wake you up.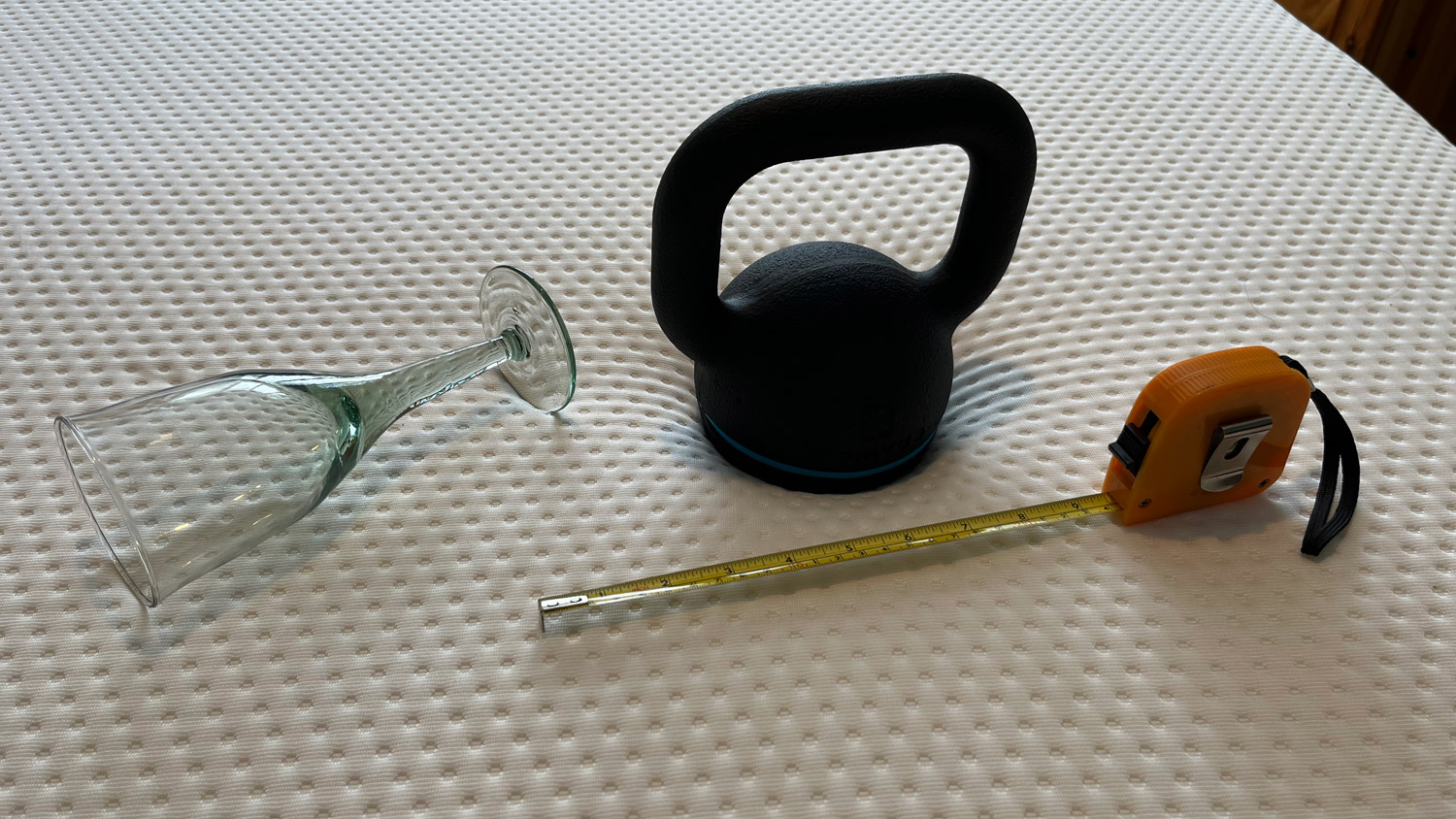 To put numbers on it, I fetched a wine glass and stood it in the centre of the mattress, then dropped my 8kg kettlebell onto the mattress at distances of 25, 10 and 4 inches from the wine glass. At 25 inches the wine glass barely moved; at 10 inches it wobbled noticeably, and at 4 inches it pitched straight over. That's not the best motion isolation we've seen in our mattress tests, but it's far from the worst.
Motion isolation score: 4 out of 5
Emma NextGen Premium mattress review: edge support
Not the best edge support, especially on the long edges
No real danger of rolling off in the night, though
By far the weakest element in the makeup of the Emma NextGen Premium is its edge support; indeed it was one of the first things I noticed when I got onto it for the first time. This isn't a mattress that you can perch right on the edge of; rather you need to sit a bit back from the edge in order to feel comfortably supported. The edge support isn't so bad that either my partner or I have felt in danger of rolling off the edge in the night, but it's less than we'd prefer in an ideal world.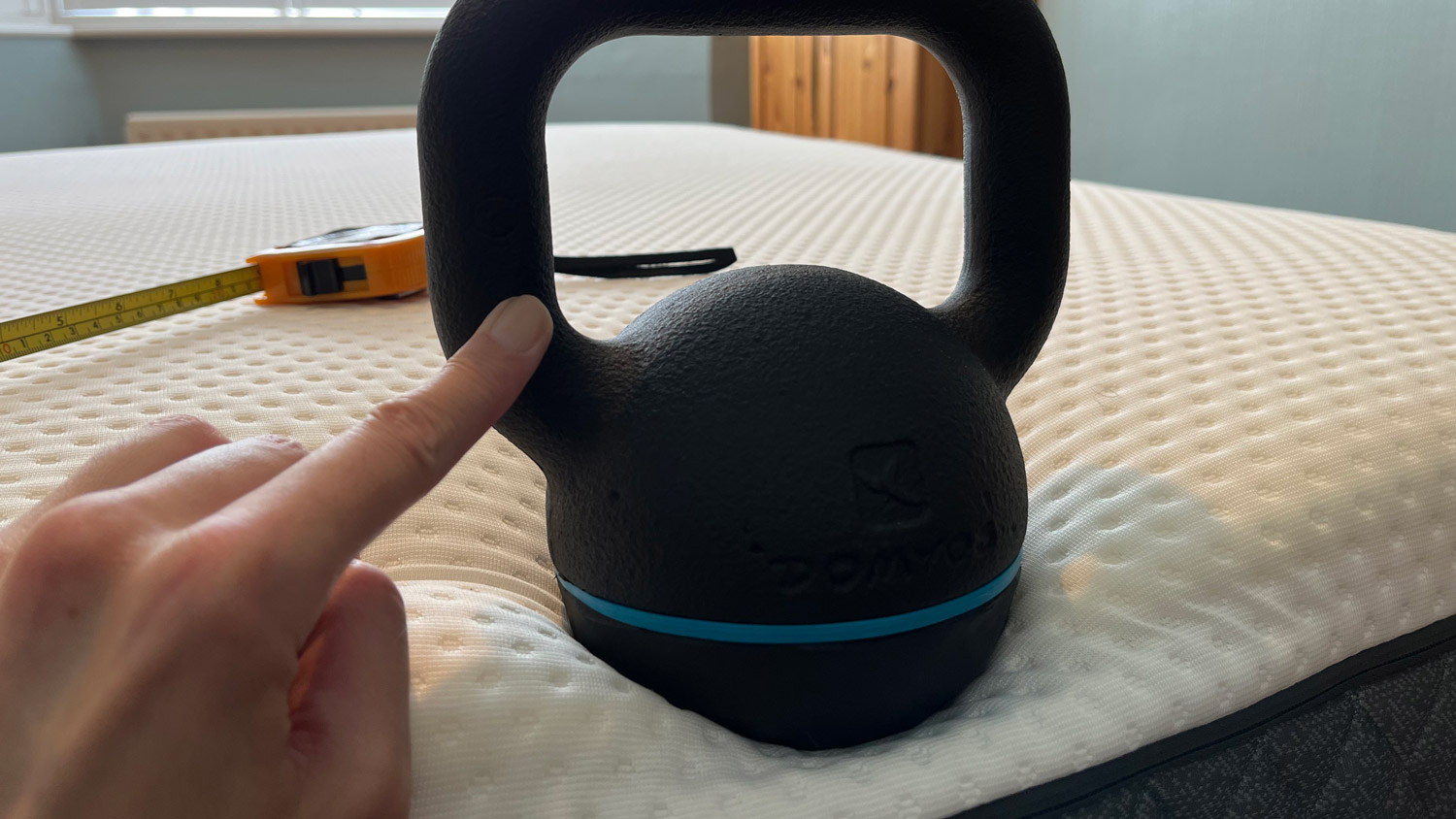 Testing the edge support with the 8kg kettlebell resulted in the kettlebell sinking about 8cm on the long edge of the mattress and at the corners, and about 6.5 cm on the short edge. You'll also notice in the accompanying photo that I'm holding the kettlebell steady with my fingertip; that's to stop it from rolling off.
Edge support score: 3.5 out of 5
Emma NextGen Premium mattress review: setup
Mattress arrived vacuum-packed, folded and rolled in a box
Free delivery to your door
Slight off-gassing smell
Emma provides free delivery to your front door, and for an extra £45 it'll also collect your old mattress on the same day and take it away for recycling. If you're worried about the prospect of having to haul a heavy mattress to your bedroom, don't be. I was honestly surprised by the size of the box that was deposited on my doorstep as it seemed far too small to contain a double mattress, but that made it a lot easier to manoeuvre into my bedroom.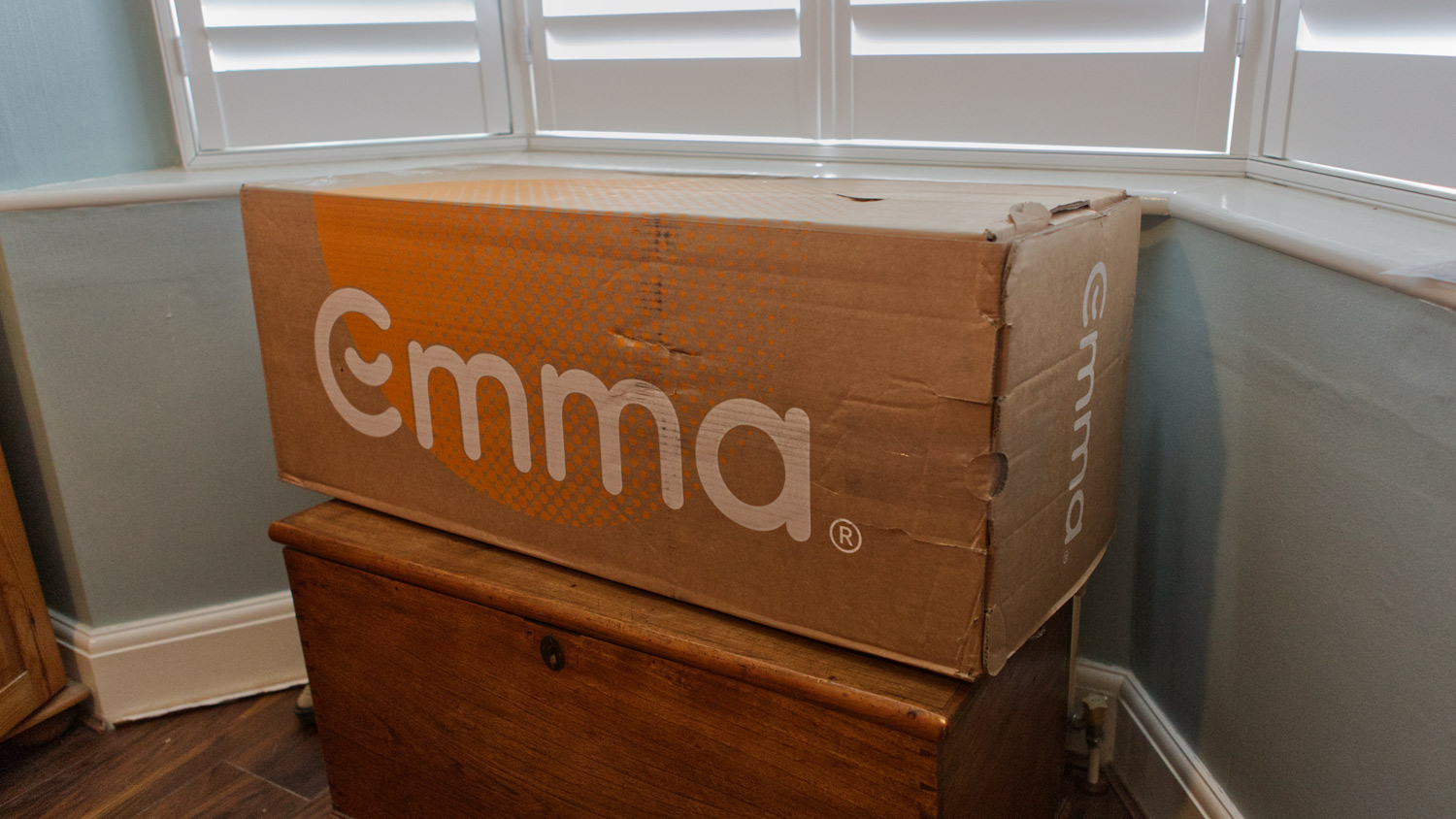 Having checked the measurements and confirmed that I'd been sent the right mattress, I found the business of setting the Emma NextGen Premium up to be plain sailing pretty much all of the way. The box was easy to open and featured a QR code that promised to take me to an easy setup guide; sadly it actually took me to a dead link on Emma's US site, but ultimately I really didn't need it.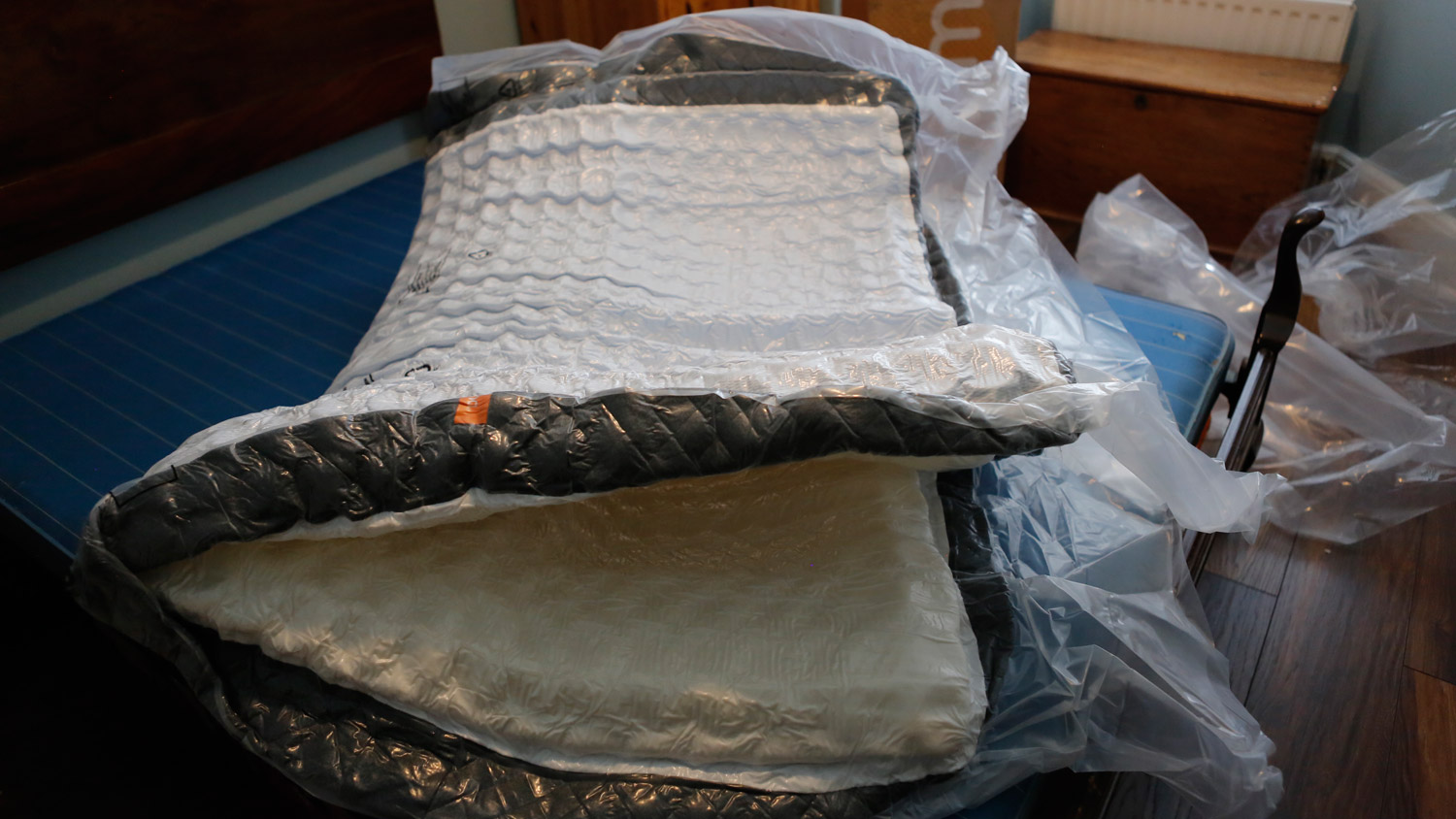 It was easy to get the rolled (and, I then discovered, folded, which accounted for the box's size) mattress onto my bed and remove the outer plastic wrap. Emma doesn't provide a cutting tool to open up the vacuum packing, but it wasn't hard to find something suitably sharp, and after making one small cut in the plastic an ominous hissing told me that we were in business.
The Emma NextGen Premium decompressed to full size a lot faster than I'd anticipated; it seemed like it inflated within a few seconds (again, this is an area in which the large springs-to-foam ratio really helped). Certainly, within a few minutes it looked ready to sleep on, and while Emma states that it's good to go as soon as it's decompressed, I gave it a good few hours to settle down before putting a mattress protector and bedclothes on it. 
It might have been structurally ready to sleep on, but despite the low volume of foam there was a distinct off-gassing smell that I wanted to give time to dissipate; not overpowering but quite definitely there, and it took a good few days for it to fade completely.
Setup score: 4.5 out of 5
Emma NextGen Premium mattress review: customer reviews
New product so barely any reviews online
Average 3.8/5 Trustpilot score based on over 36,000 reviews
It's near-impossible to find customer reviews of the Emma NextGen Premium mattress online. It's only been on sale for a couple of months, which means that any reviews at all are hard to find. There are none on Emma's own site; in fact the closest you'll find to reviews on the Emma site are some customer quotes without much in the way of context, so they're no help at all.
The NextGen Premium mattress is only sold through Emma, so there's no way of getting customer reviews from the likes of Amazon. That means we have to fall back on TrustPilot, and it's not a pretty sight. Emma's Trustpilot rating has been creeping downwards over the past few months due to an influx of 1-star reviews over slow delivery and lack of communication from customer services; I contacted Emma about this a couple of months ago and was informed that this was due to a technical error with its warehouse systems, and that it had been resolved.
However I'm still seeing a number of fresh 1- and 2-star reviews, mostly regarding slow delivery and lack of communication, and Emma's overall Trustpilot score is now 3.8 (for comparison it was 4.0 when we reviewed the Emma Premium back in January). And while none of this really says anything about customer experiences with the Emma NextGen Premium, it's something you may want to keep in mind if you're thinking about ordering.
Should you buy the Emma NextGen Premium mattress?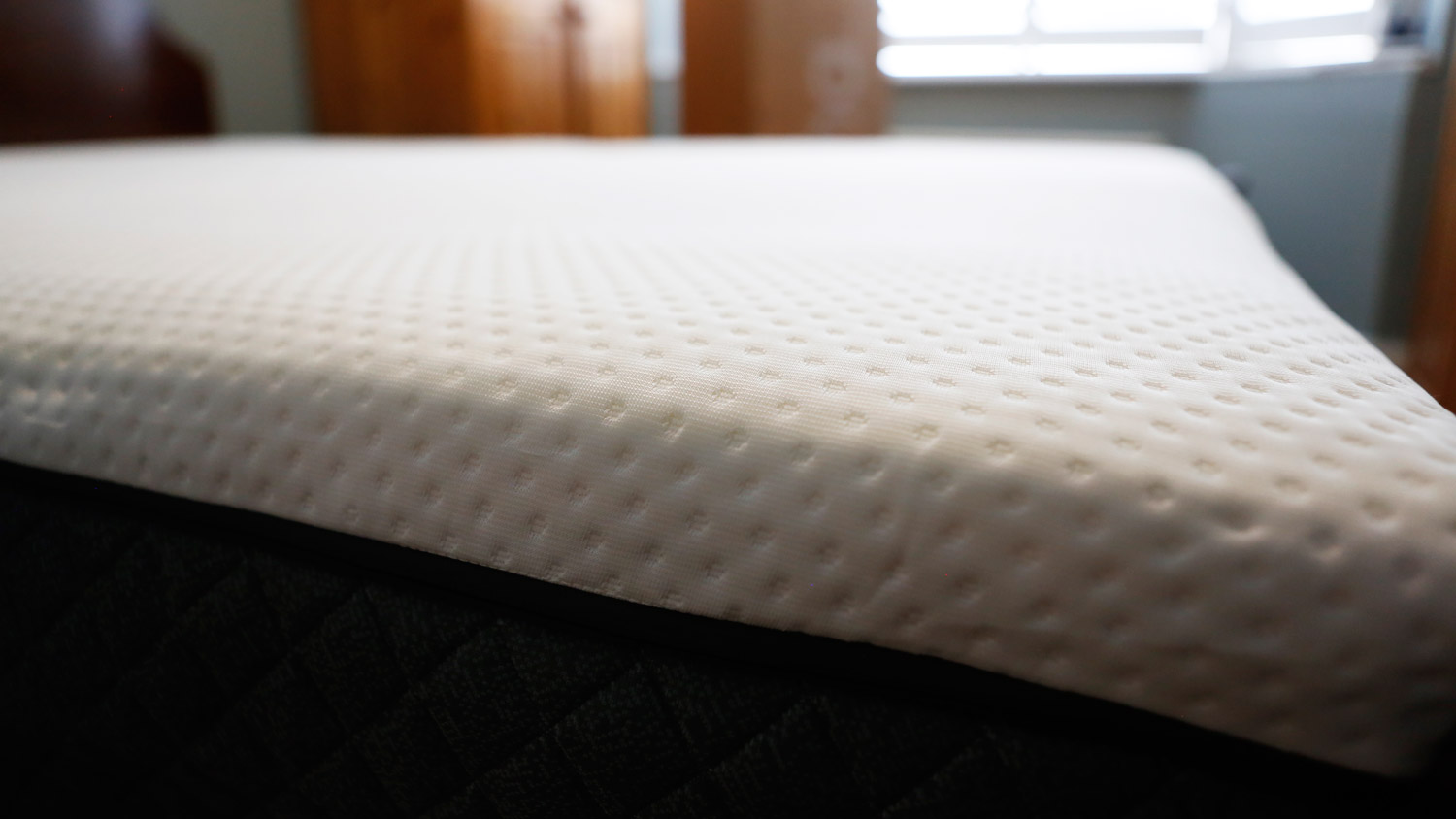 The Emma NextGen Premium, all told, is quite a comfortable mattress, and it's one that I've slept well on over the past month. Both my partner and I agree that we'd prefer it if it were just that little bit softer, but in general it's good for back, front and side sleeping (although lighter side sleepers than me might find it a little too firm for comfort).
I like the NextGen Premium's simplicity; this is not a complex mattress and I wouldn't really describe it as next-gen, more old-school. It's essentially a deep layer of pocket springs held in check by a foam section, and it works. Because the top cover's removable and washable it feels just a little flimsy; I think the whole mattress would feel a lot more solid if it was stitched closed.
Although the NextGen Premium has a premium RRP, it feels more mid-range to me and I'd be disappointed if I bought it at full price. Reduced by 40% in the Emma sale though, which it often is, it feels like much better value. At that price, however, there's some strong competition about, so unless you've absolutely decided that this is the mattress for you, it'd pay to shop around.
Emma NextGen Premium mattress review: Also consider
How I tested the Emma NextGen Premium
I've been sleeping on the Emma NextGen Premium, along with my partner, for over a month in mid-summer. Night-time temperatures have varied between well below and well above the seasonal average during this time, so I've been able to get a good all-round impression of the mattress's performance. I've been using the mattress with a mattress protector and Egyptian cotton sheets, and with a year-round 10.5 tog duvet.
As well as sleeping on the Emma NextGen Premium in all the popular positions, I've also subjected it to TechRadar's standard mattress tests to get a measure of its comfort, motion isolation and edge support.