Xencelabs Pen Display 24: One-minute review
Xencelabs' first pen display drawing tablet has landed with a bang, and after years of Wacom dominating the sketching scene, this is without a doubt one the best drawing tablets you can buy right now. 
By no means is this the first company to come for Wacom's crown, but since Xencelabs launched its first product, the Pen Tablet Medium, back in 2021, it's certainly been fronting the race to dethrone Wacom's professional-grade products. Now, with the arrival of the Xencelabs Pen Display 24, it looks like it may have achieved just that.
Measuring 61.98 x 38.86 x 3.56cm / 24.4 x 15.3 x 1.4 inches, Xencelabs' flagship pen display is a beautiful slate. Its etched IPS panel display grants a maximum resolution of 3,840 x 2,160 (4K UHD) with a 60Hz refresh rate and maximum brightness of 330nits. It can produce 1.07 billion colors, including 99% AdobeRGB, and 93% of DCI-P3. When paired with one of the best laptops for graphic design, it's a force to be reckoned with.
If spec talk doesn't woo you, perhaps the sheer attention to detail, design, and user experience will; because Xencelabs has thought of pretty much everything when producing the Pen Display 24. From its robust and flexible built-in stand to its host of excellent features and accessories, Xencelabs has left no stone unturned when building the ultimate Wacom-beating pen display.
In fact, when I was trying to think of any downsides, I ended up noting that certain "nice-to-have" features were missing – because, in all honesty, there isn't much, if anything, negative that I can say about this device. It offers brilliant value for money, a delightful drawing experience, and it looks good while doing it.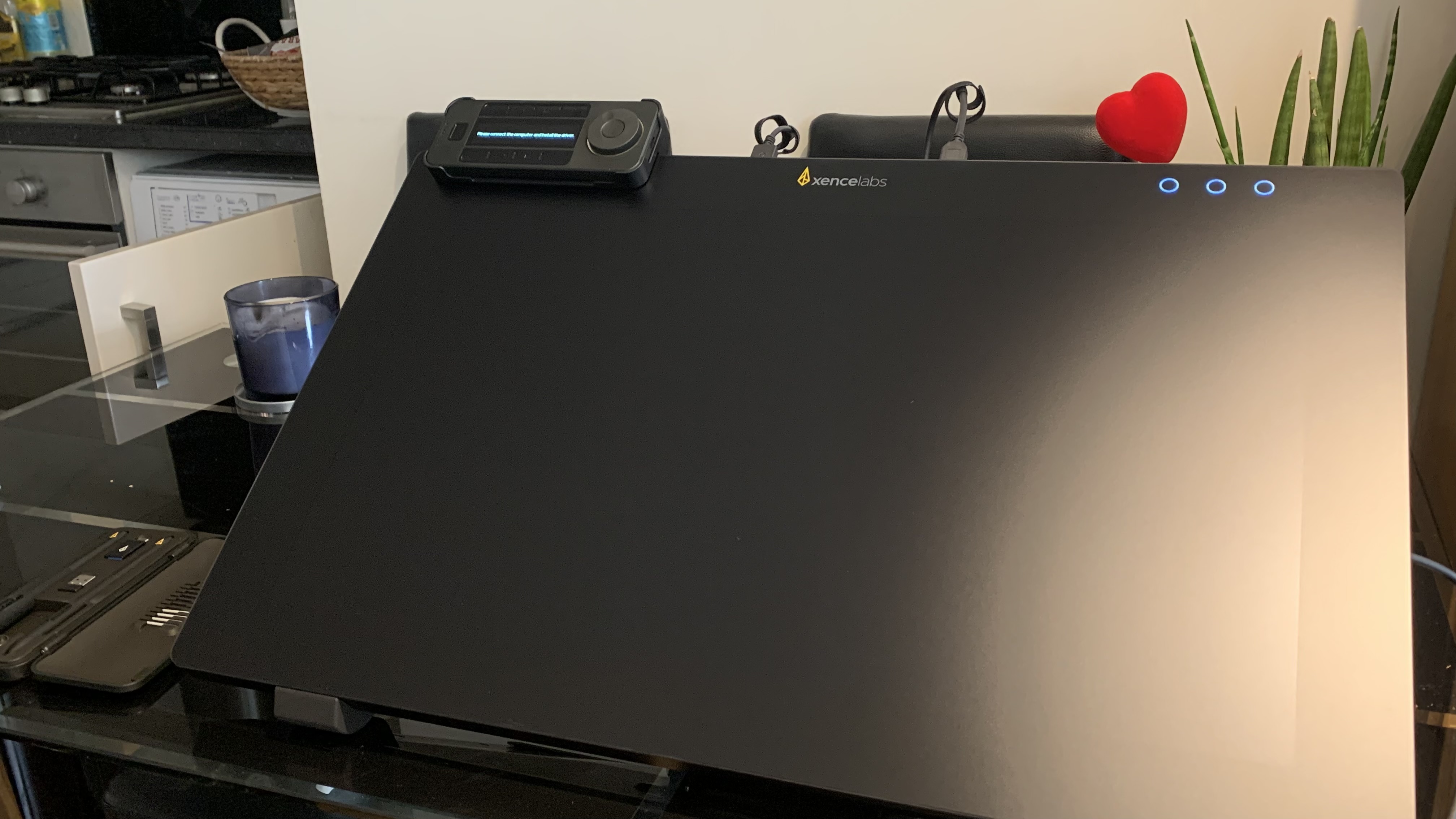 Xencelabs Pen Display 24: Price and availability
List price: $1,899 / £1,850 / AU$3,299
The Xencelabs Pen Display 24 isn't cheap at $1,899 / £1,850 / AU$3,299, but it still comes in at a lower price next to Wacom's alternatives. These include the slightly larger touchscreen Wacom Cintiq Pro 27 ($3,499 / £3,499 / AU$5,499) and the standard Wacom Cintiq Pro 24 ($2,199.95 / £1,999 / AU$3,679), which comes with fewer accessories and adjustment options. 
The Pen Display 24's many included accessories and high specs make it an absolute steal at its list price. It comes with the Xencelabs Quick Keys remote and its holder, a pen case (housing the 3 Button Pen V2, the Thin Pen V2, a dongle for the Quick Keys, as well as six extra standard nibs and four felt nibs), a drawing glove, a selection of cables and a cleaning cloth.
Considering how similar its specs are to Wacom, this is an excellent selection of accessories, and alongside the well-thought-out design and fantastic performance, this is one of the best-value propositions available now for those looking for a professional-grade drawing tablet; but it still isn't cheap.
Xencelabs Pen Display 24: Specs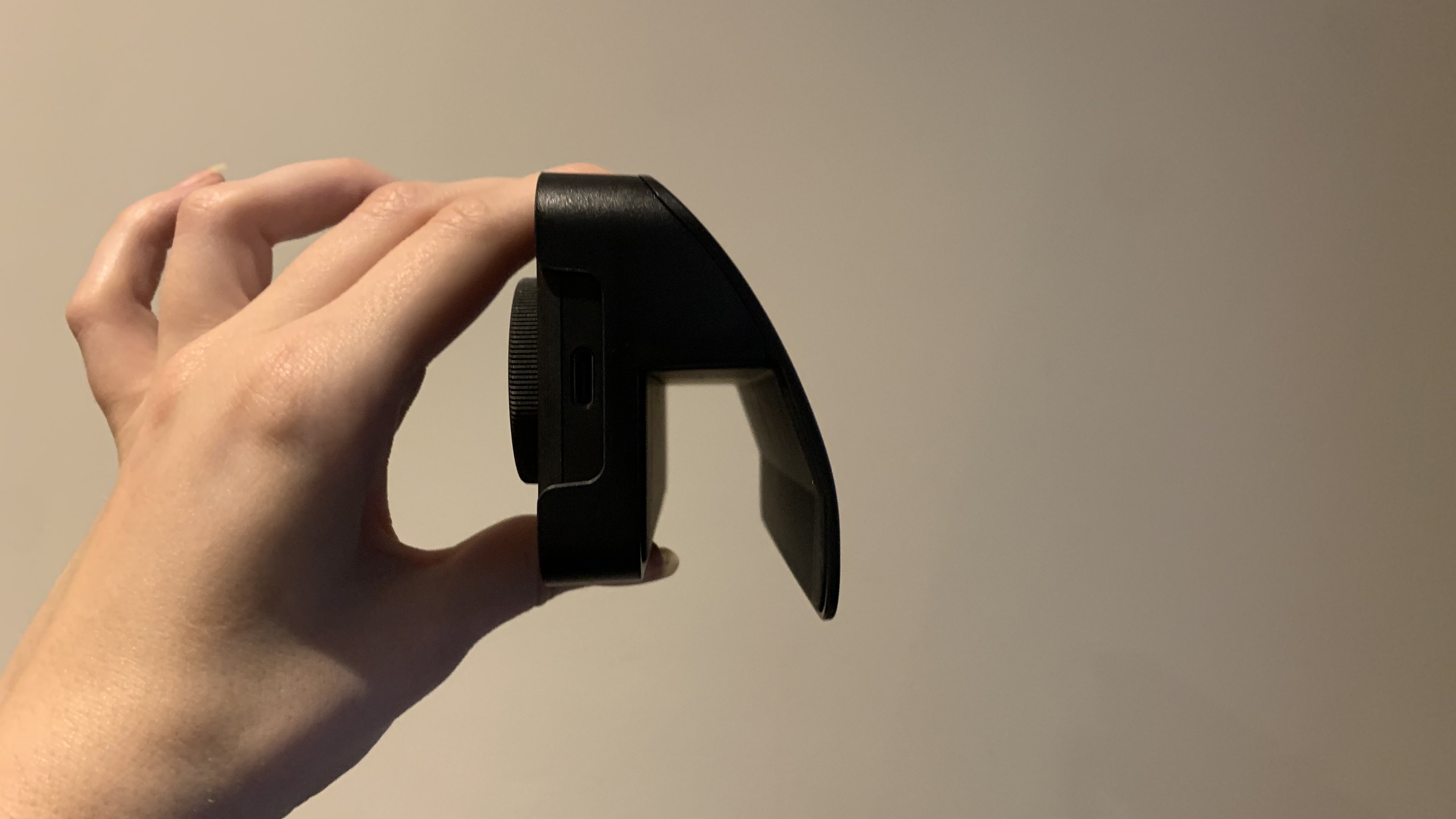 Xencelabs Pen Display 24: Design
Flexible and robust built-in stand
Matte-finish, anti-glare embedded and etched IPS panel
Excellent build quality and design features
With its sophisticated design and array of clever features, the Xencelabs Pen Display 24 is a thing of beauty. It's simple on the surface, but enriched with complexity in desirable features such as the integrated touch controls and the versatile stand.
Measuring 61.98 x 38.86 x 3.56cm / 24.4 x 15.3 x 1.4 inches and weighing 6kg / 13.3oz, it certainly isn't a portable screen; but this tablet is designed to be a central part of a workstation, not carried up and down the country. The build materials are robust and feel premium, from the fan-less metal rear that offers a peaceful creative environment, to the neatly packaged Quick Keys remote and pen case.
An active drawing area of 20.75 x 11.7-inches  / 52.71 x 29.72cm provides plenty of real estate on which to view your work on the embedded etched IPS panel. Surrounding the screen is a 1.6-inch / 4.5cm bezel, giving ample space for your hand to rest while drawing. Integrated in the top-right corner of this bezel are three programmable touch keys that illuminate and reveal themselves when the device is turned on. Note that these aren't tactile, which is a slight shame, but they at least look attractive. It would have been nice to see this space leveraged even further with different touch controls, maybe even for less-seen features such as sliders.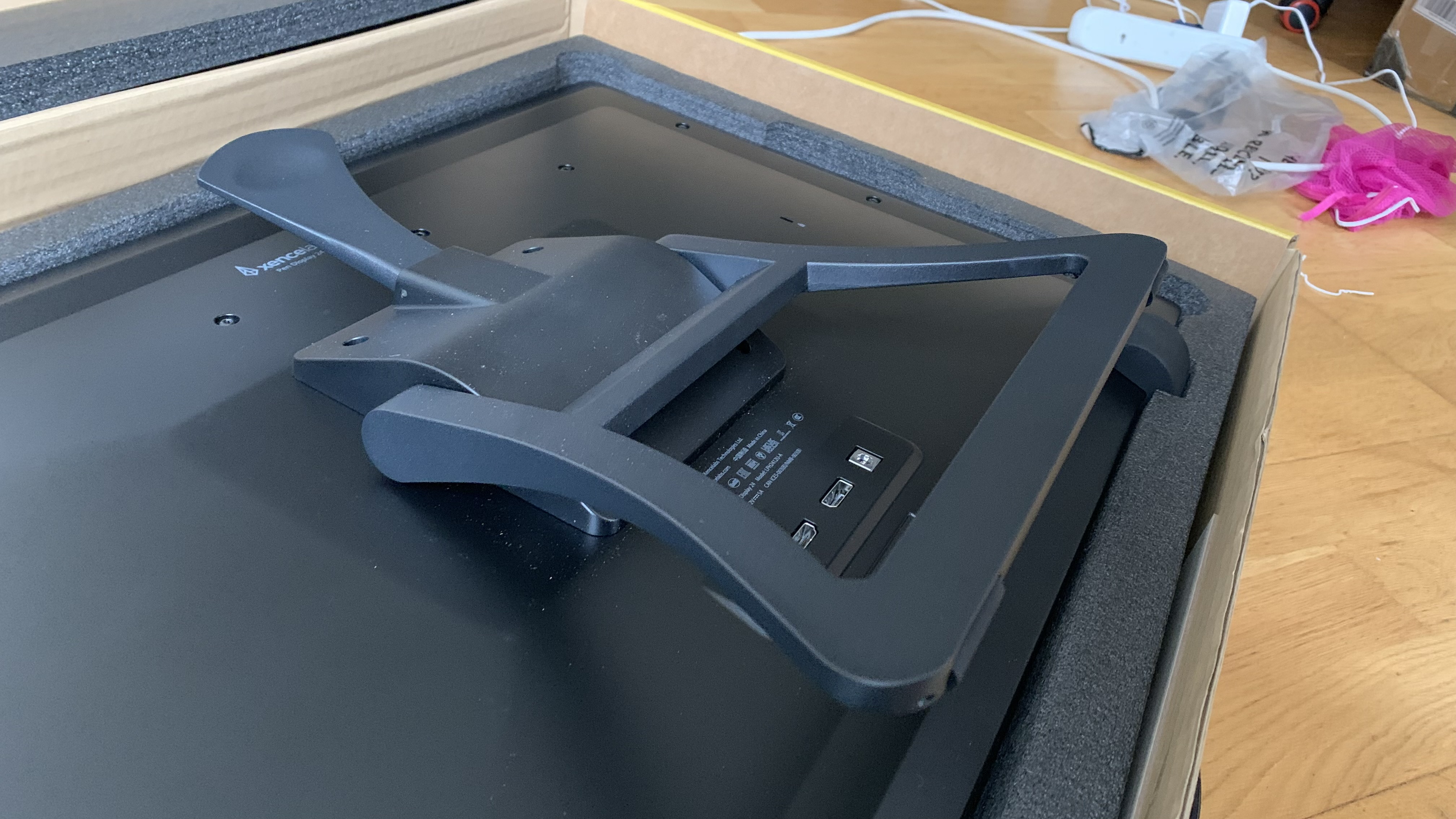 On the rear of the tablet you'll find the built-in stand, which offers 16-72 degrees tilt and also doubles as a handle to easily move the slate around your workspace. The Pen Display 24 is also VESA mount-ready; simply remove the stand and you're all set. Beneath the stand/mounting surface are the main ports: a USB-C port, one HDMI and one DisplayPort alongside the power input. On the top edge of the device are two USB-A ports, and the power button.  
Two rubber feet on the underside of the screen provide resistance to keep the tablet in place, and around each of the other three edges of the screen are two slots that can house the two included stylus holders and Quick Key holder.
Speaking of these accessories, the black Xencelabs Quick Key Remote features an OLED screen showing the currently active shortcuts, surrounded by nine buttons and a wheel dial, all of which can be customized. It also comes with a holder that rests on the edge of the tablet, which the remote easily snaps into for quick access while you're working.
The stylus case is lightweight and neatly packaged, with space for the two included styluses, 10 replacement nibs, the Quick Key Remote dongle, and a nib remover. Overall, this is a beautifully and simply designed piece of equipment that will both elevate your workstation and deliver some fantastic value-adding features to improve your experience of drawing on the Xencelabs Pen Display 24.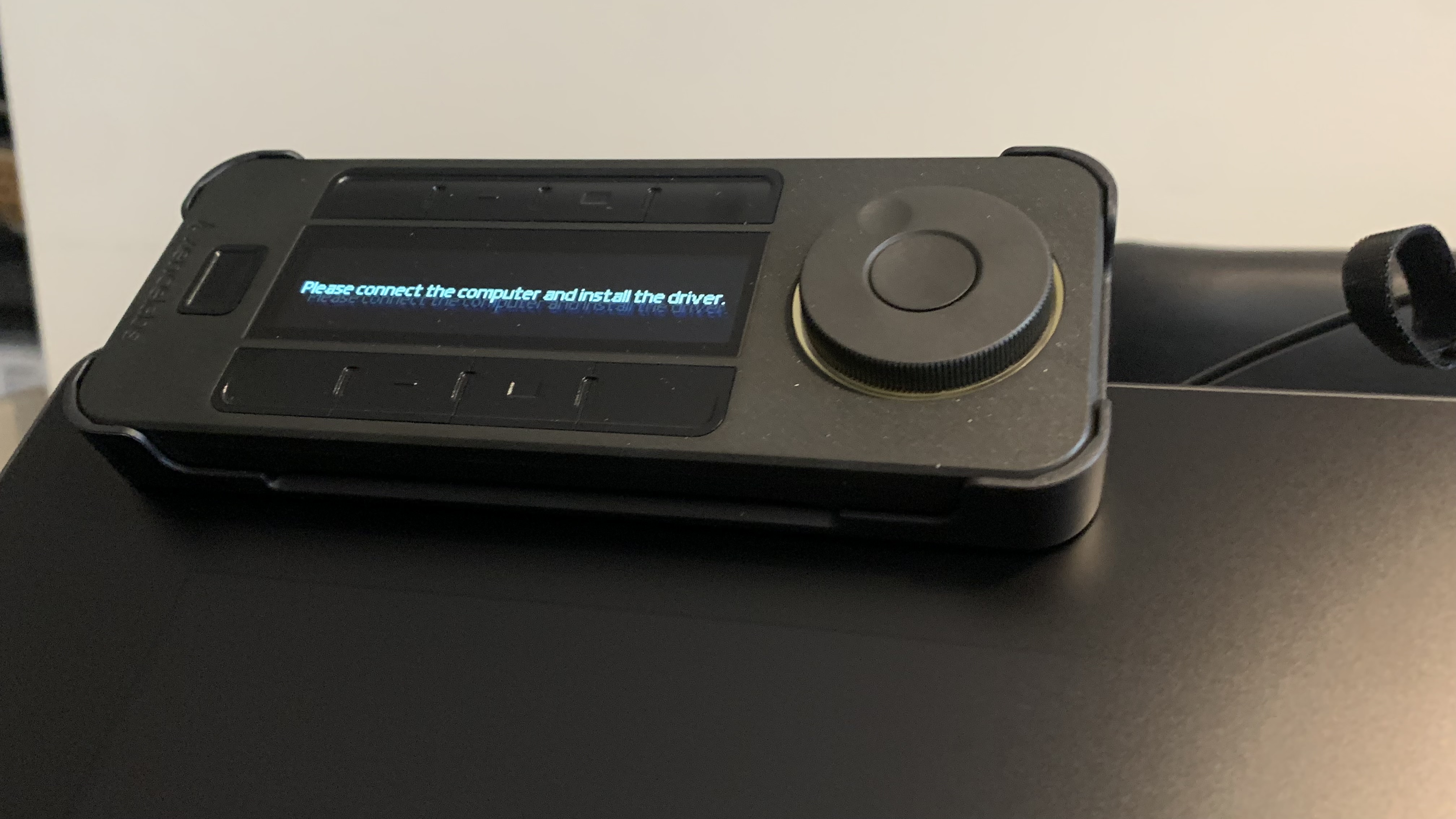 XPPen Artist Pro 14 (Gen 2): Performance
Incredibly accurate 
Wonderful drawing surface
Bright and reactive screen
I mostly use pen display tablets for drawing and photo editing on Creative Cloud software or free drawing software, and over the three weeks I spent testing the Xencelabs Pen Display 24, I was actually more productive than usual.
For starters, the display is wonderful – and for me, personally, delivers the perfect blend of size and quality. The etched IPS panel offers a maximum resolution of 3,840 x 2,160 (4K UHD) with a 60Hz refresh rate and a maximum brightness of 330 nits, making it one of the most bright and beautiful screens I've ever had the pleasure of drawing on. It covers 1.07 billion colors, including 99% AdobeRGB, and 93% of the DCI-P3 color space, and its matte-finish, anti-glare glass covering is both smudge- and mark-resistant, meaning you'll scarcely need to worry about light or grub-related distractions. 
Set up is nice and simple; the device comes with a plethora of cables, plus the drivers are super easy to install and use, resulting in a wonderfully clean UI and plenty of excellent features to enrich your creative process. There's also a virtual tablet / switch display mode, which by default can be triggered using the customizable built-in touch controls. This allows you to easily navigate between different displays and move around your windows; super useful, if you're running a multi-display or multi-tablet setup. 
Onto the drawing experience itself; drawing with the Xencelabs Pen Display 24 was so enjoyable that I almost didn't want to complete the tests. The screen offers a fantastic level of resistance, and is incredibly responsive to even the softest of strokes. Accuracy is spectacular, with no noticeable line jitter or lag, and no parallax. 
Thanks to the Quick Keys Remote, it's easy to speed up your workflow. It can store up to five profiles, each offering 10 different shortcuts, meaning you can profile and flick through up to 50 shortcuts with ease. I'm not so proficient a digital artist to fully make use of this, but I found the three profiles I did customize incredibly useful.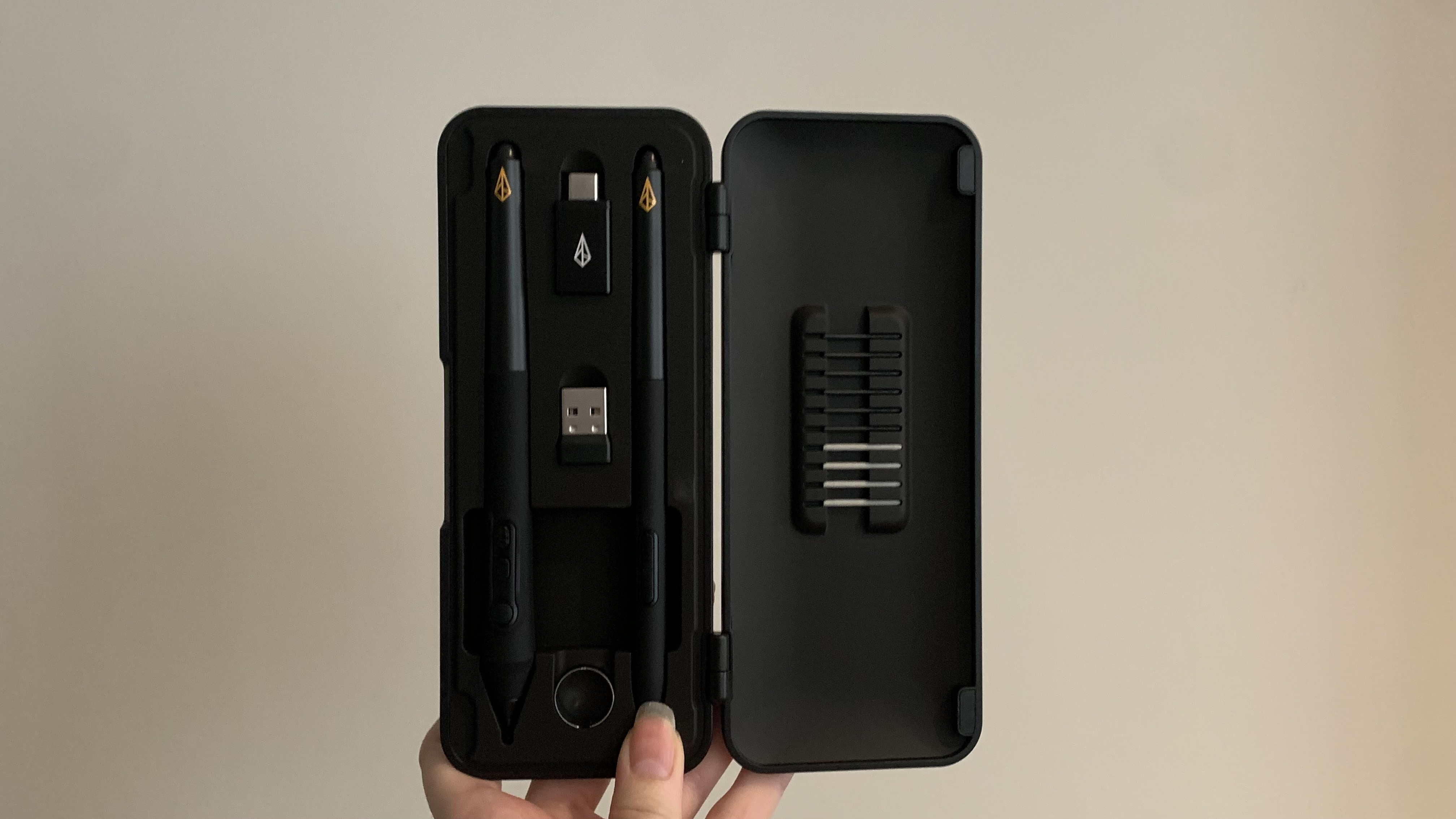 XPPen Artist Pro 14 (Gen 2): Stylus
2 x 8,192 pressure level styluses
Eraser tip
Comfortable to hold
The Xencelabs Pen Display 24 comes with not one, but two styluses. A thin one that's similar to the Apple Pencil 2, and another, in the thick form factor most commonly used with drawing tablets. Not only do you get a choice in terms of what's more comfortable, but you can opt for the stylus that more closely resembles the drawing experience from your chosen digital medium; I found it far more natural to work with paint-like textures when using the narrower pen. 
Both styluses are comfortable to hold, with the bottom half of each coated in a rubbery grip and nice, tactile shortcut keys. As is the case with most styluses, the requirement of a slightly more firm press would be welcome. This is especially true of the slimmer stylus, which is easy to knock while working. The slimmer stylus features two buttons, while the thicker unit has three. 
Both styluses are battery-free and offer 8,192 pressure levels, and both include an eraser at the tip – which works reliably and comes to a nice point for more accurate erasing. 
Should I buy the Xencelabs Pen Display 24?
Buy it if...
Don't buy it if...
Xencelabs Pen Display 24: Report card
Also consider...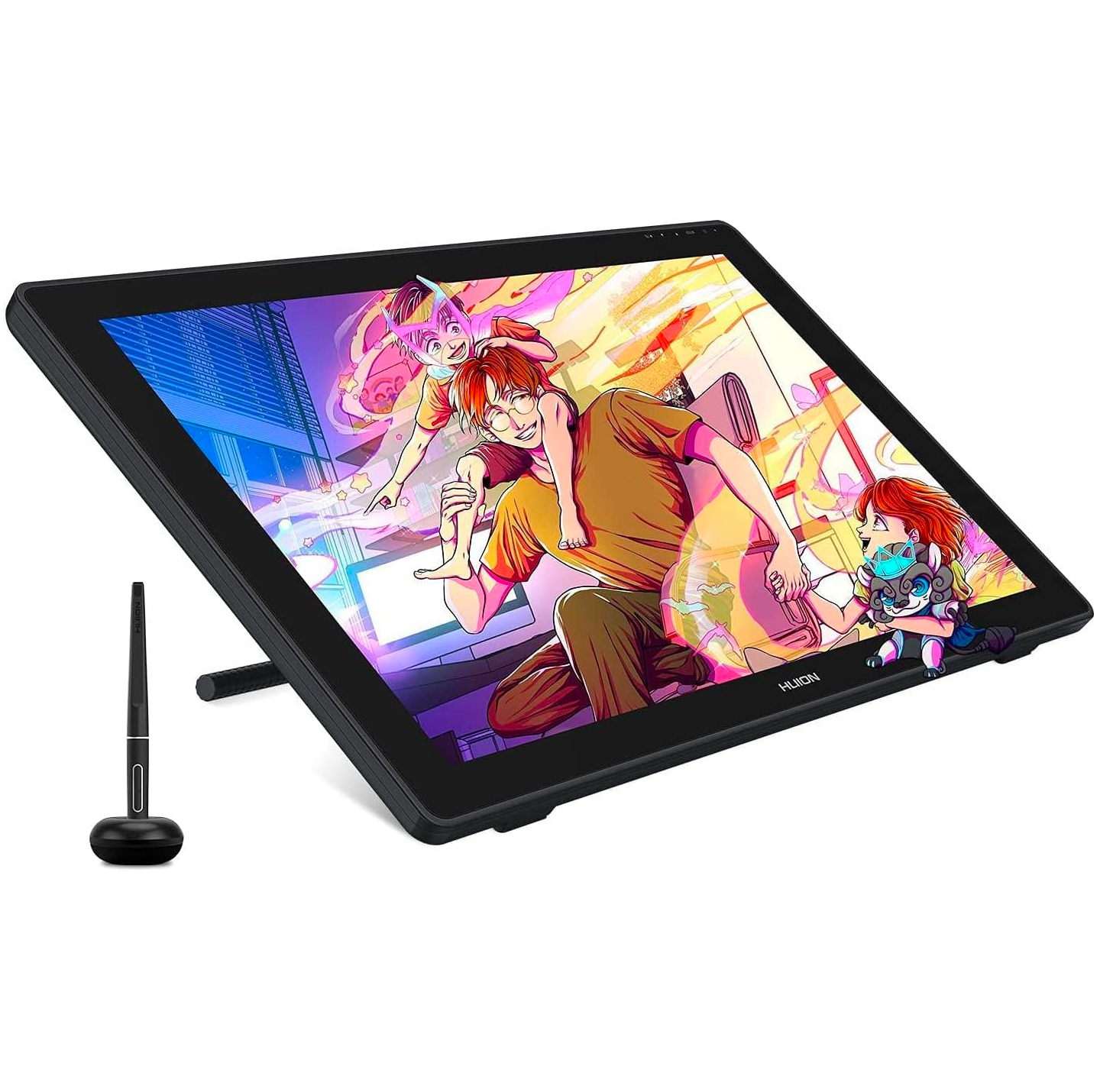 Huion Kamvas Pro 24(4K)
While Huion isn't quite as professional-grade with its specs and design, this behemoth slate is a more affordable option if you're not quite ready to justify splashing out on the Xencelabs Pen Display 24.
For more information, check out our full Huion Kamvas Pro 24(4K) review.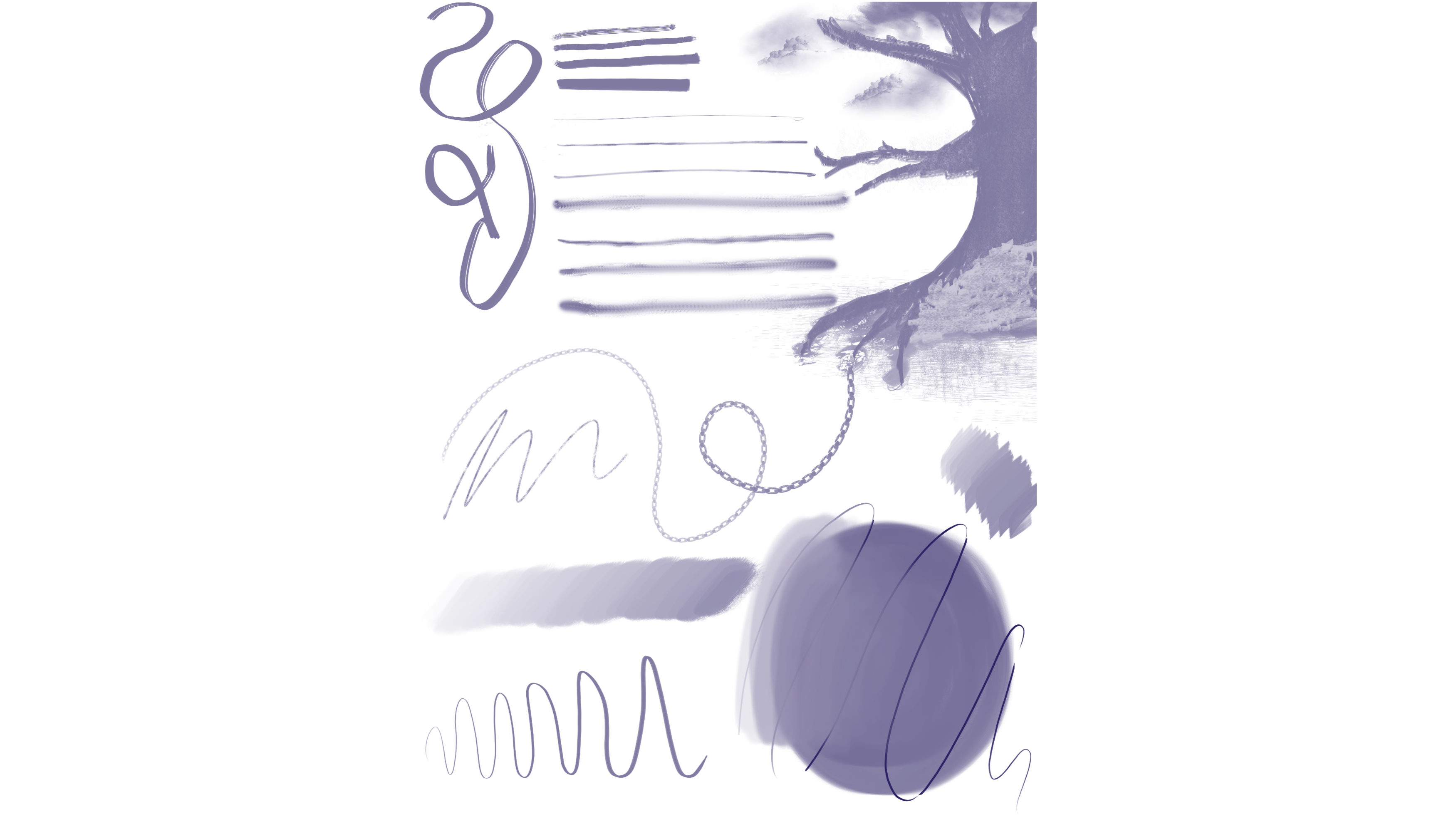 How I tested the Xencelabs Pen Display 24
I used the Xencelabs Pen Display 24 for three weeks
I used it for photo editing and drawing on Creative Cloud software and a few free drawing programs
I performed line tests and worked on an art piece from conception through to final touches.
During my three weeks testing the Xencelabs Pen Display 24, I worked on a few shorter tasks such as image creation and editing on Photoshop, as well as a larger art project. I also tried using different software to check if the performance matched across different platforms. 
On these applications, I performed line tests as well as tilt and pressure tests to see how accurate, responsive and realistic the drawing experience was. I used a wide range of brushes and tools to experiment.
I also compared the color fidelity and screen brightness, as well as how the styluses felt, against other devices.
First reviewed August 2023