Motorola Edge 30 Fusion: Two-minute review
The Motorola Edge 30 Fusion is the middle child in the Edge 30 family. It's less expensive than the Motorola Edge 30 Ultra but a lot fancier than the Motorola Edge 30 Neo. 
Is this the perfect balance of quality and cost? It might well be. 
For around half the price of the Motorola Edge 30 Ultra you get a high-end metal and glass design, super-bright OLED screen, and a camera that, while not truly top-tier, can handle almost all kinds of scenes well enough. The Motorola Edge 30 Fusion even has a flagship chipset. It's just the flagship of 2021, not 2022 – when the phone launched. 
The Motorola Edge 30 Fusion is a phone that lets you feel you found a good deal, without needing to hunt down sales or discounts, earning a place on a rundown of the best Motorola phones.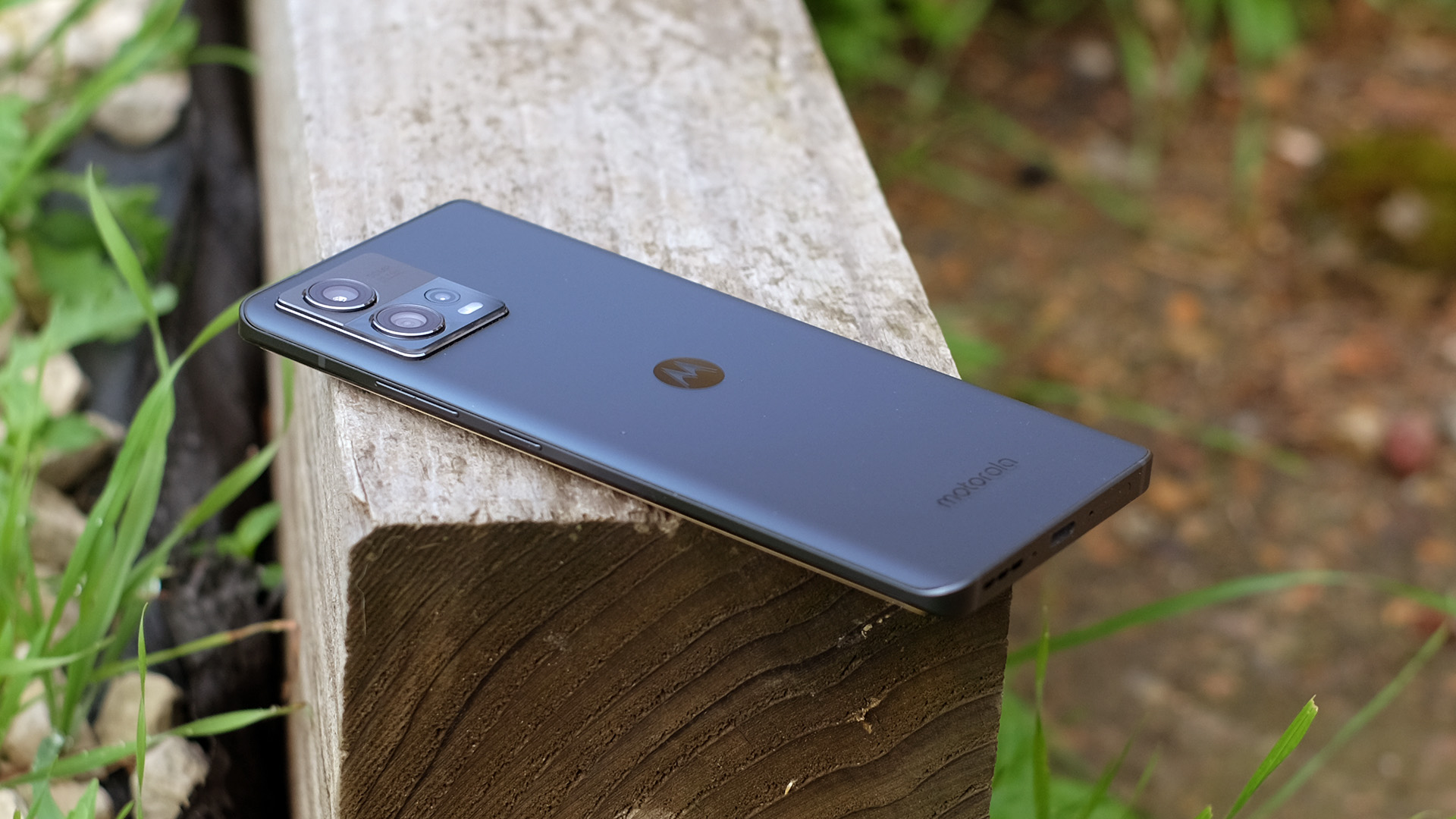 We don't think it's much of a style icon, even if its outer build is perhaps the number one reason to buy this particular model. And we've noticed a few camera issues that have come and gone with software updates released during the testing period. It also lacks any form of telephoto camera.
If the camera is your number one consideration, you need to check out the Google Pixel 7 as well. It has a better camera, and uses a newer chipset and tougher glass, but has a smaller screen with a 90Hz refresh rate instead of 144Hz. 
However, the Motorola Edge 30 Fusion is a well-rounded mid-range phone where most deficiencies are strategic, not screw-ups. We'll cover what minor 'screw-ups' there are in this review.
Motorola Edge 30 Fusion review: price and availability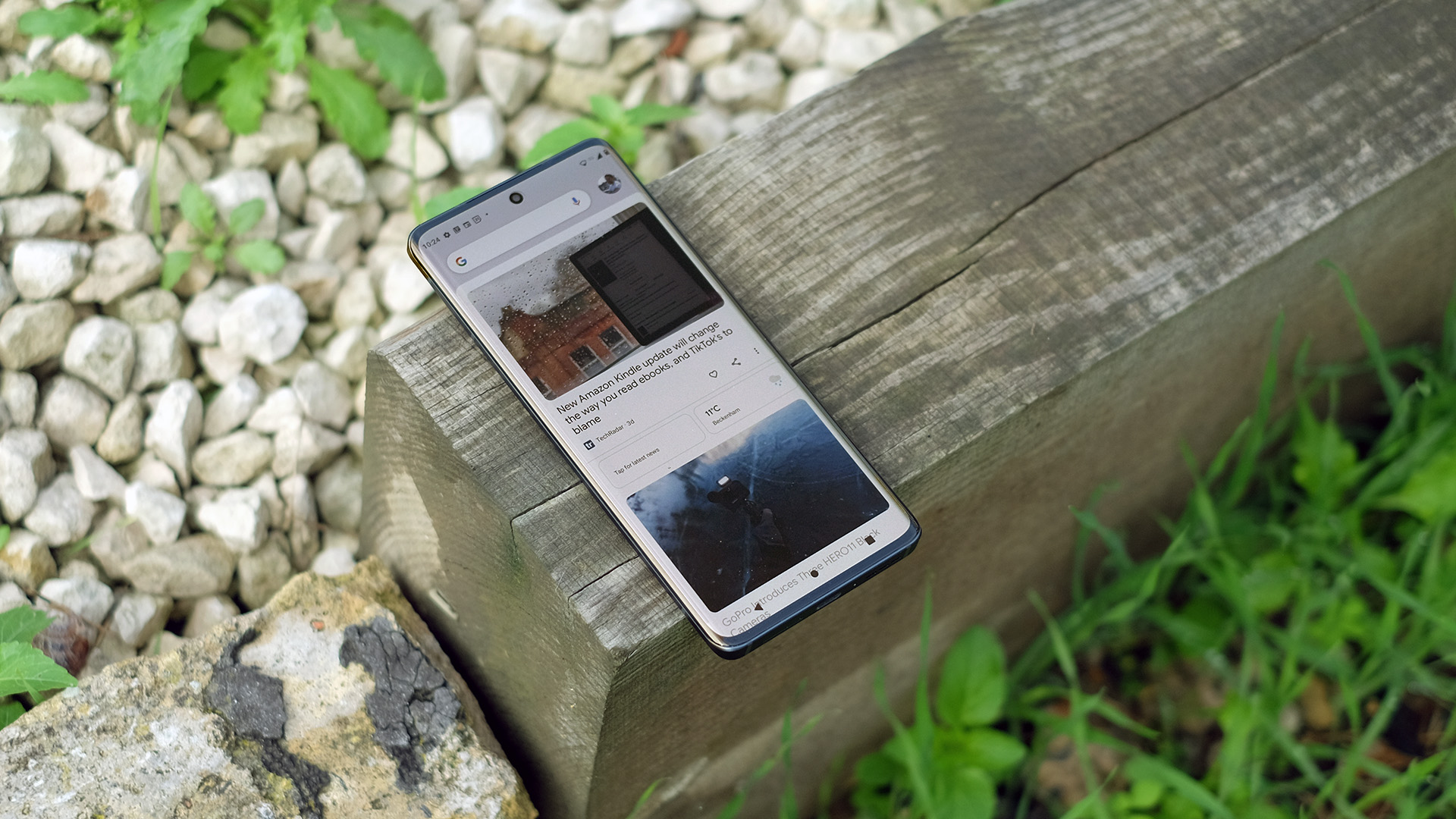 Launched in September 2022
Original price was around $700 / £499 / AU$900
Now costs around $500 / £400 / AU$785
The Motorola Edge 30 Fusion was announced in September 2022 alongside the Edge 30 Ultra and Edge 30 Neo. It's the middle one of this trio. 
This little family represents a half-generational update to the Motorola Edge 30 and Motorola Edge 30 Pro released much earlier in 2022. 
The Motorola 30 Fusion cost around $700 / £499 / AU$900 at launch, and since then prices have dropped. At the time of writing (in April 2023) we can see it for $500 / £400 / AU$785.
So it's well below the price of top-of-the-line Android phones, but also too expensive to be considered a budget buy. However, as you'll see in this review, the phone justifies this position well.
Motorola Edge 30 Fusion review: specs
Motorola Edge 30 Fusion review: design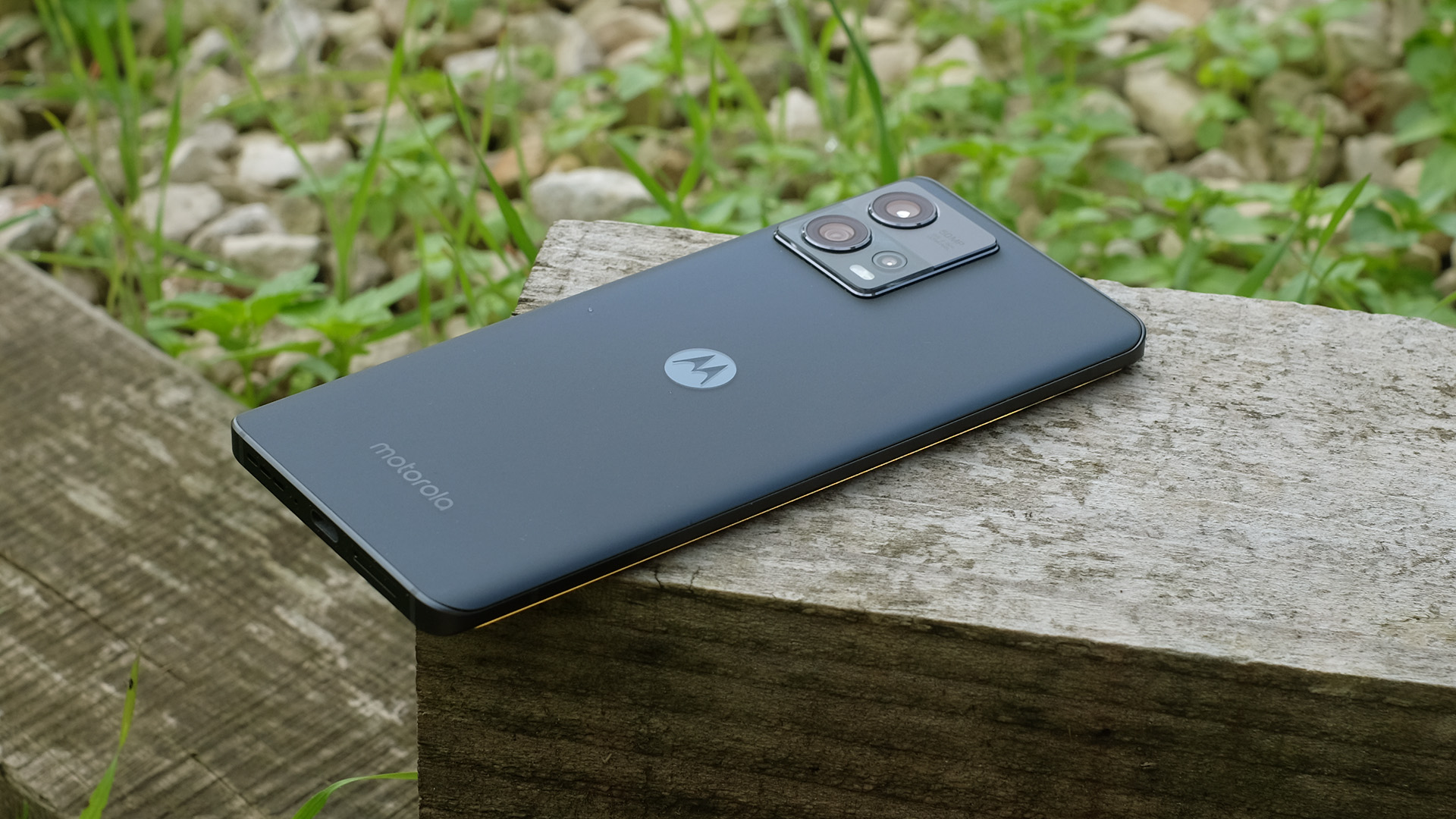 Gorilla Glass 5 front and back panels
Not too large, not too heavy
Expensive build, but not a particularly distinctive design
The Motorola Edge 30 Fusion's aim is to look and feel like a top-tier phone, while costing mid-tier money. This used to be a common goal among manufacturers. But these days? Not so much, as you can find plenty of reasonably expensive Androids with plastic rear panels.
There's none of that nonsense here. The Motorola Edge 30 Fusion has a curved glass front panel, and a curved glass rear. Both of these sheets are Corning's Gorilla Glass 5, a hardened glass that's a few generations behind the best, and the back has a smooth-looking matte finish that's totally immune to fingerprint marks. 
Unlike some of the few outlier phones that cost a little less but also use curved glass, like the Vivo V25 Pro, the sides that join the glass are aluminum – not plastic. This phone is no pretender. The build really is quite high-end.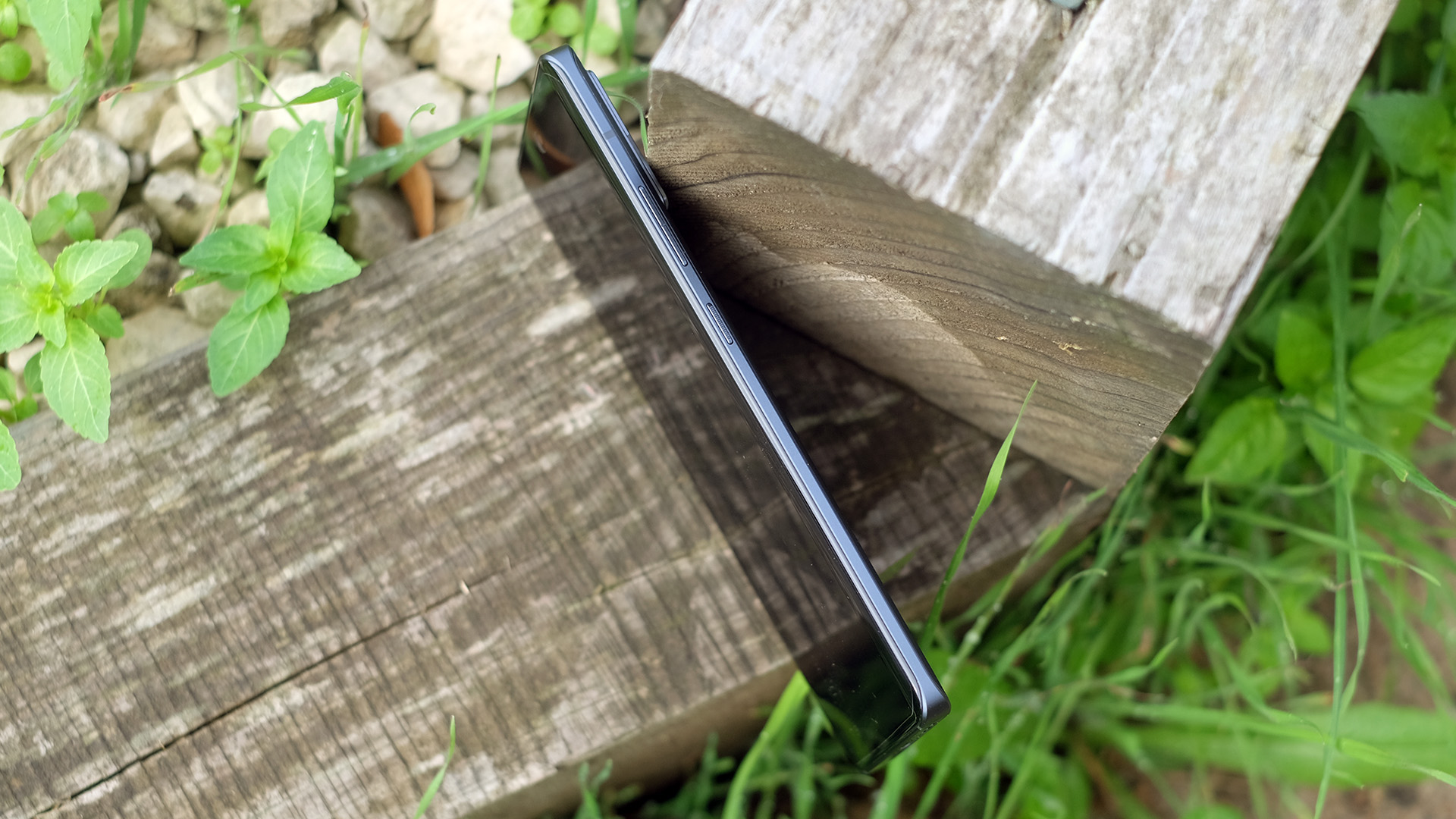 The Motorola Edge 30 Fusion's sub-8mm thickness and 175g weight complete the picture. All the vital statistics match those of some phones twice the cost. This is also a moderately-sized handset, with width similar to an iPhone 14, not the much larger iPhone 14 Plus. 
Is it actually a good-looking phone? That's up for debate, but it clearly does not have the character of a Pixel 7 or Samsung Galaxy S23 Plus.
There are some less visible areas where the Motorola Edge 30 Fusion is clearly mid-range. It has IP52 water resistance, which is actually worse than it may sound. The '5' refers to dust resistance, the '2' is the water part, and basically means it hopefully won't die if it gets slightly rained on. You'd expect the same from phones with no water resistance rating at all.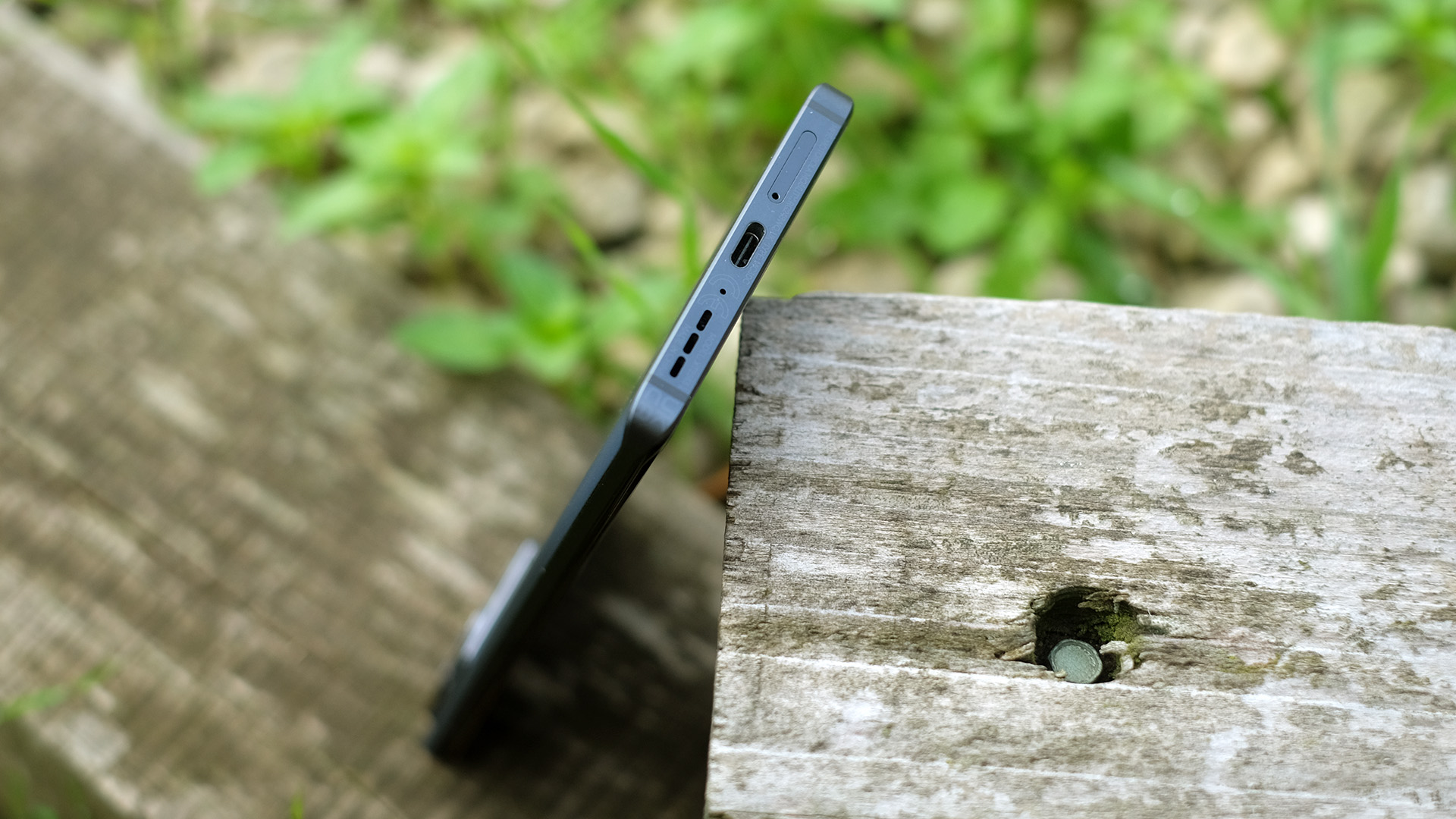 The Motorola Edge 30 Fusion has no headphone jack, and lacks a microSD card slot. However, it will take two SIMs.
You get a stereo speaker array, and the two drivers – above the display and on the bottom of the phone – have a fairly evenly-matched tone. These speakers aren't dramatically better than some of Moto's significantly cheaper models, and at times we wished there were a little more volume on tap, a little more presence in the bass. However, they are solid.
We did initially have something more interesting to say about the Motorola Edge 30 Fusion. During the first week or so of testing, its haptic feedback was bizarre. It was so strong it felt as if the tappy motor was trying to break through the phone's back. However, that seems to have been fixed in a software update. 
The phone also has a solid in-screen fingerprint sensor.
Motorola Edge 30 Fusion review: display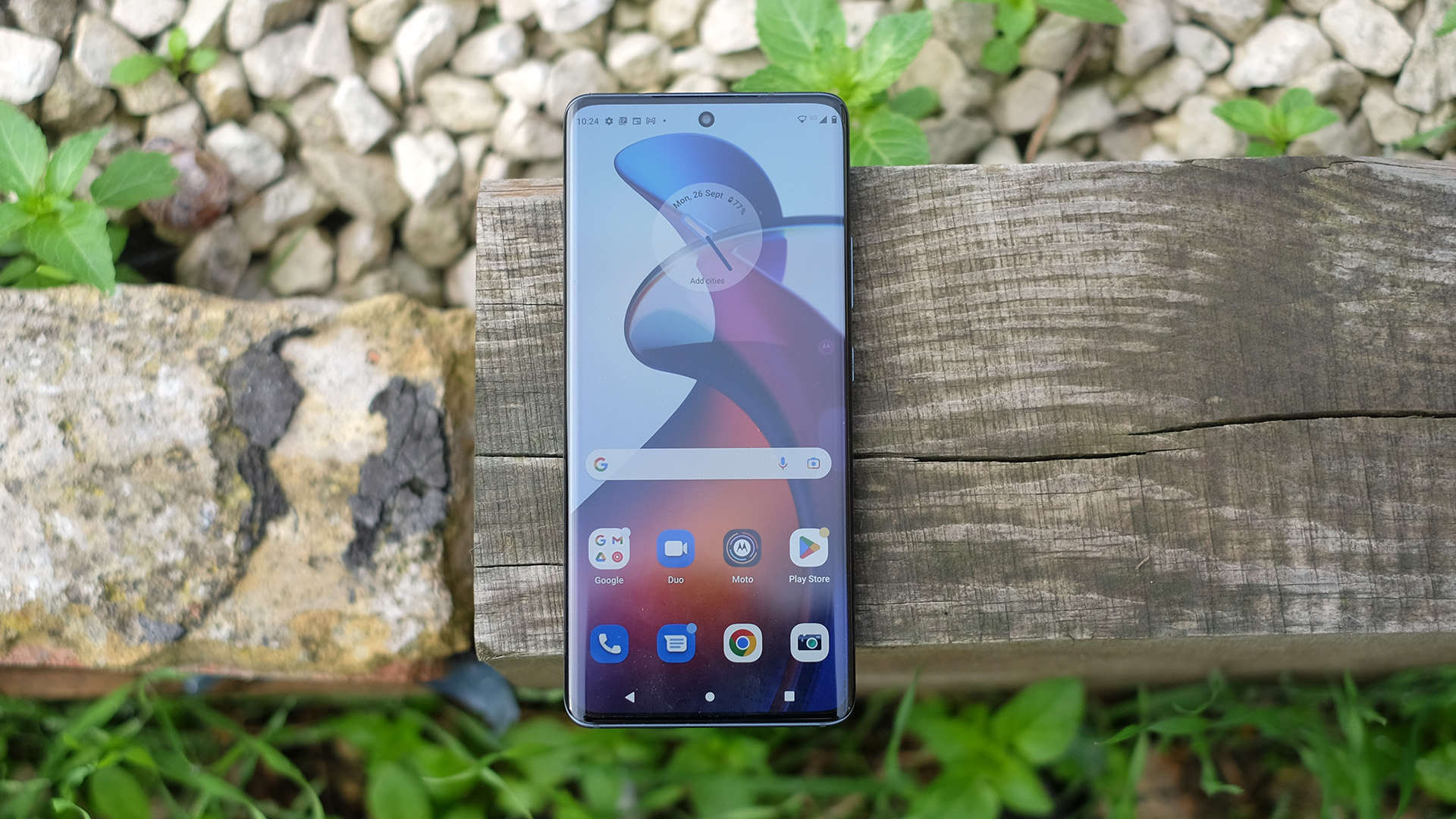 Excellent outdoor visibility
144Hz refresh rate, much like 120Hz in person
As usual, OLED offers good color and contrast
The Motorola Edge 30 Fusion has a 6.55-inch P-OLED screen, a mid-size display with a flexible substrate that allows for those curves at the sides – the screen itself is curved, not just the glass.
Almost all aspects of the screen are solid, or better than that. Its maximum refresh rate is 144Hz, for example, not the more common 120Hz. The real-world difference? Basically nothing, but it provides the same smooth-scrolling effect as 120Hz when navigating Android. 
The Motorola Edge 30 Fusion only offers two color modes, where other phones have three or more. These are Natural and Saturated. It's a bit like a restaurant with adults' and kids' menus. Natural is clearly the way to go if you want more accurate color. But, hey, if you chicken dinos and fries, live your best life with Saturated. There's also an easy-to-understand color temperature slider.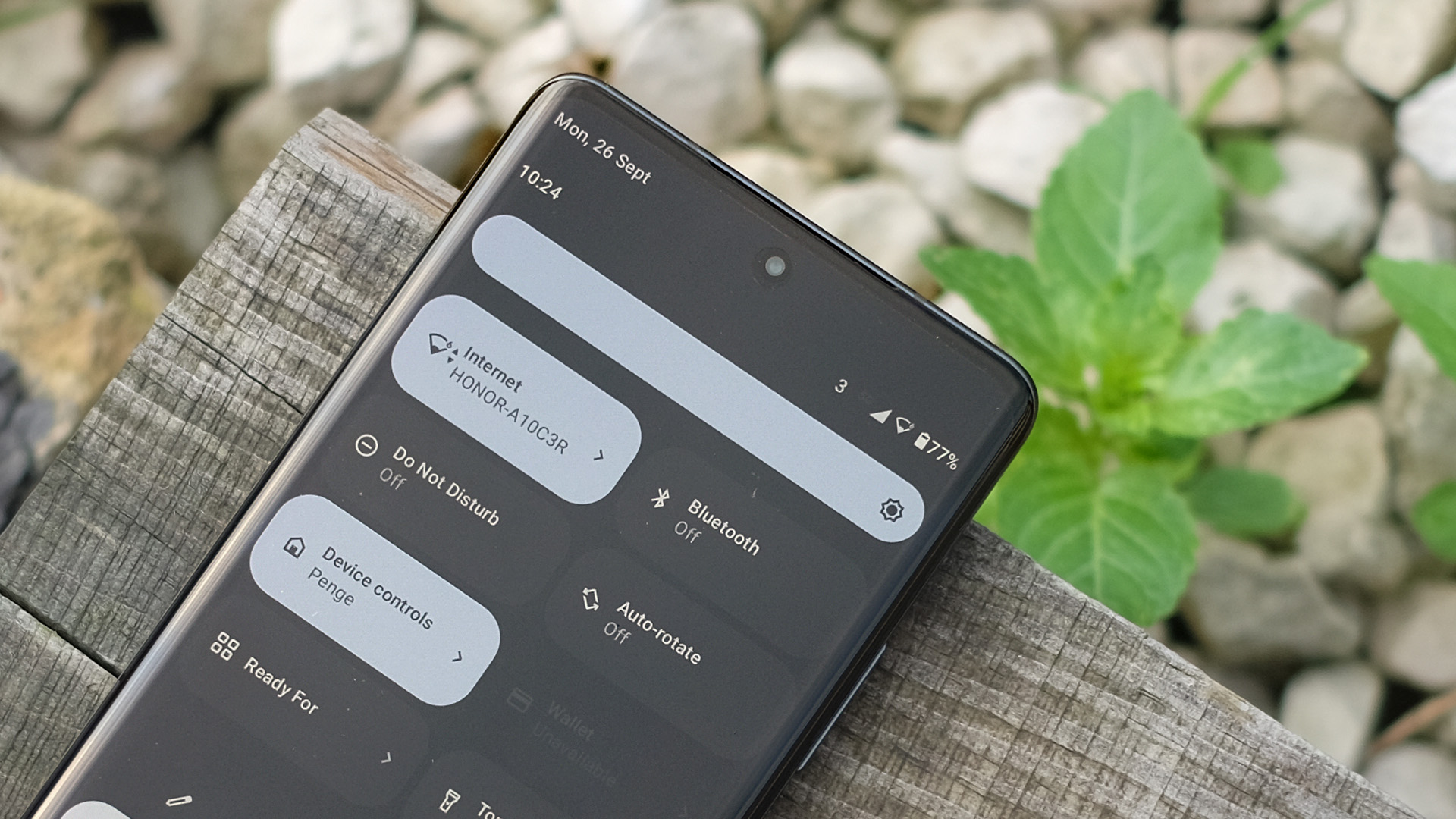 Brightness is capped at around 487 nits indoors, but will reach all the way to 895 nits in super-bright spaces. Outdoors, basically. This is significantly brighter than the vast majority of sub-$600/£500 phones, even if they claim 1,300 nit peak brightness. Screen visibility in sunlight is very good. 
Just two parts don't quite match up to the very best phone displays. At certain angles whites can take on a slightly blue cast, a common effect among OLEDs, and the 1080 x 2400 pixel resolution is the budget norm. Some very expensive phones have far more pixels but, interestingly enough, the step-up Edge 30 Ultra sticks with 1080 x 2400. 
The Motorola Edge 30 Fusion has as good a screen as you could ask for considering the cost, and we love that it uses Gorilla Glass rather than an unnamed kind of tempered glass.
Motorola Edge 30 Fusion review: software and performance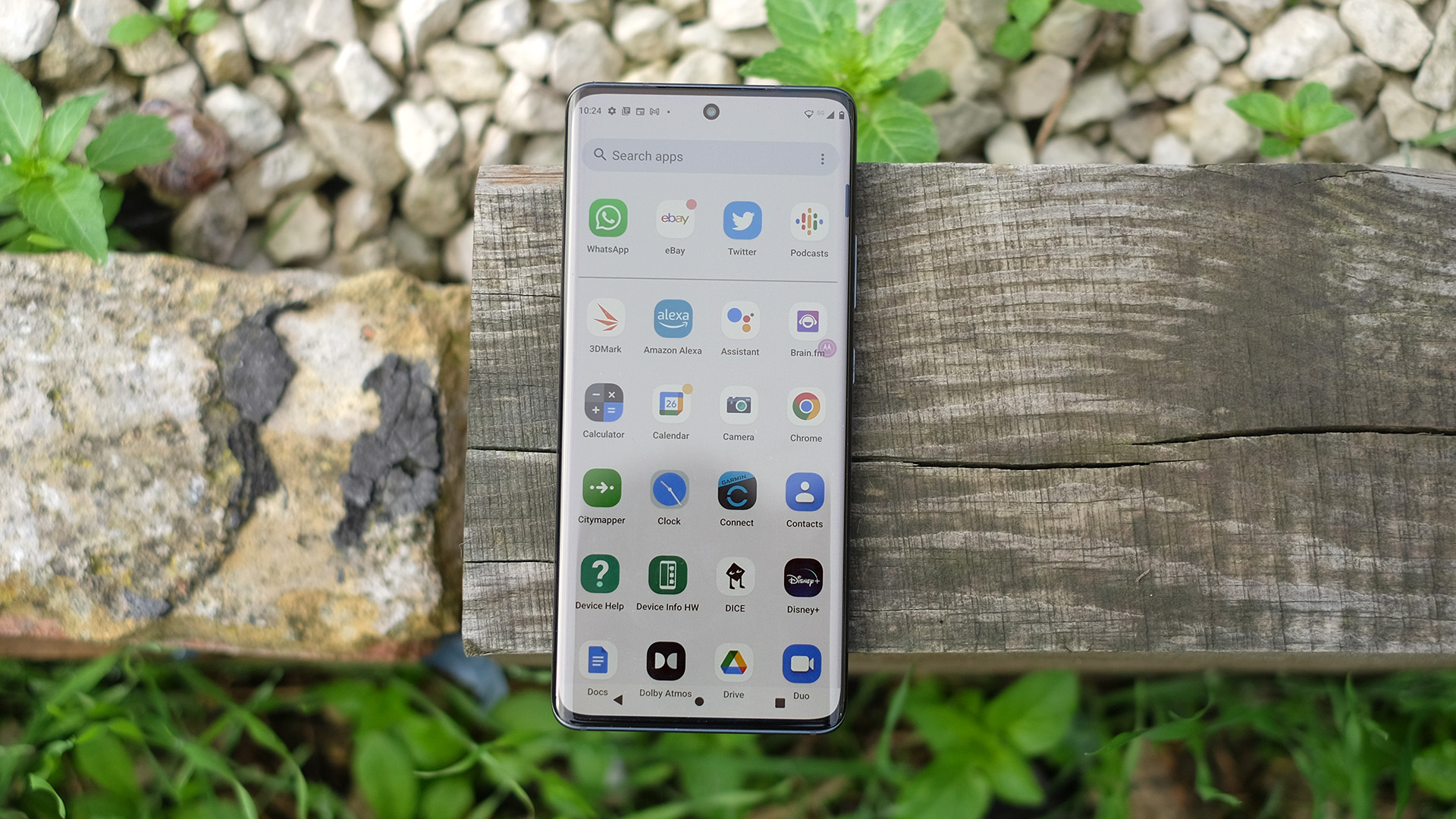 Has a top-tier processor from 2021
Good gaming and general performance
Clean software with a few useful Moto extras
Low-key software is one of the long-standing reasons to pick a Motorola over one of its rivals. It's often called 'vanilla', but it's not really. It is just a low-key custom interface without too many try-hard attention grabbing bits.
The Motorola Edge 30 Fusion's appearance can be made much less ordinary with themes, which alter system fonts, icon shapes, and the color of UI blocks. Android 12 sits at the Motorola Edge 30 Fusion's core, and these color accents are part of its style – we're talking about the feature toggles you'll see when you pull down the notifications menu. 
Our first impression of the Motorola Edge 30 Fusion's software feel wasn't actually that great, but largely because the experience was derailed by the bizarrely strong haptic feedback mentioned earlier in this review. A few updates later, the Fusion is exactly as you'd expect. It's smooth, it's inoffensive – although one software update did alter the system font without being prompted.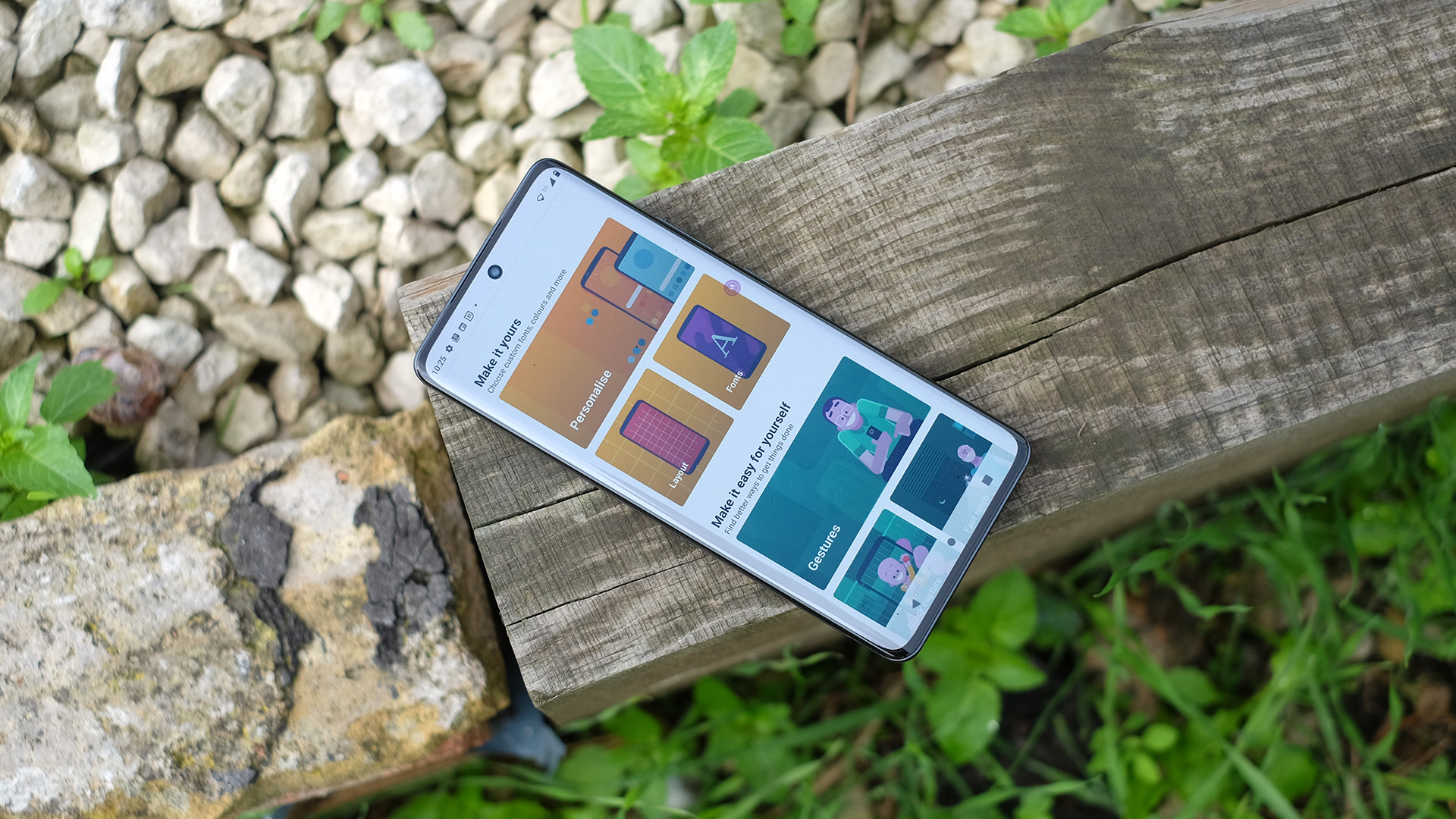 The Motorola Edge 30 Fusion has the Qualcomm Snapdragon 888 Plus chipset, and it's the key to its 'cheaper flagship' status. This is a top-tier processor, but one released in mid-2021.  It is two generations behind the Edge 30 Ultra's Snapdragon 8 Plus Gen 1, but as a once-flagship chipset it still holds up well.
In the hierarchy of current processors it sits above the Snapdragon 870, which is fab but not necessarily super-competitive in a phone of this price, and below the Snapdragon 8 Gen 1, 8 Gen 1 Plus, and 8 Gen 2.
However, Androids with the Snapdragon 8 Gen 1 tend to suffer from thermal throttling more acutely than the Motorola Edge 30 Fusion, so while those phones have higher peak performance, it tends to settle down to a similar level after five minutes or so of gaming. So it's only the 8 Gen 1 Plus and 8 Gen 2 that offer major performance upgrades.
The Motorola Edge 30 Fusion scores 3,247 points in Geekbench 5 (1,063 per core), where you can expect around 4,300 from the Motorola Edge 30 Ultra and its Snapdragon 8 Plus Gen 1. 3DMark's more GPU-dependent Time Spy test results in a 5,849 score, where a Snapdragon 8 Plus Gen 1 can score upwards of 10,000. 
This phone is a good performer, but the Motorola Edge 30 Ultra is way more powerful still. 
Does it actually matter? Maybe not in most situations. You can still play Fortnite in its 60fps mode with the graphics maxed out. It drops below 60fps in busy scenes, and when you turn around quickly, demanding lots of fresh assets to be loaded, but the latter happens regardless of your chipset.
The power you get for your money here is solid, and we've had no issues with overheating during testing.
It's also helped along by either 8GB of RAM and 128GB of storage (in the UK and Australia), or 12GB of RAM and 256GB of storage (in the US).
Software score: 4 / 5
Performance score: 4 / 5
Motorola Edge 30 Fusion review: cameras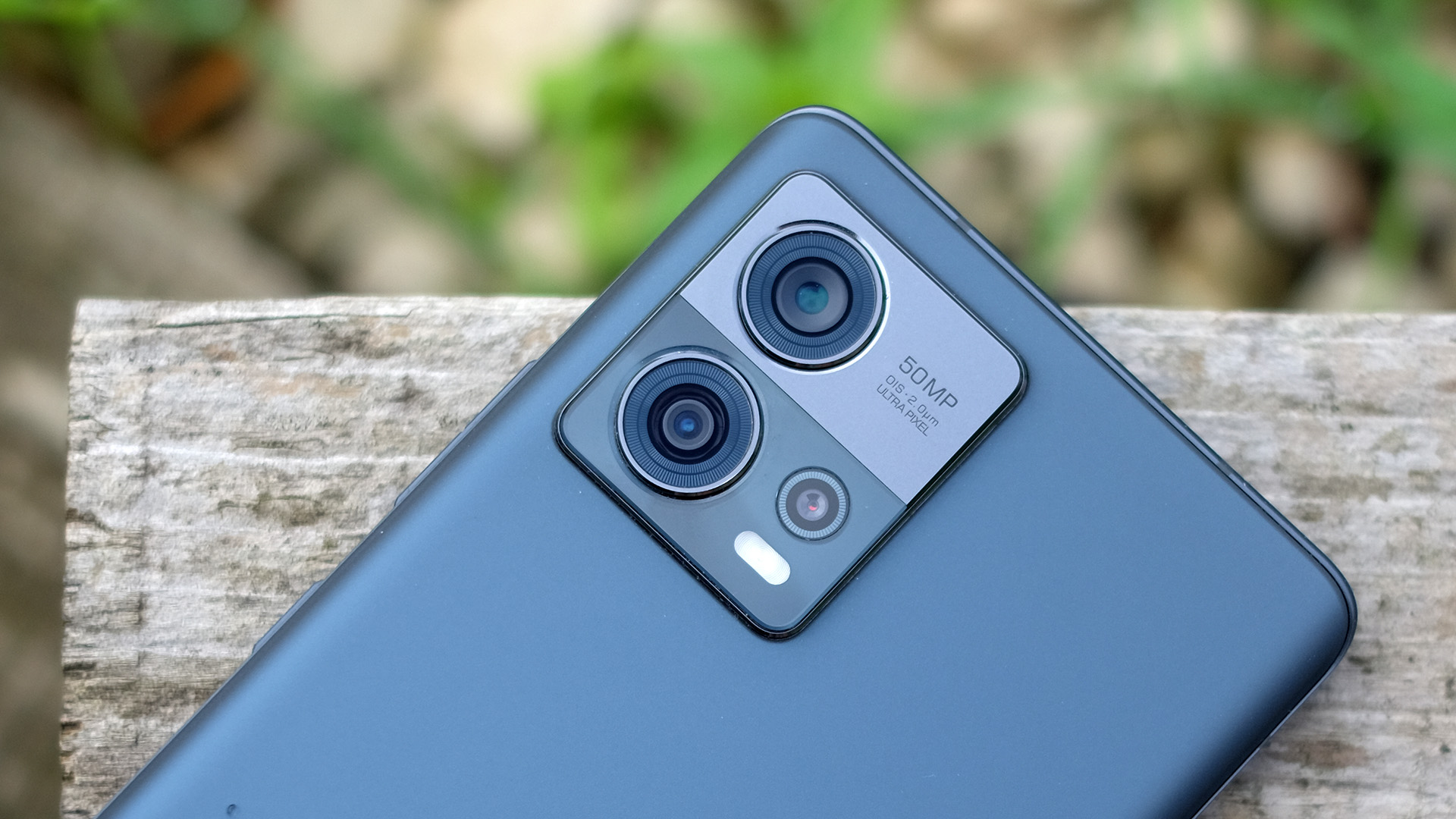 Solid primary camera but no zoom
Good low-light performance
4K and 8K video looks oversaturated
The Motorola Edge 30 Fusion has three rear cameras, and it's quite an interesting array. You get a 50MP primary, a 13MP ultra-wide and a 2MP depth camera. 
Its depth camera is classic mid-range tertiary fluff, and is used for background blur portrait images, but the other two are fairly good. The 13MP ultra-wide is a cut above the 8MP cameras you often see in slightly cheaper mid-range Androids, bearing up to cropping and zooming a lot better. 
However, the ultra-wide does tend to produce images with a cooler, less inviting color temperature. And there's a greater chance of blown-out areas, thanks to the sensor's lower native dynamic range – this could have been avoided with more attention paid to the software HDR algorithm, but there you go. 
The Motorola Edge 30 Fusion is largely a fun-to-use and versatile camera. Its HDR software is, for the most part, highly effective, and helps retain lots of cloud contours when you shoot right into a bright sky. 
Perceived detail and sharpness are very good, and performance at night is strong too. The Motorola Edge 30 Fusion has a Night Vision low-light mode, but even if you forget to use it the phone can produce sharp and clean images in poor lighting. 
Night Vision attempts to improve dynamic range further, and tries harder to bring out more texture detail. However, it takes a little longer to capture an image and the images can look a little more synthetic, with more obvious 'outlining' of high contrast objects, which is a form of sharpening. Sometimes Night Vision looks like it's showing off, and trading away from realism and classiness as a result. 
The Motorola Edge 30 Fusion has quality camera hardware, but the software – while solid – is not best-in-class. You can also see this when you zoom right into your pictures. Tight-knit natural textures like glass and leaves will often have a slightly fake-looking character, as if they've been drawn by an AI. Because, on one level, they kind of have been. This is particularly obvious in the more compromised ultra-wide camera.
Other problems we've had with the Motorola Edge 30 Fusion have come and gone with software updates, of which there were several during the review. At one point the camera had quite noticeable shutter lag. That seems to have largely been fixed. On one software build the Auto HDR would often fail to engage. 
Right now the Motorola Edge 30 Fusion's camera experience is largely headache-free, but the HDR and exposure system does tend to let small objects that are not themselves all that bright become overexposed in certain scenes. This seems to happen quite a bit when sun shafts hit leaves or branches. 
All in, the Motorola Edge 30 Fusion has a highly capable camera that doesn't quite get everything right 100% of the time, but can have a solid go at any lighting situation. And its hit rate is decent. 
Video is in more urgent need of attention but, again, the fundamentals here are good. You can shoot 8K video at 30fps, or 4K at 30fps or 60fps. These modes look sharp and clean when shooting in daylight.
However, both of these modes produce oversaturated video that looks unnatural in most scenes. Their detail level is great, but the image character often looks odd.
Drop down to 1080p, and color comes back down to earth. You can switch between 30fps and 60fps but, again, there's a compromise. 1080p at 60fps looks a lot softer than 30fps, presumably because it misses out on a sharpening pass. Strange as it sounds, 1030p/30 is the least problematic mode.
But given you can adjust video color after shooting, the 4K modes should probably still be the default. Both (30/60fps) have stabilization, which our rather unsteady hands consider to be essential.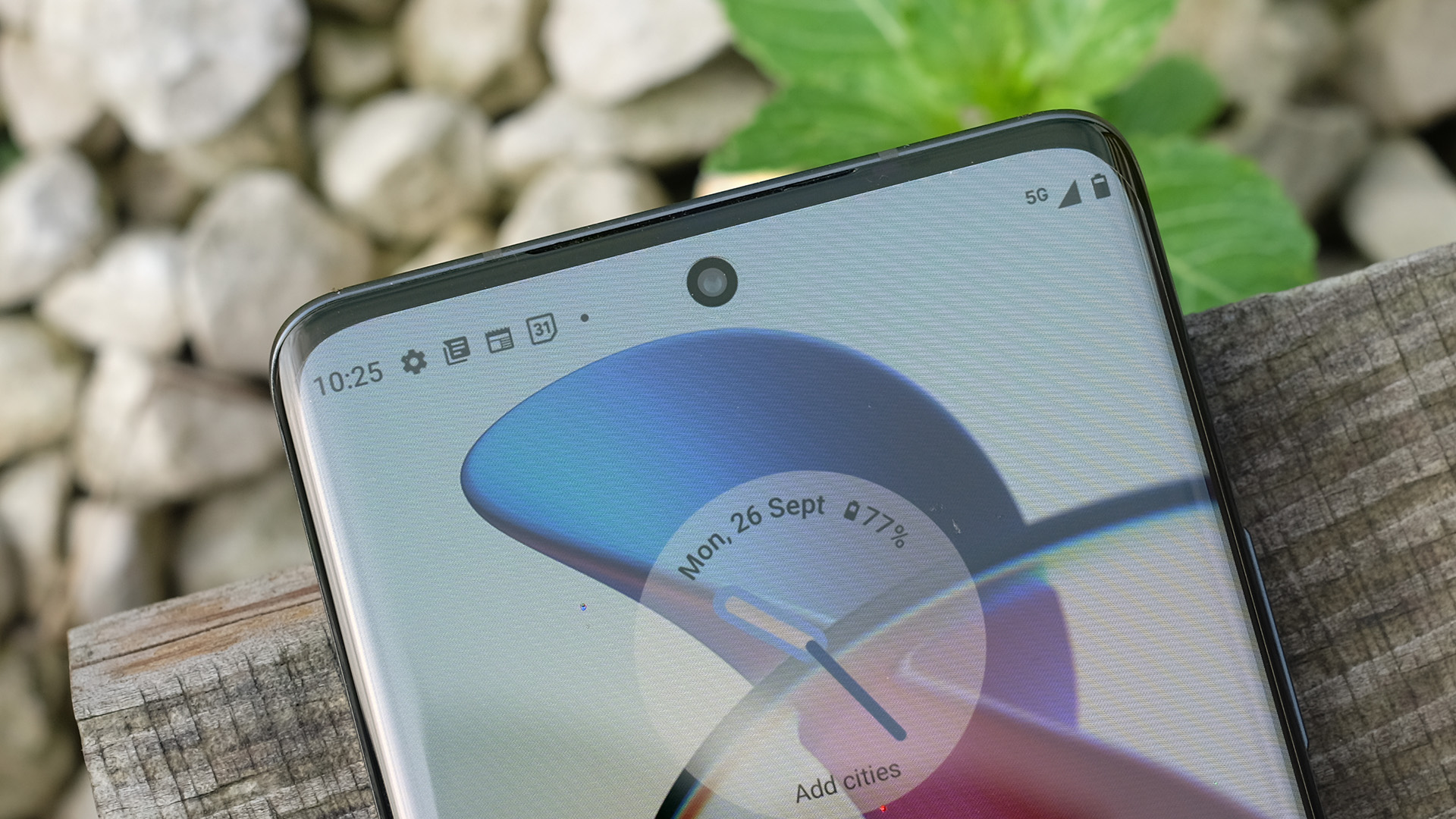 The Motorola Edge 30 Fusion's front camera uses the 32MP Samsung S5KGD2 sensor, as seen in phones like the Vivo X80 Pro and Samsung Galaxy A32s.
It's a good selfie camera, able to render lots of fine detail in decent lighting while also juggling strongly backlit scenes. All those pixels are used for pixel binning in lower light, which helps the Motorola Edge 30 Fusion limit noise and hold onto a decent amount of detail in poor lighting. The front camera is able to record video at up to 4K resolution.
Motorola Edge 30 Fusion camera samples
Image 1 of 10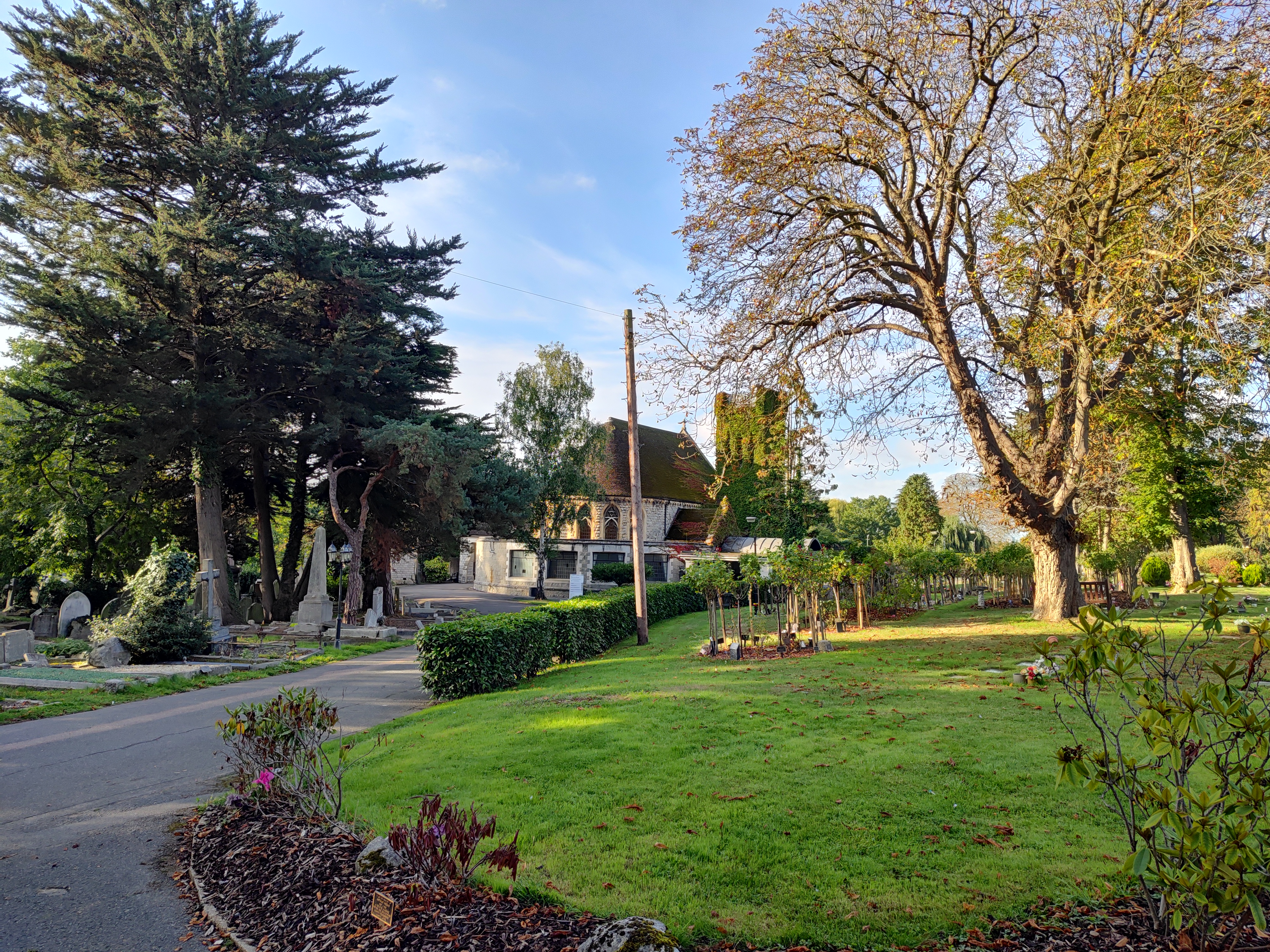 Motorola doesn't have the most naturalistic image processing, but this phone takes generally attractive images.
Image 2 of 10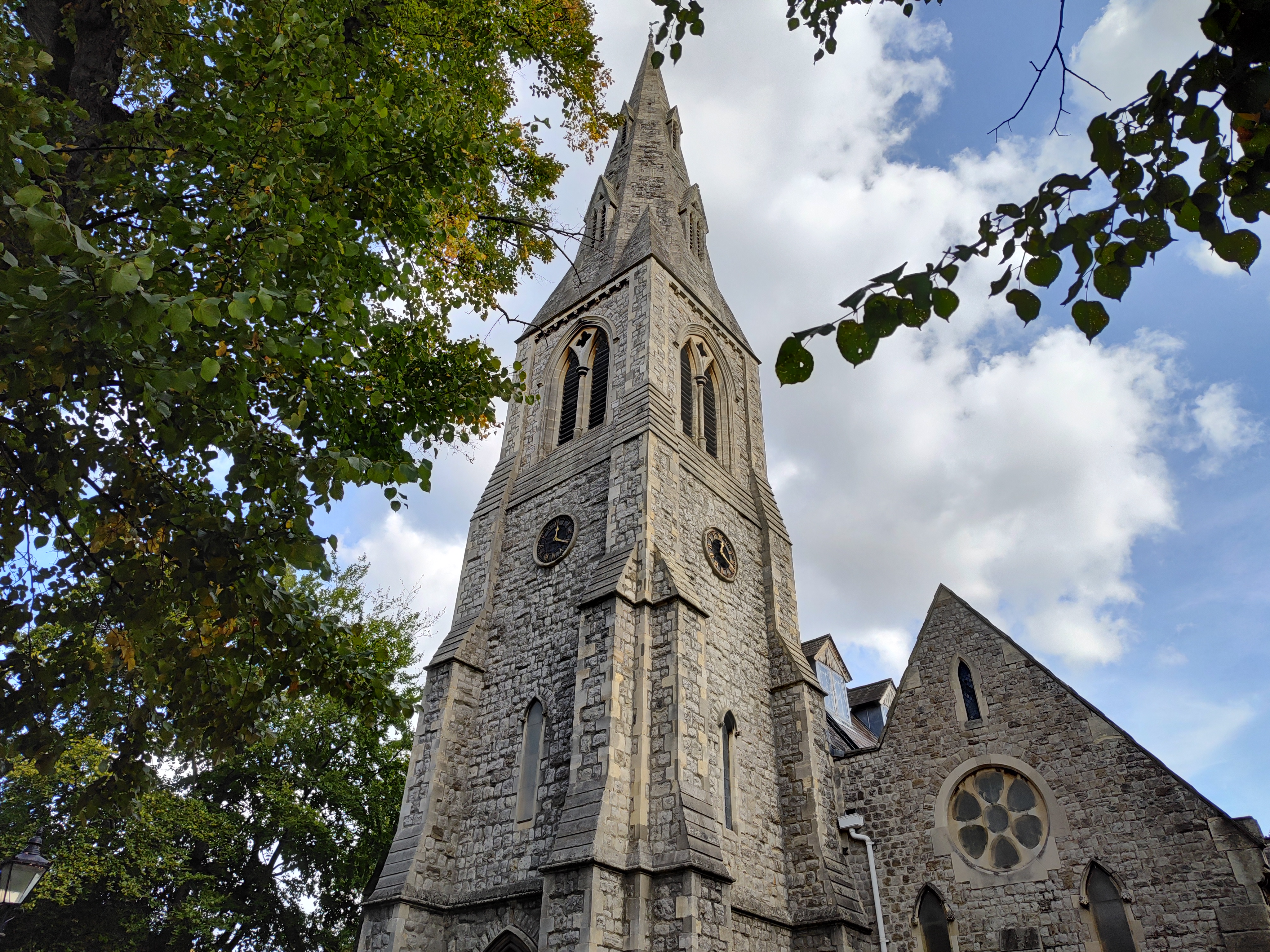 A church shot using the 1x camera. No major issues here.
Image 3 of 10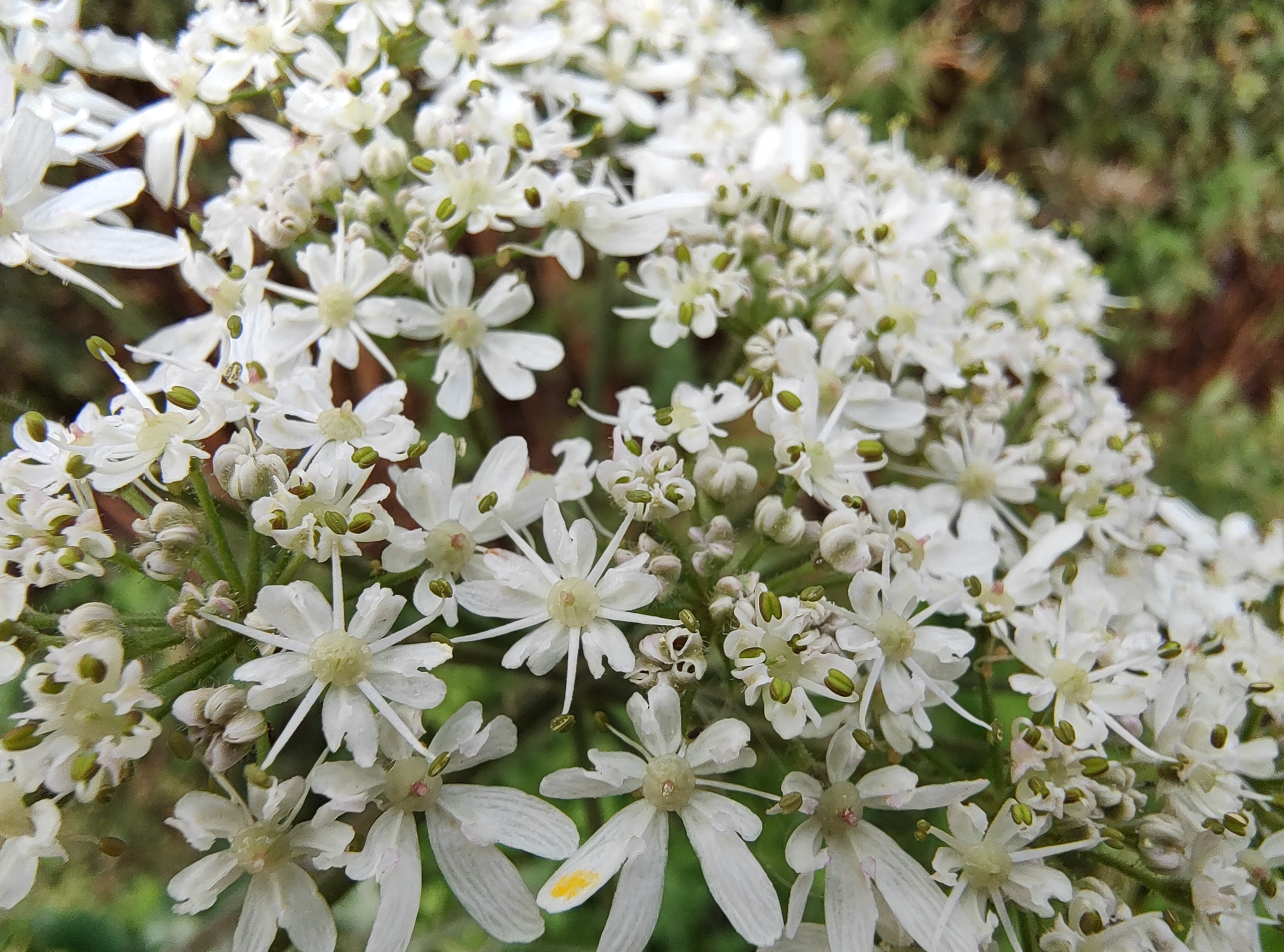 The Motorola Edge 30 Fusion has no macro camera, but it does have a macro mode that uses the ultra-wide camera.
Image 4 of 10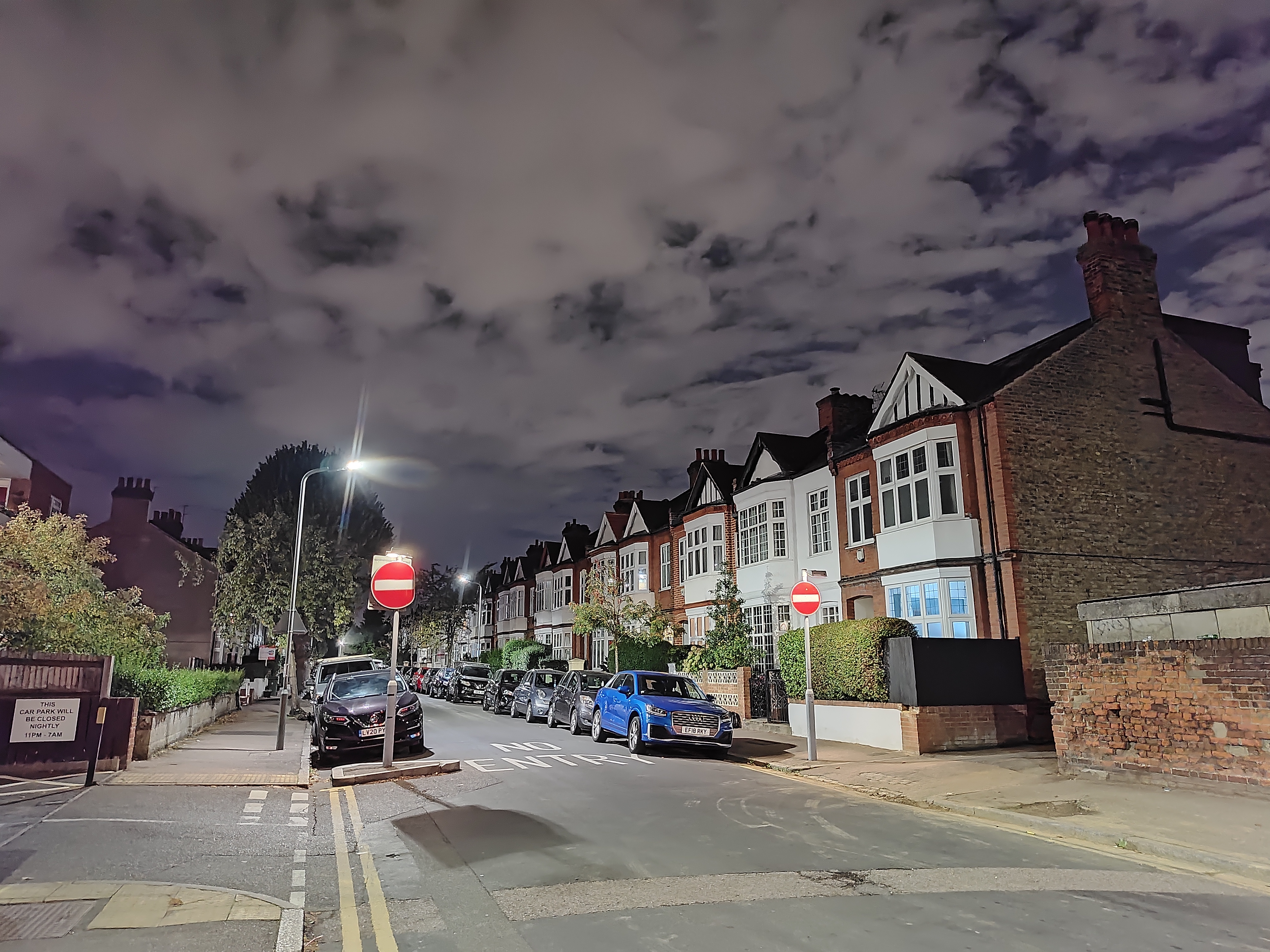 The Night Vision mode is powerful. Just look at how it brings out the cloud detail, which was nowhere near as visible to the naked eye as it is here.
Image 5 of 10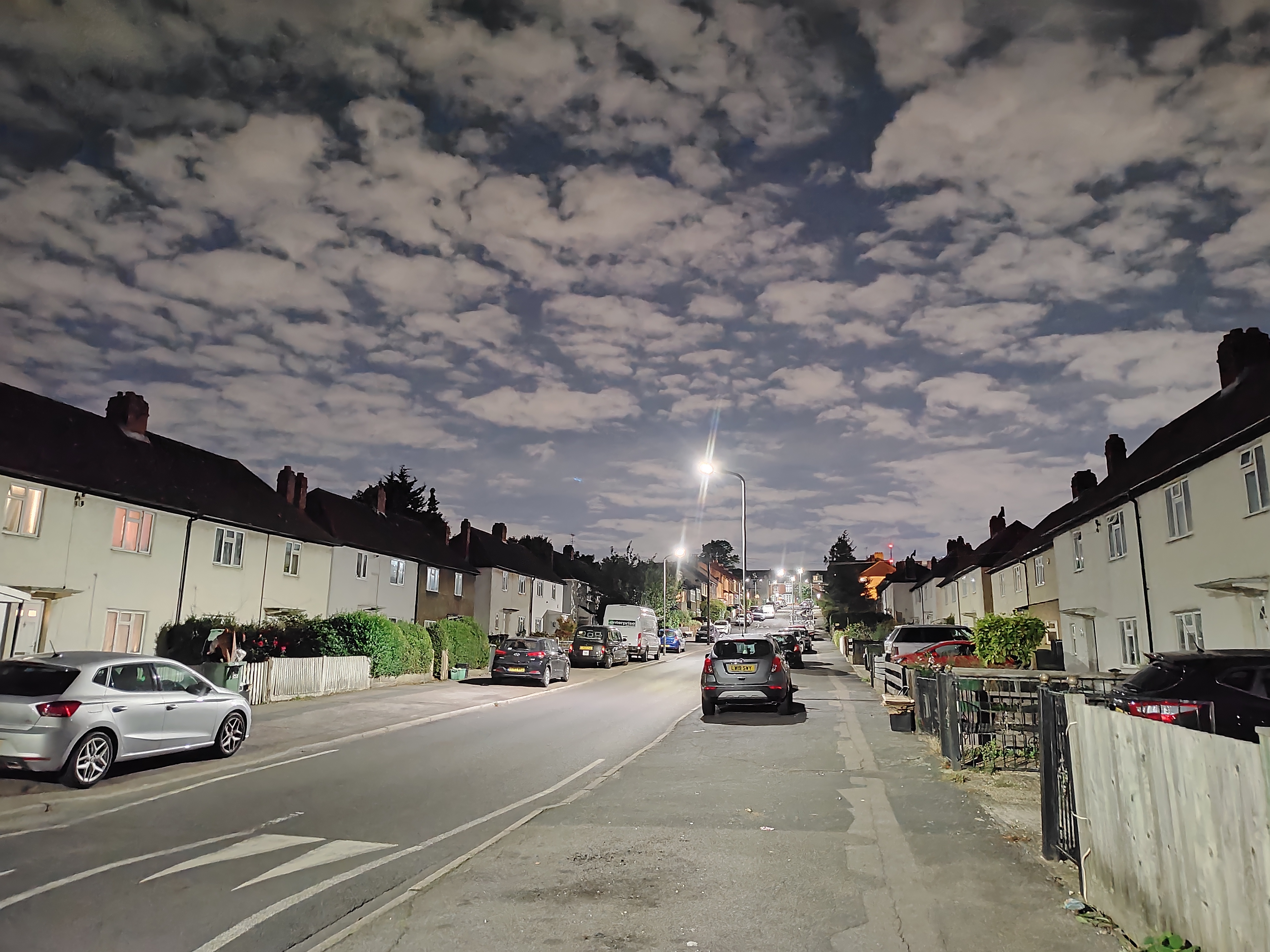 Sometimes the Night Vision mode can seem a bit much, at which point you may want to drop down to Auto shooting.
Image 6 of 10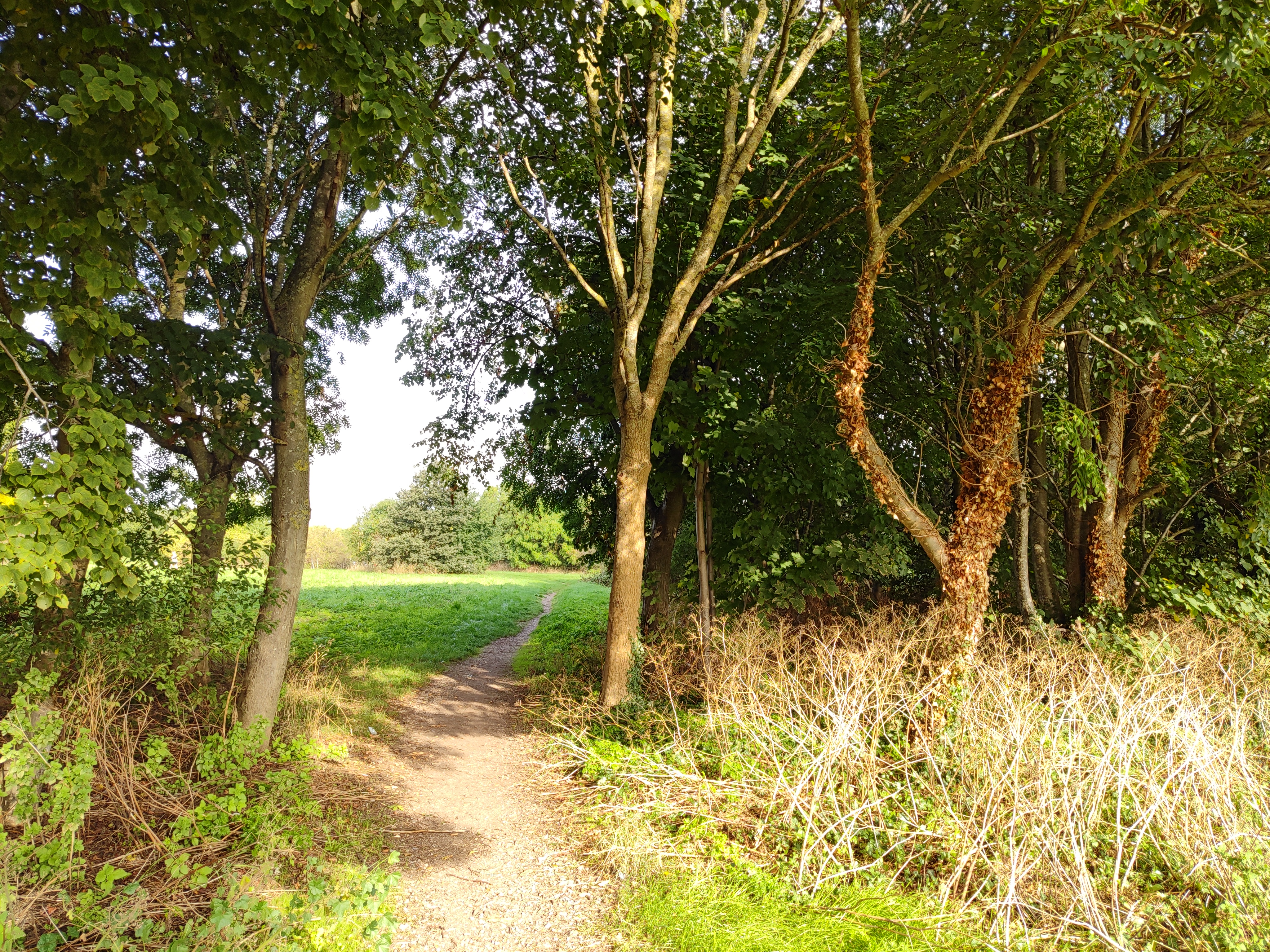 Here's the most common exposure issue we see in the Fusion, in small parts that are not actually that bright themselves, such as these reedy foreground branches.
Image 7 of 10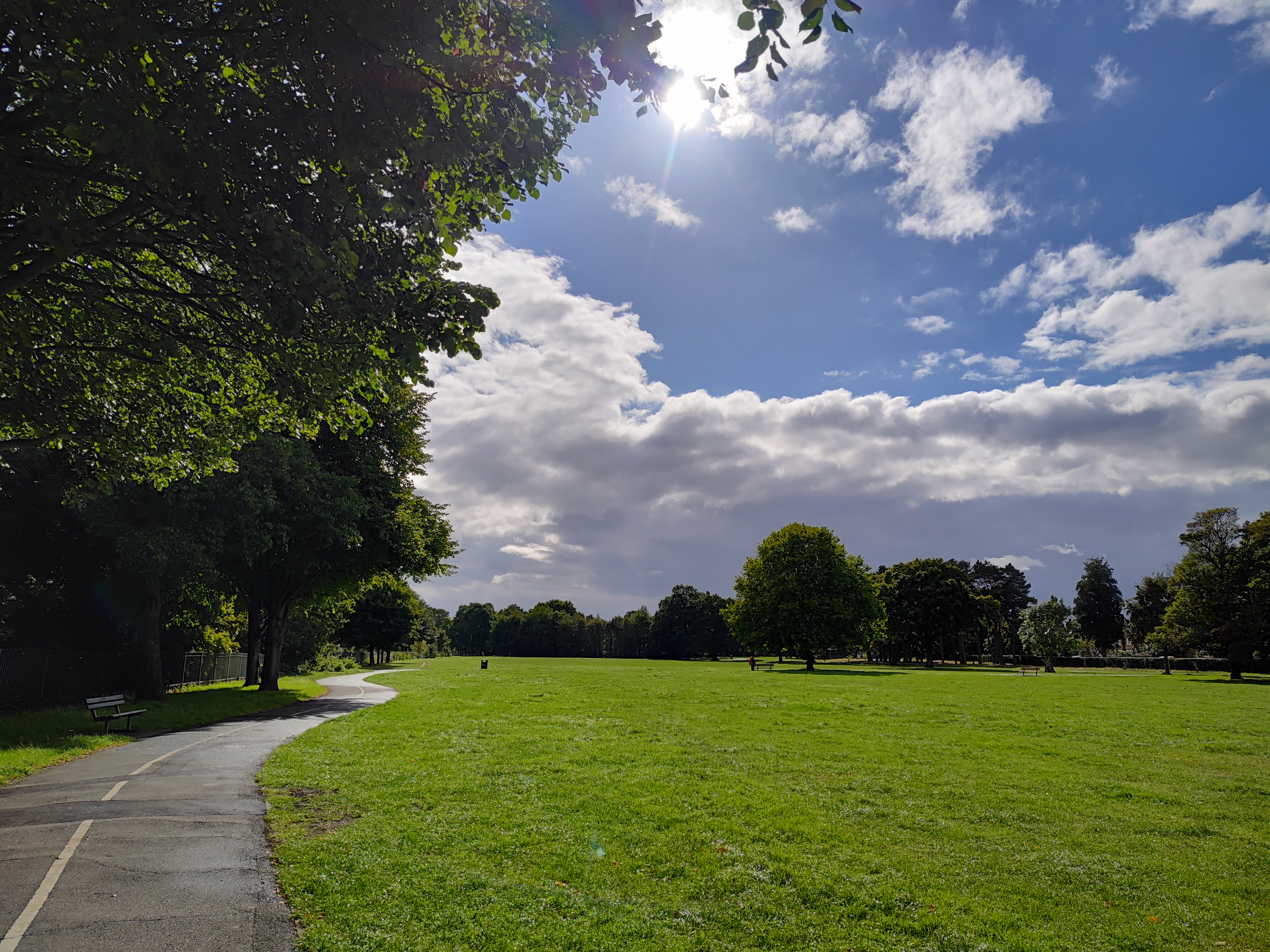 Shot using the standard 1x camera.
Image 8 of 10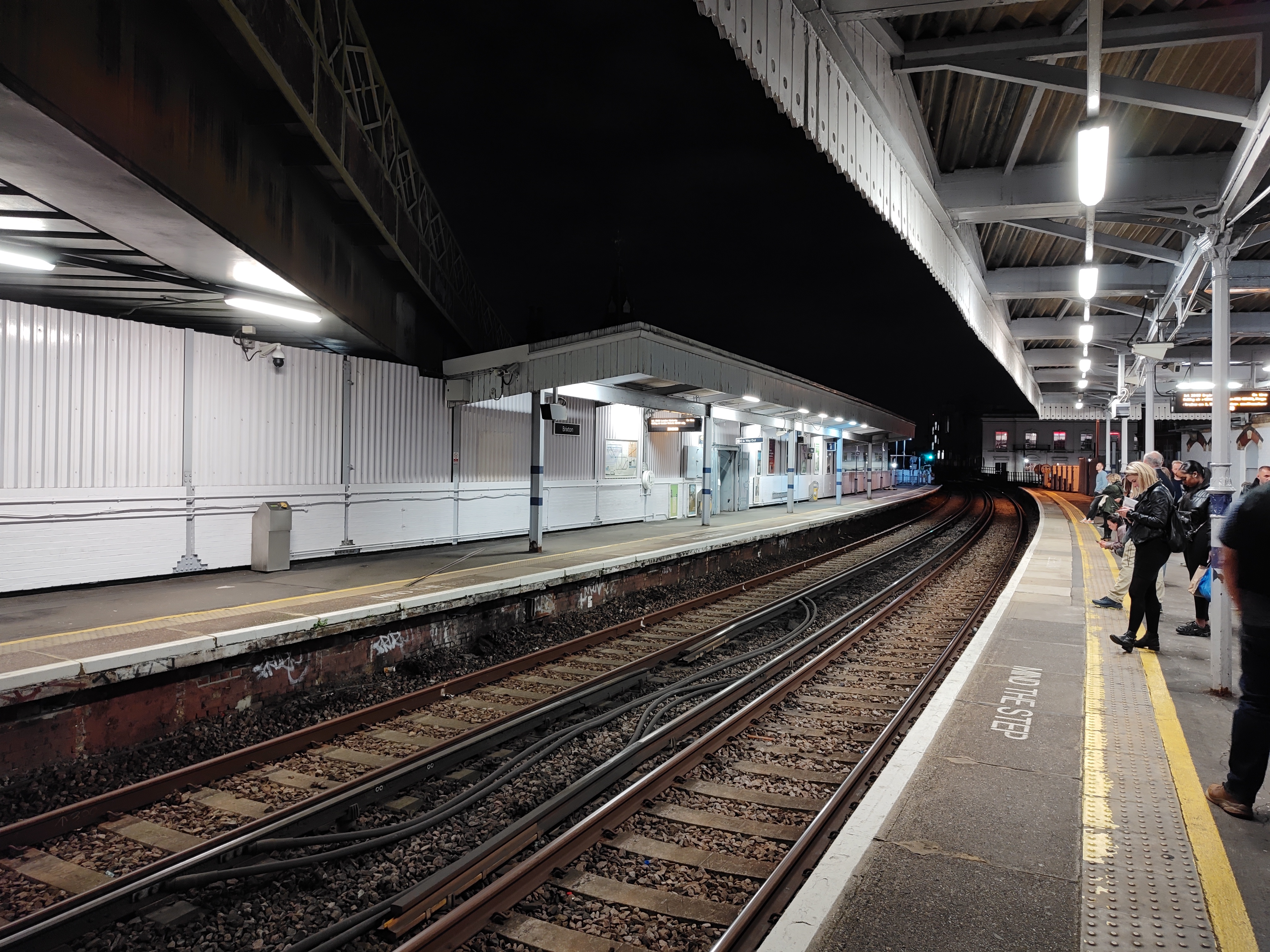 Good low-light image quality shows the Motorola Edge 30 Fusion has a good primary camera sensor as well as capable software.
Image 9 of 10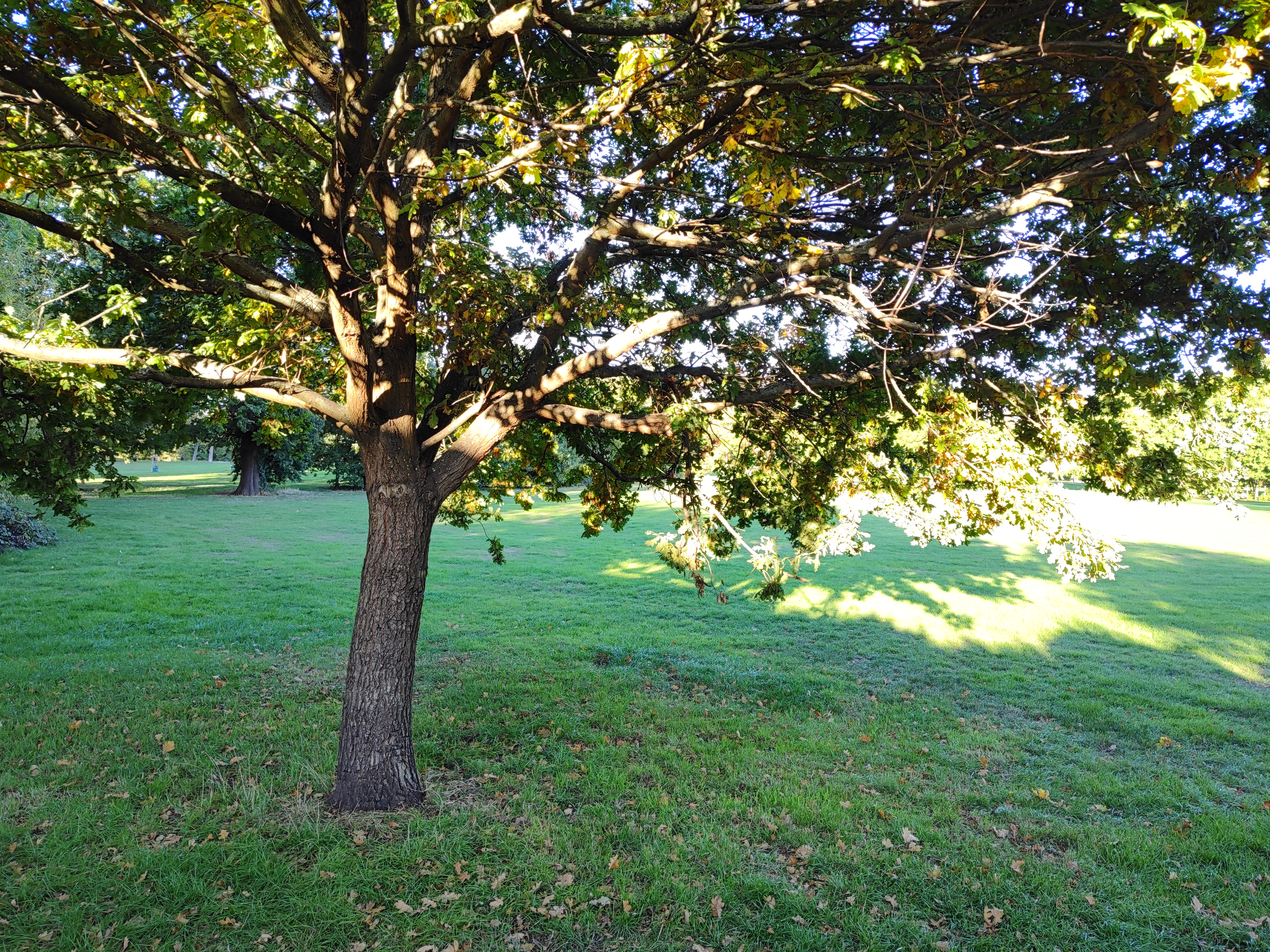 Another HDR fail – despite multiple attempts the Motorola Edge 30 Fusion wouldn't compensate for the overexposed parts here, despite pulling off trickier stunts in other shots.  
Image 10 of 10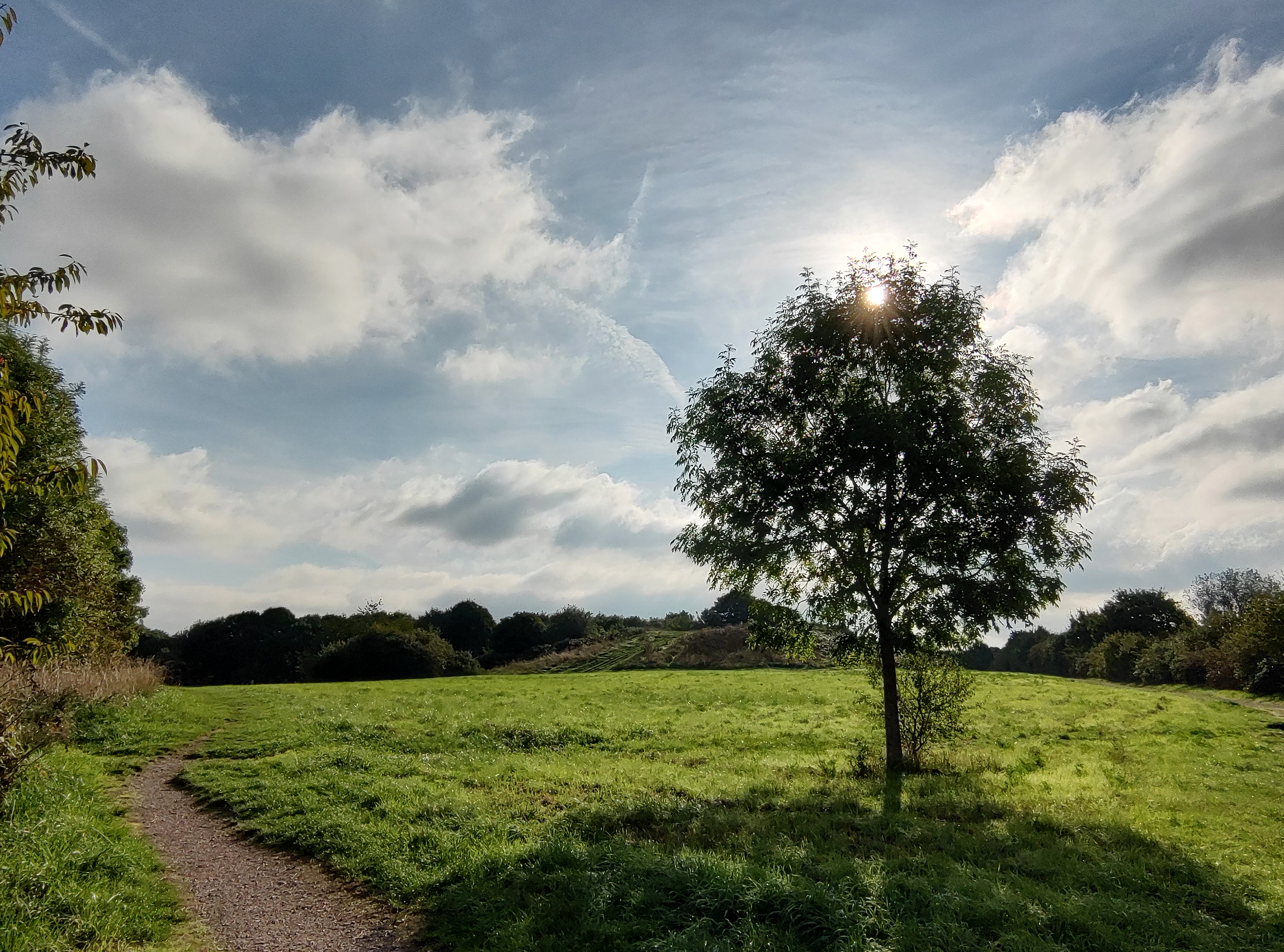 The 13MP ultra-wide can take less obviously compromised images than the 8MP cameras common among mid-range phones.
Motorola Edge 30 Fusion review: battery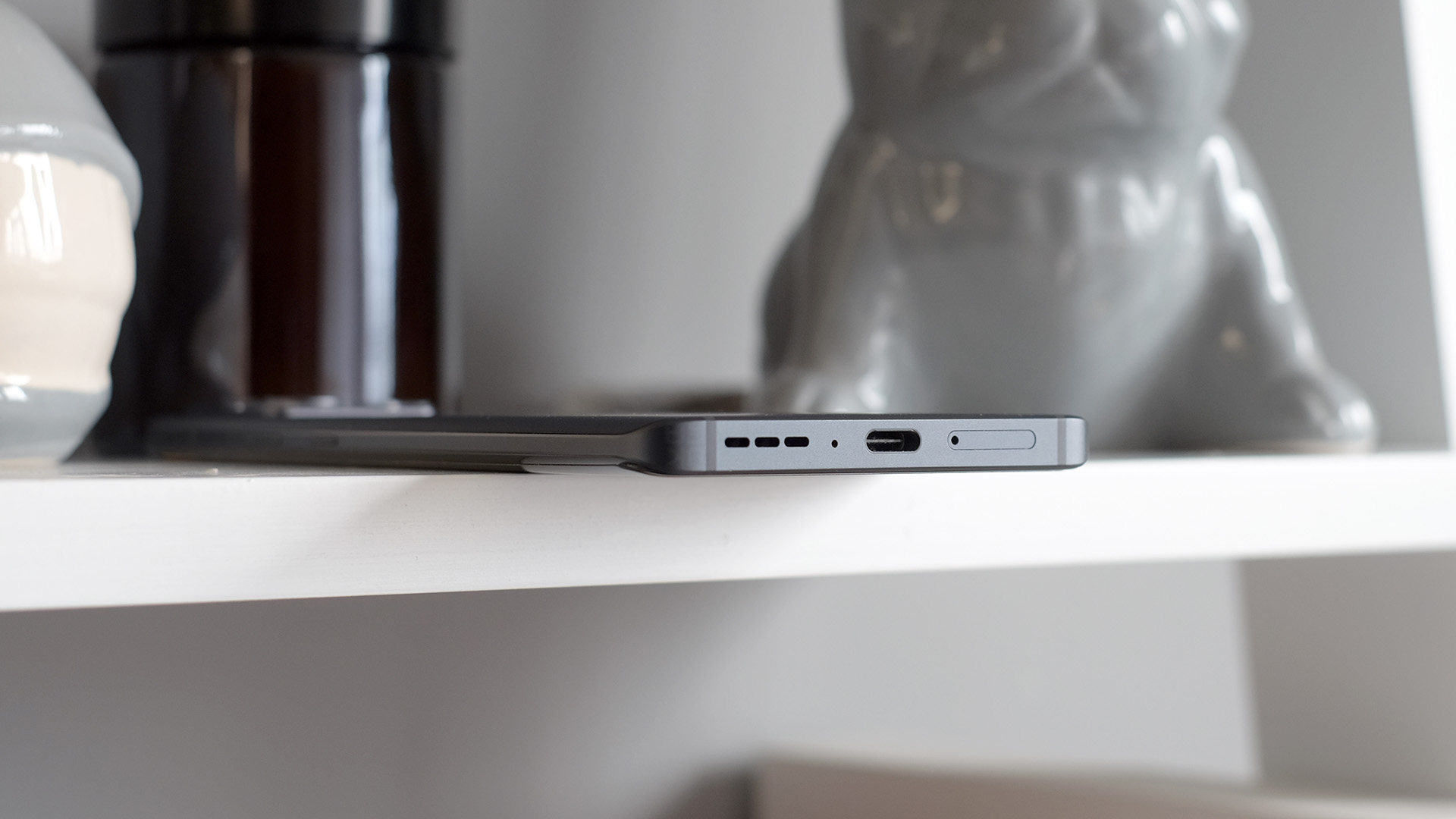 68W adapter charged phone in around 50 minutes
No wireless charging
Serviceable but unremarkable battery life
The Motorola Edge 30 Fusion has a 4,400mAh battery that supports 68W fast charging, and comes with such an adapter in the box. 
It's pretty nippy to charge, reaching 100% in 47 minutes even when starting from completely flat. This typically adds at least a couple of minutes to the process, as phones usually start off slow when in a 'dead' state. 
Motorola claims you can get a day's worth of charge in 10 minutes, but this does not really pan out. It hits 45% in 20 minutes, and even that won't get most folks through a day's use.
The Motorola Edge 30 Fusion uses the USB-PD charging standard, and a USB-C-to-USB-C cable. There's no support for wireless charging here.
Actual stamina is fine, but nothing more than that. It gets through a moderate-to-heavy day of use, but typically won't have much juice left to see the phone comfortably through the night and into the second day.
4,400mAh is near to the lowest capacity Motorola could get away with in a phone of this power and size. But the Moto-favorite 5,000mAh capacity would probably have resulted in a thicker, and perhaps noticeably heavier phone. We love a long-lasting phone, but considering what Motorola aims for with the Fusion, it has probably made the best capacity-design compromise here.
Should you buy the Motorola Edge 30 Fusion?
Buy it if...
You like the idea of a curved glass phone
The Edge 30 Fusion has curved glass front and back panels, which makes it feel slimmer, more elegant and more expensive than most rivals. It's the classic aim of high-end design at a lower price.
You want a lighter phone
At 178g according to our scales, 175g on Moto's spec sheet, the Edge 30 Fusion is lighter than a lot of the competition by up to 20g. While you get used to a little extra weight, some will prefer not to have to go through that process.
You want a flagship-like experience for less money The Motorola Edge 30 Fusion has a lot of the same characteristics as top-tier Androids, but costs a lot less. Motorola likely saved a stack of money by using a previous-generation processor, and not using the most expensive version of Corning's Gorilla Glass.
Don't buy it if...
You want a zoom camera
While the Motorola Edge 30 Fusion's camera is good, there's no dedicated zoom, which is one of the key elements that separates this phone from a true high-end Android. The Edge 30 Ultra has one of those zooms, and you'll find even better examples of the tech elsewhere. 
You want two-day battery life
We'd class the Fusion's battery life as acceptable, but no more than that. It can last through a moderately taxing day, and we don't think it's short enough to be problematic for most folks. But you'd have to be a very light user to see two days of use between charges.
You want wireless charging
The Edge 30 Fusion looks like the kind of phone that might have wireless charging, but that's all part of the "slick design for less" illusion. It only supports cable charging. You have to step up to the 30 Ultra to get wireless support. 
Motorola Edge 30 Fusion: Also consider
If you're not sold on the Motorola Edge 30 Fusion then consider these alternate options.
First reviewed: April 2023