Apple Mac mini (2023): Two-minute review
The Apple Mac mini (2023) was a surprise launch alongside the MacBook Pro 14-inch (2023) and MacBook Pro 16-inch (2023), and while a lot of attention has focused on the two new laptops, it would be a crime to ignore the Mac mini (2023).
While we were all expecting Apple to announce the M2 Pro and M2 Max, alongside follow-ups to the 14-inch and 16-inch MacBooks from 2021 at some point, the new Mac mini was a genuine surprise, and once more details emerged, that surprise turned increasingly pleasant.
The Apple Mac mini (2023) now comes with an M2 chip – the same powerful SoC that can be found in the latest MacBook Air (M2, 2022) and MacBook Pro 13-inch (M2, 2022), and that offers a substantial boost in performance compared to the M1 Mac mini from 2020.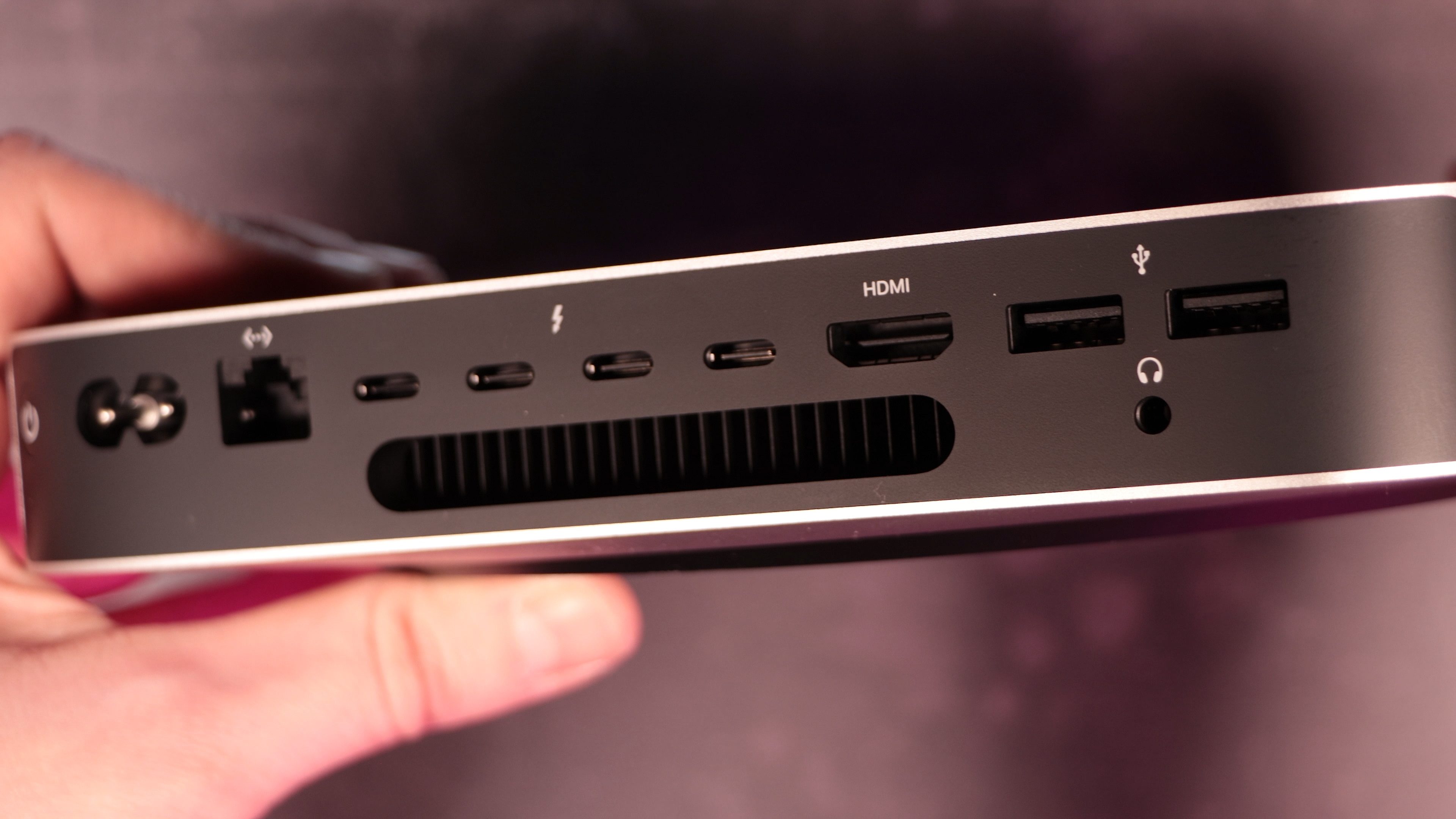 However, Apple also surprised everyone by announcing a version of the Mac mini (2023) that comes with the brand-new M2 Pro chip. This is also featured in the high-end MacBook Pro 14-inch and MacBook Pro 16-inch and offers a huge amount of power. Along with more unified memory (up to 32GB), the Mac mini (2023) is now a seriously impressive workstation PC.
Perhaps best of all, Apple has packed all this new power into the same compact dimensions that many of us have come to love about the Mac mini. You'd be seriously pushed to find a computer that matched the performance on offer here in a similar size.
Apple's final surprise regarding the Mac mini (2023) may be the best, however, as the base model now comes with a new lower starting price of $599 / £649 / AU$999. This is incredible value for money, and after using the Mac mini (2023) for a range of tasks, including ultra-high definition video editing and music creation, I can safely recommend this to pretty much anyone.
Once again, the Mac mini has quietly won us over without having to hog the limelight.
Apple Mac mini (2023) review: Price and availability
New, cheaper starting price
Base model just $599 / £649 / AU$999
M2 Pro model starts at $1,299 / £1,399 / AU$1,999
The Mac mini (2023) had a surprise announcement on January 17, 2023, with pre-orders going on sale as soon as the news broke. Pre-orders will start arriving on Tuesday, January 24, 2023, the same day that it'll also be available in Apple stores and from other retailers.
However, people in Australia will need to wait a little longer, with deliveries starting on February 3, 2023. Apple has not commented on the reason for this delay, but I assume it's down to logistics.
The appearance of the new Mac mini wasn't the only surprise, as Apple also announced a new starting price of $599 / £649 / AU$999 for the base model. This is a welcome deviation from the trend of gadgets getting more expensive with each passing year, and it's $100 / £100 / AU$150 less than what the original Mac mini M1 debuted at.
This base configuration comes with an M2 chip (the same found in the MacBook Air (M2, 2022) and MacBook Pro 13-inch (M2, 2022) that launched last year), which is a step up from the M1 chip found in the 2020 model, and also comes with 8GB of unified memory and 256GB SSD. That price is incredibly compelling, as you're getting a compact PC you can fit almost anywhere, and as we've seen with the M2 MacBooks last year, the M2 chip offers excellent performance, even when it comes to workloads such as video editing and rendering.
It's by far the best value mini PC you can buy right now, with other compact PCs either more expensive, such as the Intel NUC, or nowhere near as powerful. The closest Windows-based mini PC out there is the Geekom Mini IT11, which is slightly cheaper, but does not offer the same sleek design, nor does its quad-core Intel Core i7-1195G7 processor and integrated graphics come anywhere close to rivaling the M2 chip.
The base model alone, then, is impressive enough already, but you can configure it to perform even better. You can upgrade the amount of memory up to 24GB for an additional $400 / £400 / AU$600, and you can get up to 2TB storage, which will cost you an additional $800 / £800 / AU$1,200.
You can also get the Mac mini (2023) with the new M2 Pro chip, which launched alongside the PC, and features in the MacBook Pro 16-inch (2023) and MacBook Pro 14-inch (2023). This is an exciting development, as it's the first time a professional-grade chip has been included in the Mac mini, turning it into a viable compact workstation for creatives, and anyone who wants extra power in a small PC, but finds the asking price of the Mac Studio to be too high.
The Mac mini with M2 Pro starts at $1,299 / £1,399 / AU$1,999, and this will get you an Apple M2 Pro chip with a 10-core CPU and 16-core GPU, along with 16GB memory and 512GB SSD storage.
For an additional $300 / £300 / AU$450, you can get a more powerful M2 Pro chip with a 12-core CPU and 19-core GPU. Upgrading to 32GB memory will cost you $400 / £400 / AU$600, and is the only memory upgrade option.
Apple Mac mini (2023) review: Specs
Apple Mac mini (2023) comes in three main configurations; two with the M2 chip and one with the M2 Pro chip. Currently, there are no Mac mini models that come with the more powerful M2 Max chip, and no news regarding whether such a model will appear later down the line.
Each of these options can be configured to change the chips, add more memory (up to 24GB with the M2 and up to 32GB with the M2 Pro), and increase the available storage up to 2TB (8TB for the M2 Pro model).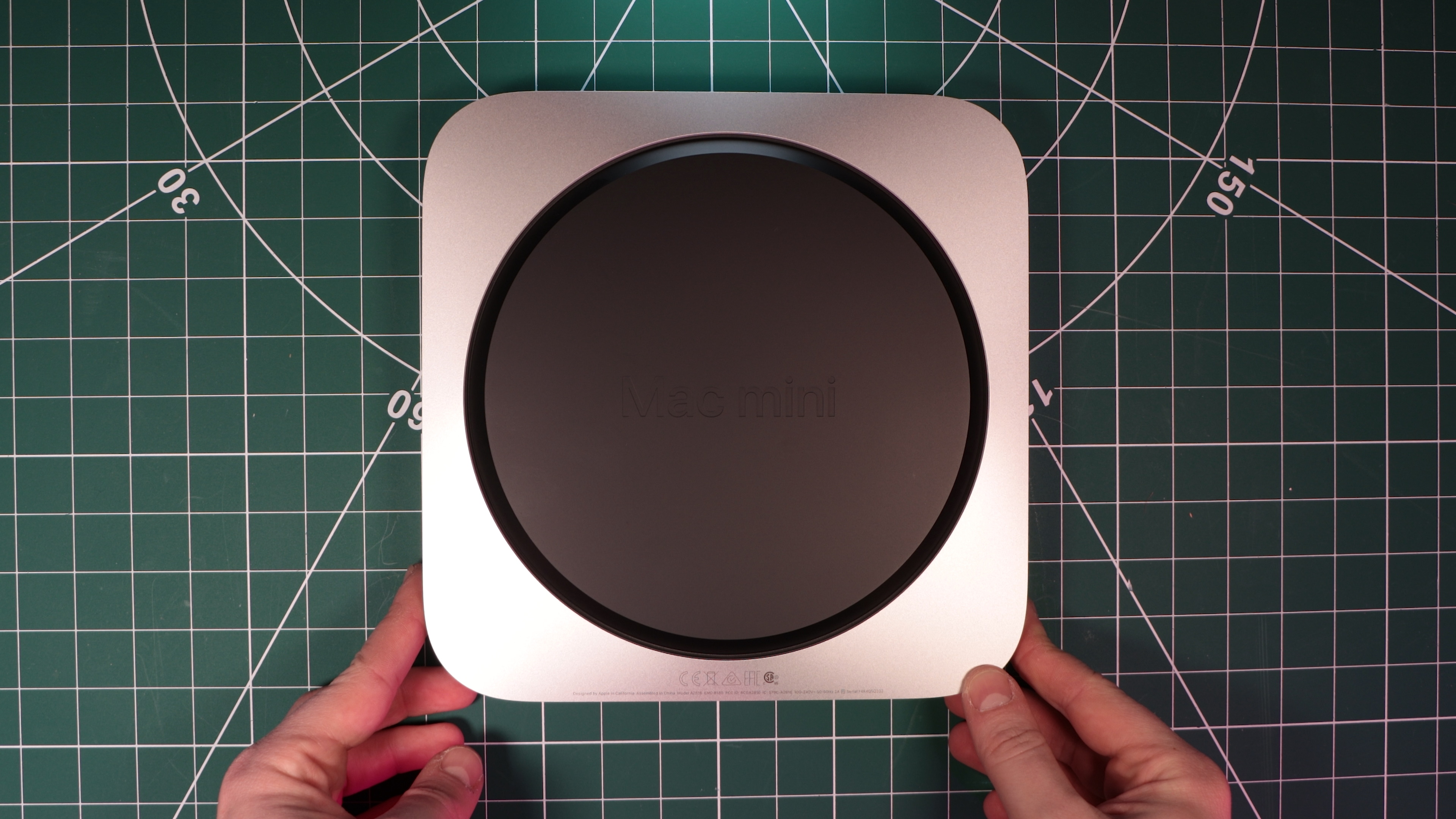 Apple Mac mini (2023) review: Design
Same design as previous model
Small enough for any desk
More ports on the M2 Pro version
The Mac mini (2023)'s design is pretty much identical to the Mac mini from 2020, and that's no bad thing. It remains small and unobtrusive, with a solid metal case and the large Apple logo on the top.
It's small enough to place almost anywhere. You could hide it behind a monitor and turn it into an iMac-like device. In fact, Apple recommends doing exactly this with its Studio Display monitor, but I'm not too sure, as I wasn't much of a fan of that display, and there are much better and more affordable screens out there (check out our best monitors for the Mac mini guide for our recommendations).
The M2 Mac mini is exactly the same in terms of things like weight and depth, at 1.41 x 7.75 x 7.75-inches (3.58 x 19.70 x 19.70 cm) and 2.6lbs / 1.18kg (the M2 Pro weighs more, however, at 2.8lbs / 1.28kg) and support for headphone jacks (the M2 Mac mini supports high-impedance headphones as well). However, when you look around the back, you'll notice some slight changes.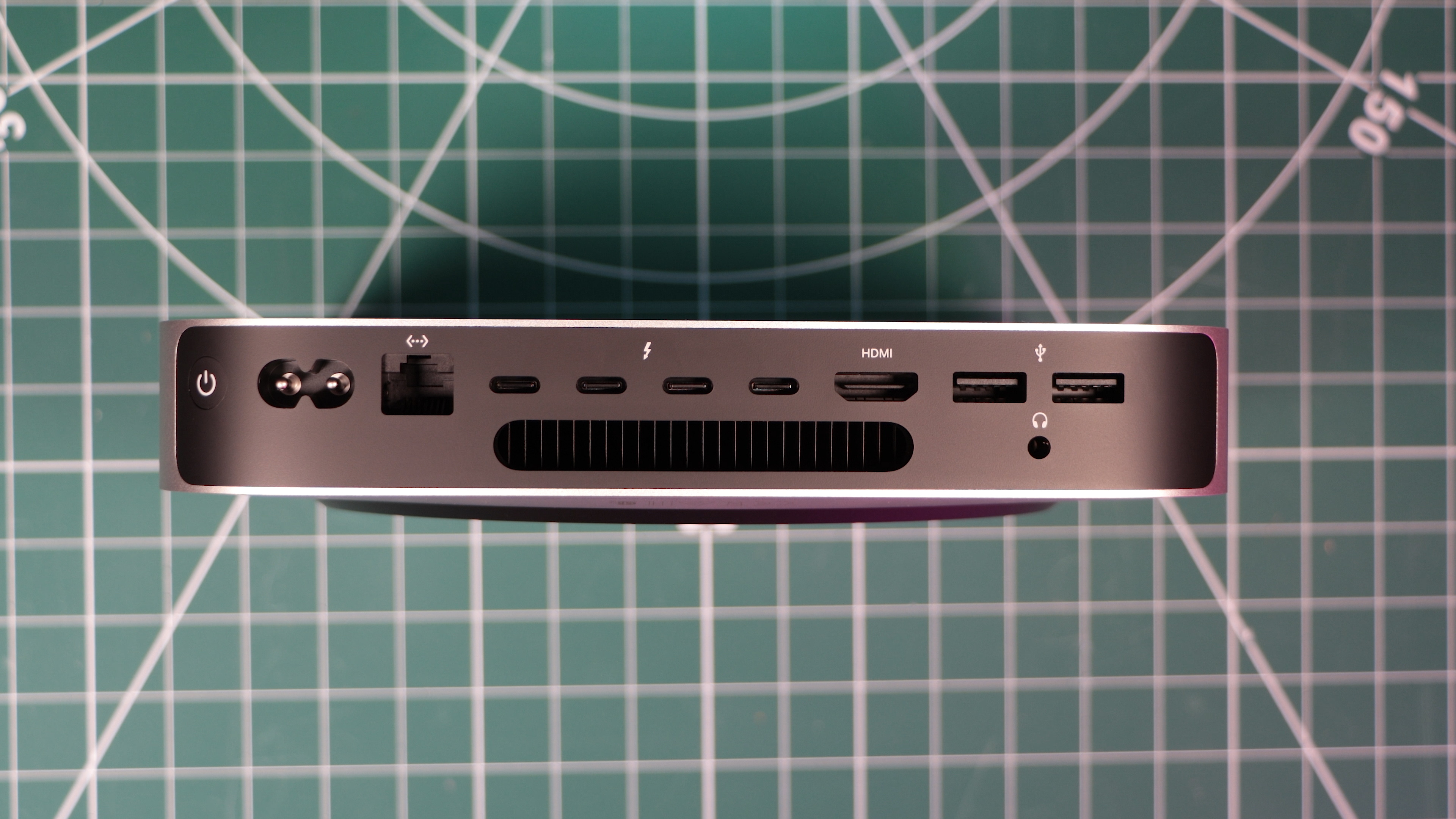 In terms of ports, the M2 Mac mini has two Thunderbolt 4 ports (four for the M2 Pro version), two USB-A ports, and one HDMI port. It also has a gigabit Ethernet port for internet and network connectivity (Wi-Fi 6E is also built-in). The HDMI port of the M2 version can output at 4K and 60Hz, while the M2 Pro model can output up to 8K at 60Hz or 4K at 240Hz.
The Mac mini (2023) also features built-in speakers, giving you sound notifications and text-to-speech capabilities via Siri without the need for plugging in speakers, which is particularly useful for accessibility.
Overall, the design remains pretty unchanged, but I don't really mind. It does the job so well at being a compact and sleek PC that it doesn't need much in the way of improvements. Unlike some mini PCs, the Mac mini isn't modular or upgradable, which remains a shame, but as an Apple device, it's probably not too surprising.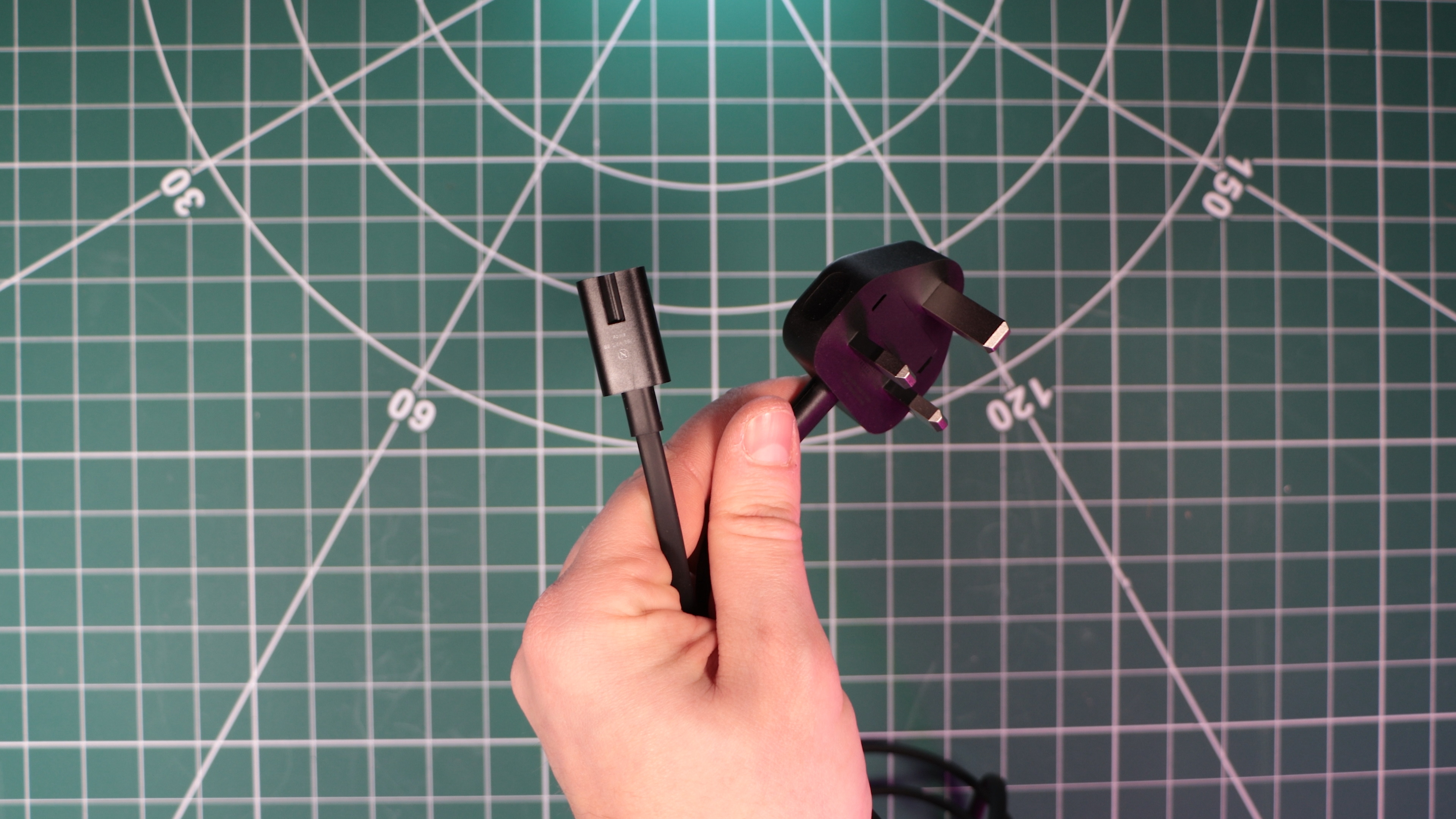 Apple Mac mini (2023) review: Performance
Big step up in performance compared to M1
M2 Pro is excellent
Keeps quiet and cool
Benchmarks
Here's how the Mac mini (2023) performed in our suite of benchmark tests:
Cinebench R23 CPU: Single-Core: 1,649; Multi-Core: 14,786
Geekbench 5 Single-Core: 1,954; Multi-Core: 15,266
PugentBench Photoshop: 978
Premier Pro: 894
Blender: Monster: 126.88; Junkshop: 73.03; Classroom: 56.62
The Apple Mac mini with M2 features the same 8-core CPU/10-core GPU silicon that we saw in the new MacBook Air and MacBook Pro 13-inch in 2022. I reviewed both those models for TechRadar, and I found the performance of the M2 to be an impressive jump compared to the M1 chip. Apple's certainly getting comfortable with making computing chips.
The model I got in for review is the M2 Pro model, but I'm reasonably sure that the performance of the Mac mini (2023) with the M2 chip will be pretty close to the M2 models of the MacBook Air and 13-inch Pro. If that is indeed the case – and I'll hopefully get hold of an M2 Mac mini at some point to confirm – then you're looking at an impressively versatile mini PC that, for the price, easily outperforms the competition. If you were disappointed with the price rise of the MacBook Air (M2, 2022), then the Mac mini (2023) with M2 is almost half the price  - though, of course, no screen, keyboard, or mouse is included in the price.
The M2 Pro model finally makes the Mac mini a PC worthy of consideration if you're looking at doing intensive creative work on it, and you can get two variants of the M2 Pro: the 10-core CPU/16-core GPU version (with six performance and four efficiency cores) and a 12-core CPU/19-core GPU version (with eight performance cores/four efficiency cores).
I performed similar tests on the Mac mini as I did with the MacBook Pro 16-inch (2023) review, including editing 8K movie files and making projects in Ableton Live 11 using a MIDI keyboard, and as with the MacBook, the new Mac mini performed brilliantly. Running synthetic benchmarks, such as Cinebench, which puts the chip under heavy graphical and computational loads, again showed just how close the new MacBook Pro 16-inch and Mac mini perform.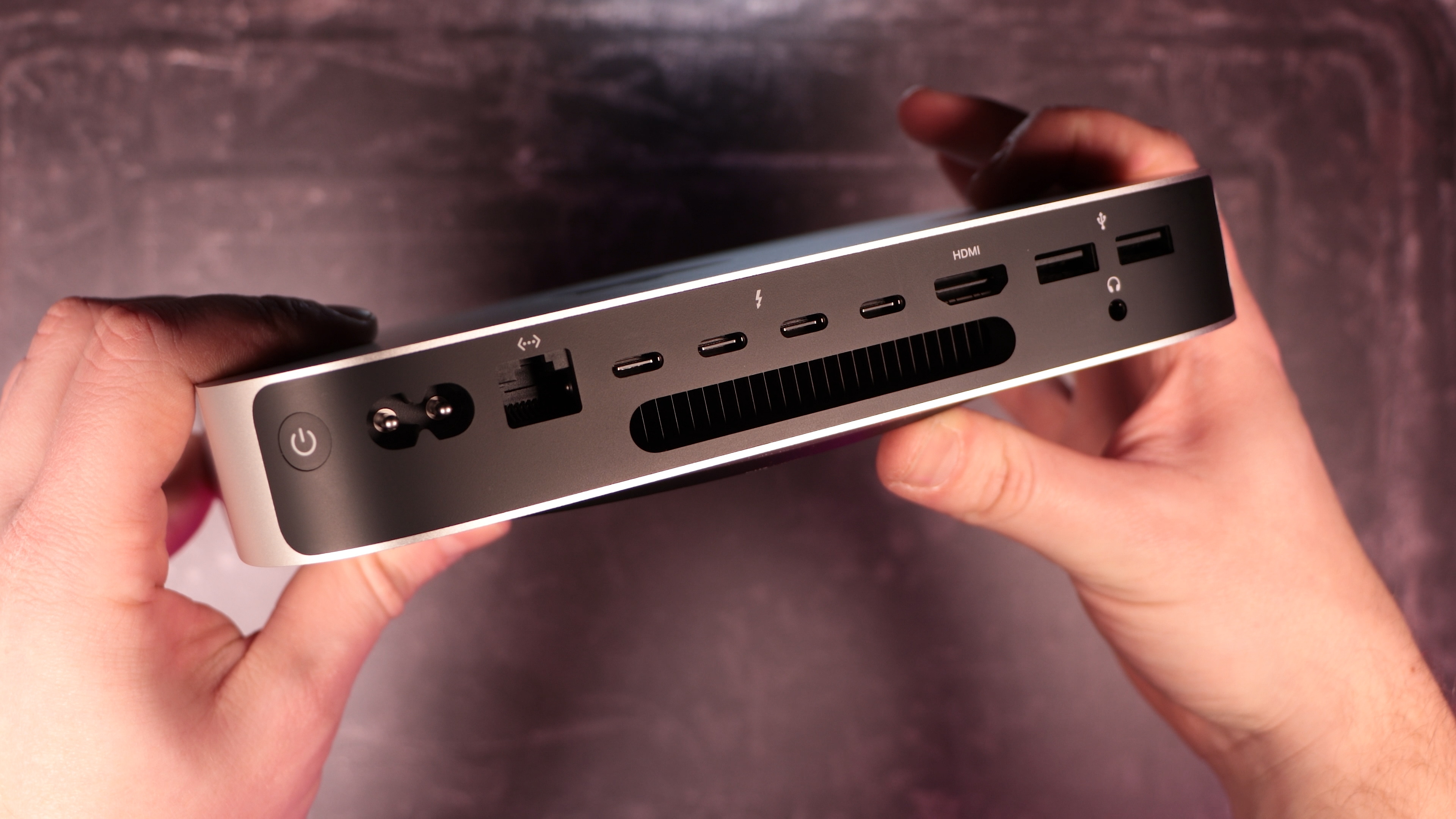 The model of Mac mini I used has an M2 Pro with a 12-core CPU and 19-core GPU, 1TB storage, and 16GB of memory, which will cost $1,799 / £1,899 / AU$2,749, if you configure it on Apple's website. A 16-inch MacBook Pro would set you back $2,699 / £2,899 / AU$4,299. That's quite a difference in price, and while you're not getting a screen with the Mac mini (and the display of the 16-inch MacBook Pro really is fantastic), or the portability, the fact that the Mac mini offers such close performance for so much less really is impressive.
Apple has made big strides in improving the efficiency of the M2 Pro chip, and while that is arguably more important when it comes to the MacBook, as better efficiency can lead to longer battery life, it's also welcome with the Mac mini. Due to its compact size, the Mac mini can keep working without producing too much heat, and that means it also doesn't need to use its fans that often, leading to a pleasingly silent PC. In these days of ever-higher energy bills, the efficiencies brought in by the M2 and M2 Pro are certainly welcome, especially if you're planning on using the Mac mini for long periods of time.
Should you buy the Mac mini (2023)?
Buy it if...
You want a compact PC
Apple has done it again – this is the best compact PC you can currently buy, regardless of which model you go for.
You want an affordable way to get a Mac
At $599 / £649 / AU$999, the base model is brilliant value, and the cheapest way to get hold of a new Mac.
You were eying up the Mac Studio
The Mac Studio is a fantastic compact PC for serious workloads, but the Mac mini (2023) kitted out with the M2 Pro is a very compelling alternative for a lot less money.
Don't buy it if...
You want a mobile device
While the Mac mini has the style and performance of the most recent MacBooks, it's not a device you can use anywhere – it needs to be plugged into a monitor and power.
You want an upgradable PC
The Mac mini isn't modular, and it can't be opened up and tinkered with. If you want a mini PC that you can upgrade in the future, then look elsewhere.
You don't like macOS
As an Apple product, you're going to have to make do with macOS Ventura. It's a perfectly fine operating system, but if you're determined to stick with Windows or Linux, you'll need to consider an alternative.
Apple Mac mini (2023) review: Also consider
If our Apple Mac mini (2023) review has you considering other options, here are three more laptops to consider...  
How I tested the Apple Mac mini (2023)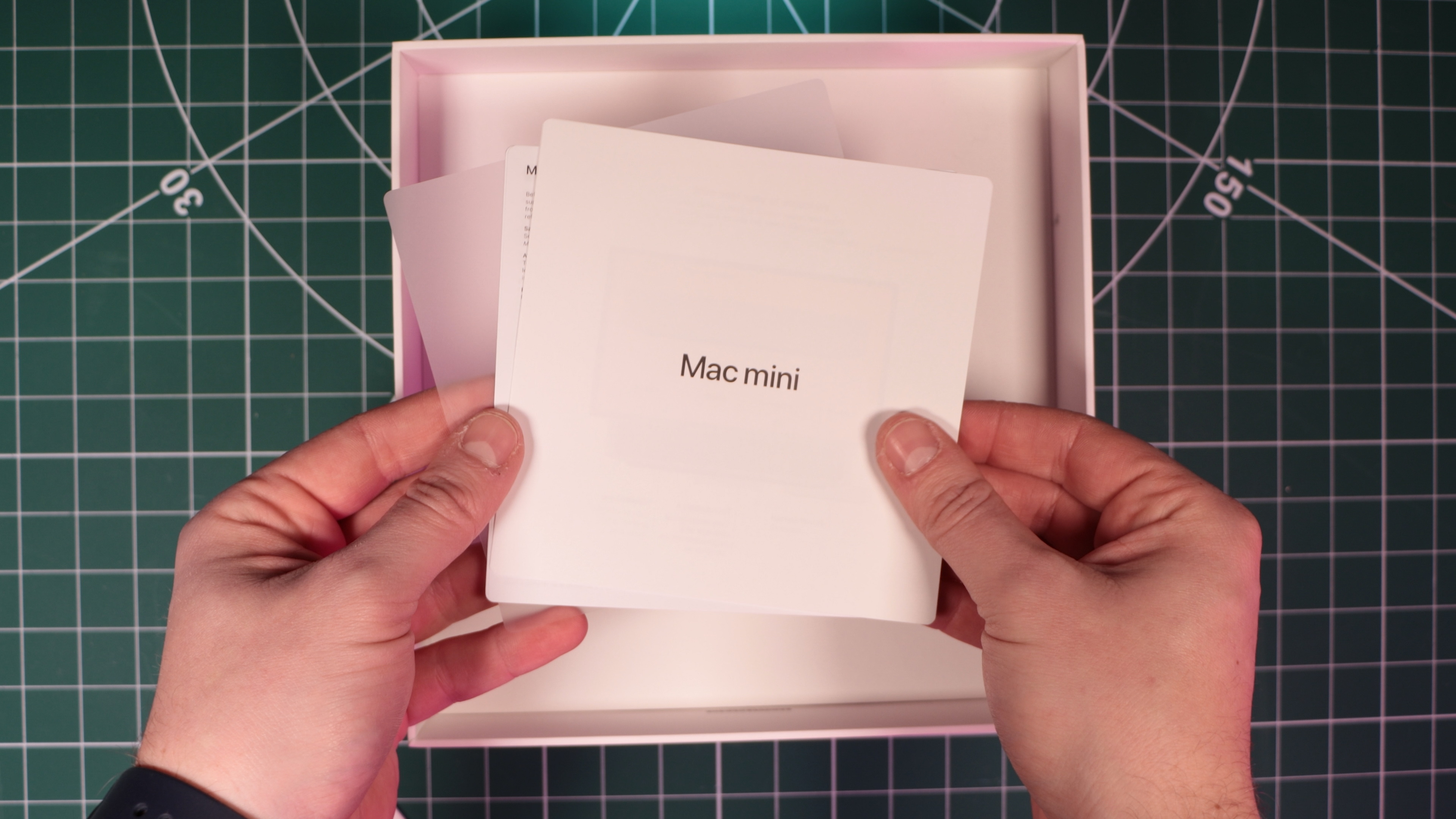 I used the Mac mini over a weekend as my main computer
I edited 8K video on it and performed other tasks
I ran our usual suite of standardised benchmarks
Apple delivered the Mac mini (2023) at the same time as the MacBook Pro 16-inch (2023), which I also reviewed, and I spent several days using both products. I also spent a weekend using the Mac mini (2023) as my main PC and wrote up parts of the review using it.
I loaded up some 8K video files to see how the Mac mini handled intensive creative tasks, as well as transcoded a 1080p video and browsed the internet using both Safari and Chrome. I also created some multi-track music projects in Ableton Live, which is a popular tool for recording music.
I've reviewed and used many small form factor PCs throughout my career, including all of the latest Mac minis, and have used this experience to compare the Mac mini (2023) with its nearest rivals.
First reviewed January 2023