Philips Evnia 34M2C7600MV: Two-minute review
The Philips Evnia 34M2C7600MV is one of the latest entries from Philips' new Evnia line of gaming monitors, and it offers a lot of features and a great design, but its overall performance left me a bit underwhelmed – especially at its premium price point.
Over the past several years, Philips has released some quality ultra-wide monitors including the Brilliance 346P1CRH and 346B1C. However, the Dutch company has made a recent push into more gaming-centric displays through its Evnia line, and when it comes to the Philips Evnia 34M2C7600MV, there are some impressive specs to the 34-inch display. 
The monitor has a 1440p resolution for its 21:9 aspect ratio with a 165Hz refresh rate, along with HDR1400 certification, and is backlit through mini LED with 1152 local dimming zones. 
For smoother gameplay, the Evnia 34M2C7600MV is compatible with AMD FreeSync Premium Pro, and to help reduce eye strain and maintain visual comfort, the monitor also features a LowBlue Mode in addition to flicker-free technology.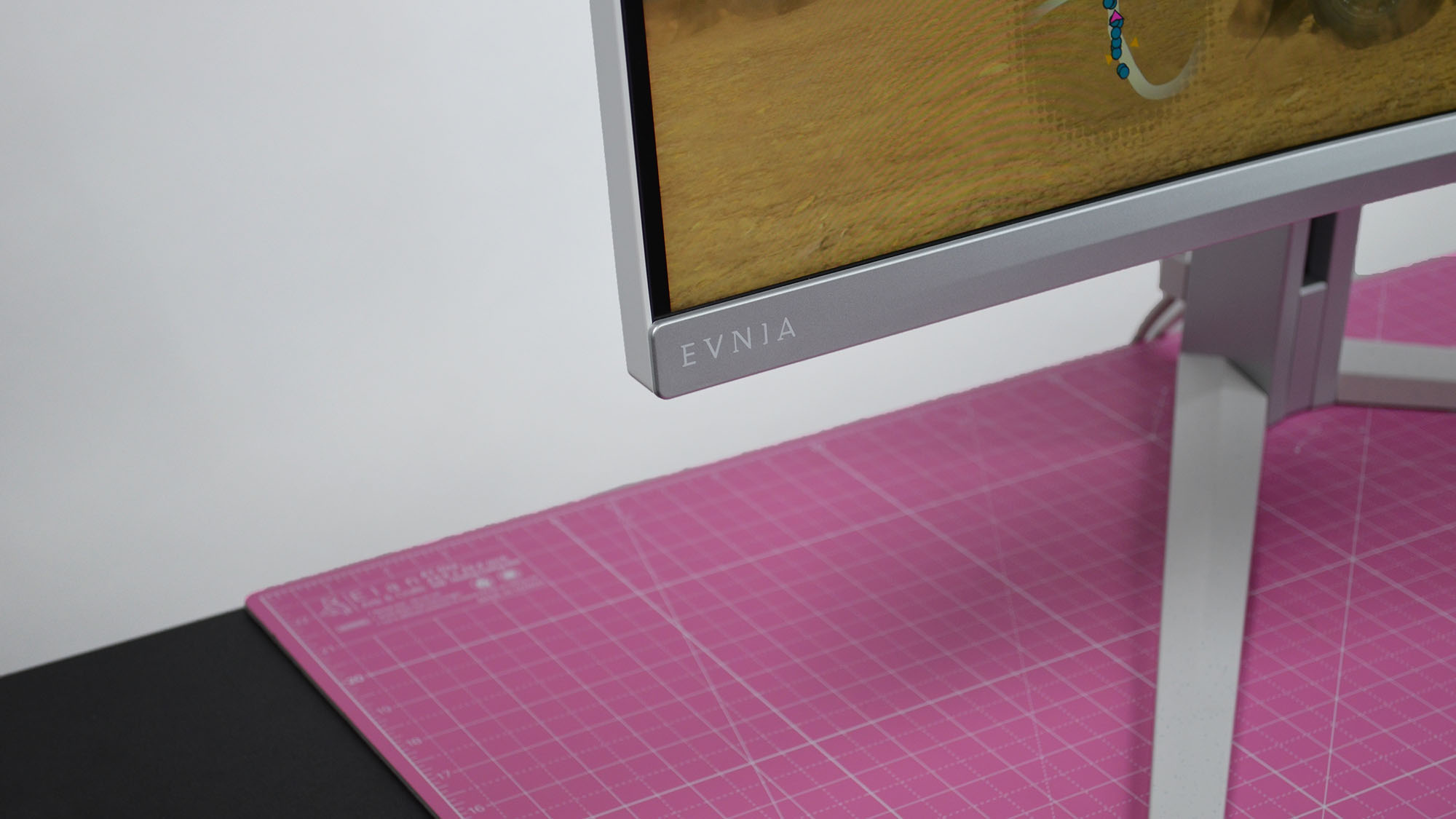 Beyond those technical specs are some noteworthy features such as KVM capabilities which are perfect for streamers who want to streamline their keyboard and mouse inputs over two devices like another desktop or laptop. The Evnia 34M2C7600MV also has two 5W speakers with DTS Sound alongside back panel Ambiglow lighting for added immersion.
This setup is definitely good enough for serious PC gamers to take notice, and there's no question that on the surface, this seems like a contender for one of the best ultrawide monitors of the year.
All of that, though, comes at a steep price of $1,299.99 (about £1,275/AU$1,920) which, along with some other issues, holds this monitor back from being a clear candidate for our best gaming monitor list. 
Though image quality and performance while gaming is excellent, the same can't be said for more general computing tasks. Having individual color temperature settings would've helped alleviate those problems but the lack of them hurts when viewing video content or simply trying to browse the web.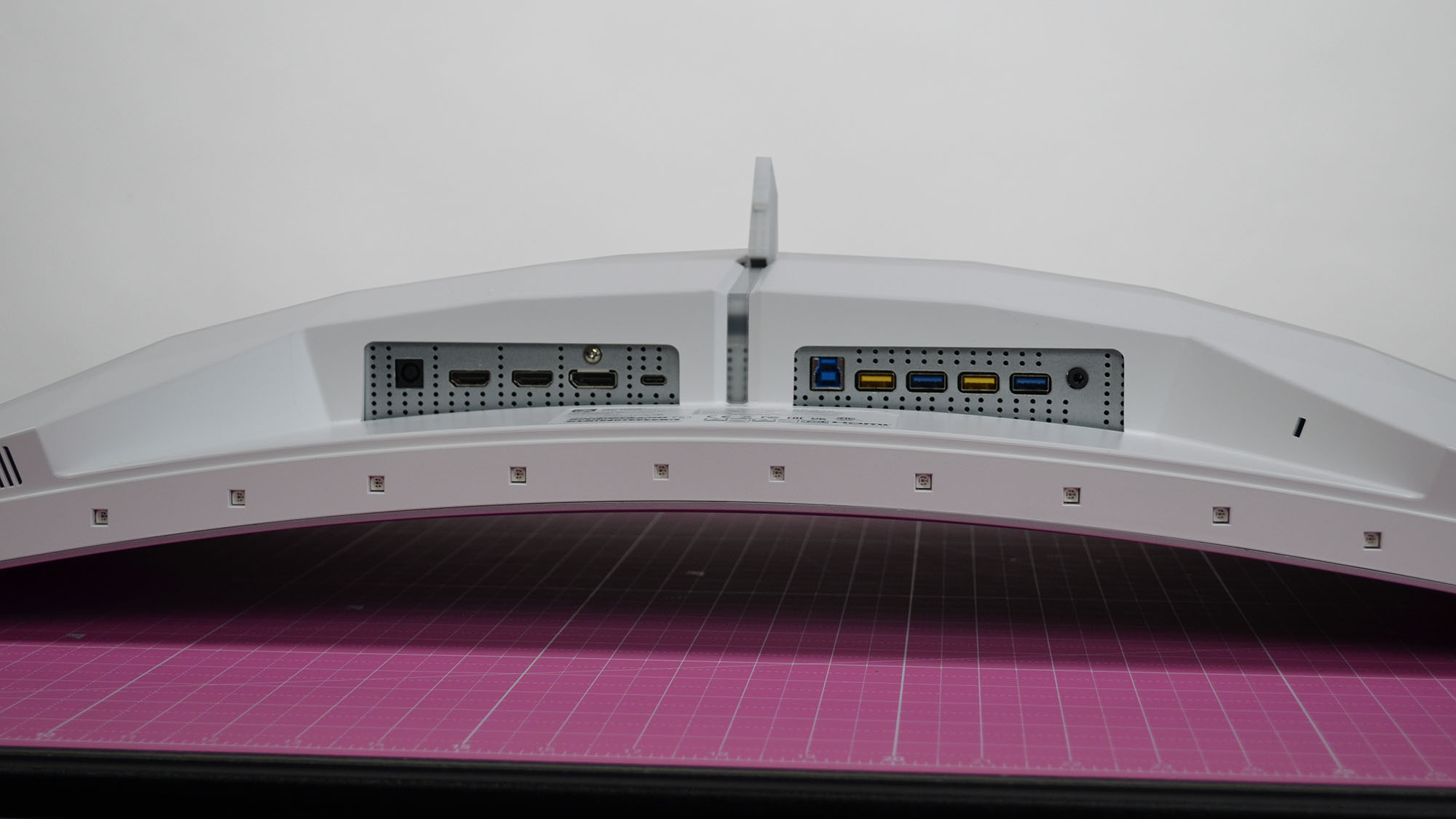 On the plus side, setting up and placing the Philips Evnia 34M2C7600MV isn't a difficult process (it's just under 25 lbs, 11kg). The base easily screws into the neck and both easily connect to the display. Despite the ultra-wide nature, it's not cumbersome once all the pieces are put together as weight distribution is good. The ports face downward and the display can be lifted up and tilted for better access when connecting display inputs and power. 
Most PC gamers are going to use the sole DisplayPort 1.4 input, leaving the two extra HDMI 2.1 ports for various other devices like another computer or video game console (and with HDMI 2.1, a PS5 or Xbox Series X|S can get up to 120 fps). 
Through the USB Hub, users have access to four USB-A ports. To utilize KVM, there's a sole USB-C port. Users who want a more discrete listening experience can use the audio out port as well. On the right bottom side of the rear panel is the joystick control for accessing menus for doing everything from visual presets to changing inputs. 
Design-wise, the Evnia 34M2C7600MV has a minimalistic white and silver aesthetic that's made from 35 percent recycled materials. Making view positioning adjustments is fairly easy, and though the Ambiglow tech in the display slightly lags behind what's on the screen, the small LED lights on the back of the panel do actually match the color of whatever is happening on the display.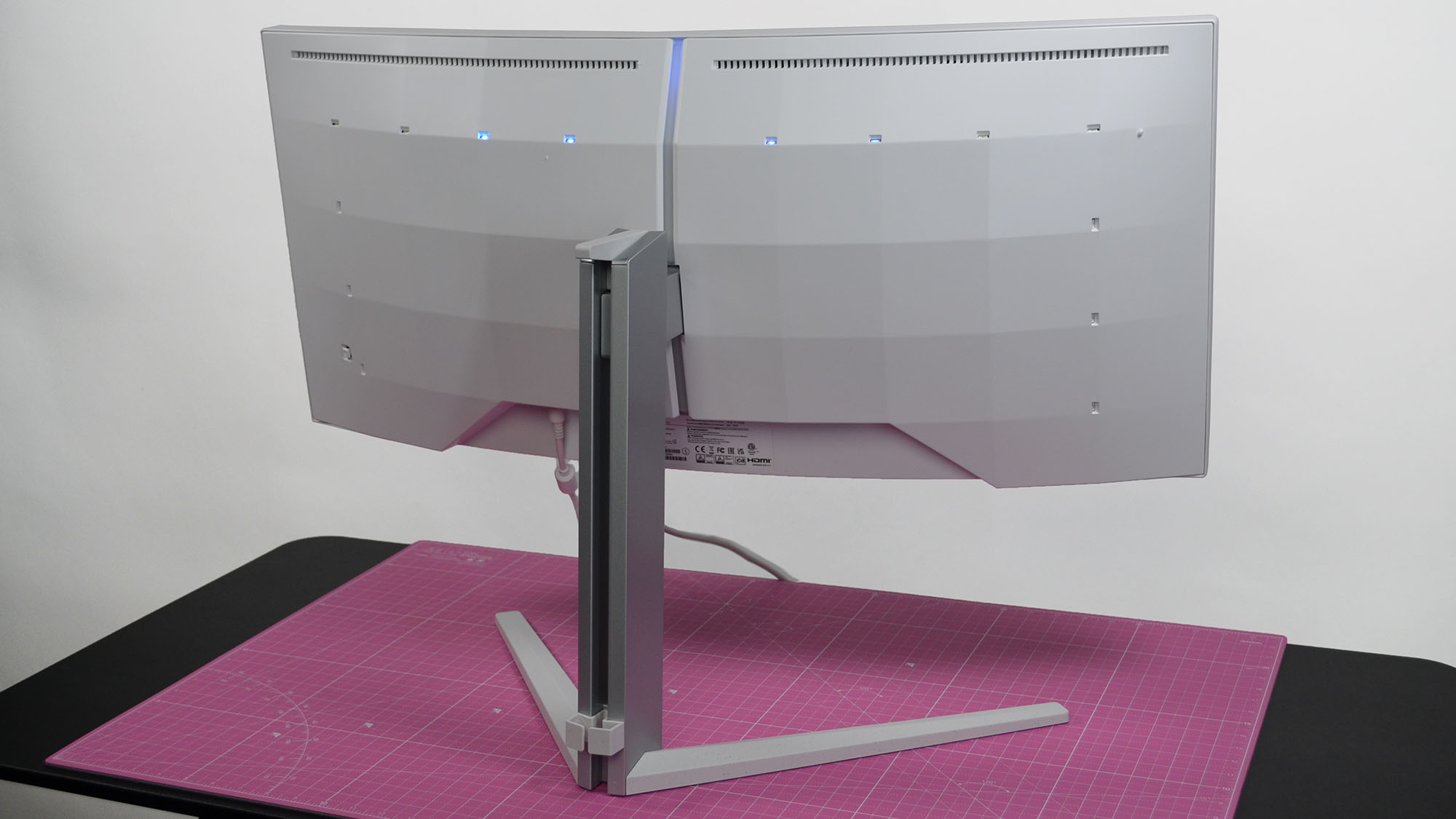 It's a cool alternative to the simple RGB lighting that most gaming monitors feature. For example, when you're playing Forza Horizon 5, it would turn a brownish red when driving through sandstorms. It's a neat trick that takes a few seconds to transition and looks great when playing at night. 
The two 5W speakers with DTS Sound are another standout on the Evnia 34M2C7600MV's design as they offer both volume and clarity. Using external speakers is great when watching videos or listening to music, and serious gamers will obviously have one of the best PC gaming headsets for more immersive gameplay and situational awareness. 
As a nice touch, there's also a reticle overlay to help players when playing shooters too. Alongside the pretty respectable audio quality provided by the monitor, Ambiglow and KVM help somewhat justify its high price point. 
When it comes to performance during gaming, the Evnia 34M2C7600MV offers impressive results. Games like Cyberpunk 2077, Forza Horizon 5, Need For Speed Unbound, and Street Fighter 6 offered great image quality in standard range as well as HDR. The mini-LEDs are really punchy in making colors look exceptionally bold. Blacks are deep when needed as well. 
There are also a few gaming presets available for first-person shooters, racing, and real-time strategy games. Those presets can be saved between two personalized settings dubbed Gamer 1 and Gamer 2. 
Having the high refresh rate and AMD FreeSync Premium Pro allows a smoother gameplay experience which is essential for playing games like Street Fighter 6 or first-person-shooters like Call of Duty: Modern Warfare II and Doom Eternal. Input lag wasn't an issue during our playtime with those games.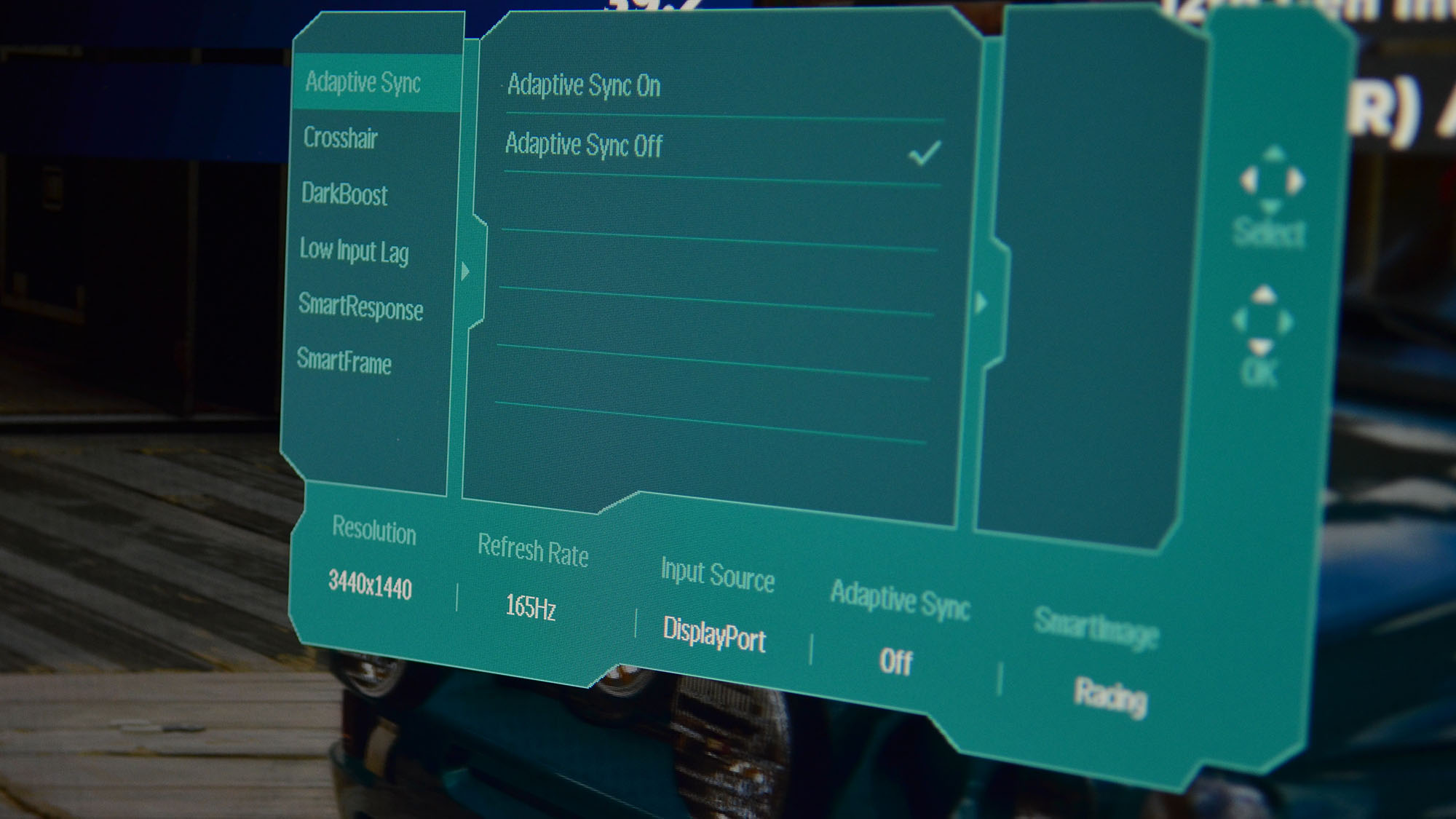 The problems with the Evnia 34M2C7600MV really show up during non-gaming tasks, and are most noticeable when HDR is turned on. 
Colors looked a bit flat and washed out when using Windows 11 and lacked a clear crispness. That wouldn't have been much of an issue if the monitor featured color temperature settings to alleviate those issues, but this isn't an option, which is baffling given the monitor's price tag. 
To get the best visual quality, we had to turn HDR on for gaming and turn it off when trying to browse the web and watch video content on YouTube or Netflix, which is definitely a hassle. Meanwhile, creatives who use Adobe Photoshop or Premiere Pro may have some problems when attempting to color correct images as well, though the monitor does cover 148.8% of the sRGB, 97.8% of the Adobe, and 99.3% of the DCI-P3 color gamuts. 
Gamers looking for a great ultrawide monitor for gaming and streaming exclusively may find what they need out of the Evnia 34M2C7600MV. Games look great and KVM functionality works well. Having quality speakers does bring the value up a bit. Many may find the $1,299.99 price tag unreasonable; especially if potential buyers don't want to do anything except game. The Philips Evnia 34M2C8600 feels lightyears ahead of the Evnia 34M2C7600MV, and can be found for roughly the same price, making this monitor a tough sell at the moment.
Still, the Philips Evnia 34M2C7600MV may not be the best at everything it tries to do capability-wise but steps up where it counts. If the price comes down a bit, it's an easy monitor to recommend for gamers looking for the best monitor for gaming that colors outside the typical gamer RGB lines.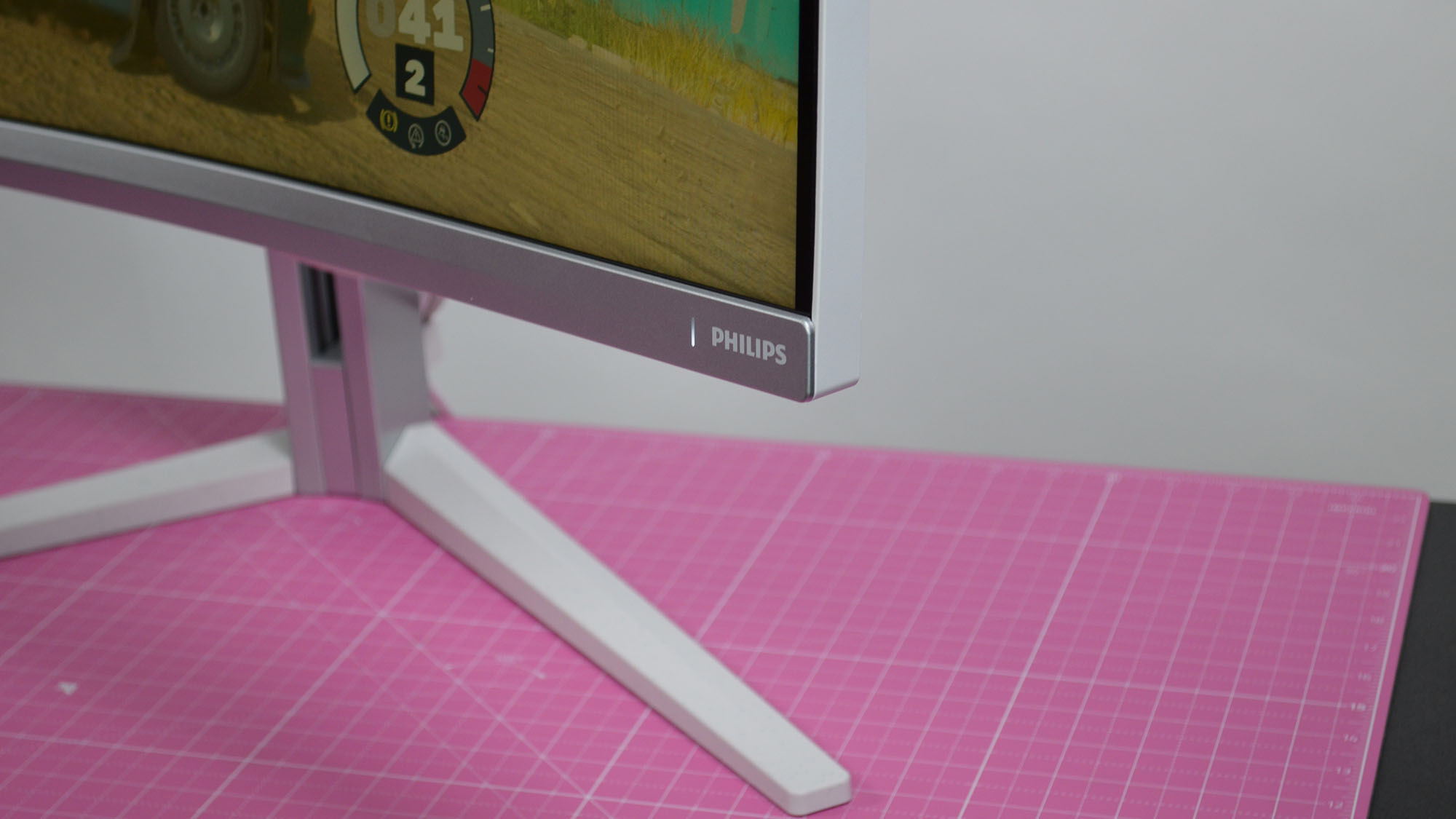 Philips Evnia 34M2C7600MV: Price & availability
How much does it cost?  $1,299.99/£1,329.87 (about AU$1,900)
When is it available?  Available now  
 The Philips Evnia 34M2C7600MV is available now in the US and UK. B&H Photo has the Evnia 34M2C7600MV for $1,299.99, while you can get the Evnia 34M2C7600MV in the UK on Amazon for £1,329.87. 
That price is quite steep; especially since the Philips Evnia 34M2C8600 is available for roughly the same price and is, frankly, a much better monitor. There are also cheaper ultrawide monitors like the AOC CU34G2X and BenQ EX3410R which are available for a little less than half the price. However, those particular monitors don't have extras like mini-LEDs or KVM, so it's not a straight apples-to-apples comparison. 
While there is a page on Philips's Australian website for the Evnia 34M2C7600MV, there currently isn't a way to purchase in that territory just yet. 
Philips Evnia 34M2C7600MV: Specs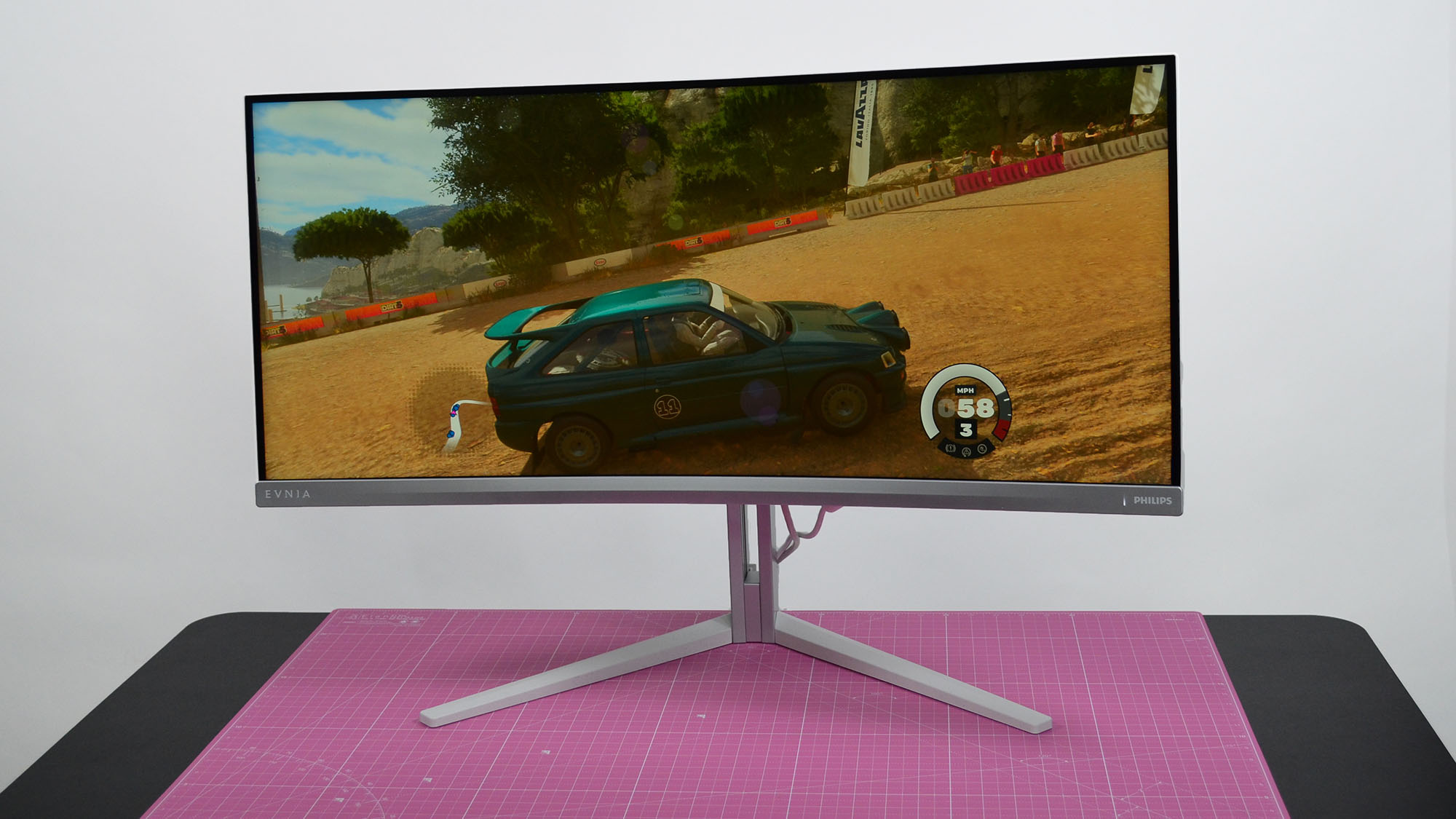 Should you buy the Philips Evnia 34M2C7600MV?
Buy it if...
You need a solid ultra-wide monitor that leans toward gaming
The Philips Evnia 34M2C7600MV provides great image quality and performance during gaming thanks to its hardworking mini-LEDs alongside a high refresh rate.
You require a lot of ports and KVM functionality
Beyond the four usable USB-A ports, a single Display Port, and two HDMI ports,  being able to control two devices through the sole USB-C for KVM adds enough to the gaming monitor's value.
Don't buy it if...
You want an affordable ultra-wide monitor 
Priced at $1,299.99, the Evnia 34M2C7600MV is definitely on the higher end when it comes to ultra-wide gaming monitors. 
You need serviceable image quality outside of gaming
When gaming, the ultra-wide gaming monitor provides great image quality and performance. Non-gaming tasks like web browsing and video content viewing may require users to turn off HDR for better image quality. 
Philips Evnia 34M2C7600MV: Also consider
If my review has you considering other options, here are two more of the best ultrawide monitors for gaming and content creation.
How I tested the Philips Evnia 34M2C7600MV
I spent around two weeks with the monitor
I played various games ranging from Cyberpunk 2077 to Street Fighter 6 as well as worked on creative content
I worked with both Adobe Creative Cloud apps and Google G-Suite 
I tested the Philips Evnia 34M2C7600MV over a period of two weeks. As mentioned previously, I played various AAA games on the gaming monitor, including Cyberpunk 2077, Forza Horizon 5, Need For Speed Unbound, Call of Duty: Modern Warfare II, Street Fighter 6, and Diablo IV. 
To try out creative capabilities, I used Adobe Photoshop and Premiere Pro. When not gaming or testing creative learning software, I used it for more general computing tasks like web browsing alongside consuming video content. 
We pride ourselves on our independence and our rigorous review-testing process, offering up long-term attention to the products we review and making sure our reviews are updated and maintained - regardless of when a device was released, if you can still buy it, it's on our radar.
First reviewed August 2023