The Sonos Era 100 is a new speaker from Sonos to replace the Sonos One, launching on March 28, and I've had the chance to hear it in action during a demo. We'll bring you a full Sonos Era 100 review later when we've been able to test it for longer under our own terms, but I can tell you right now that it looks like a great upgrade – though with a price of $249 / £249 / AU$399, it's also higher-priced than the Sonos One, which costs $219 / £199 / AU$319. And it's much higher priced than the Sonos One SL, which costs $199 / £179 / AU$289. 
However, the Sonos Era 100 includes some long-awaited features compared to its predecessor. (The Sonos One will remain on sale while stocks last, but Sonos isn't making more, the company told me). In particular, the Era 100 brings a 3.5mm line-in option (via and adapter) as well as standard Bluetooth audio support to a mid-size Sonos speaker for the first time, making it the most flexible smaller speaker the company has made so far.
It's all different when it comes to sound too, of course. Sonos' goal with the Era 100 was to deliver stereo sound from a single unit while eliminating the idea of there being a 'sweet spot' to listen to it from, and to add more bass – the last of these is something I've always bemoaned as missing from the Sonos One, despite it being the best wireless speaker for most people. Even in acoustic music, you're not getting the full effect without rich bass.
So the Sonos Era 100 features a new oval woofer for bass and mid-range, and two angled tweeters above it, one facing left, and one facing right. The tweeters have a 100-degree angle between them, and each has a waveguide frame in front of it that disperses sound across 180 degrees per tweeter. That means the tweeters have a total sound spread of 270 degrees between them, according to Sonos.
And that's in a small unit that measures 4.72 x 7.18 x 5.14 in (120 x 182.5 x 130.5 mm - W x H x D), which is a little shorter than the Sonos One, but a little thicker in both directions, too. Design-wise, it feels very much from the same family as the Sonos Move and Sonos Arc.
Hands-on Sonos Era 100 review: Audio impressions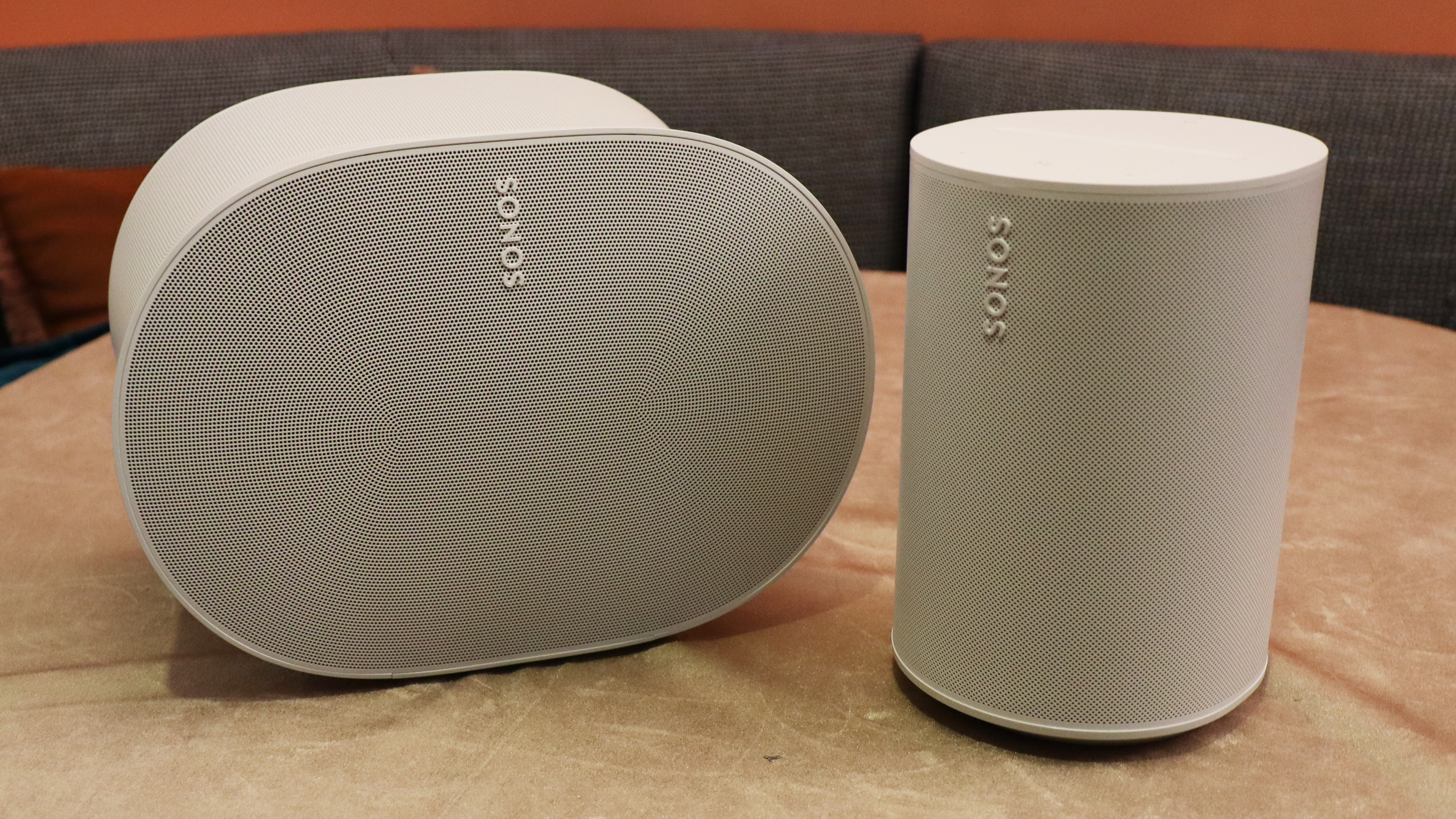 Despite the small size, the sound is impressively big, but Sonos has always been good with that. From the tracks I listened to, I can tell you that Sonos absolutely nailed its goal to add more bass to the Era 100. It's a major change from the Sonos One, and having a much richer bass foundation adds a lot of energy to tracks that benefit from it. But this kind of bass also makes instruments such as pianos and cellos sound more true to life.
It's still a small device, so the bass is not exactly going to shake the room – hardcore dubstep fans will be pleased to hear that you can still pair the Era 100 with the Sonos Sub or Sonos Sub Mini for more bass – but it came across as strong yet refined in my time with it, which is exactly what I want.
The rest of the Era 100's sound is lovely too, and it seems especially sharp with details – nothing I heard came across as soft unless it was supposed to. I do have a slight concern about upper-mid tones standing out well enough when a fair amount of bass is also present – I got a sense that voices may have been getting a little bit swamped in the mix. However, I wasn't choosing the tracks and it wasn't an exhaustive demo, so I'll reserve judgment until I can test it myself.
When it comes to the spreading of sound and the aim of stereo from one box, I'll say the expansiveness of the audio was really impressive, and it certainly came across as bigger than one speaker. But it's more like it's giving the instruments extra space to breathe than really delivering stereo separation, even sitting pretty much central to it. And that's fine – it's not like other speakers have cracked this either.
One interesting note is that it will now be easier for everyone to get the best possible sound from the Sonos Era 100, because there's a new type of TruePlay tuning coming for it. Sonos is calling this 'Quick Tuning', and it's still done from the Sonos app, but unlike regular TruePlay tuning, it can be done from Android as well as iOS. In this new tuning mode, a sound is played, and the mics in the Era 100 listen to the sound, and tune for the room accordingly.
Sonos says that this is more effective than the 'Auto TruePlay' tuning in the Sonos Move, but not quite as effective than the classic TruePlay tuning where you wave an iPhone around the room.
I didn't get the chance to hear the Sonos Era 100 play sound over the line-in or Bluetooth, but Sonos did clarify that as long as the Era 100 speaker is playing, anything that's plugged into it can be shared across other Sonos speakers, so you could take sound from one of the best turntables into the kitchen.
Sonos also said that the Bluetooth version is 5.0 at launch, but that it will be upgraded to 5.2 in the future, which opens up the possibility of high-quality Bluetooth LE Audio support, but the company didn't confirm that.
You can also connect an adapter to the Era 100 that adds an Ethernet connection, as well as a USB-C connection that can be used as a digital line-in – but the adapter comes separately.
Hands-on Sonos Era 100 review: Home theater specs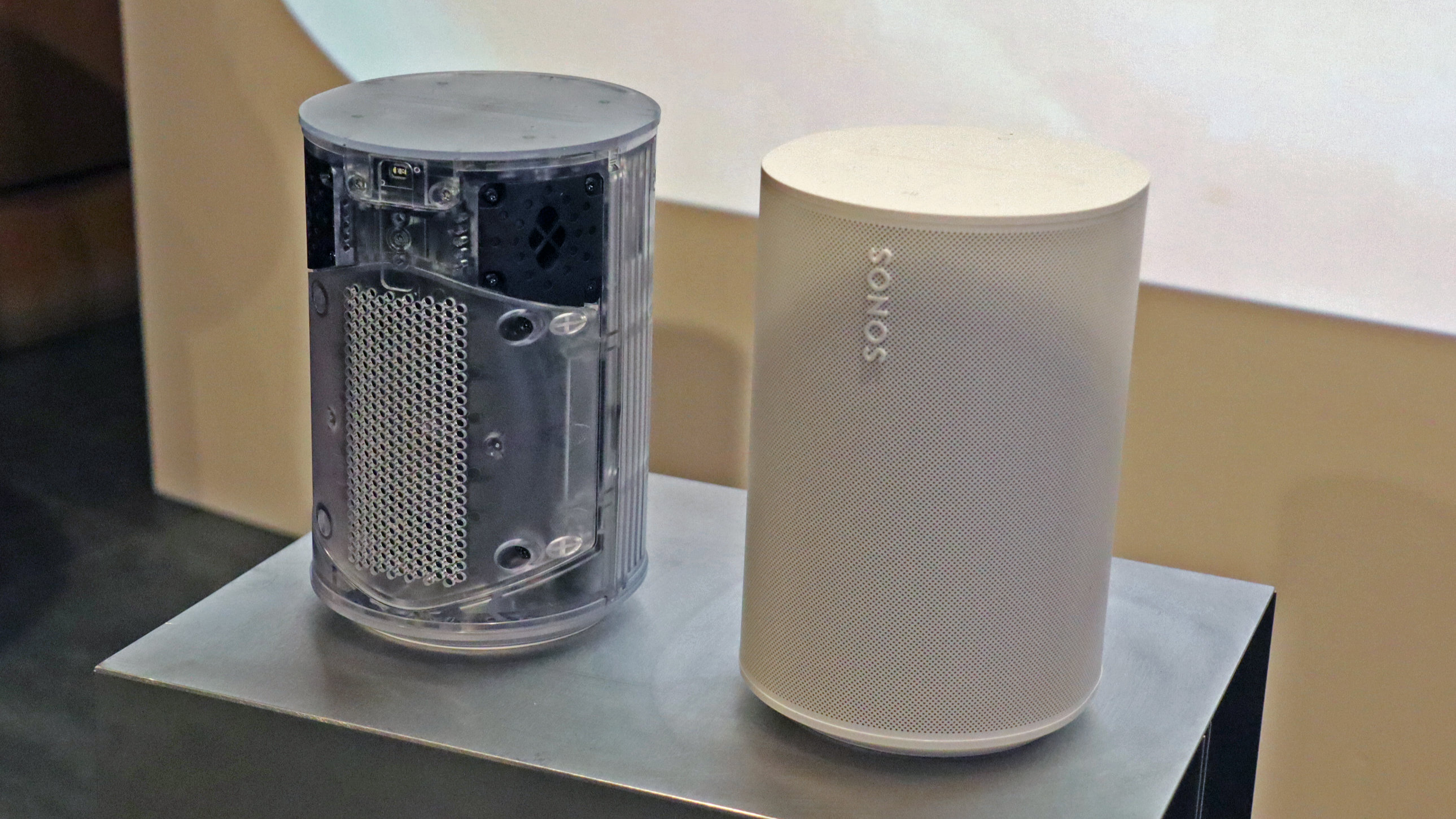 The main market for the Era 100 is people wanting small footprint wireless speakers. But just like the Sonos One, the Era 100 can be used in a home theater configuration, adding surround sound for the Sonos Ray, Sonos Beam or Sonos Arc, though I didn't get to try this.
With two angled drivers, I hoped that the Sonos Era 100 would be able to add more surround-sound channels to a Sonos home theater setup, pushing things to 7.1.2, instead of the 5.1.2 you get currently from a Sonos soundbar with rear speakers. But that's not the case – Sonos says that Era 100 speakers act as mono units when in home theater mode, so you're still getting 5.1.2. (Adding two Sonos Era 300 units in home theater mode does upgrade the setup to 7.1.4 when used with Sonos Arc.)
I have hope that Sonos is being a little shy here, and there will still be a better steering effect for side and rear sounds from the Era 100 – when I tried the Era 300 in home theater mode, I found that you could easily think it added more than two extra channels. But only a full test will reveal that.
Other tweaks to know in the Sonos Era 100's construction are that it's now made from 40%-50% recycled plastic on average, that it draws much less power when idle than the Sonos One, and that it's also been designed to be easily disassembled and repaired.
Hands-on Sonos Era 100 review: Early conclusion
I'm really excited about the Sonos Era 100 overall – a lot of the features look like my personal checklist for what I wanted to see from it. But I'm disappointed that it's become less affordable, especially since the cheaper Sonos One SL isn't sticking around, but the more expensive Sonos Five is. Hopefully there will be a Sonos Era 100 SL in the future to bring the price down a little.
Perhaps Sonos thinks that most people would be satisfied with the Sonos Roam if they want a Sonos speaker under $200 / £200, and it may well be right – but that wouldn't have been the case for me.
Which is not to say that the Era 100 doesn't seem like it'll be worth its price, especially since it's more flexible – it's clearly going to be one of the best Sonos speakers yet. It's just a shame for it to move out of more people's reach.