Nvidia GeForce RTX 4070 Ti: Two-minute review
The Nvidia GeForce RTX 4070 Ti came onto the scene needing to score a real win if Team GReen had any hope of reigning in a resurgent AMD, and this is exactly the right graphics card to do that.
The RTX 4070 Ti isn't the best graphics card Nvidia's ever put out, and its launch has been somewhat overshadowed by the major stumbles Nvidia has made since Jensen Huang first announced the Nvidia Lovelace launch lineup back in September — which was really more of a brief aside during a presentation overwhelmingly devoted to getting us to care about the Omniverse, but I digress.
And, lest we forget, the RTX 4070 Ti is identical in substance to the "unlaunched" RTX 4080 12GB that was initially announced to the confusion of many, and it's not surprising that there is no Founders Edition for this card, since you really can't scratch a 7 out from an 8 in RTX 4080.
What's more, the RTX 4080 that we did get is too expensive to really recommend, so it's disappointing that the RTX 4070 Ti wasn't the card to carry the 4080 brand into the next generation. It is without question the best Nvidia graphics card you can buy right now (by value) from this new generation of GPUs, and it represents a major leap forward for everyday, mainstream PC gaming. It's not without its flaws, but on balance, it's the Nvidia GPU that anyone looking to upgrade with Team Green ought to be buying unless they have a couple of thousand dollars to burn.
With an MSRP of $799 / £799 / AU$1,469, it's cheaper than the cheapest RDNA 3 GPU, the AMD Radeon RX 7900 XT, and half the price of the Nvidia GeForce RTX 4090. And while both of those cards outperform the RTX 4070 Ti in raw performance terms, there are a number of value adds for the RTX 4070 Ti that collectively make it worth major consideration regardless of its limitations.
The Nvidia RTX 4070 Ti isn't an undisputed winner in the lower-premium GPU class, but this is where Nvidia really needed to shore up its flank after AMD crushed it in my AMD Radeon RX 7900 XTX review and to that end it is exactly what Nvidia needed right now.
Nvidia GeForce RTX 4070 Ti review: Price & availability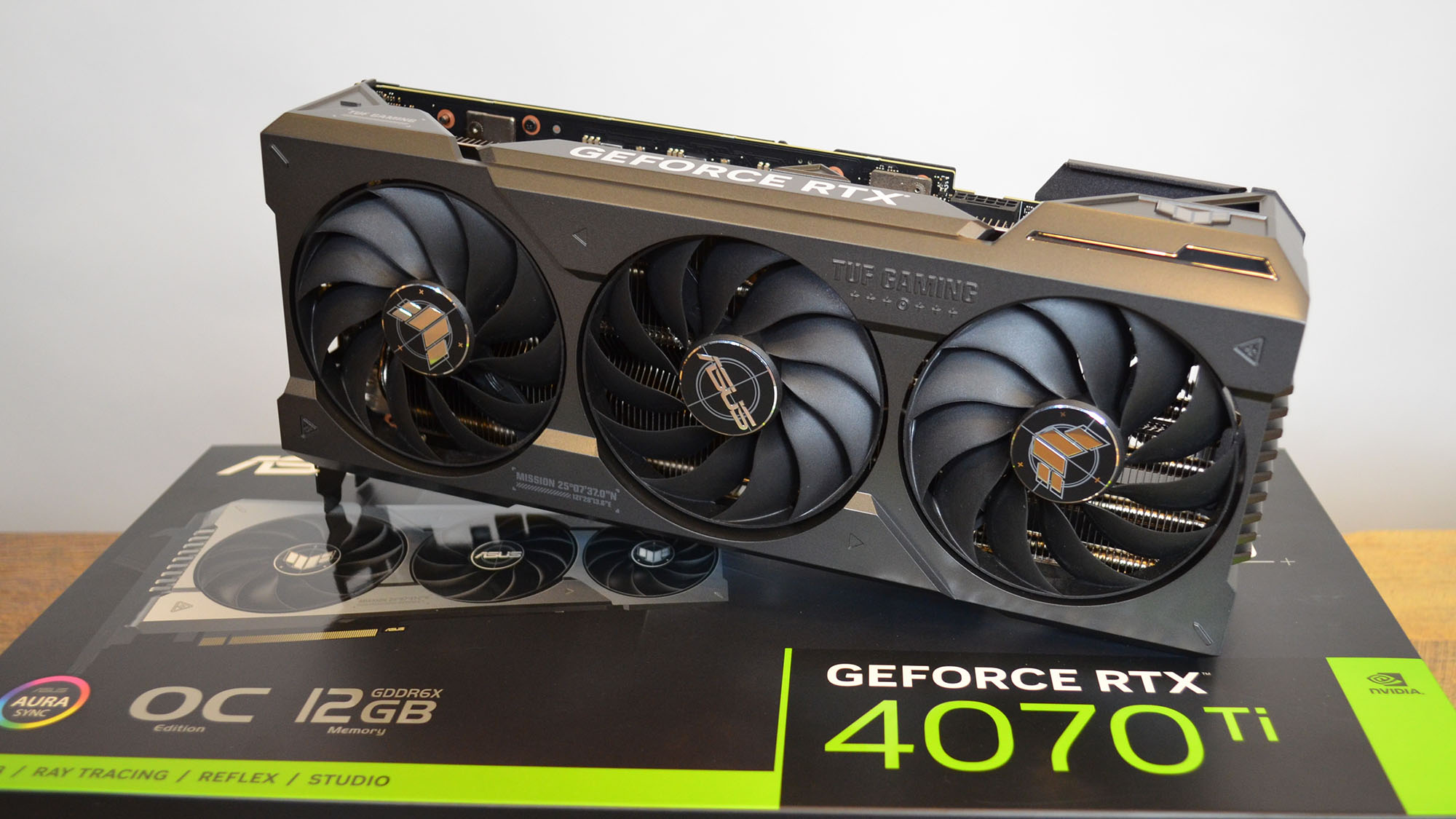 RTX 4070 Ti MSRP is the lowest of all the latest next-gen graphics cards
Some third-party cards can even be bought at MSRP
Availability is generally pretty good
The Nvidia RTX 4070 Ti, available now in the US, UK, and Australia, comes in at the lowest MSRP of any of the next-gen cards to hit the market in recent months, and it's good to see that Nvidia took a lot of the criticism about price inflation directed toward it after the Lovelace announcement to heart.
The RTX 4070 Ti, with an MSRP of $799 / £799 / AU$1,469, is $100 / £100 cheaper than the RX 7900 XT (though it is actually AU$60 more expensive in Australia), and even though there is no Nvidia Founders Edition card guaranteed to sell at MSRP, even some third-party cards can be found very close to or even matching Nvidia's MSRP.
That said, this is also much more expensive than the Nvidia GeForce RTX 3070 Ti, which had a launch MSRP of $599 / £529 / AU$959. That makes the RTX 4070 Ti $200, £270, and AU$510 more expensive than the card it is technically replacing, so we can't go praising Nvidia too for relaunching the RTX 4080 12GB (originally slated for an $899 / £849 / AU$1,659 launch price) at a somewhat lower price point.
And, of course, prices for other third-party cards may end up being substantially higher, especially for OC versions that squeeze a few hundred MHz more out of the GPU's clock speeds or special edition cards with premium design or water cooling.
Still, there's no getting around the fact that this is the cheapest next-gen card we're going to have for a while, so the RTX 4070 Ti is going to score some major points here by default.
Nvidia GeForce RTX 4070 Ti review: Features & chipset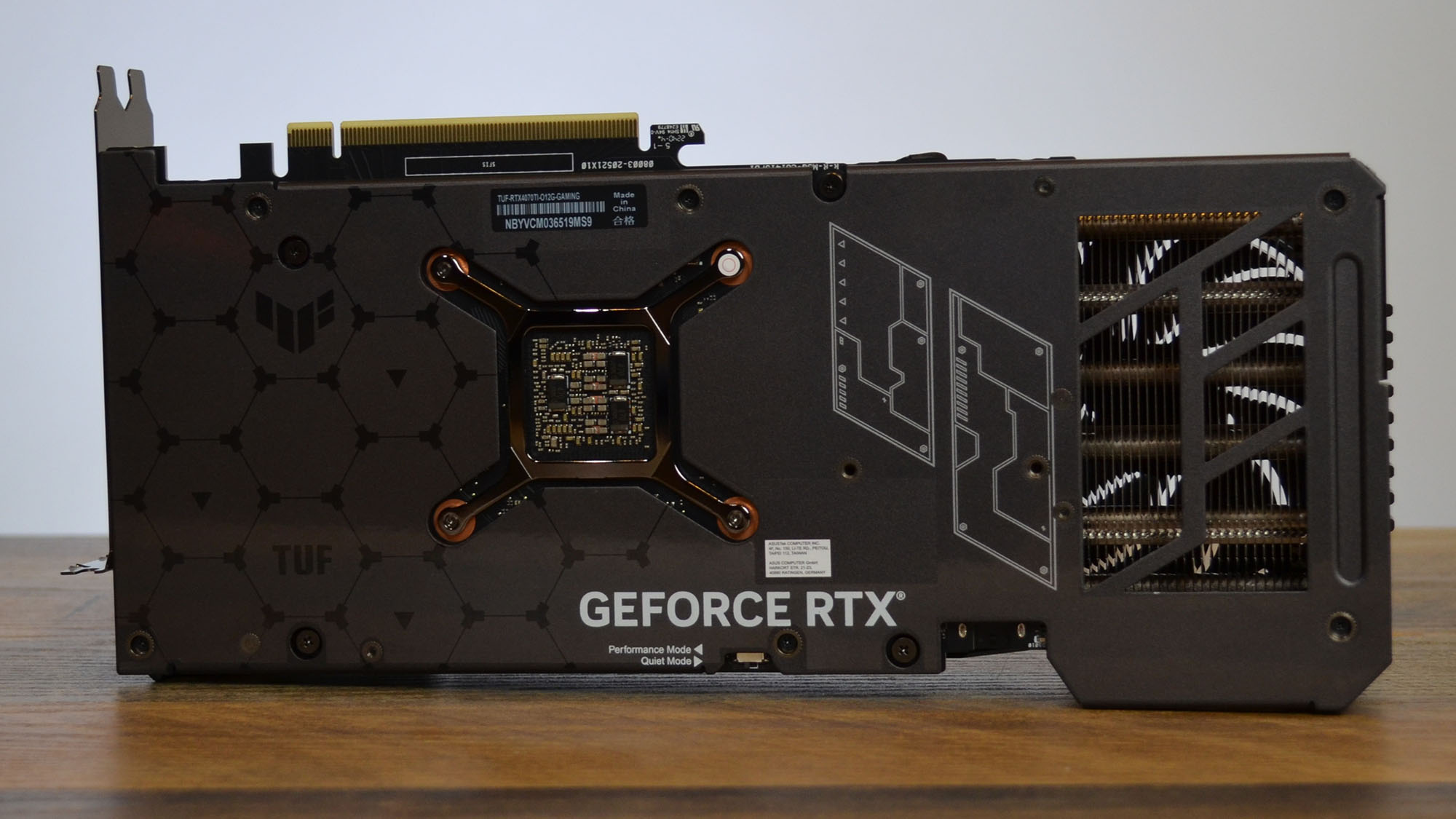 Third-gen RT cores
DLSS 3 with full frame generation
Lower TDP
The RTX 4070 Ti is built on Nvidia's new Lovelace GPU architecture, which features a significantly smaller TSMC process than the last-gen Nvidia Ampere architecture. At 4nm, as opposed to Ampere's 8nm process from Samsung, we're getting significantly faster clock speeds as well as more energy efficiency with this generation. The RTX 4070 Ti has just over twice as many transistors as the RTX 3070 Ti while packing them into a GPU die about 75% of the size of the RTX 3070 Ti's silicon, and you can see it in the RTX 4070 Ti's slightly lower TDP (285W to 290W for the RTX 3070 Ti).
The RTX 4070 Ti we reviewed, the Asus Tuf GeForce RTX 4070 Ti Gaming OC 12GB, also features a higher boost clock (but not that much more than Nvidia's reference specs) but both the reference clocks and the actual clocks on our Asus card are nearly a full 1,000 MHz faster than those of the RTX 3070 Ti, so this card is seriously fast.
As I said before, this is essentially the unlaunched RTX 4080 12GB, and so it has the same specs as that unlaunched card did, including 7,680 CUDA cores, 60 ray tracing cores, and 240 Tensor cores for doing all those tricky machine learning calculations needed to power the new DLSS 3 with full frame generation, which is as big a deal today as DLSS 2.0 was when it launched with Nvidia Ampere and made fast 4K gaming a reality for gamers around the world.
On the memory side, there is 12GB GDDR6X VRAM, the same as in the unlaunched RTX 4080, as is both the memory clock (1,313MHz) and 192-bit memory bus (for a total memory bandwidth of 504.2GB/s). If you're worried that 12GB might be a bit too low for a 4K graphics card, you don't need to worry about that with this card. There is more than enough to power a high-refresh 4K display, which is something that the RTX 3070 Ti could only do on the most restrictive of settings.
That memory though is too little to really power 8K content at fast speeds, and even if you could get more than 60 fps at 8K in any given game, the RTX 4070 Ti is locked in at 60Hz for 8K video thanks to its lack of DisplayPort 2.1 output, so you'll never be able to game faster than 60 fps at 8K. 
The RX 7900 XT, on the other hand, has both the memory and the output capacity to go as high as 165Hz at 8K, though it would only really be able to natively manage more than 60 fps on an 8K display with very low lift games like esports titles and the like. 
Still, it's possible for the RX 7900 XT, and it's really not with the RTX 4070 Ti, which is a shame. 8K gaming isn't really here yet beyond a couple of titles like Spider-man: Miles Morales, but with higher refresh rate 8K displays set to hit the market in the next year or two, the RTX 4070 Ti feels less future-proof than a card this expensive should be.
Features & chipset: 4 / 5
Nvidia GeForce RTX 4070 Ti review: Design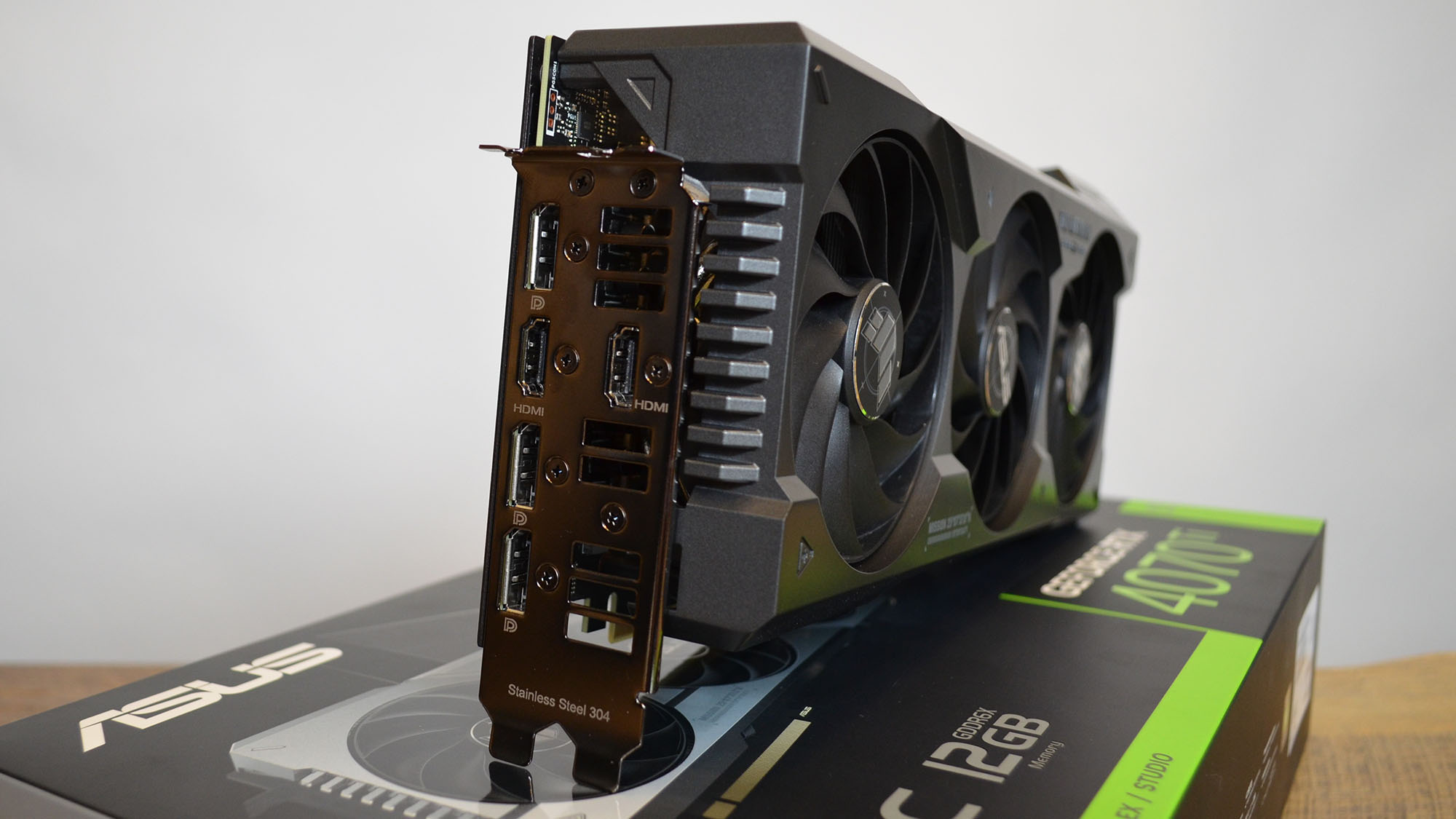 No Founders Edition
Designs will vary, but none of them will be small
USB Type-C output
The Nvidia RTX 4070 Ti we reviewed is actually a third-party card, since there is no Nvidia RTX 4070 Ti Founders Edition, but there are definitely some things that I can generalize about the design of the RTX 4070 Ti. Namely, that this is going to be a honking-big card no matter who you buy it from.
Image 1 of 3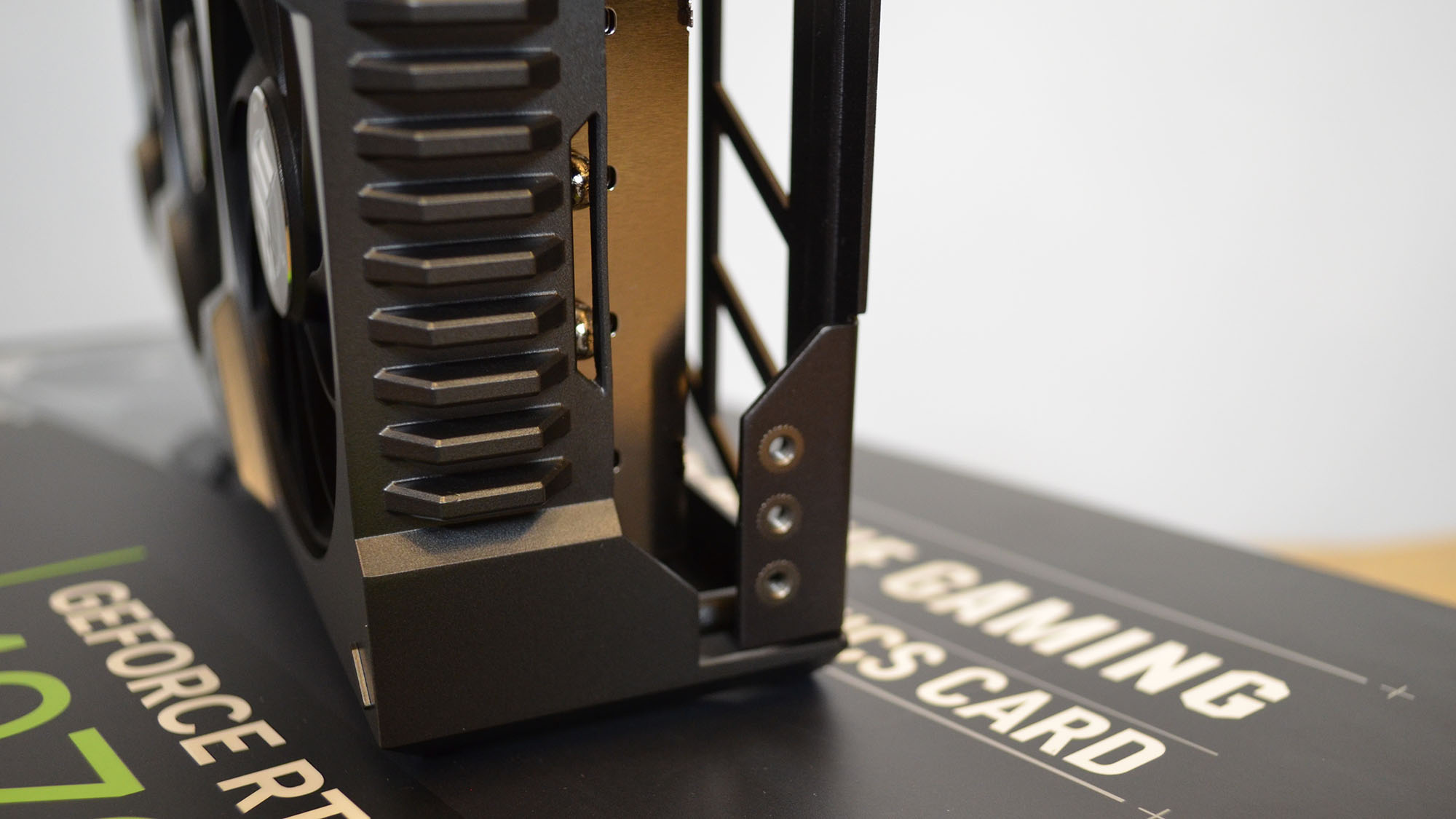 Image 2 of 3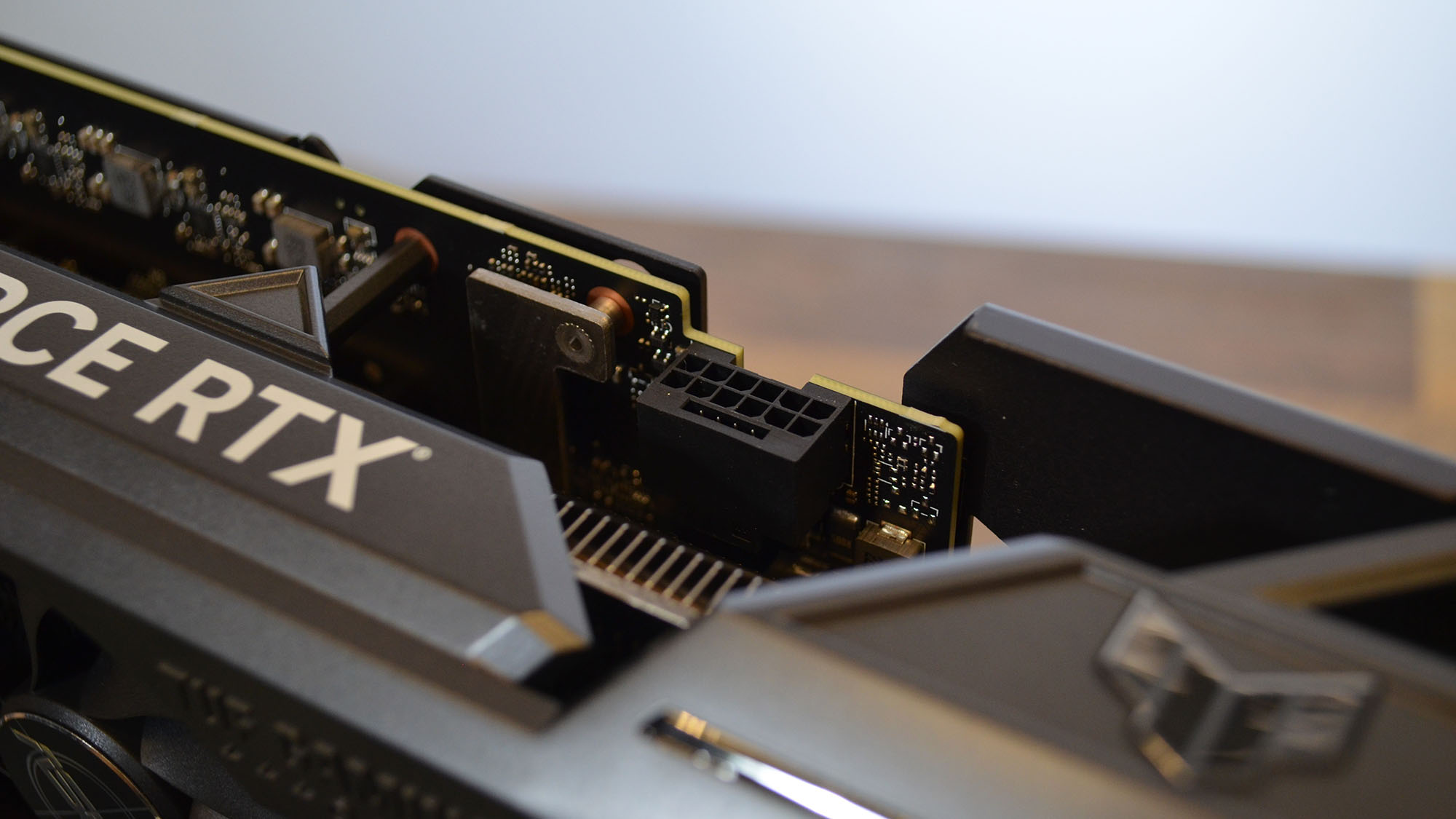 Image 3 of 3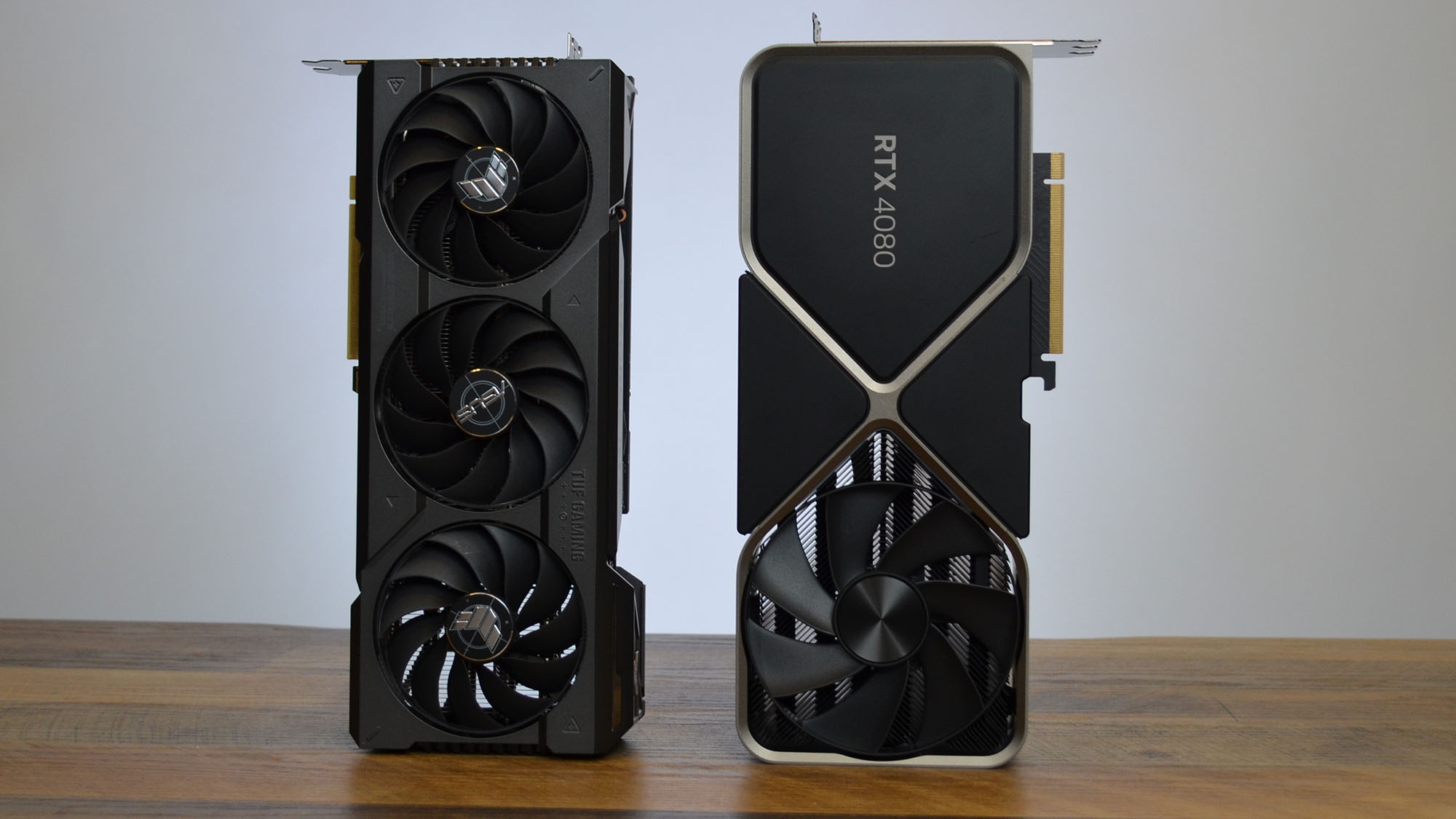 Side by side with the RTX 4080, the RTX 4070 Ti takes up just as much space and will be just as challenging to wedge into all but the largest of tower cases. It's a triple-slot card, so a normal ATX motherboard will leave little room for anything else to slot in next to it.
Then there's the matter of its 16-pin connector. Given the lower power requirements for the RTX 4070 Ti, the card only requires three 8-pin connectors to be plugged into the included adapter (as opposed to four 8-pins for the RTX 4090), but the adapter is still going to be clunky to deal with, so unless you have a new ATX 3.0 PSU that comes with a 16-pin connector cable, your cable management skills are going to really be put to the test.
In terms of output, there is no DisplayPort 2.1, as I mentioned, but there's also no USB Type-C output either, something that would make a lot of sense on this card since it has very strong creative workload performance, so a lot of creatives on a budget would be tempted to give this card a look, but since the best USB-C monitors are also very popular among the creative professional crowd, they'll have to use an adapter, and no one likes having to use those if they can help it.
There is also an included support bracket for the Asus card we received for testing, and I imagine that a lot of other manufacturers will be including them as well. This card weighs a good bit, so torque forces are not going to be kind to it (or any other RTX 4070 Ti) in the medium-to-long term, so make sure you use one if you aren't running the card upright.
Finally, as for Asus's Tuf Gaming design, the open metal shroud exposes more of the heat sink while a triple-fan array will keep air moving through it. The cage-like shroud does look cool, and there is some RGB along the top of the card as well if you're into that.
Nvidia GeForce RTX 4070 Ti review: Performance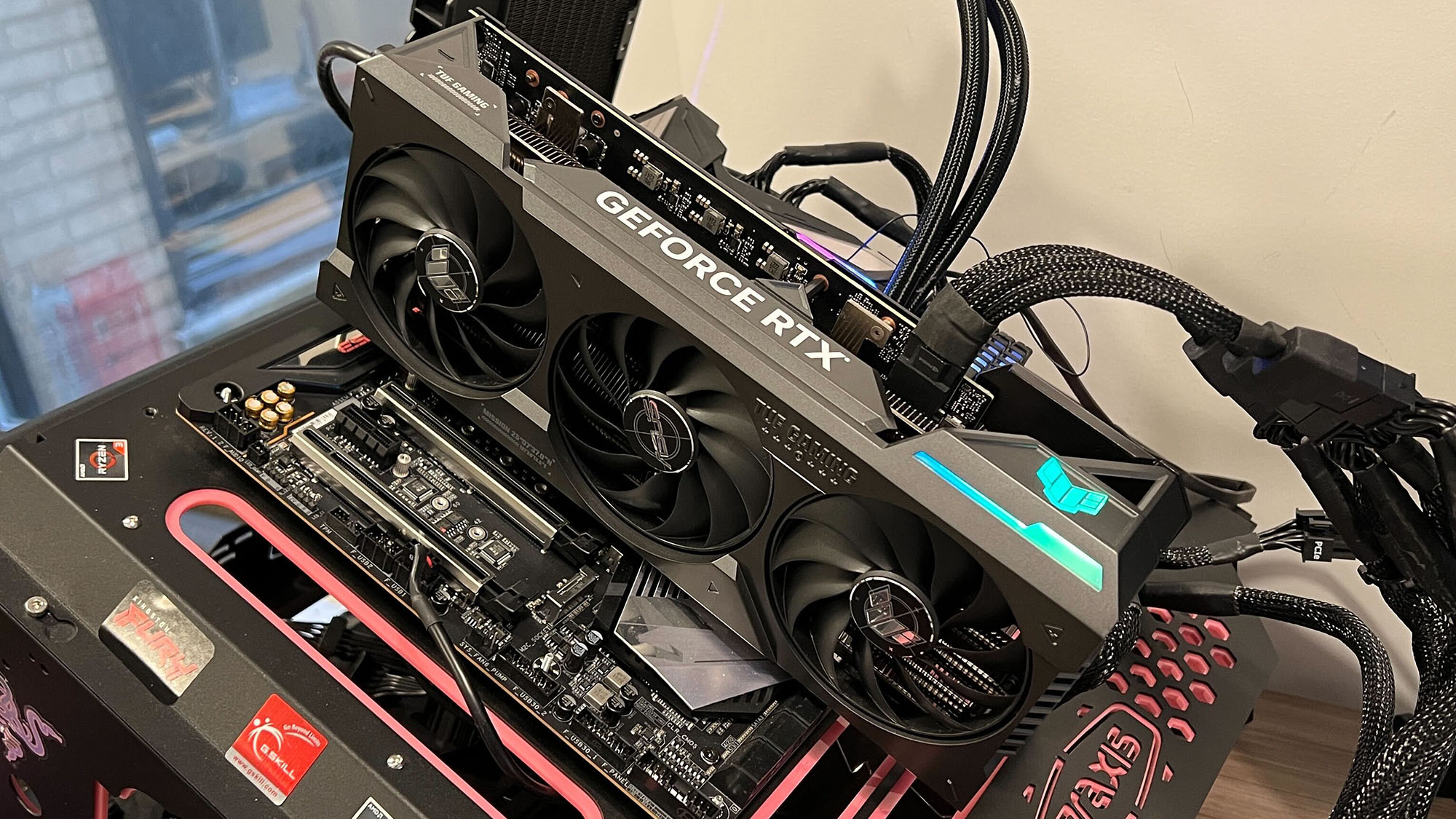 4K gaming on a 1440p GPU
Great "budget" graphics card for creative pros
Competent ray tracing at 4K, especially with DLSS
As we move on to the RTX 4070 Ti's performance, the long and short of it is what it's been for two generations now: the RTX 4070 Ti is better at most creative workloads and ray tracing while AMD pulls ahead in rasterization, especially in gaming, though it is worth noting that the RX 7900 XT doesn't fall as far behind the RTX 4070 Ti in ray tracing as it would have a generation ago.
Image 1 of 6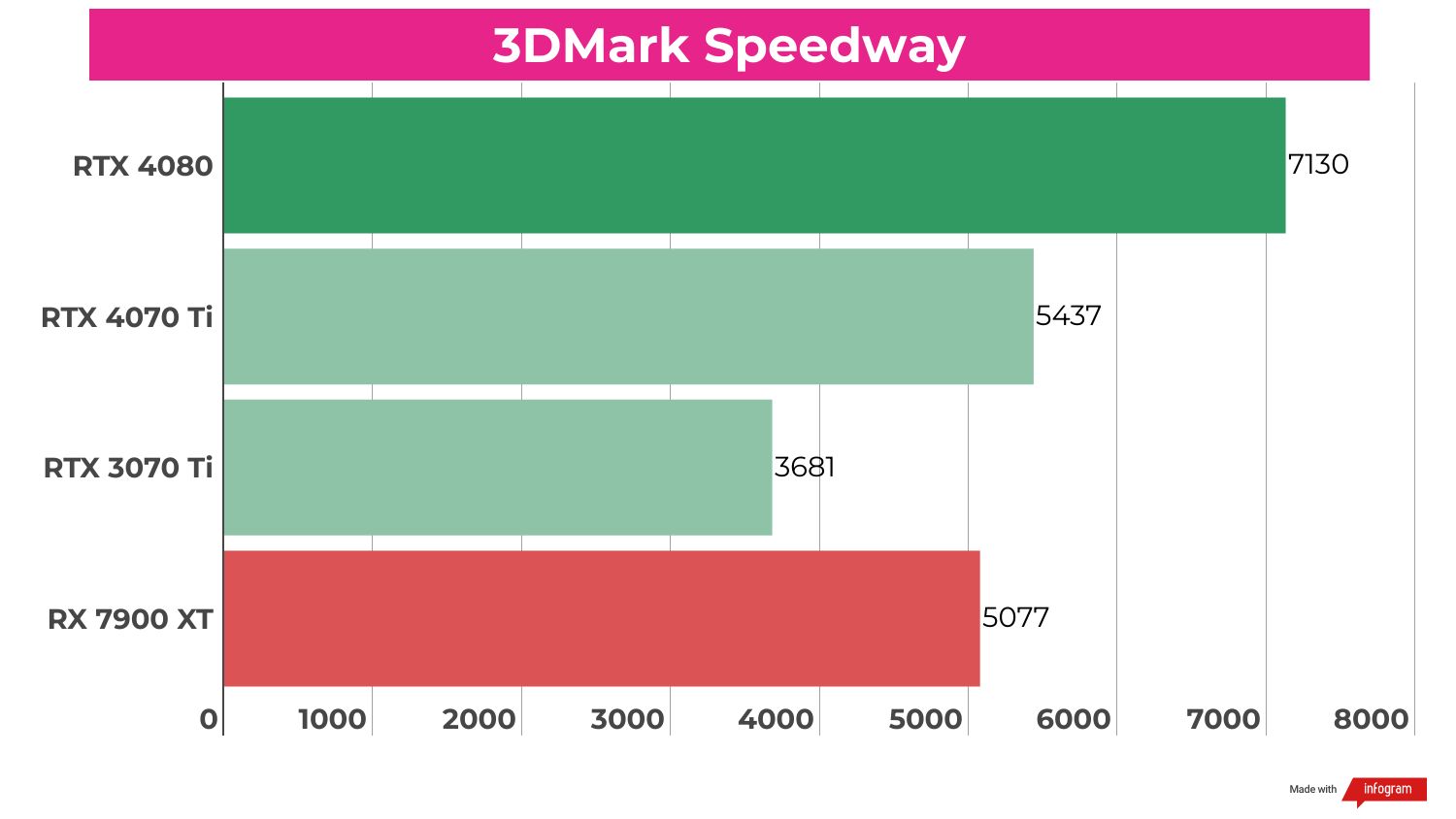 Image 2 of 6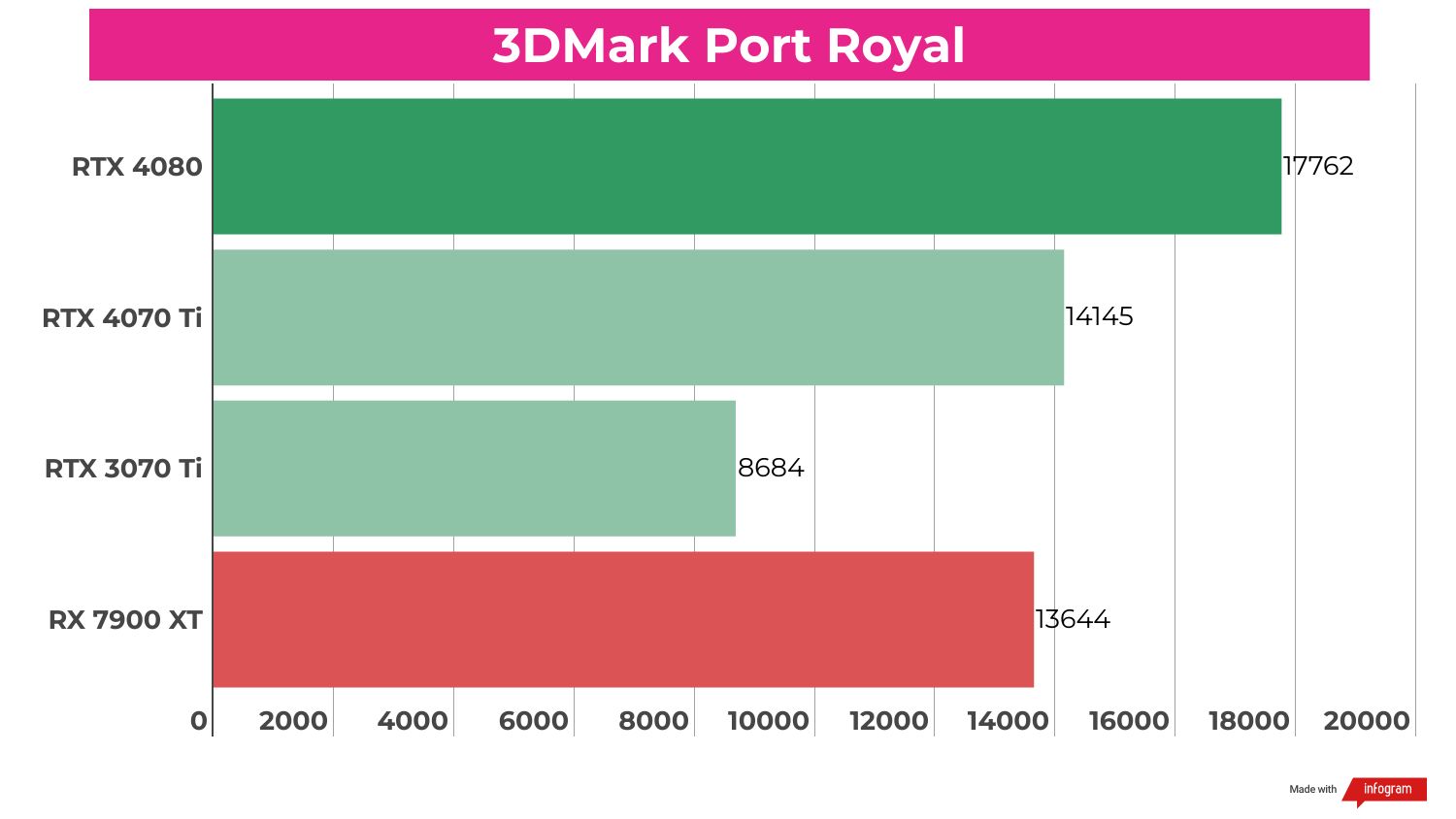 Image 3 of 6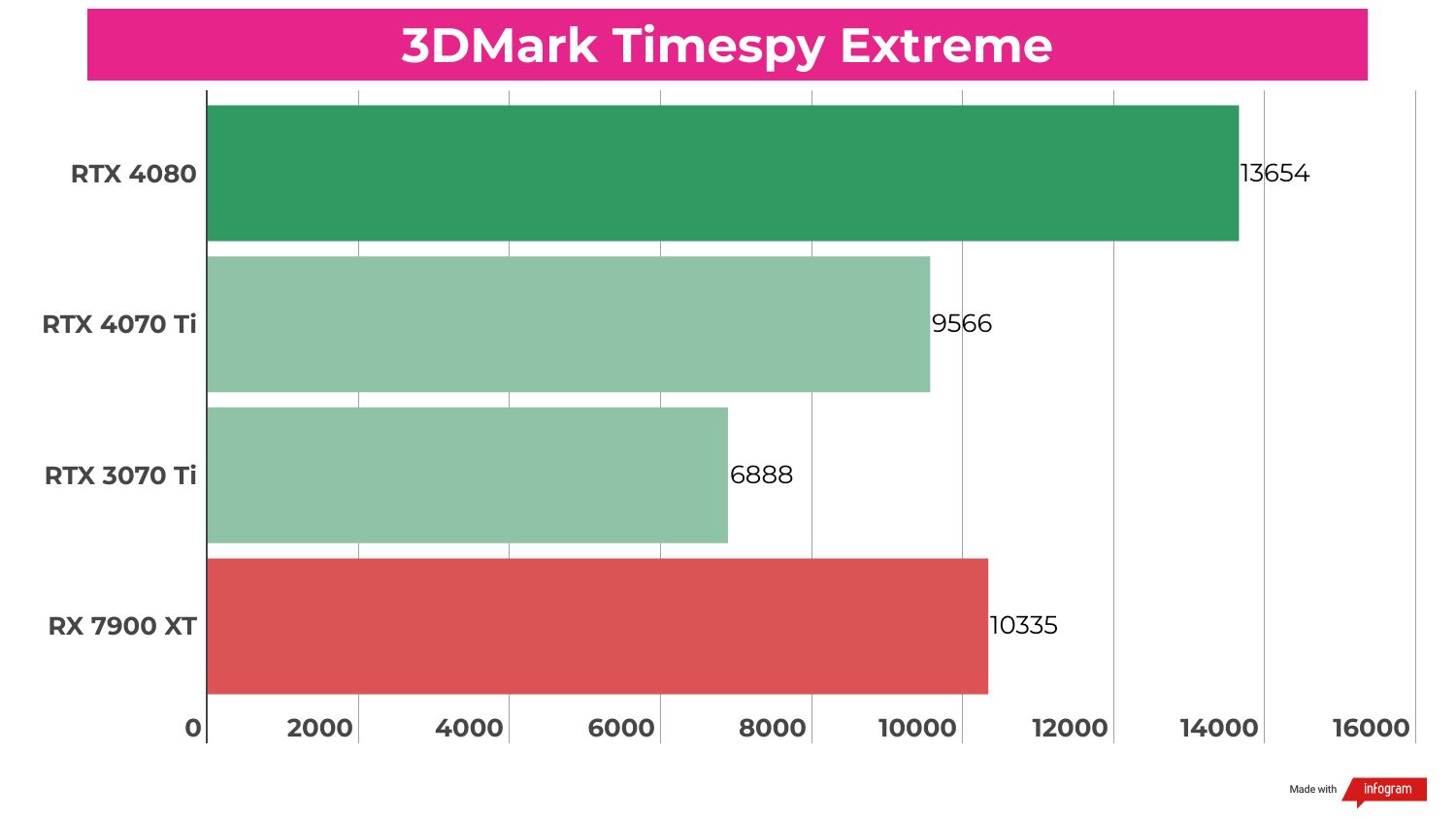 Image 4 of 6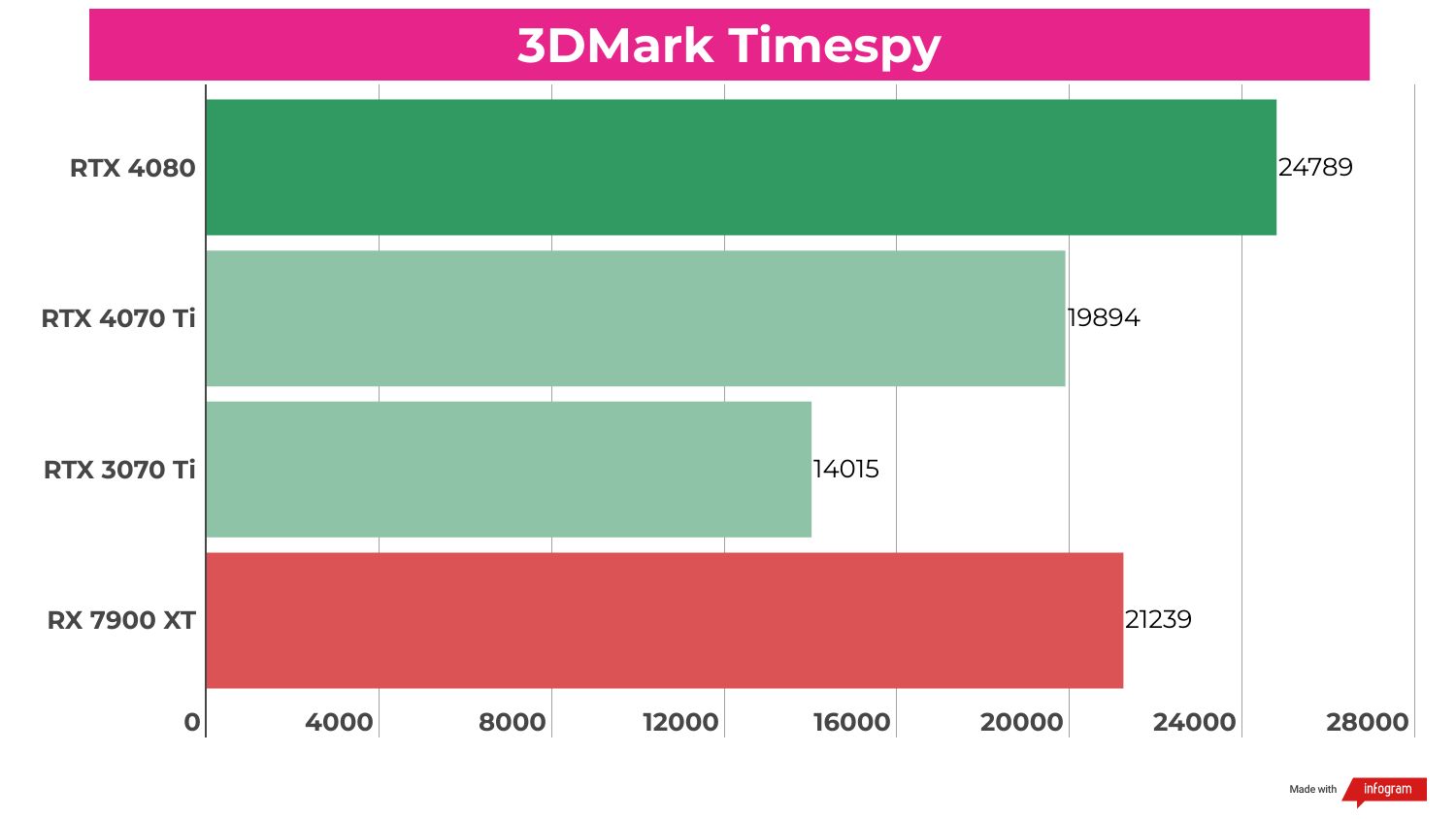 Image 5 of 6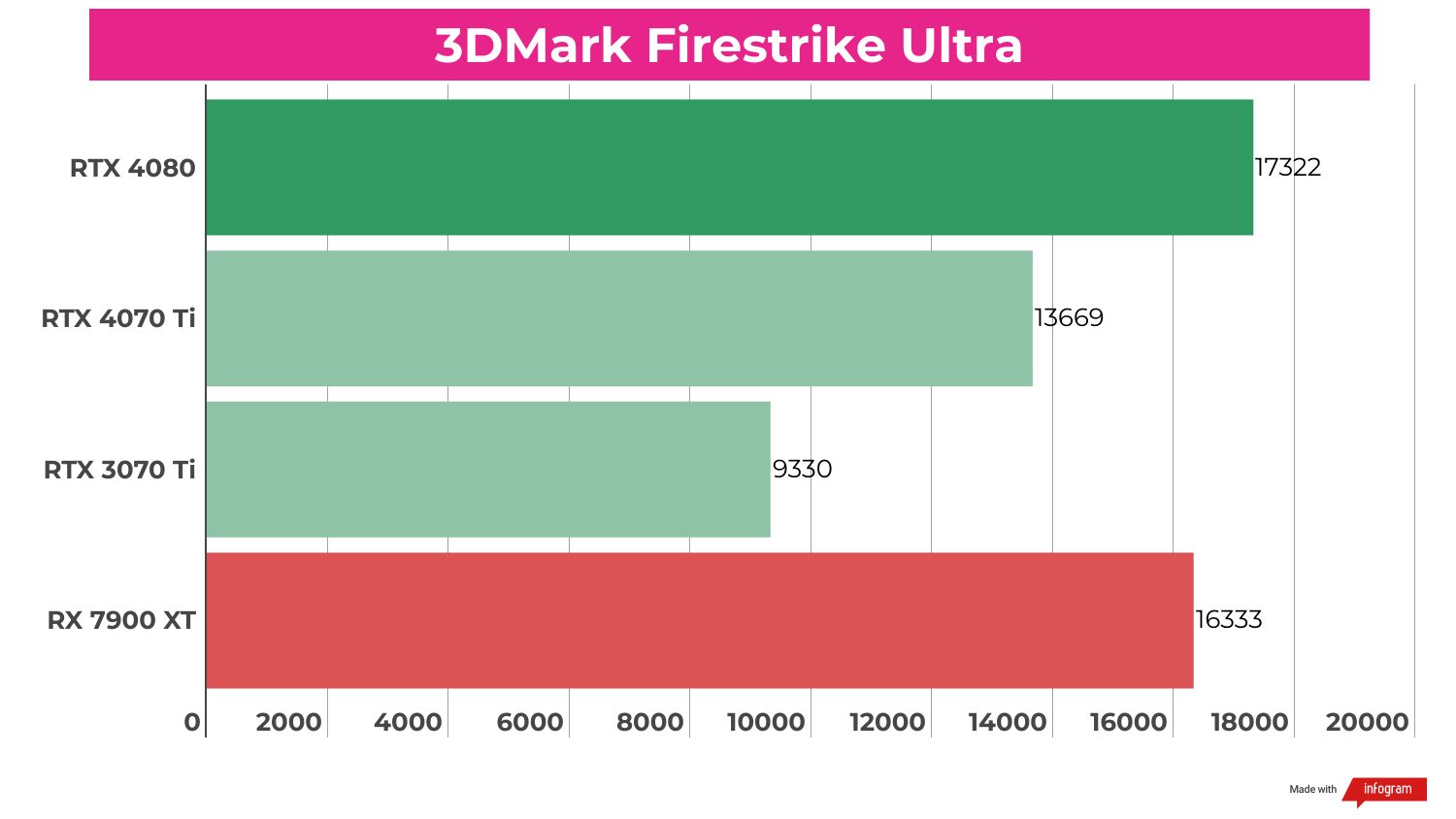 Image 6 of 6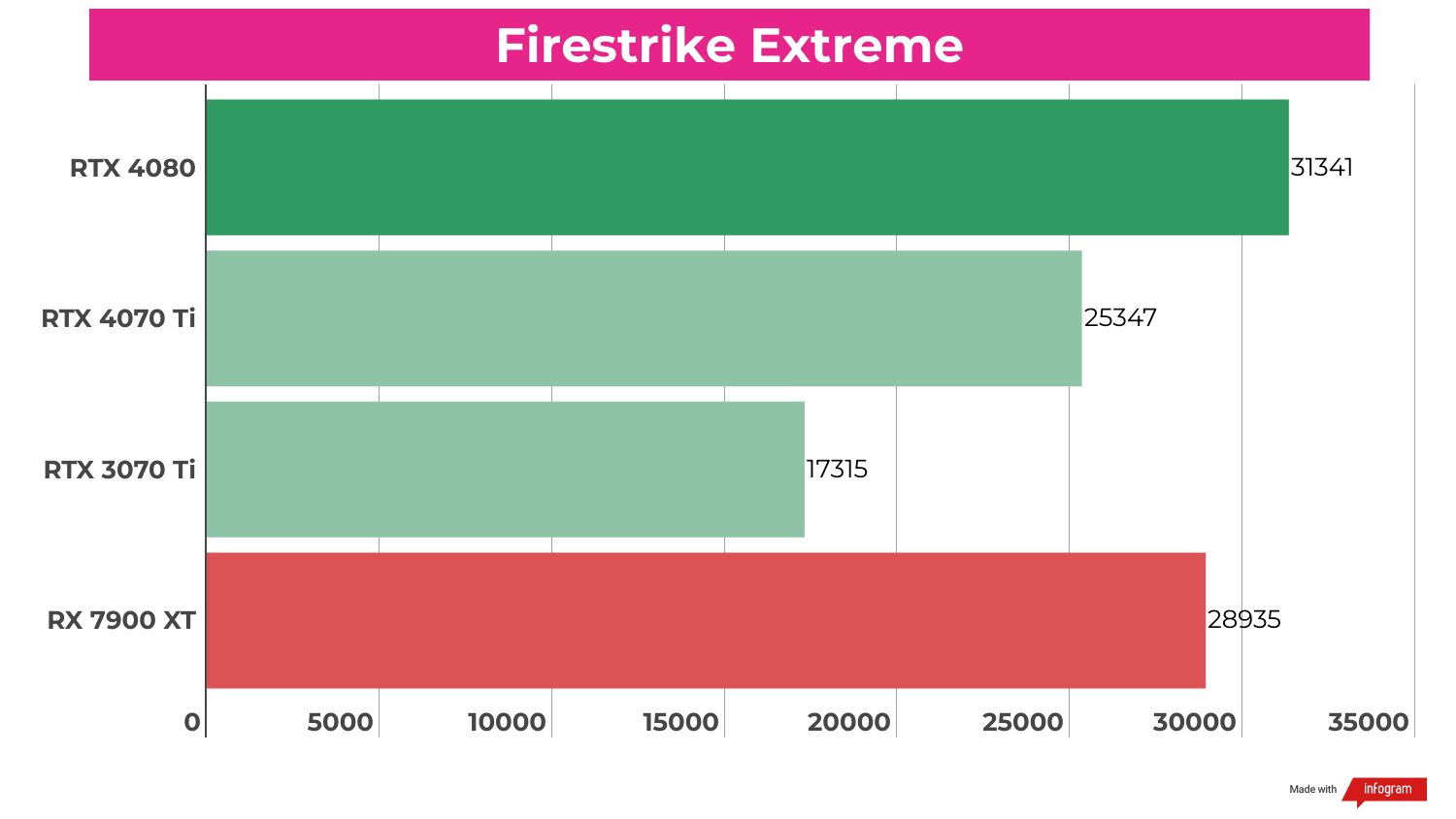 Nvidia's edge in ray tracing performance can be seen in our 3DMark Speedway and Port Royal tests, both of which are ray tracing-heavy benchmarks. The RTX 4070 Ti pulls out a fairly close win here, edging out the RX 7900 XT by a few hundred points in each.
Once we move onto Timespy and Firestrike though, both at 1440p and 4K, AMD's rasterization advantage really pulls ahead of Nvidia's RTX 4070 Ti with the RX 7900 XT blowing out the RTX 4070 Ti by a few thousand points at times.
Image 1 of 5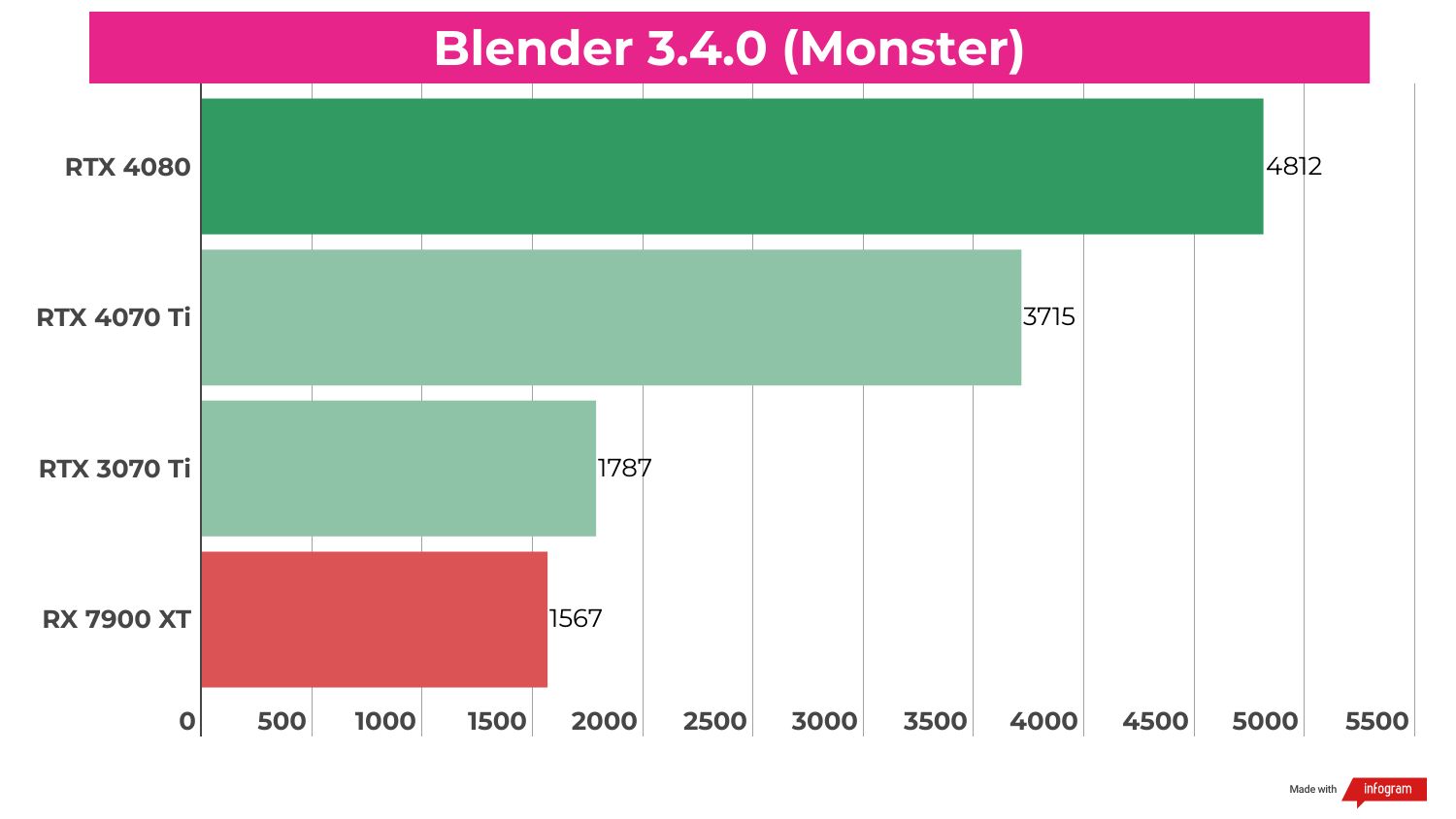 Image 2 of 5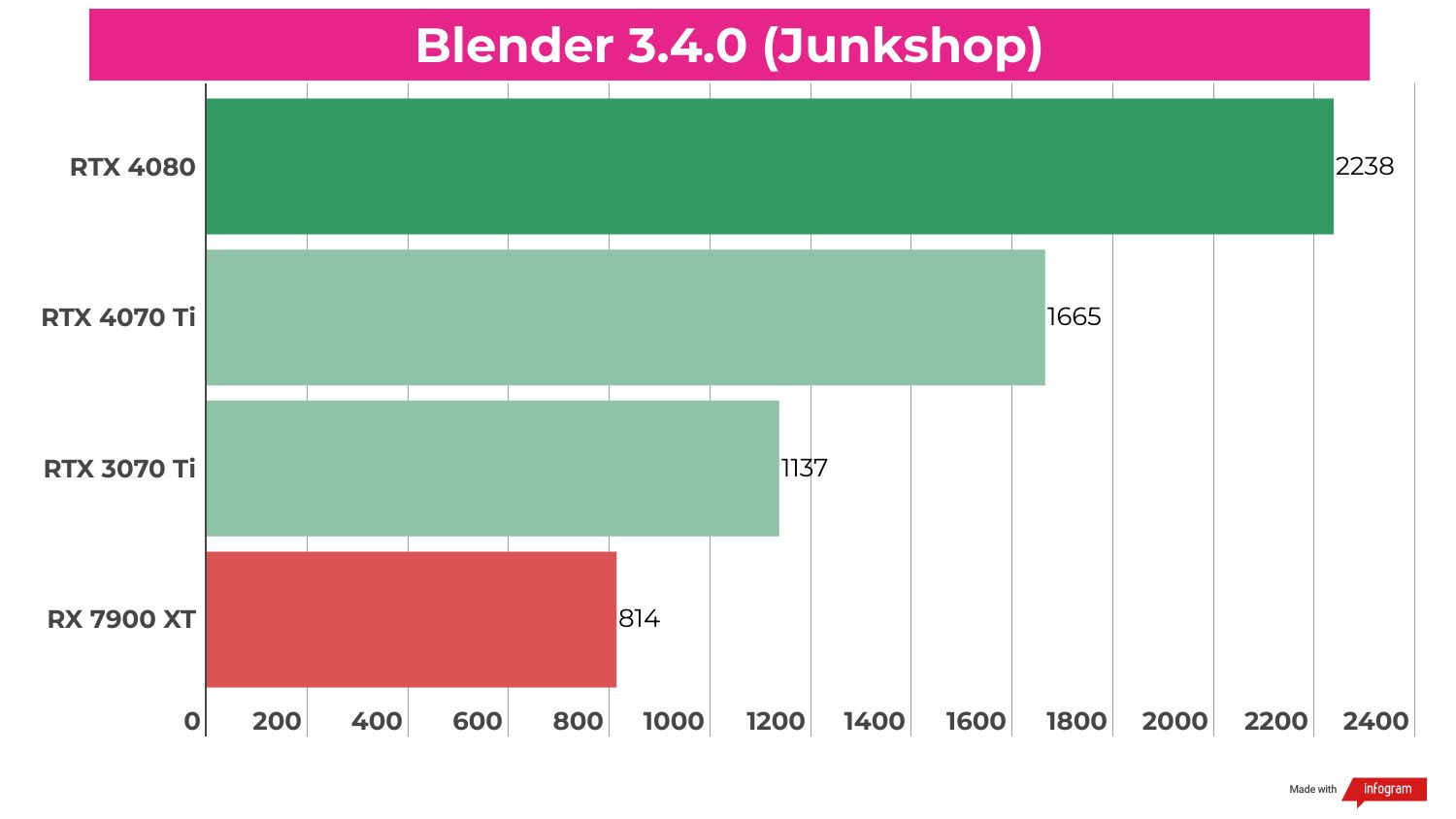 Image 3 of 5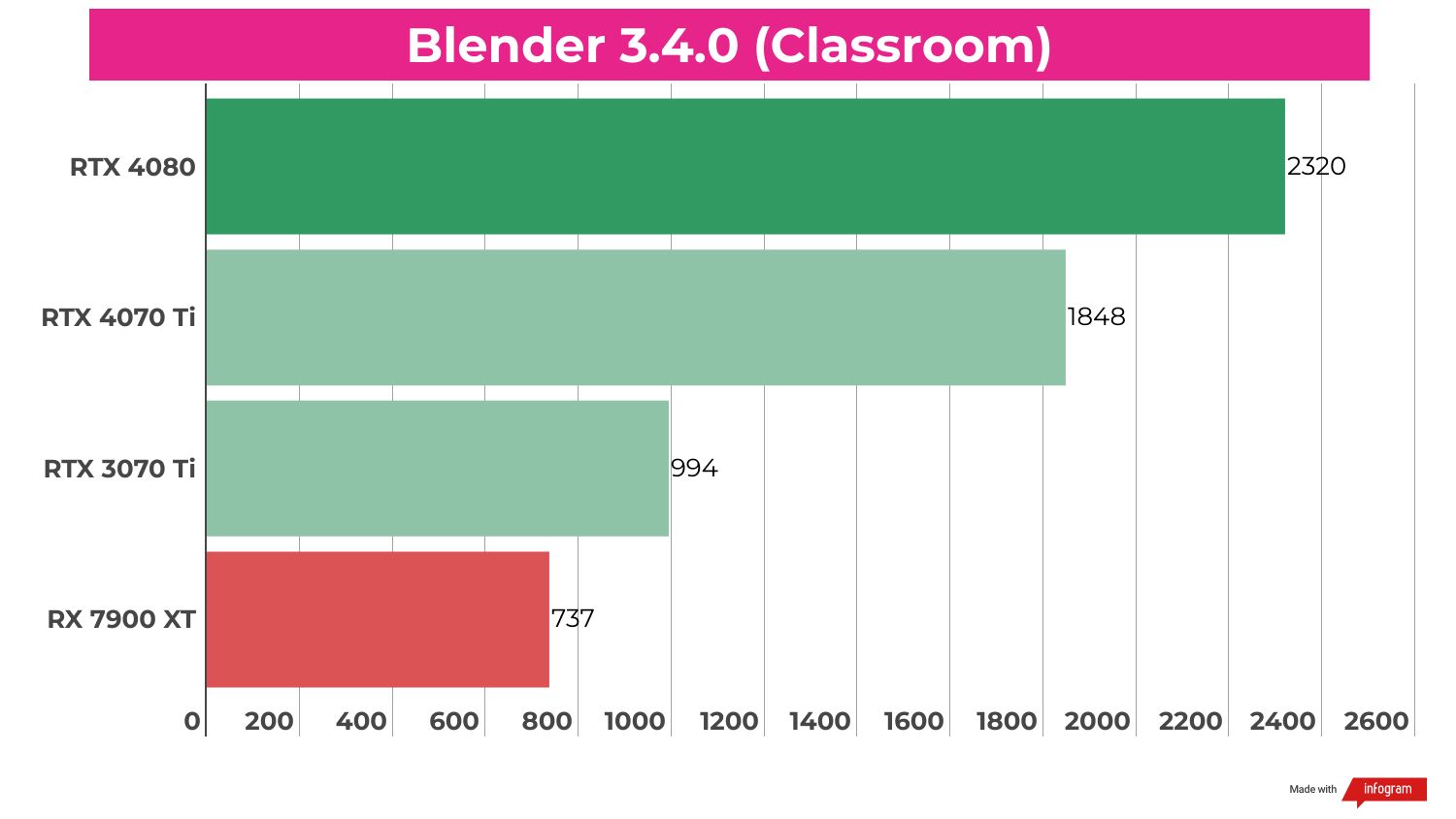 Image 4 of 5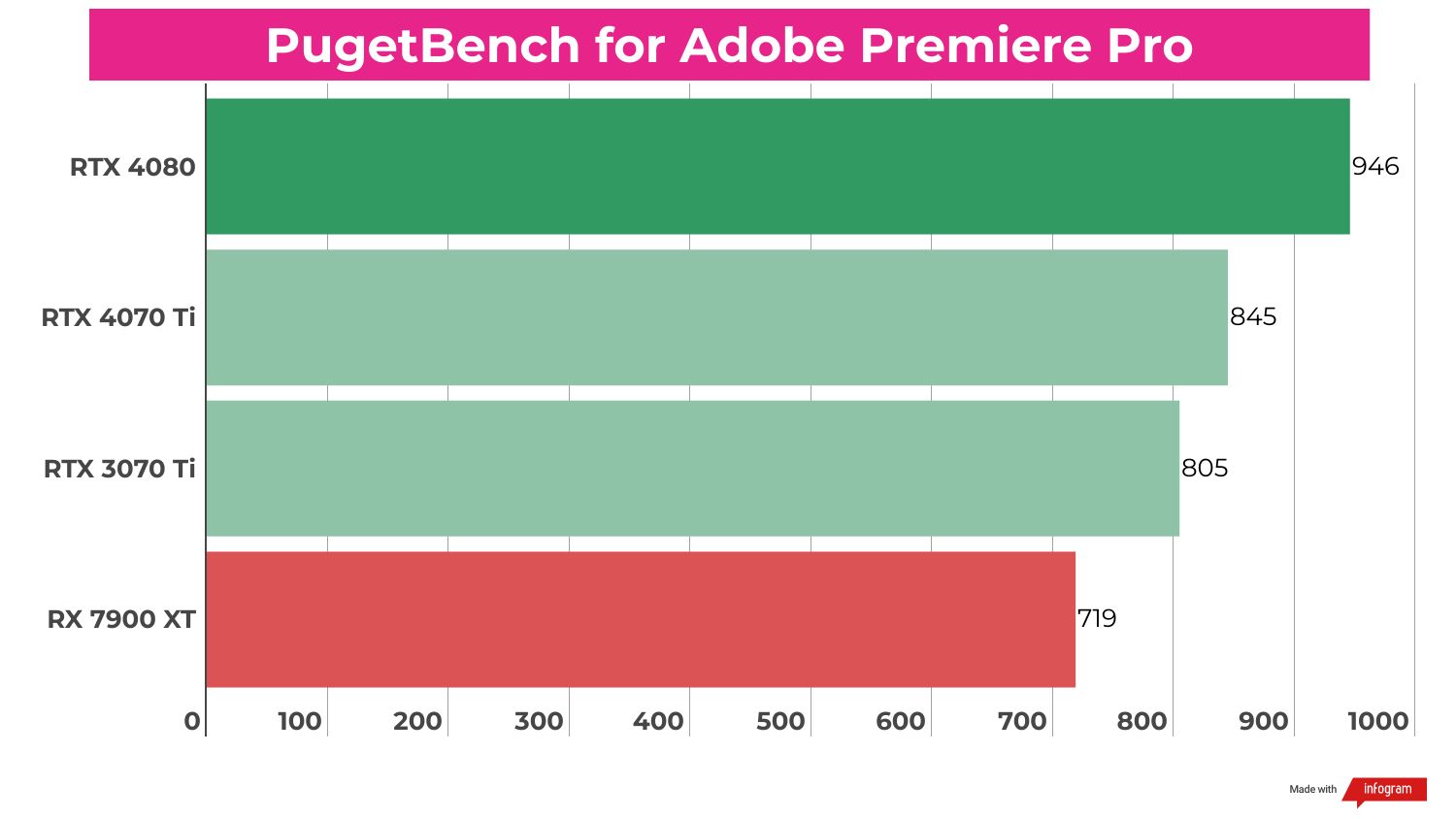 Image 5 of 5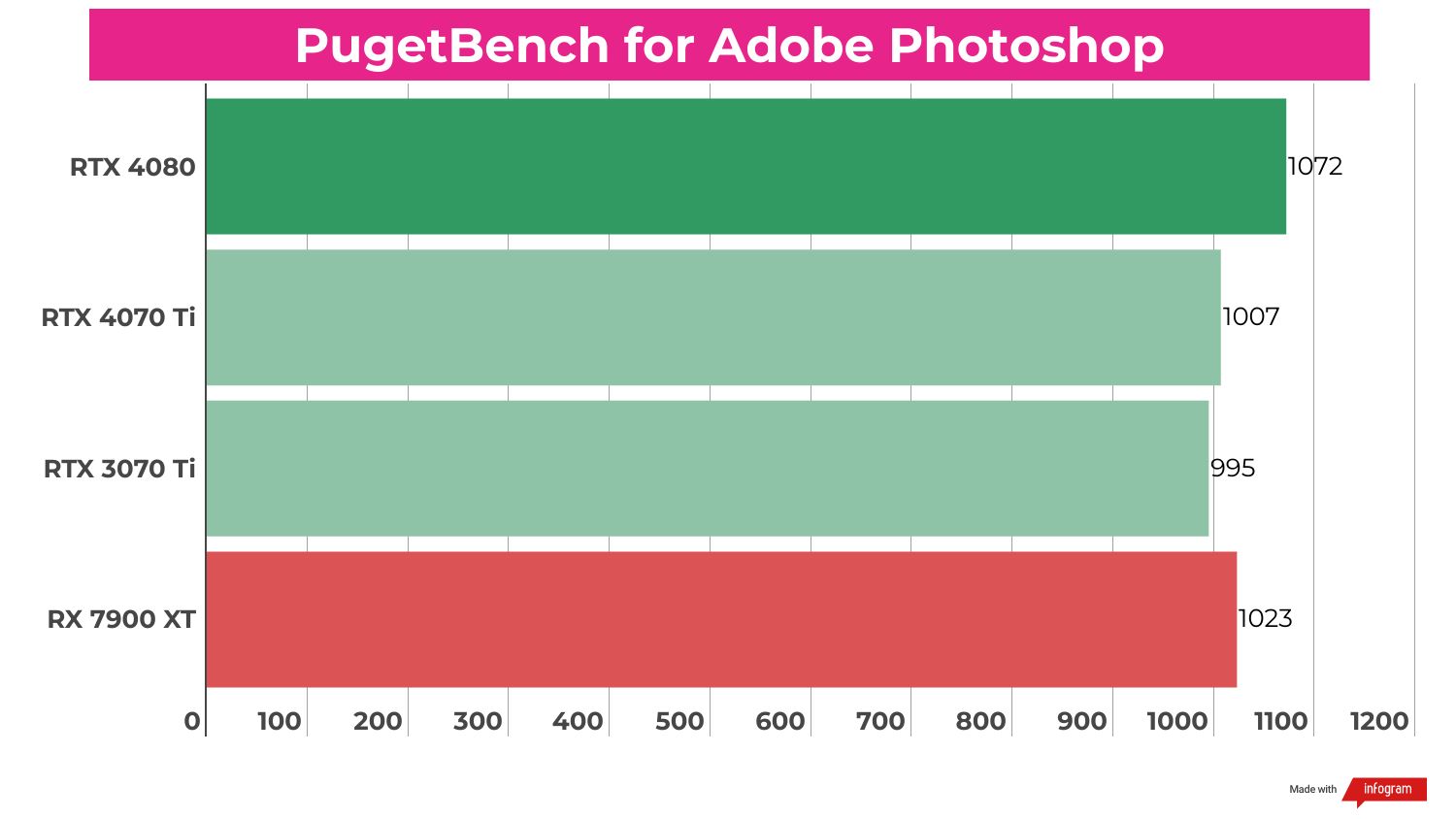 Whatever gloating the RX 7900 XT might be doing gets quickly shut down in creative tests, especially in our Blender Benchmark tests. Admittedly, this isn't a fair fight, since Blender Cycles is highly optimized for the CUDA instruction set. Even the last-gen RTX 3070 Ti pushes AMD's RX 7900 XT aside in Blender Benchmark, and the RTX 4070 Ti fully laps its Team Red rival and then some.
This extends to Adobe Premiere as well, where the RTX 4070 Ti outperforms the RX 7900 XT by about 17.5%. If it's any consolation for the RX 7900 XT, it's that it edges out the RTX 4070 Ti in Photoshop, which is the living definition of a rasterization workload, so this shouldn't be surprising. Still, the RTX 4070 Ti manages to only lose by about 1.5%, so it's enough to call it a wash.
The key takeaway for me from these creative benchmark results though is that the RTX 4070 Ti is quite adept at creative work normally reserved for graphics cards twice as expensive, so any creatives out there looking for a more "budget" GPU option for their workstation actually have one now.
Image 1 of 13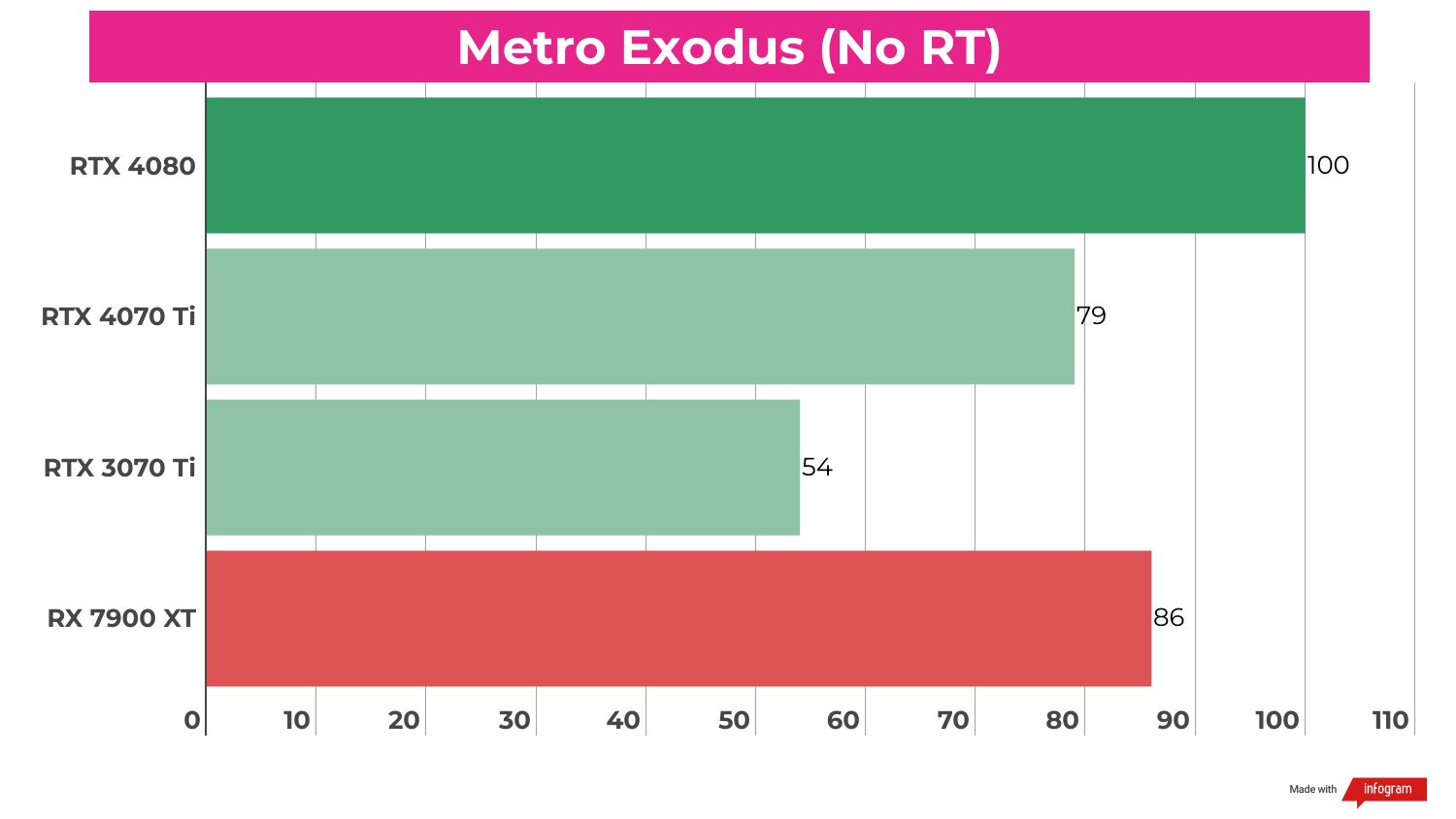 Image 2 of 13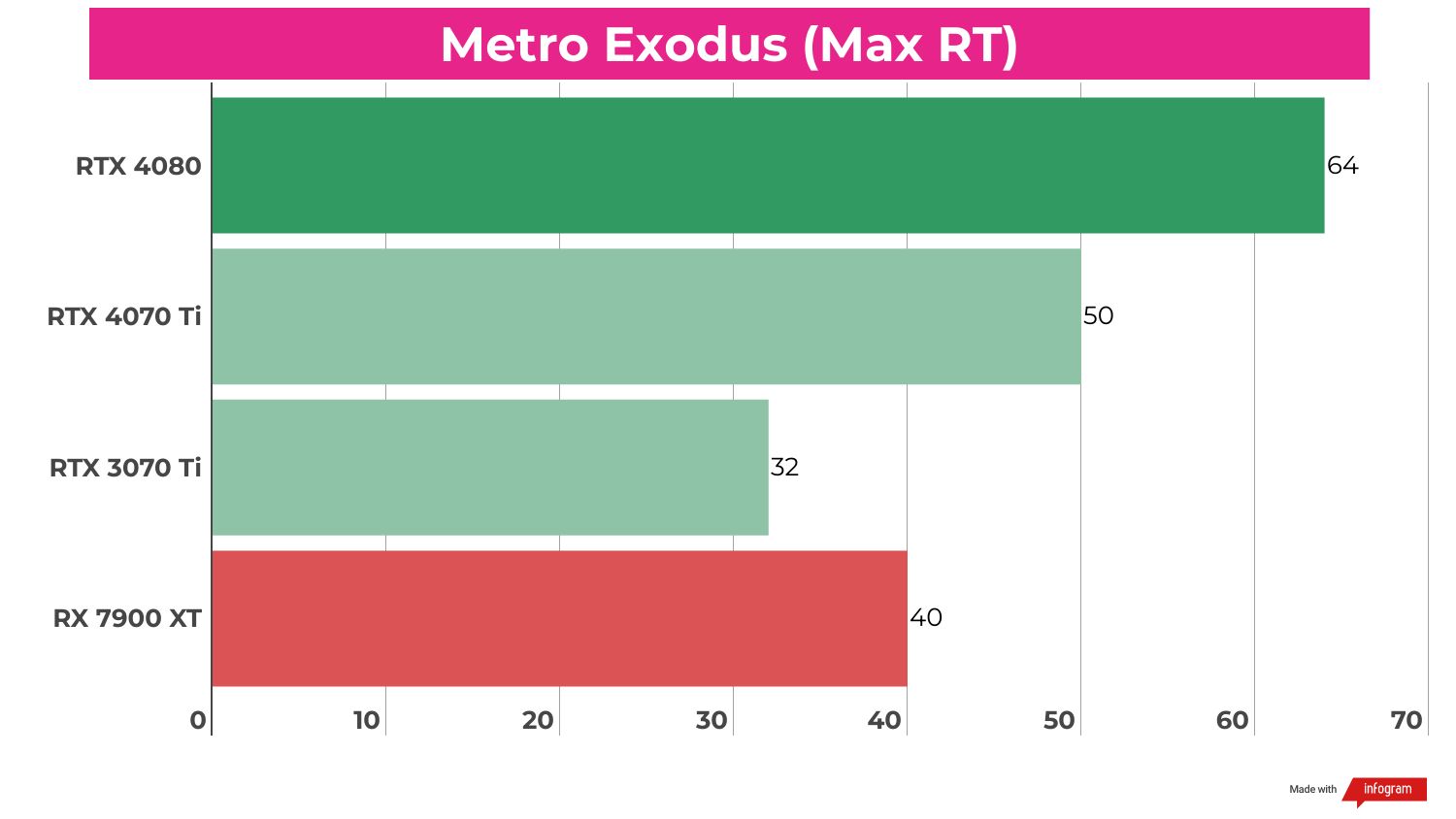 Image 3 of 13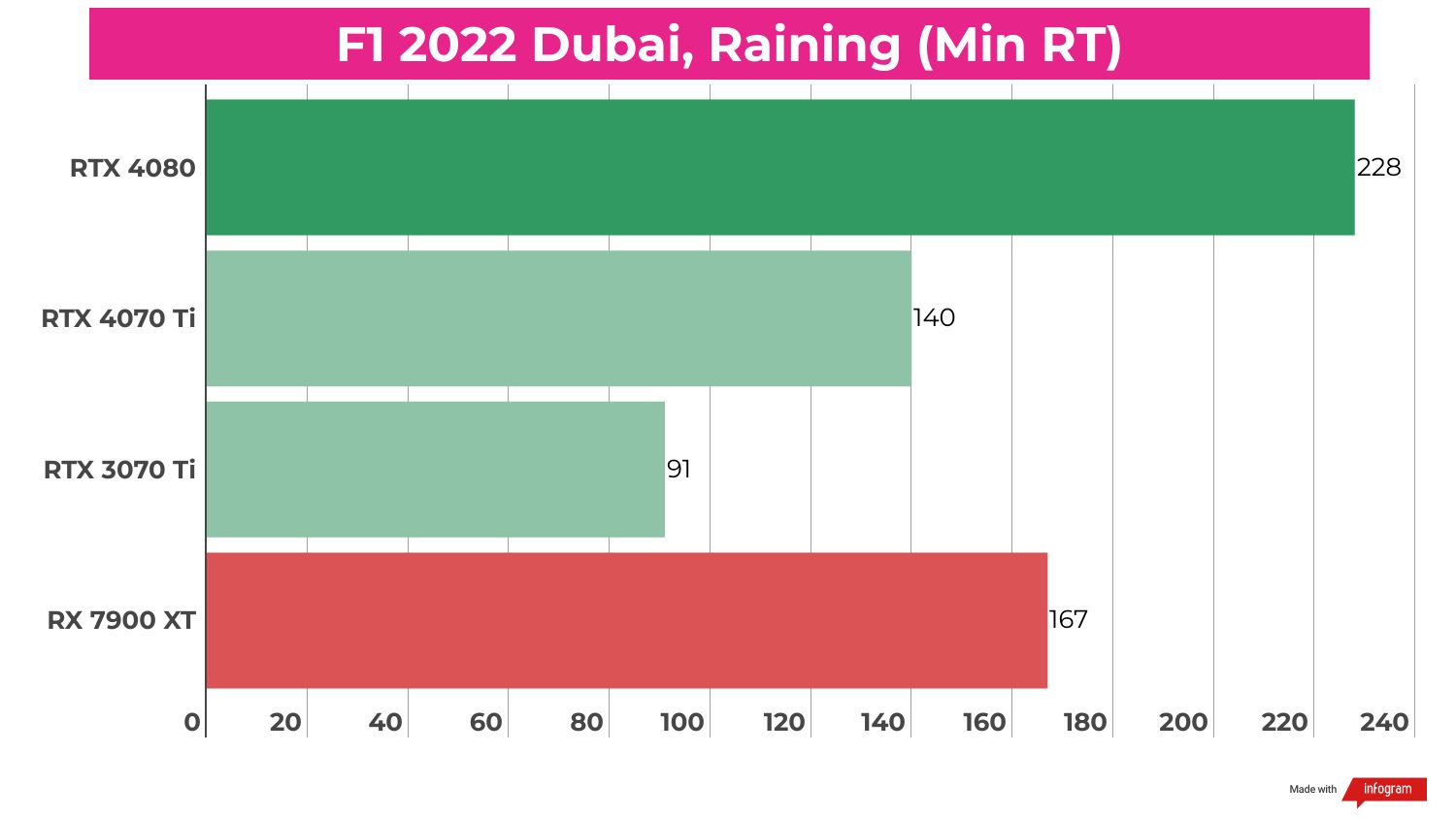 Image 4 of 13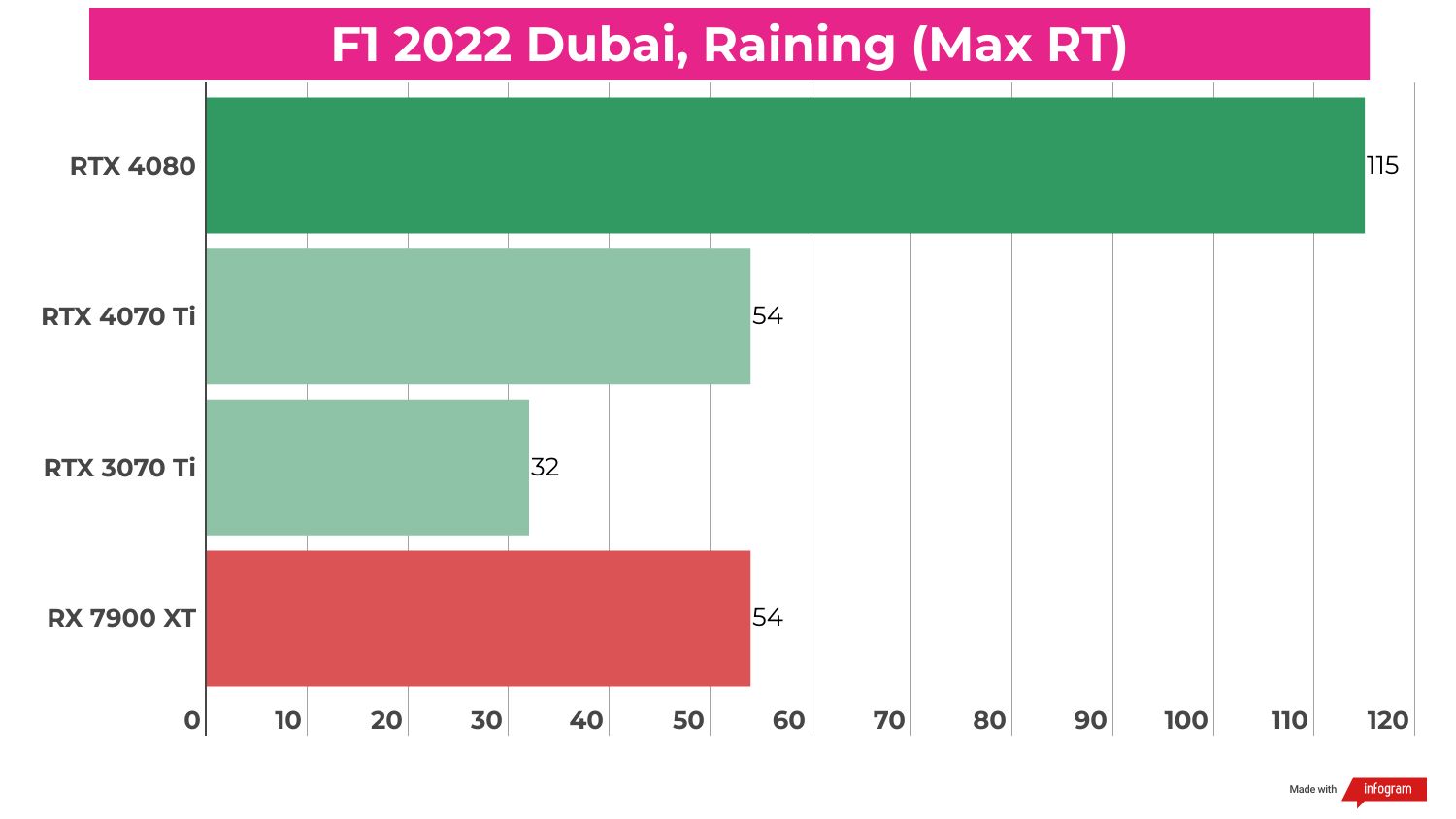 Image 5 of 13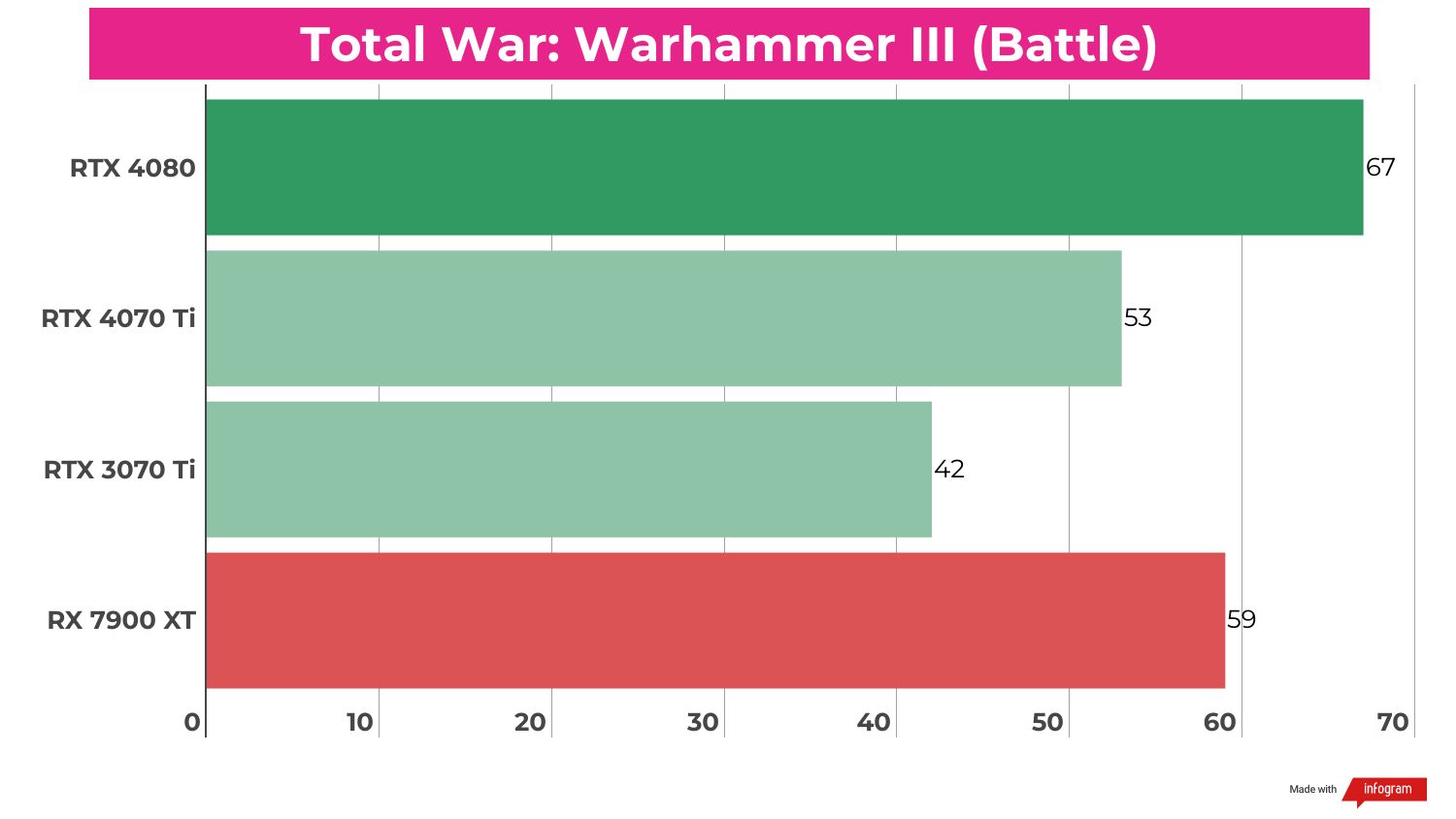 Image 6 of 13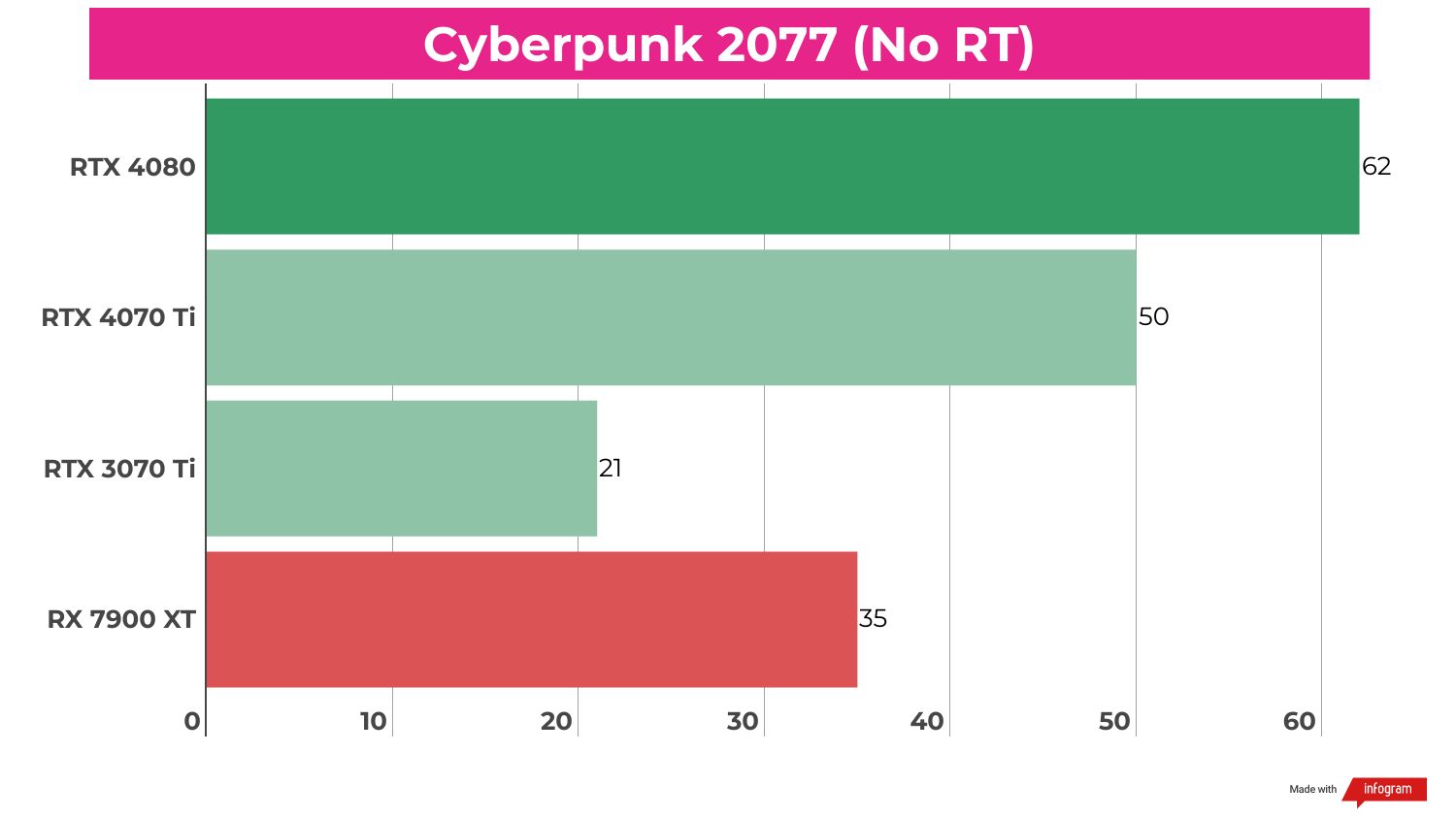 Image 7 of 13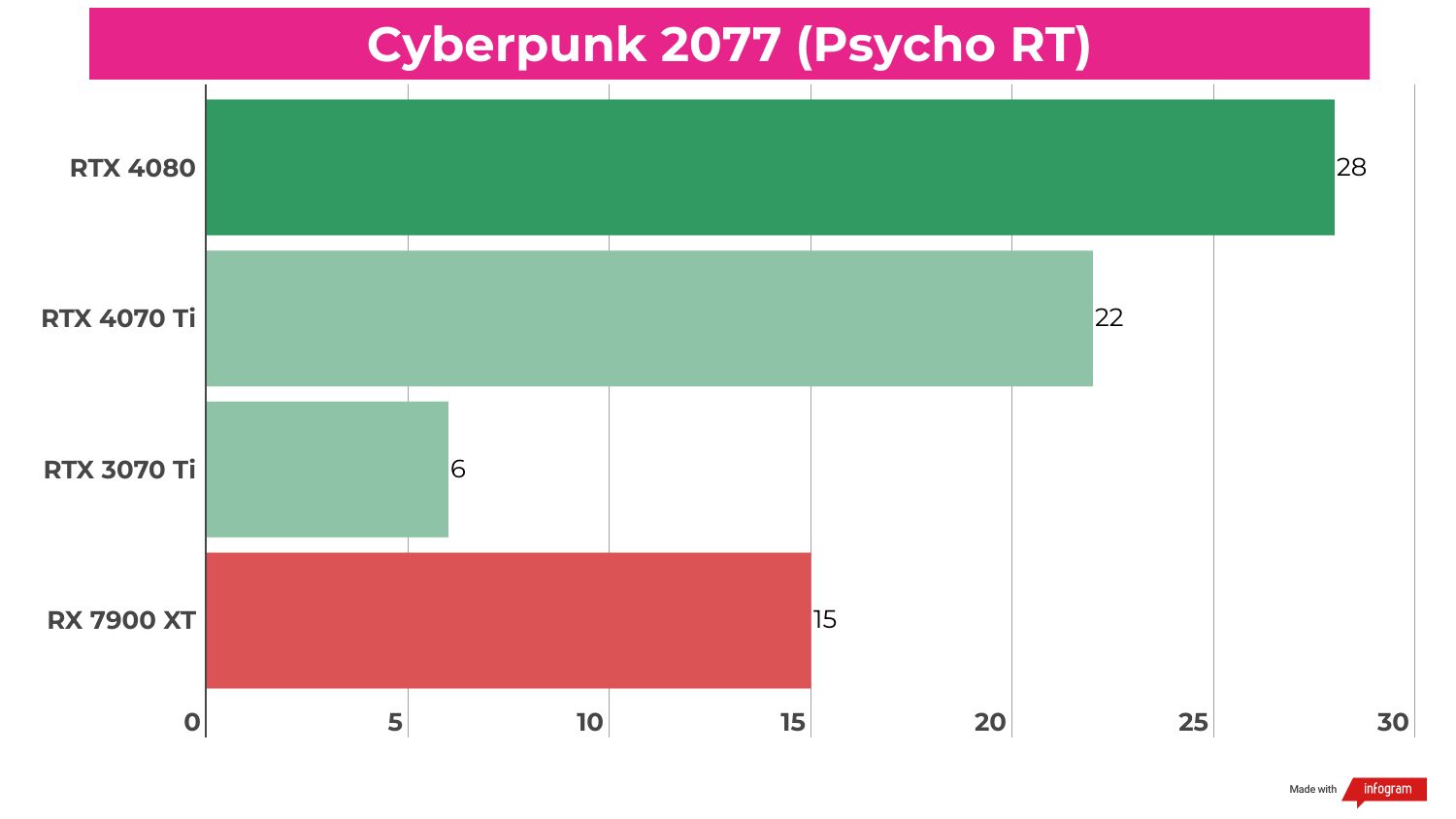 Image 8 of 13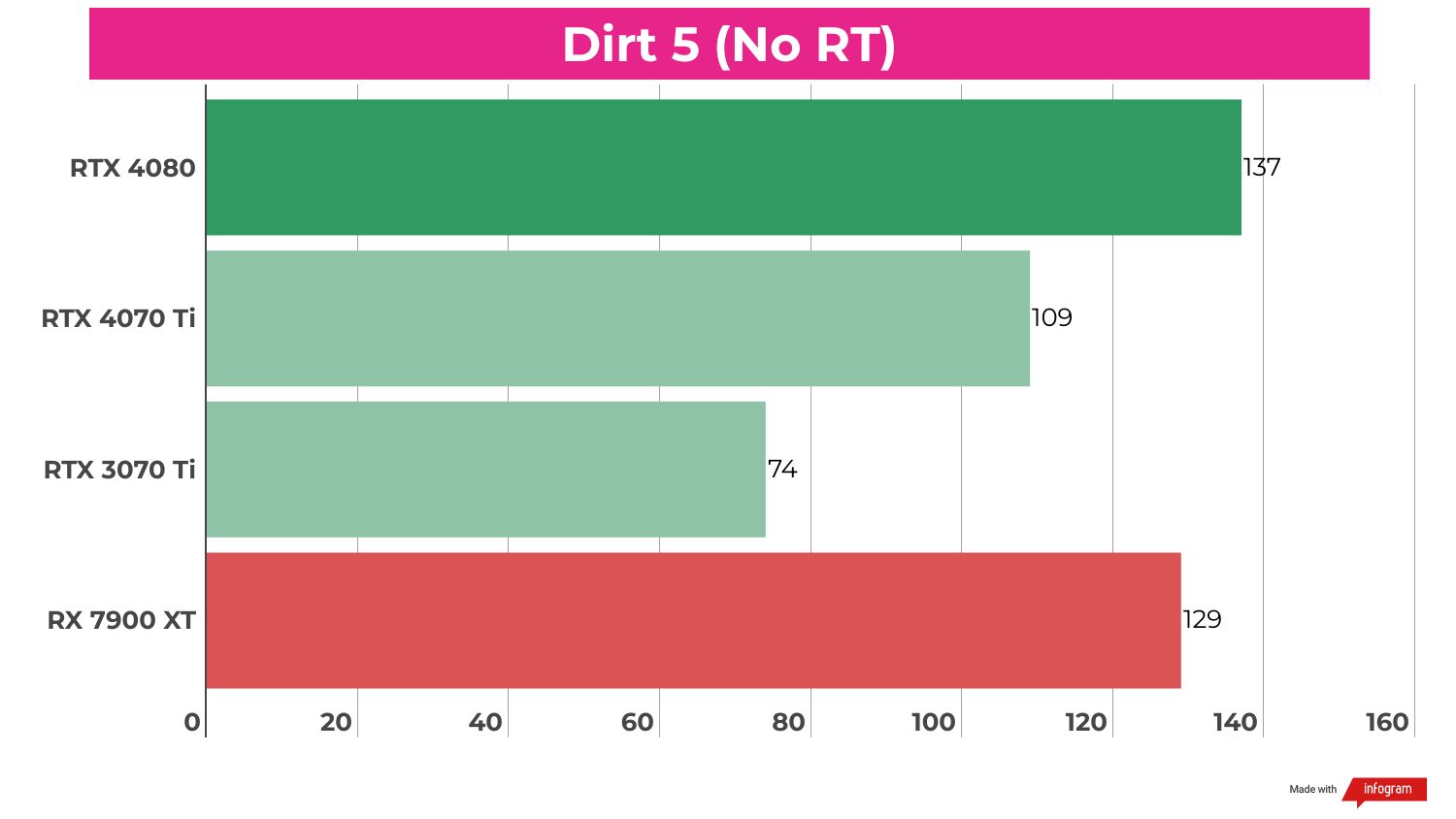 Image 9 of 13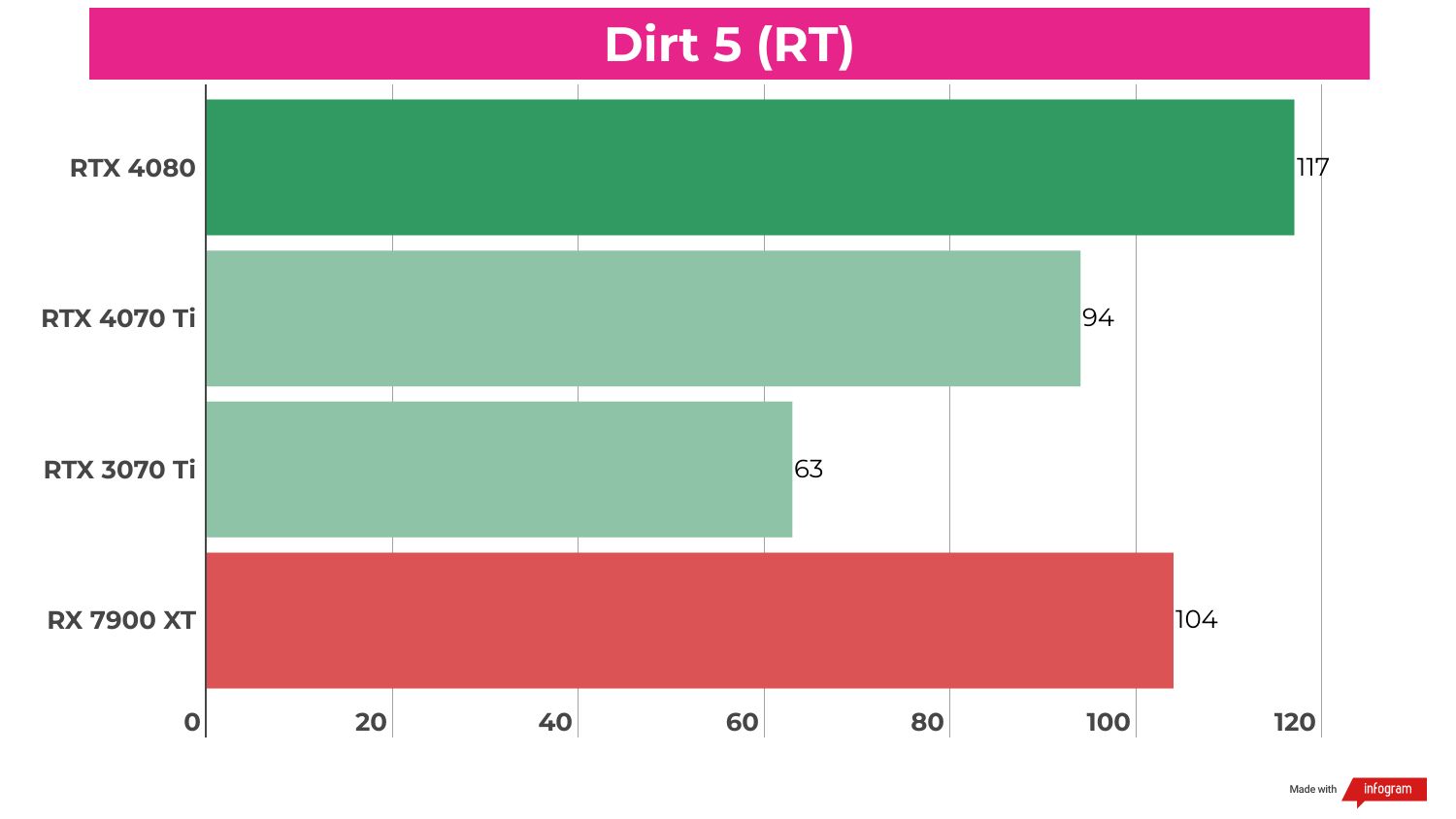 Image 10 of 13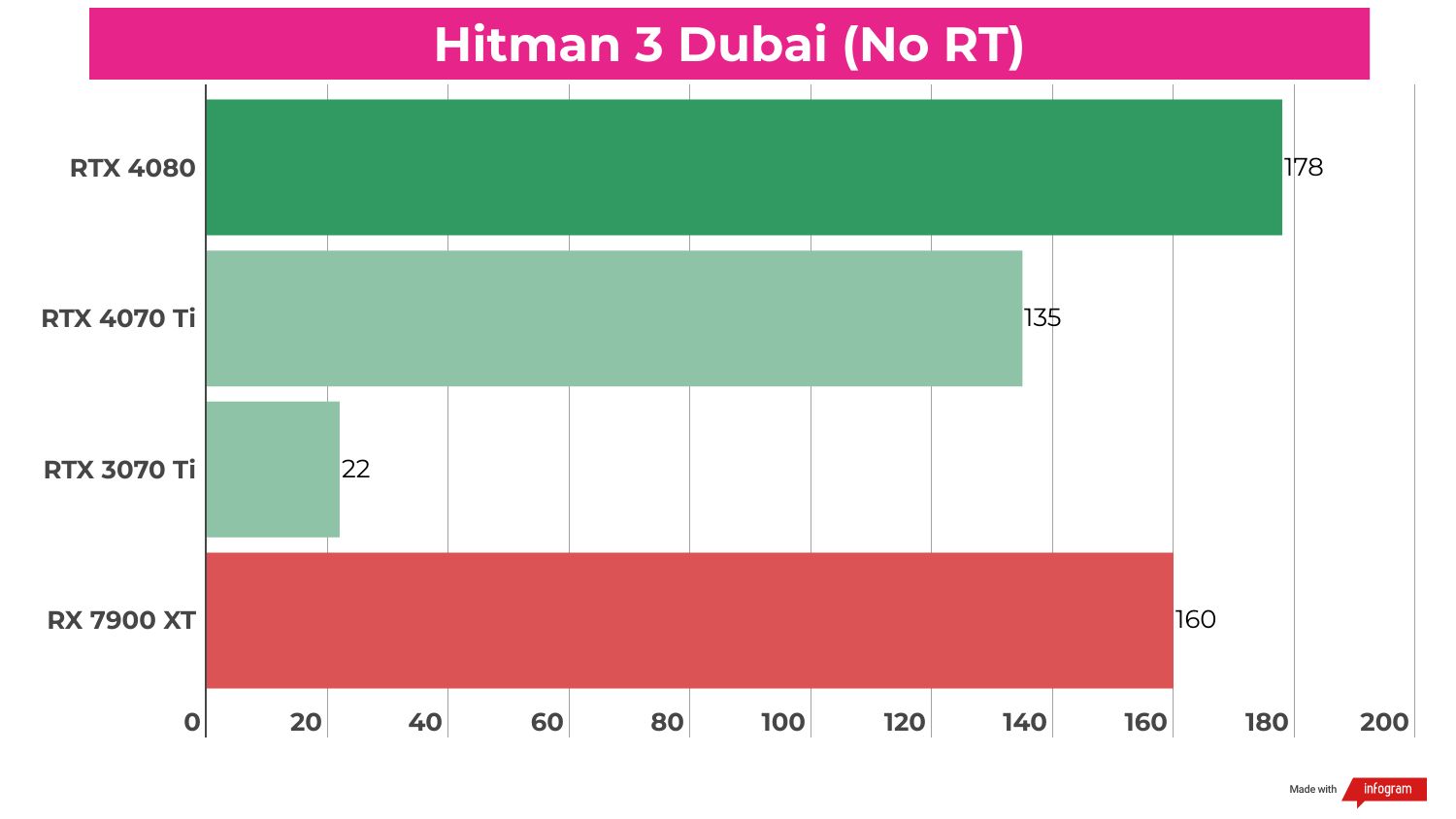 Image 11 of 13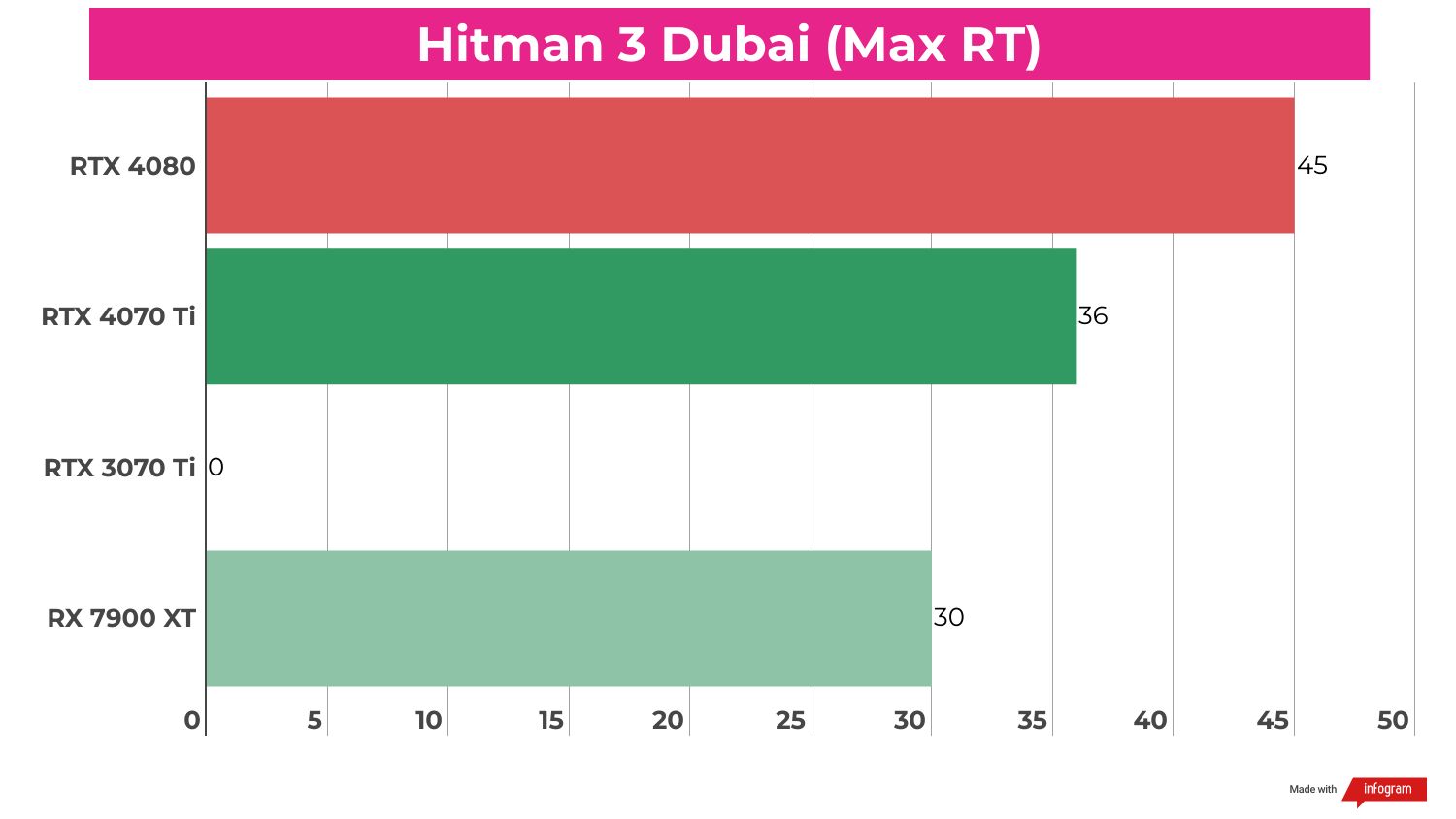 Image 12 of 13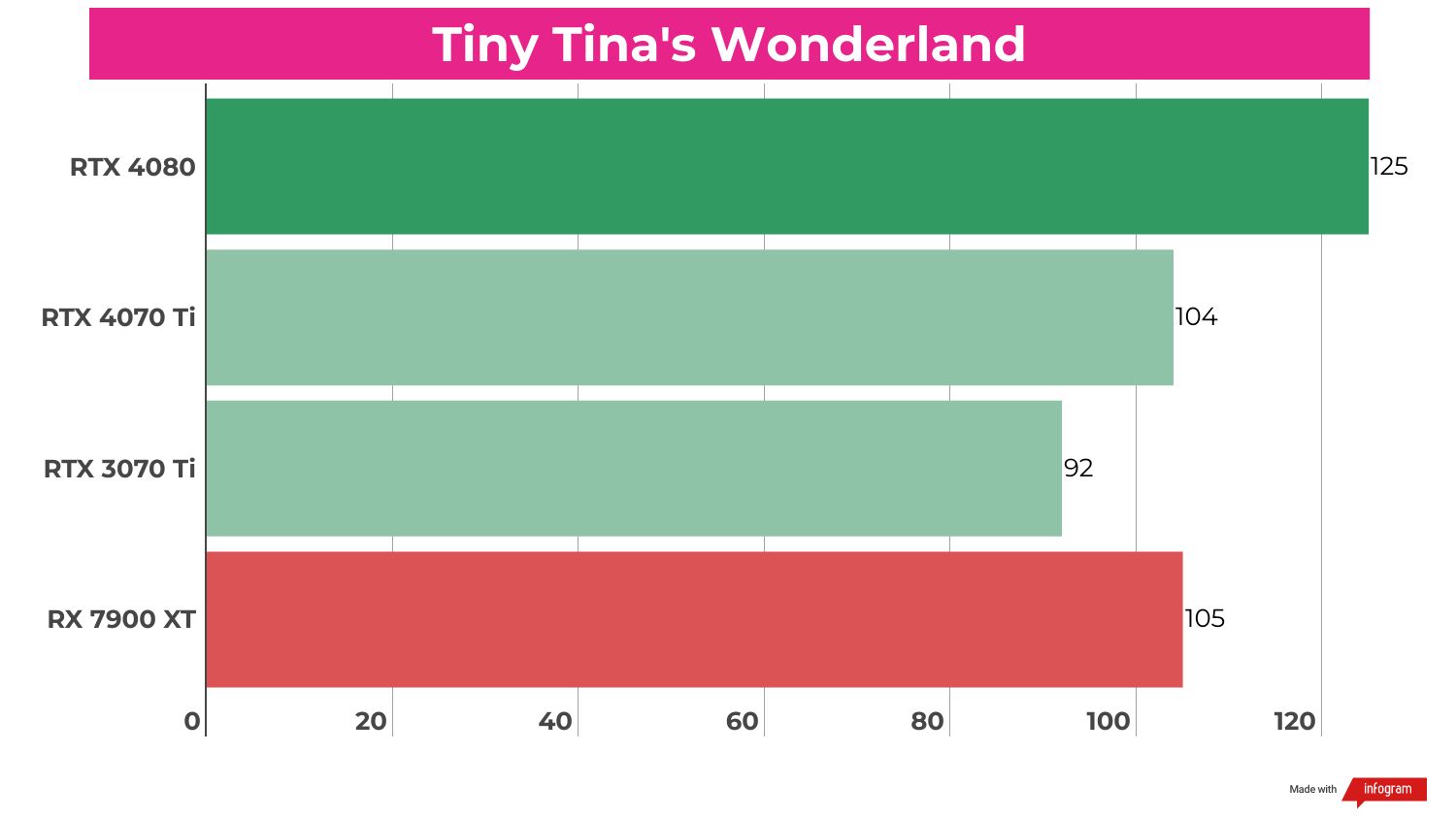 Image 13 of 13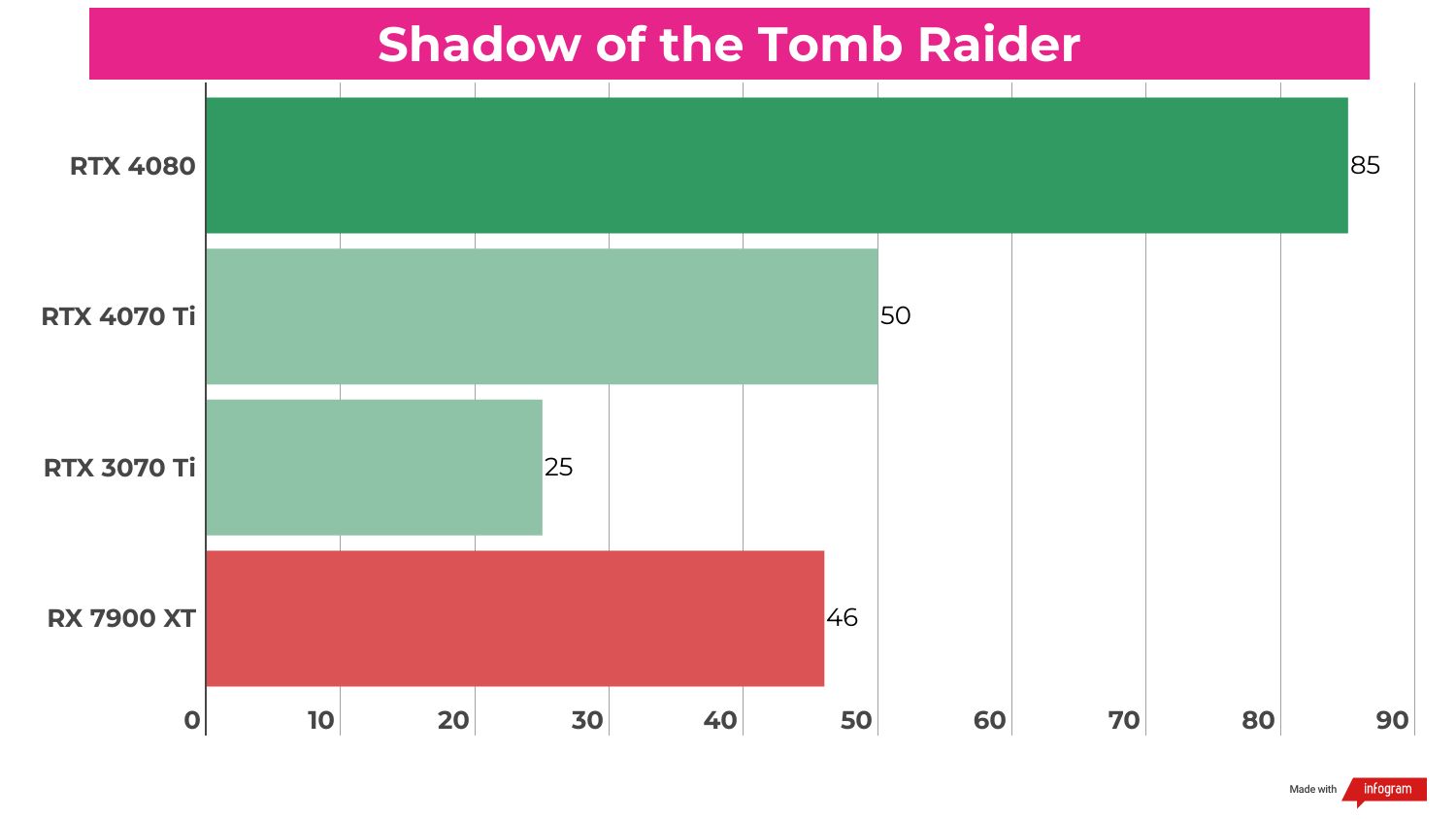 In gaming performance, we again see the RTX 4070 Ti besting the RX 7900 XT when it comes to ray tracing while often slipping into second when ray tracing isn't a factor. Ultimately, though, the difference here isn't too significant to go with one over the other on this basis alone.
All games need rasterization performance while only a few games even implement ray tracing, so the RTX 4070 Ti's third-gen ray tracing cores are only really a factor when it comes to premium ray tracing experiences like Cyberpunk 2077 or Hitman 3, and even then, it's still at the point where you need to rely on DLSS 3 for a good frame rate.
It also needs to be said that, technically, the RTX 4070 Ti is a 1440p graphics card. It's not supposed to really perform this well at 4K, as evidenced by the RTX 3070 Ti's rather pitiful showing in a number of 4K game benchmarks. Heck, the RTX 3070 Ti could barely get through the Hitman 3 Dubai benchmark at 4K without ray tracing and totally craps the bed when you turn ray tracing on to the point of crashing to the desktop. 
The fact that the RTX 4070 Ti is competitive at 4K is a huge win for the RTX 4070 Ti here, especially given that the RX 7900 XT has a much more built-in hardware advantage at 4K owing to 66% more VRAM and 58.66% more memory bandwidth for pushing through 4K textures.
AMD might have the edge in our gaming tests, but the raw number doesn't tell the whole picture. In our formal benchmark tests, we don't use DLSS or FSR to improve frame rates algorithmically, since updates can make or break their functionality, and this happens too often for any numbers gathered while using upscaling to really be valid after even a single update. As such, it's more important to get a baseline figure that can't change much over time when comparing hardware, and the non-assisted hardware rendering taking place in the PCIe slot can rarely, if ever, change. 
That said, no one plays games nowadays without some form of upscaling. Even if you've got a GTX 1060, you can still use FSR and you undoubtedly will. With the RTX 4070 Ti, DLSS 2.0 is already phenomenal, but DLSS 3 with frame generation takes DLSS 2.0's performance gains and pretty much doubles it. In practice, with DLSS 3 you will almost always get more fps in-game than you will with the RX 7900 XT running FSR 2.2, so even though the RX 7900 XT barely pulls ahead on gaming performance, your actual experience of gaming on the RTX 4070 Ti probably won't reflect that at all.
Image 1 of 4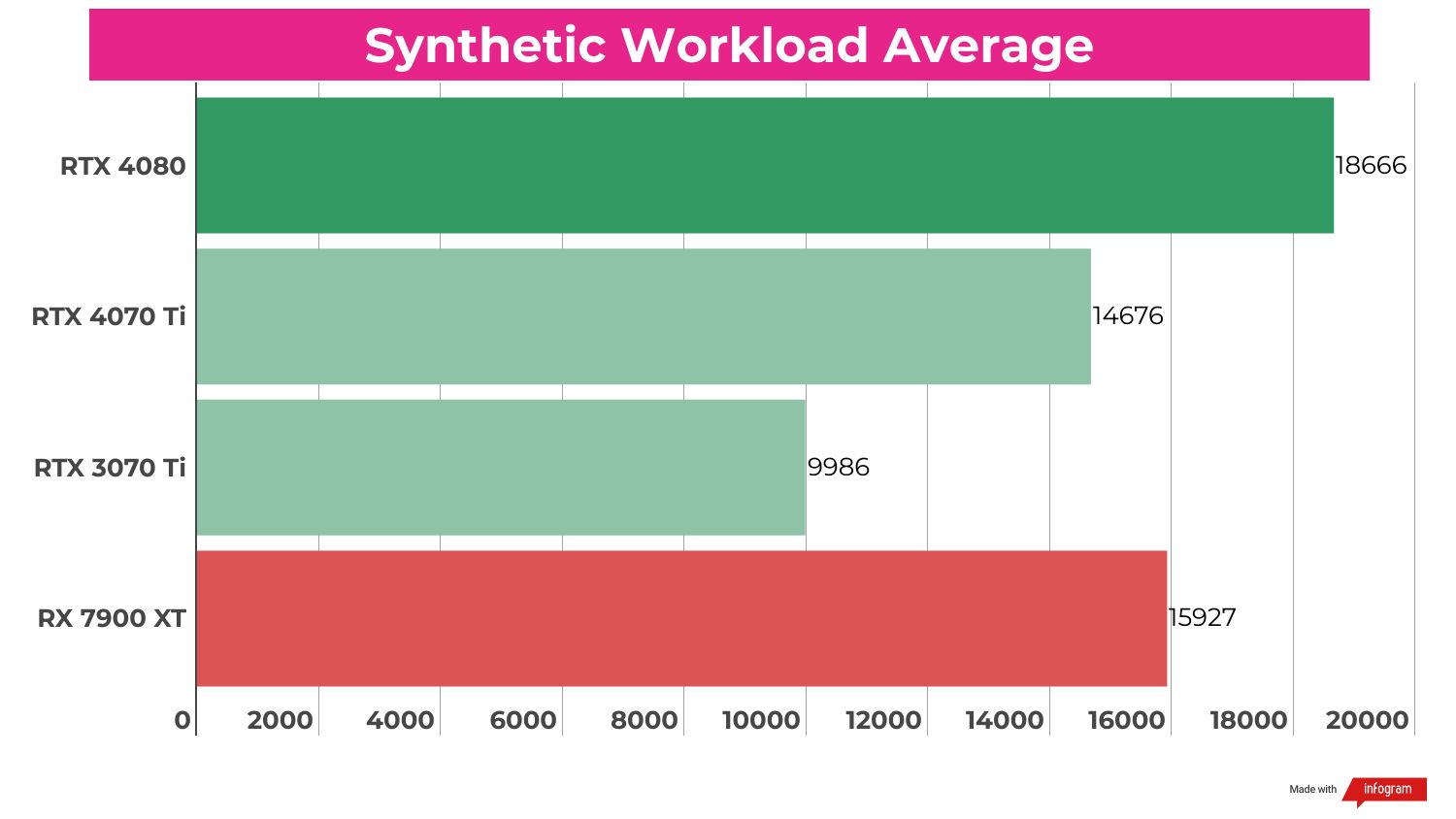 Image 2 of 4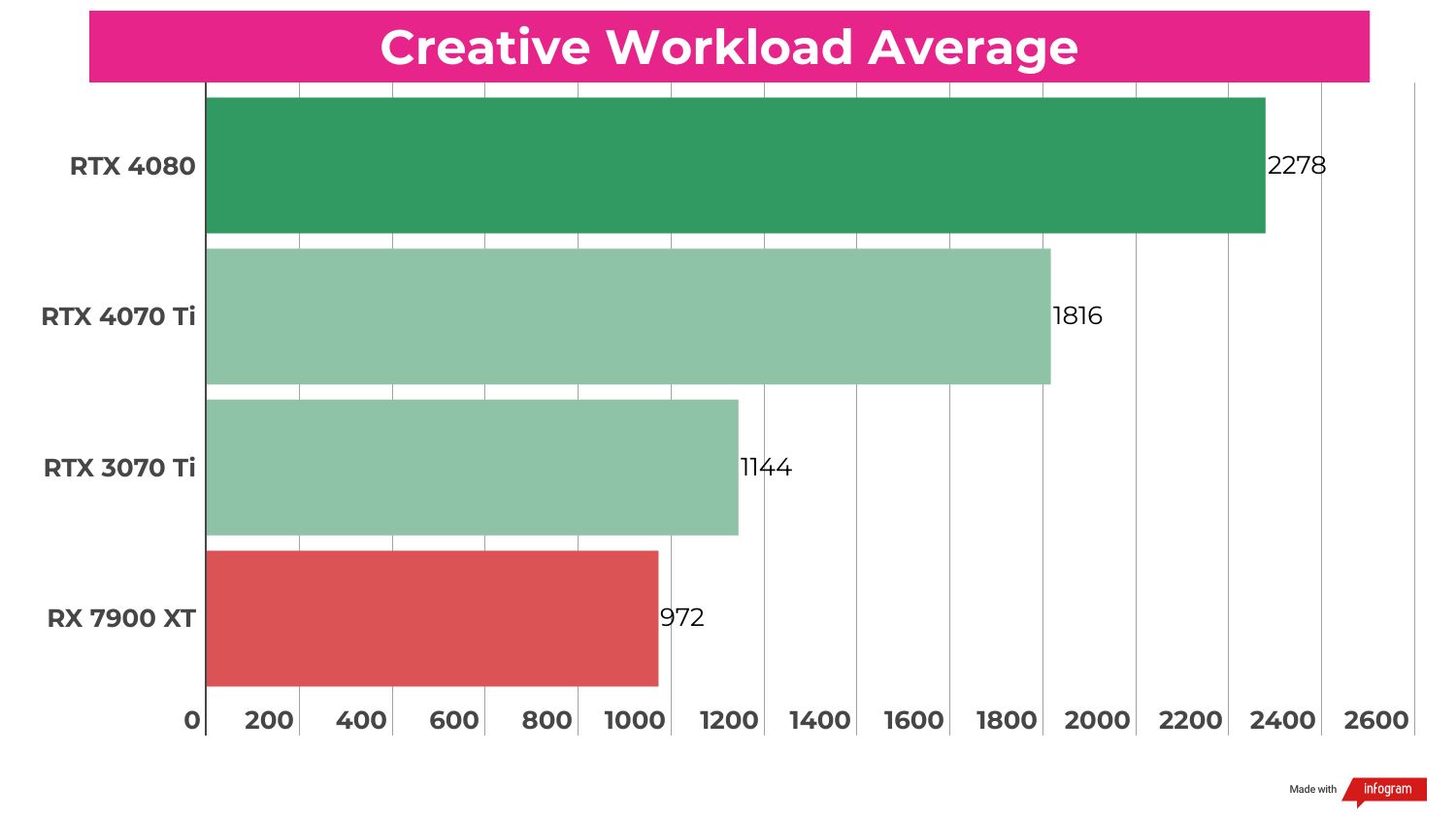 Image 3 of 4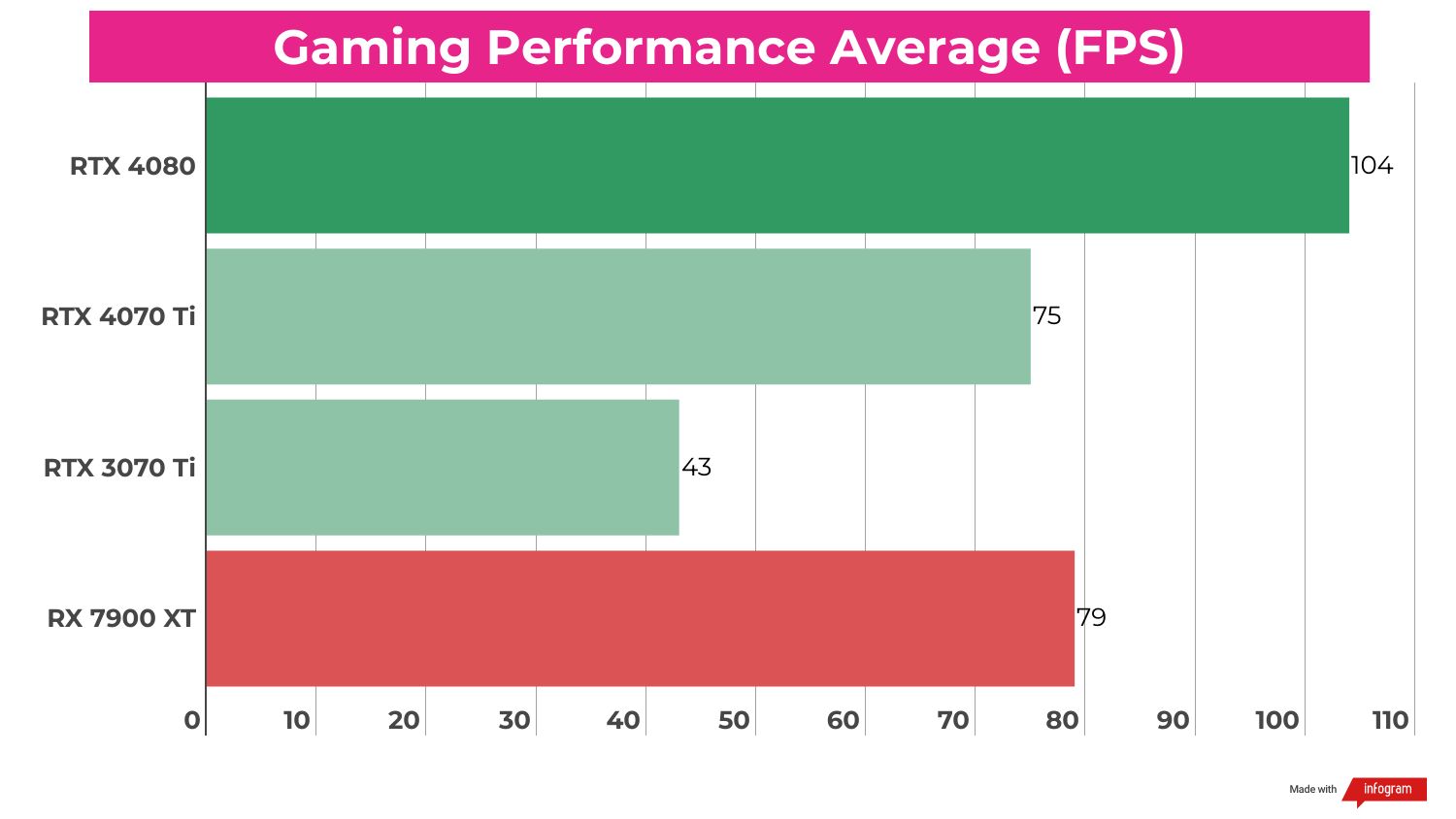 Image 4 of 4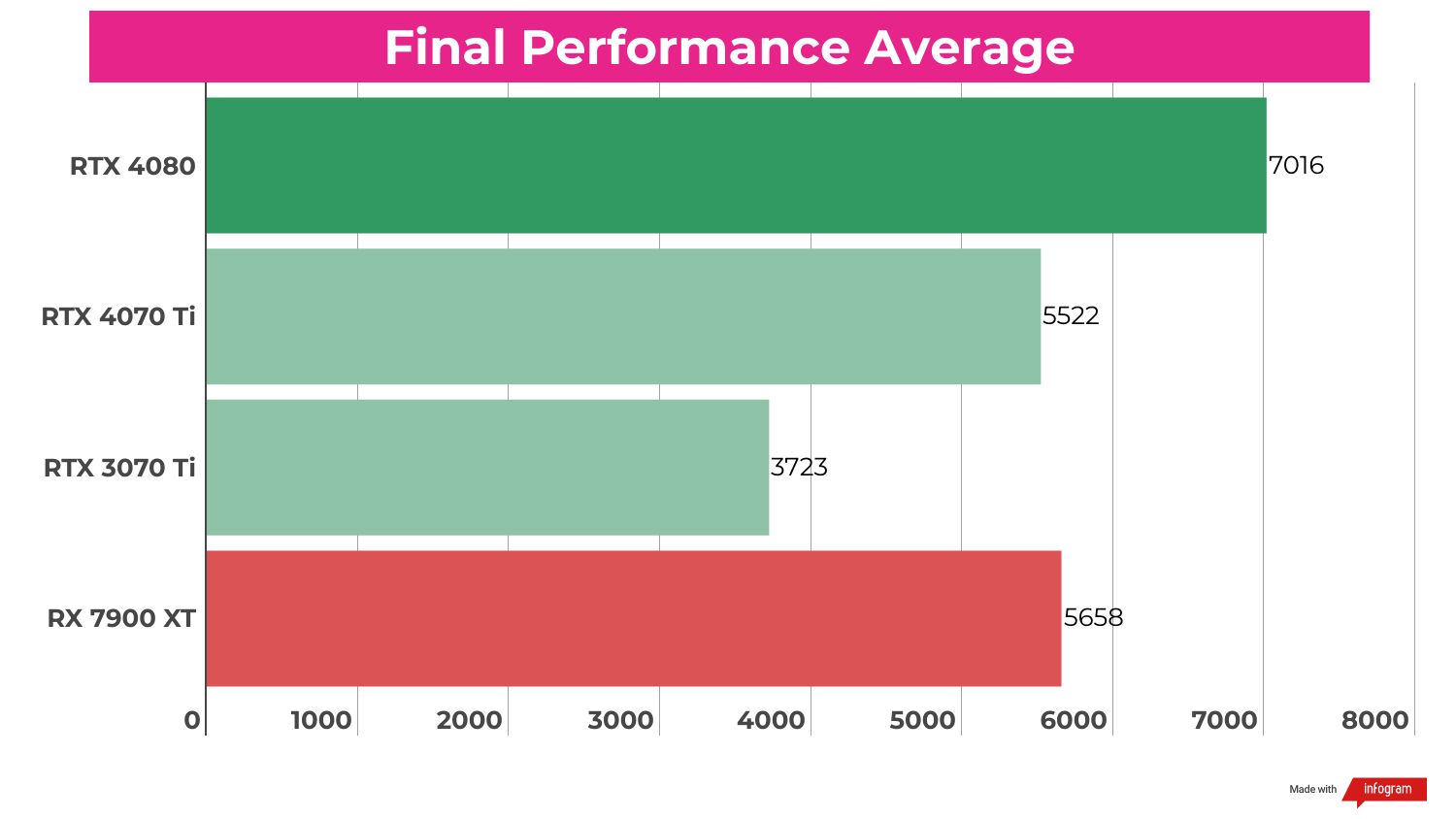 In the end, the RTX 4070 Ti comes in very close behind the RX 7900 XT in overall performance, owing mostly to the RX 7900 XT's strong absolute performance in synthetic benchmarks. Normalize all of that mathematically, though, and the RTX 4070 Ti is going to be the better bet here even without DLSS 3. Throw that in on top of everything else, and the RTX 4070 Ti simply walks away with it in terms of performance against both its predecessor and its direct rival from AMD.
Performance score: 4.5 / 5
Should you buy the Nvidia GeForce RTX 4070 Ti?
Buy it if...
You want the cheapest next-gen card available
At MSRP, the RTX 4070 Ti is the cheapest next-gen GPU on the market right now.
You want the best bang for your buck
The RTX 4070 Ti has the best performance for price of any of the newest graphics cards from Nvidia and AMD, so your money will go farther with the 4070 Ti than with anything else from this generation.
You want next-gen features like DLSS 3
Nvidia's hardware is often on the bleeding edge of the industry, but things like DLSS 3 and Nvidia Reflex are Nvidia's not-so-secret force multiplier here.
Don't buy it if...
You plan on doing a lot of 8K gaming
With just 12GB VRAM and no DisplayPort 2.1, 8K gaming with modern AAA titles on the RTX 4070 Ti is going to be a challenge.
You're on a very tight budget
While the RTX 4070 Ti is the cheapest graphics card on the market right now, it won't be the cheapest for long, as more affordable cards from both Nvidia and AMD are set to drop in the next few months.
Nvidia GeForce RTX 4070 Ti review: Also consider
If our Nvidia GeForce RTX 4070 Ti review has you considering other options, here are two more graphics cards to consider...
How I tested the Nvidia GeForce RTX 4070 Ti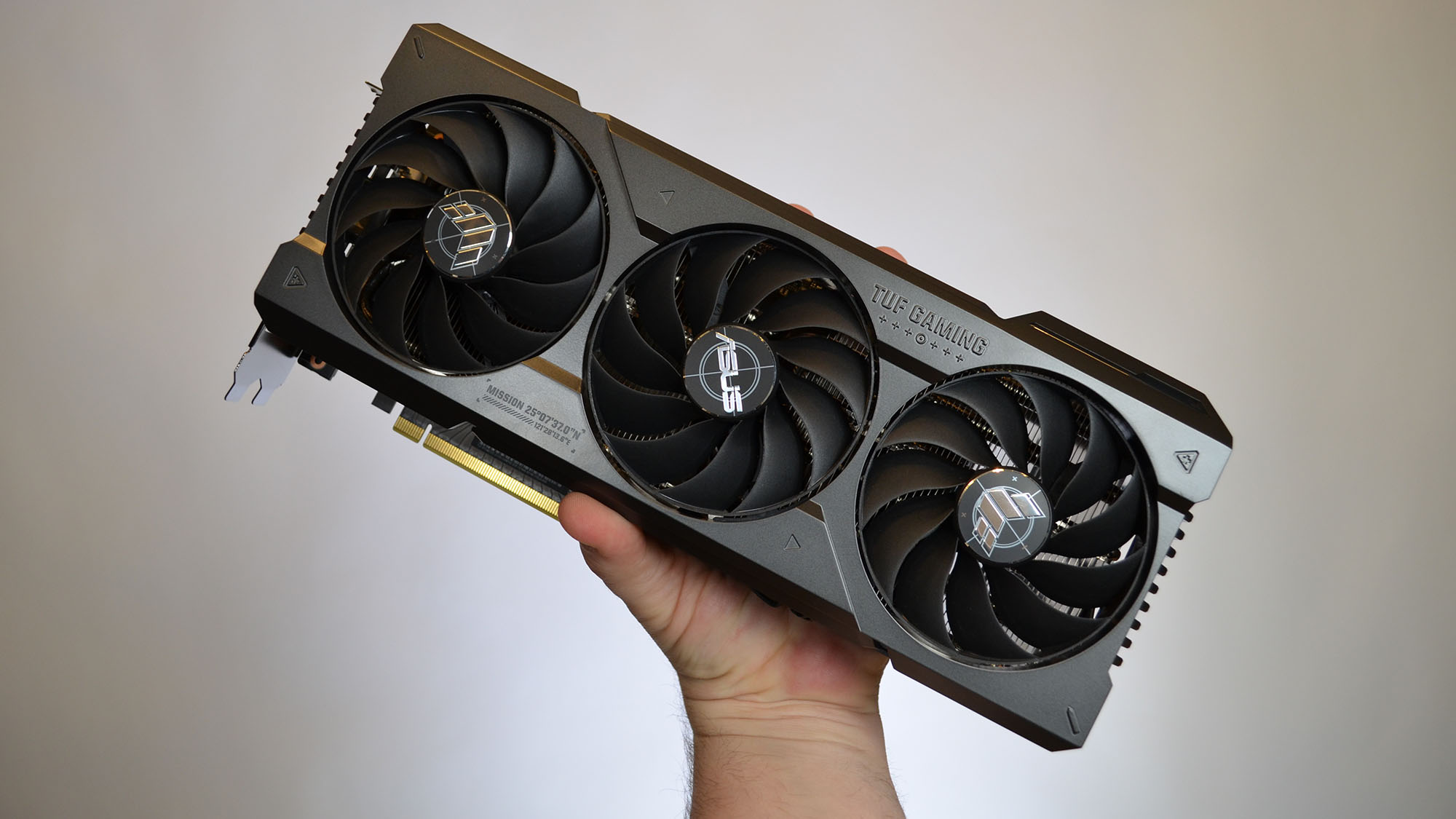 I spent about 30 hours with the RTX 4070 Ti in total
Besides general benchmarking, I used the card in my everyday gaming and creative work
In addition to standard benchmarks, I played games for several days with a framerate monitor active and recorded the real-world average
When I test a graphics card, I start by making sure that all tests are performed on the same test bench setup to isolate GPU performance. I then run it through a series of synthetic benchmarking tools like 3DMark as well as in-game benchmarks in the most recent PC games I can access like Cyberpunk 2077 and F1 2022. I run everything on the maximum settings possible without upscaling tech, and I run all tests at the resolution a reader is most likely to use a given card at. In the case of the RTX 4070 Ti, this means nothing less than 2,560 x 1440p, with 3,840 x 2,160p wherever possible.
I also make sure to install the latest relevant drivers and rerun tests on any competing graphics card that I might have already reviewed and tested, like the RTX 4080 and the RX 7900 XT, to make sure that I have the most current scores to account for any driver updates. All of these scores are recorded and compared against the card's predecessor, its most direct rival, and the card directly above and below it in the product stack, if those cards are available. I then average these scores to come to a final overall score and divide that by the card's MSRP to see how much performance every dollar or pound spent actually gets you to find how much value the card actually brings to the table.
Finally, I actually use the card in my own personal computer for several days, playing games, using apps like Adobe Photoshop or Adobe Illustrator, and watching for any anomalies, crashes, glitches, or visual disruptions that may occur during my time with the card. Having extensively covered and tested many graphics cards over the years, I know what a graphics card should do and how it should perform, and can readily identify when something is not performing up to expectations and when it exceeds them. 
First reviewed January 2023