PSVR 2 specs
Resolution: 2,000 x 2,040 per panel
Refresh rate: Up to 120Hz
Display: OLED HDR
Field of view: 110 degrees
Audio: Dedicated headset audio via 3.5mm headphone jack
Connection: USB-C
Tracking: IR camera with Tobii eye-tracking
Requires: PS5
PSVR 2 is finally here, and it's got a lot of expectations to live up to. Sony's first-gen PSVR headset was a mixed bag: affordable, but poor per-panel resolution and serious visual compromises on PS4 left many wanting a better experience. Nearly seven years on, PSVR 2 has vastly improved on pretty much everything that the original headset set out to do.
Every aspect of PSVR 2 seems tailor-made to both address the first headset's shortcomings and capitalize on the power of the PS5. Higher texture quality in PSVR 2 exclusives like Horizon: Call of the Mountain really stand out thanks to the headset's 2,000 x 2,040 panel resolution. It also helps that there are significantly fewer hoops to jump through to get PSVR 2 set up in the first place: just one USB-C cable is all you need to get it up and running on PS5.
It speaks volumes that PSVR 2's only major drawback is its price. Being more expensive than the PS5 console may turn away many. But in the grand scheme of things, it beats many of the best VR headsets on the market when it comes to specs and price, even the Valve Index.
So while PSVR 2 is absolutely a luxury purchase, I'm confident in saying those who do take the leap will be getting their money's worth and then some.
PSVR 2: price and availability
Undoubtedly the biggest hurdle to overcome with PSVR 2 is its price. At $549 / £529 / AU$879. The fact it's more expensive than the PS5 could well turn away many potential buyers. The headset can be pre-ordered from the PlayStation Direct store and should arrive within its launch week (February 22 - 28).
You won't get very far with PSVR 2 without some compatible games. Sony knows this, and has created a PSVR 2 bundle that includes its marquee launch title, Horizon: Call of the Mountain. The bundle will set you back $599 / £569 / AU$959.
PSVR 2's pair of Sense controllers are included in the box, but spare pairs can be bought from PlayStation Direct for $49 / £39 (around AU$70).
PSVR 2: design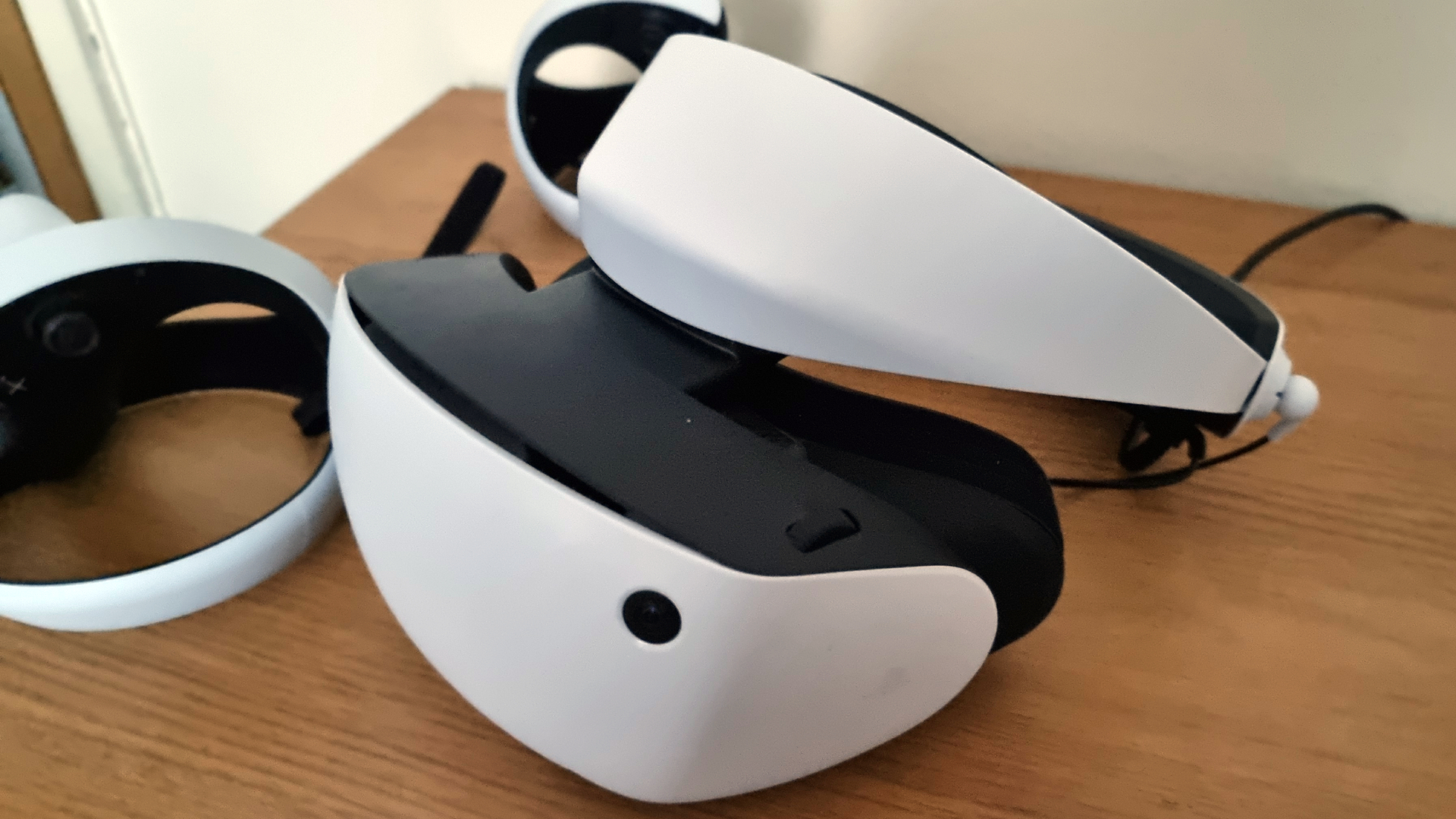 Similar in look and feel to original PSVR
Blissfully simple setup via a single USB-C cable
Fits comfortably with adjustable headband
Sony's clearly taken much care in its design of the PSVR 2. Both aesthetically and ergonomically, it's similar to the original PSVR, but the kit's overall design has been refined for a more comfortable experience.
The most immediately noticeable improvement with PSVR 2 comes in how you set it up. And thankfully, it's as easy as connecting a single USB-C cable (included) into your PS5. That's it. Unlike the first PSVR, you don't have to worry about making room for a mess of wires and adaptors. PSVR 2, aside from a very quick and easy first-time setup, is plug-and-play in its purest form.
That initial setup will walk you through almost every aspect of PSVR 2's design. It'll introduce you to the slider that adjusts the headset's distance from your eyes, as well as the rear headband's dial that helps secure the device on the back of your head. You'll also be given a chance to adjust PSVR 2's focus slider, which helps minimize image ghosting and provide sharper image quality.
Another big plus is that little to no outside light is let in when the headset is fixed on, an aspect that's key to immersion on PSVR 2 and a clear improvement over the original device.
The PSVR 2 headset is also relatively lightweight, meaning it's unlikely you'll cause your body any undue stress during play both seated and standing. Mileage will vary from player to player, but I clocked in a two-hour session on Horizon: Call of the Mountain without any kind of neck strain. It was the rest of my body that needed a rest, of course, given the physical nature of standing VR sessions.
Despite being relatively light, the headset doesn't feel cheaply made. The adjustable headband is cushioned and should provide a comfy fit for most users. Meanwhile, on-headset sliders like the rear headband adjuster feel sturdy and tactile.
If I have any gripes with the PSVR 2 headset's design, it would be the placement of its on-board buttons. Both the power button and camera function are located on the underside of the headset, and thus can be a little fiddly to press, especially as they're slightly concave. It's a minor inconvenience, though, and one that muscle memory will soon sort out.
PSVR 2: features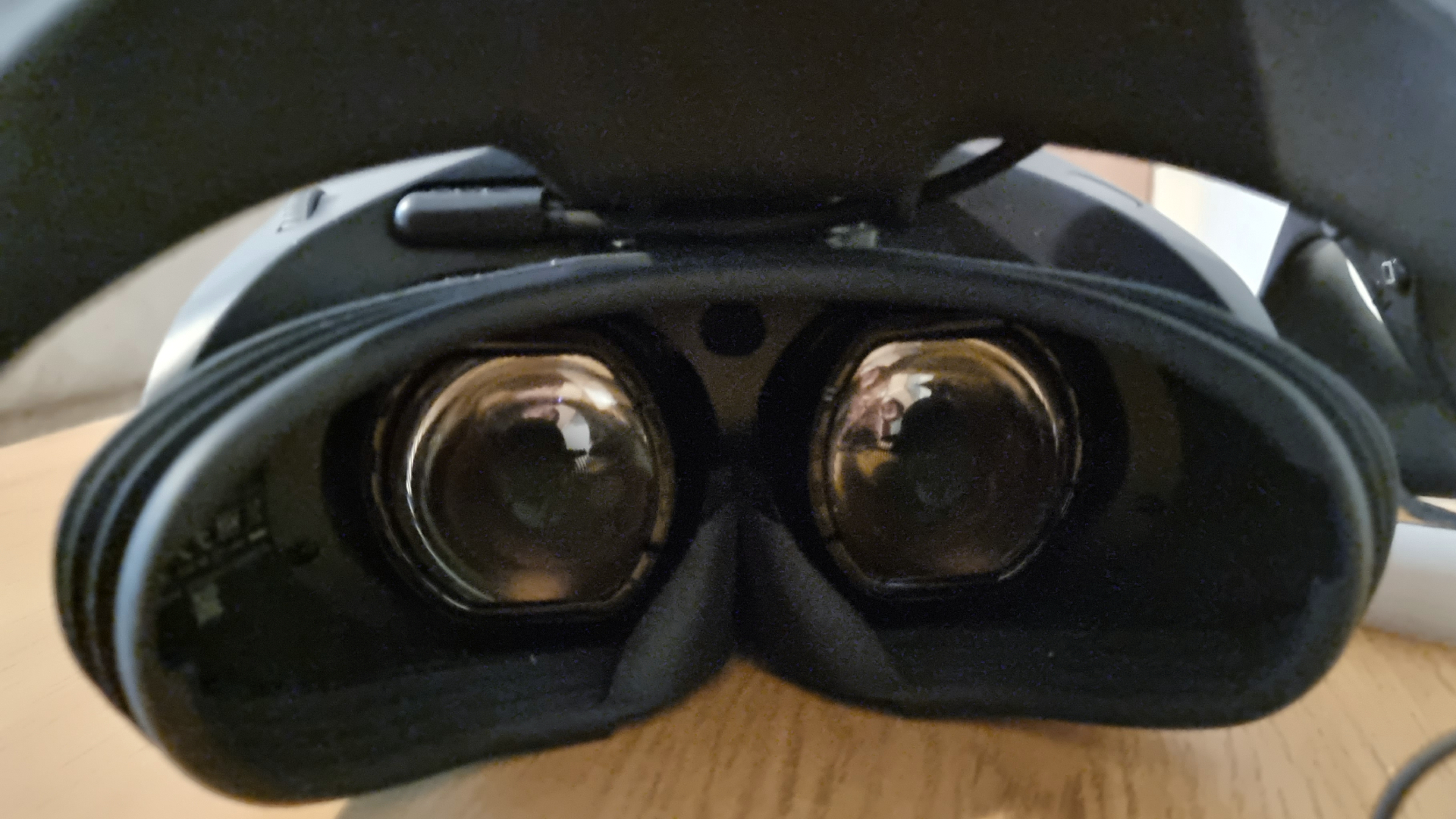 Headset camera is a welcome inclusion, if a little grainy
Eye tracking works almost perfectly
Console dashboard can be unresponsive at times
One fantastic addition PSVR 2 borrows from other top headsets, such as the Quest 2, is a passthrough camera that'll pause the action to give you a look at your surroundings, without needing to take it off. Activated by an on-device button, the camera displays in monochrome and is quite grainy, but extremely useful for when you need to pick up your Sense controllers and do a final check of your VR playing space.
Many PSVR 2 games also support the headset's new eye-tracking feature. It's largely used to browse menus simply by looking at your desired option, and calibration for the feature is introduced to you upon initial setup. 
For the most part, it works great, though it can feel a little skittish when looking at menu items that are fairly close together. Overall, though, eye tracking feels like a promising feature that I'm looking forward to seeing implemented for wider gameplay purposes.
As with the previous PS4 headset, PSVR 2 can seamlessly bring up your PS5's dashboard at the press of one of the Sense controllers' Home buttons. Well, almost seamlessly. The dashboard itself, displayed through PSVR 2's lenses, is relatively low-resolution. There doesn't appear to be a big improvement over the first PSVR in this area, and thus it's difficult for me to recommend Cinematic mode as a result.
On top of that, it can be slightly unresponsive depending on if you have a game open at the time, updating at a sluggishly low refresh rate. It's certainly jarring going from a 120Hz experience in-game to sub-60Hz on the dashboard, and may disorient you slightly.
PSVR 2: performance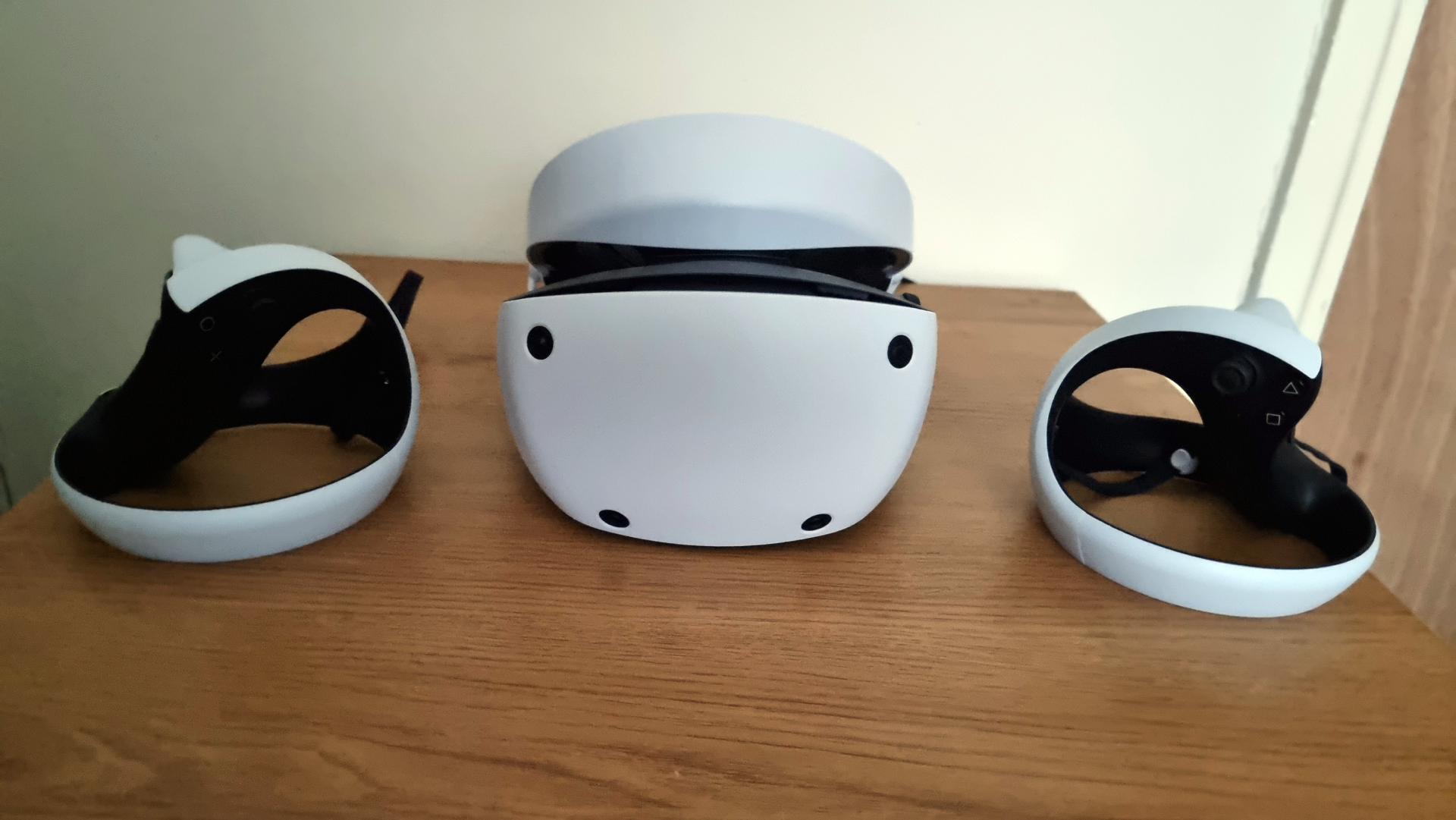 Excellent image quality
Headphones provide strong immersive audio
Image ghosting an occasional issue
I can't speak highly enough about the leap in image quality between PSVR and PSVR 2. The original's 960 x 1,080 per eye resolution – paired with the visual compromises games like Skyrim VR had to take to run at 90-120Hz – meant that PSVR games had a rather smeared look. It was a particularly bad experience if you're like me and suffer from motion sickness easily.
PSVR 2 has largely solved this issue. Panel resolution has jumped up to 2,000 x 2,040, allowing for a much greater level of clarity. This is especially evident in games like Horizon: Call of the Wild and Kayak VR, where the impressive texture detail is allowed to stand out thanks to that higher resolution.
Despite these vast improvements, you may still encounter a degree of image ghosting. This creates a slight afterimage akin to a delayed motion blur, and can be quite distracting or immersion-breaking. However, this will depend on the visual quality of any given PSVR 2 game, as well as the setting of your lens slider.
Adjusting this to create a sharper image minimizes this issue greatly, though this does mean that the lenses can start to press firmly against your nose. It's worth experimenting with the slider with each game to find your perfect balance of comfort and image quality.
Thankfully, in my testing, I found that all PSVR 2 games were able to maintain a locked 90Hz or 120Hz experience. That's not just great news for gameplay, but when paired with some games' implementation of vignetting (darkening the edges of the display) really helps to reduce motion sickness and improve immersion overall.
The PSVR 2 experience is made even better by its headphones, too. Much like PSVR, these headphones are wired to the headset itself. PSVR 2's headphones greatly benefit from the console's proprietary 3D audio. 
Spatial audio is an especially great feature in VR, and gaming on PSVR 2 is all the better for it. I especially loved this for Kayak VR, a game with a wide dynamic range, which led to a fantastic mix of satisfyingly sloshy paddling and distant chirps of various fauna. Tetris Effect and Rez Infinite are standout audio experiences here, too; their layered, immersive soundtracks really come to life thanks to PS5's 3D audio. 
PSVR 2: Sense controllers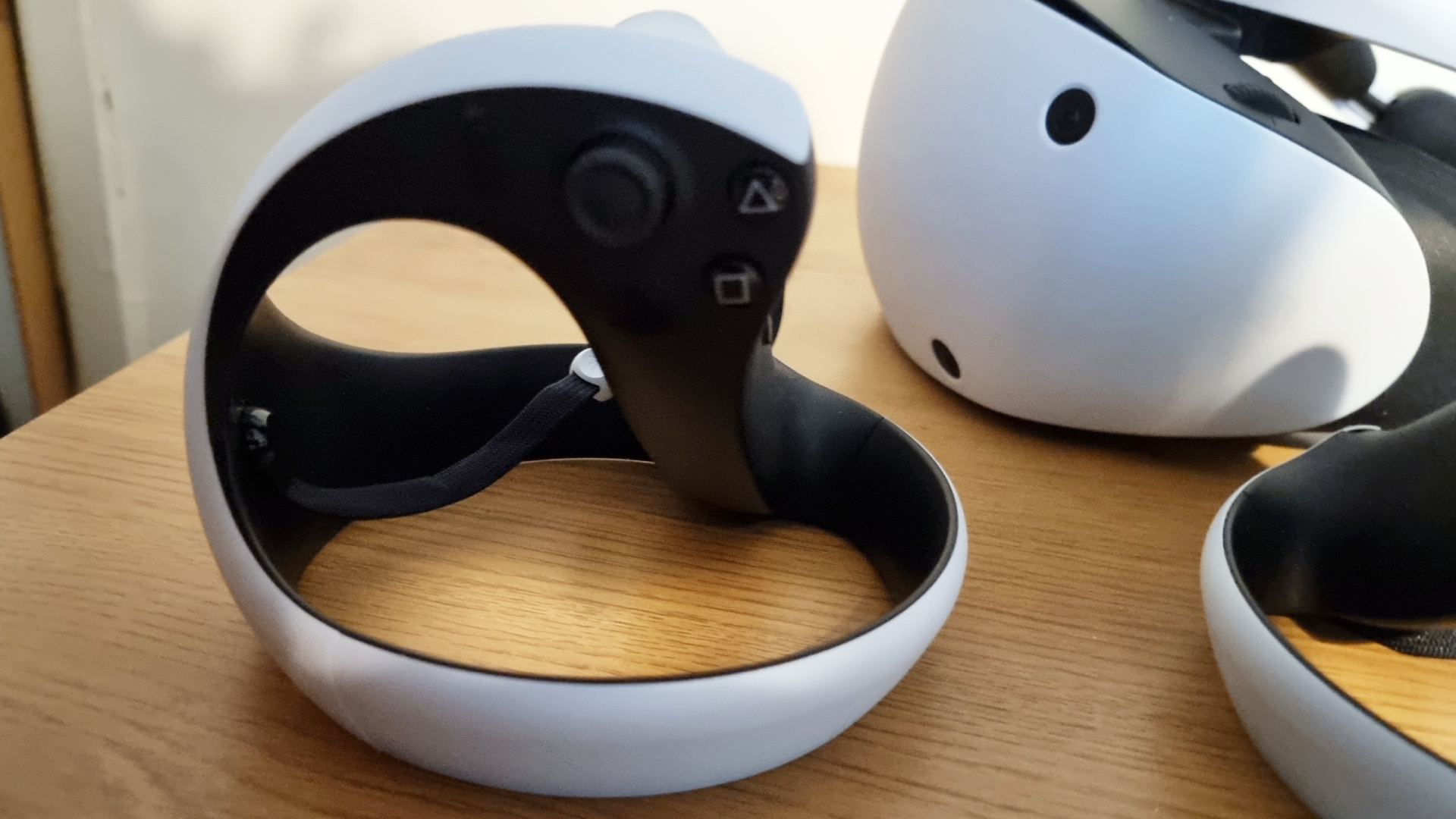 Superb motion accuracy
Haptics feel a little understated
Poor battery life
PSVR 2 includes its bespoke Sense controllers in the box. You'll get a pair of these, one for each hand, and each acts like two halves of a DualSense wireless controller. The Sense controllers evenly split face buttons, analog sticks, and triggers between one another, while both have a Home button for easy access to the PS5 dashboard. Meanwhile, the Options/Pause button is found on the right controller, and holding the button for a few seconds universally realigns your display.
The Sense aren't the best VR controllers I've ever used, lacking the quality feel of Valve Index's pair. But they certainly get the job done. Motion accuracy is pinpoint, and the circular design ensures you'll be able to pull off more specific motions with ease.
The Sense controllers themselves are on the cheaper side in terms of cost, which is great if you fancy picking up a spare pair. However, this does mean that some of their features take a step back. The controllers support haptic feedback, but in testing multiple games, the feature did feel a little flat, especially compared to the excellent implementation on DualSense and DualSense Edge.
Battery life is also a slight issue. I clocked in five to six hours on a full charge. And given that they are two controllers, you will have to charge them separately via USB-C. And with PS5's USB port already being taken up by the PSVR 2 unit itself, you may find this impacts the length of your VR sessions if you don't switch to a DualSense pad while they charge.
Sense controllers score: 3.5 / 5
Should I buy PSVR 2?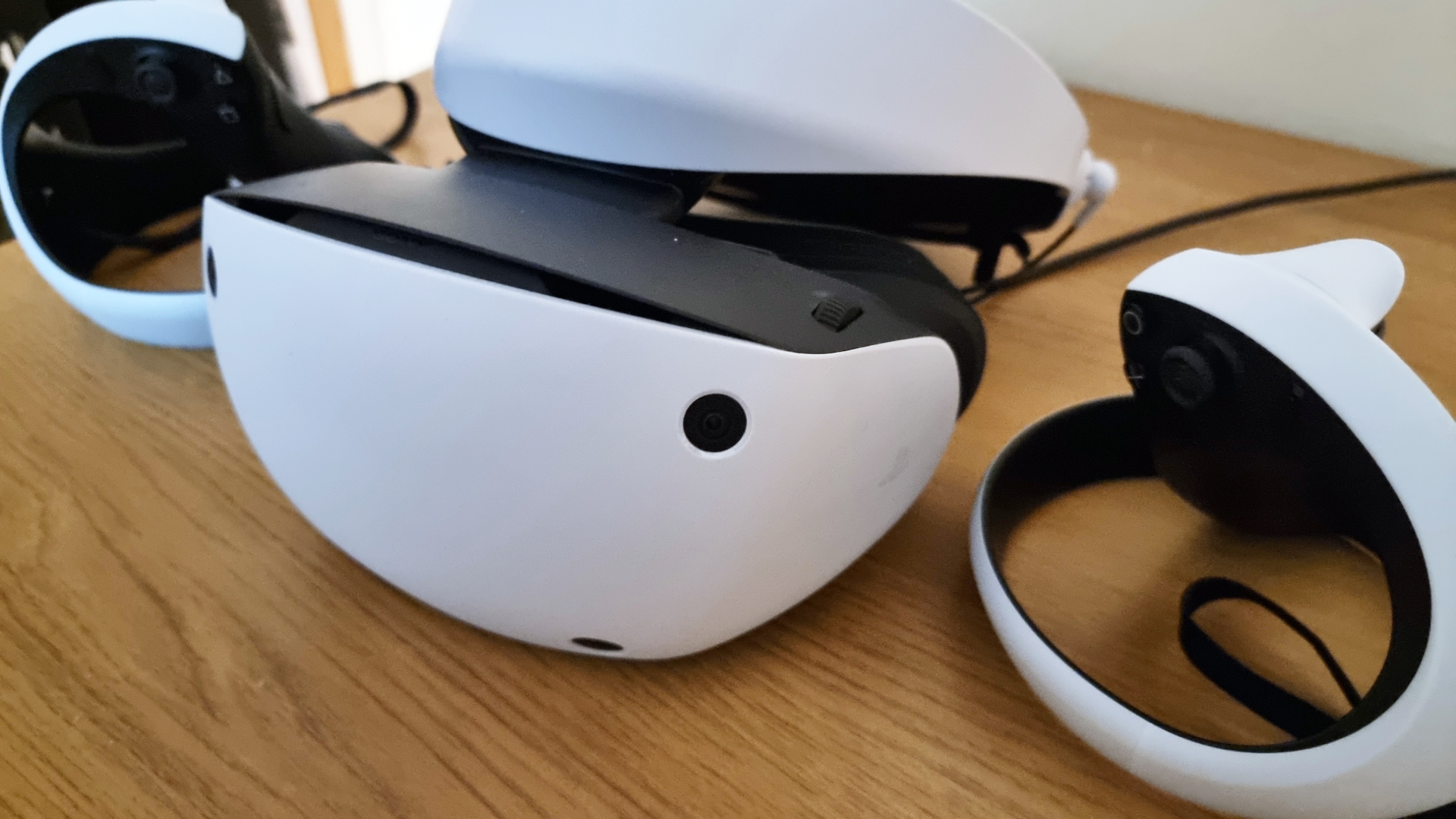 Buy it if...
You want a premium VR experience
PSVR 2's specs are among the best on the market, and the headset sets an impressively high bar for future console VR devices.
You want games you can't play anywhere else
PSVR 2 will grow even stronger as more exclusive games roll in. Horizon: Call of the Mountain is certainly a strong start and undoubtedly the headset's killer app.
You're looking for ease of use
PSVR 2 is blissfully easy to set up, and with just a single wire connecting it to PS5, eschews the need for a complex array of cables and adapters.
Don't buy it if...
You're on a tight budget
PSVR 2 is an expensive piece of kit, and thus has a very niche appeal. If you're even slightly unsure, avoid picking it up for the time being.
You're after a PC headset
PSVR 2 won't work on PC out of the box. If you're interested in PC-based VR, consider a headset like the Quest 2 or Valve Index.