12:34 pm | March 20, 2023
---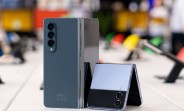 With the Samsung Galaxy S23 series launch already in the rear-view mirror, we can move on to the other big Samsung flagship launch of the year – the next gen Galaxy Z Fold and Z Flip. Reliable tipster IceUniverse shared some preliminary specs details for the upcoming foldables. The big news for the Z Flip5 is the larger external display which is said to come in at 3.4 inches in diagonal. If true, it will in fact be larger than the Oppo N2 Flip's 3.26-inch panel and it will boast an alleged 1:1.038 aspect ratio – a nearly perfect square. The inner screen is said to boast narrower...
2:41 pm | March 17, 2023
---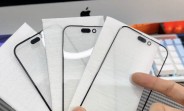 Is Ice Universe is obsessed with bezel thickness? Yes, but we don't mind – The Cat reports that the upcoming Apple iPhone 15 Pro Max will set a new record in that regard. The black border around the screen of the new flagship will measure only 1.55mm, way down from the 2.17mm of the current iPhone 14 Pro Max. The current record is held by the Xiaomi 13 with 1.81mm thickness. For comparison, the Galaxy 22 and S23 bezels are around 1.95mm. The glass panels of the iPhone 15 series were shown on video a couple of weeks ago. The person handling the panels reported that the bezels on the Pro...