The Dell OptiPlex 7000 Micro is an impressive little desktop machine that can fit on almost any desk, adding a powerful business computer with to any space with ease. Considering its size, we were impressed with the performance that came from this pint-sized box. 
Unboxing and First Impressions
We were shocked at the small size when we first unboxed the Dell OptiPlex 7000 Micro. It doesn't seem, at first glance, like it would be a powerful machine worth relying on for business tasks. However, once we booted up, we noticed that this desktop had a decent amount of power under the hood.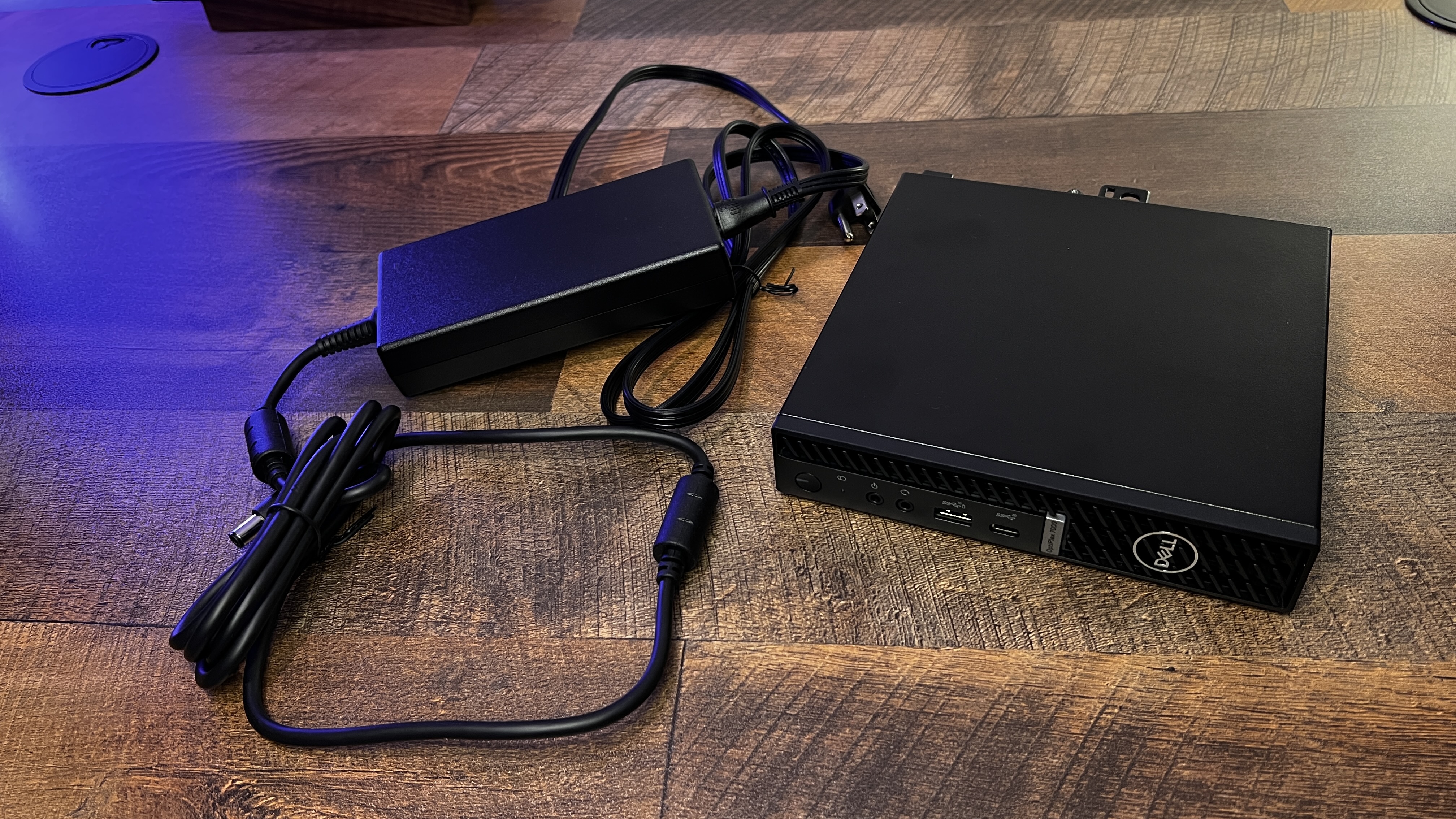 Design and Build Quality
This desktop's overall design certainly fits its micro nomenclature. 
Specs
Specs as tested
CPU: 12th Gen Intel Core i7
Memory: 16GB DDR5
Storage: 512GB 
Ports:
Front
Rear
Connectivity: WiFi 6E running AX211
Weight: 2.06lbs / 0.94kg
Dimensions: 
Height: 7.17in / 182.00mm
Width: 1.42in / 36.00mm
Depth: 7.00in / 178.00mm
The footprint is tiny lying down and takes up even less desk space if upright. The casing is easy to mount to the underside of a desk, cabinet, or shelf if you want it to take up even less desk space. While we have yet to mount this to a desktop or cabinet, Dell's website shows that the Micro can mount just about anywhere with the suitable adapter. The build quality is solid, and it could take a beating before breaking - although, as it's designed for office space, it shouldn't have to do that.
Most of the ports are found on the back of the computer, consisting of three DisplayPort, one HDMI, three USB-A, one Ethernet, and a port for power via a barrel connector. On the front is a power button, an indicator light, a mic line, a headphone line, another USB-A port, and a single USB-C. Though it has an impressive video output ability, the computer is less than 2.1 pounds (less than 1kg) and could hide behind a book thanks to its small stature.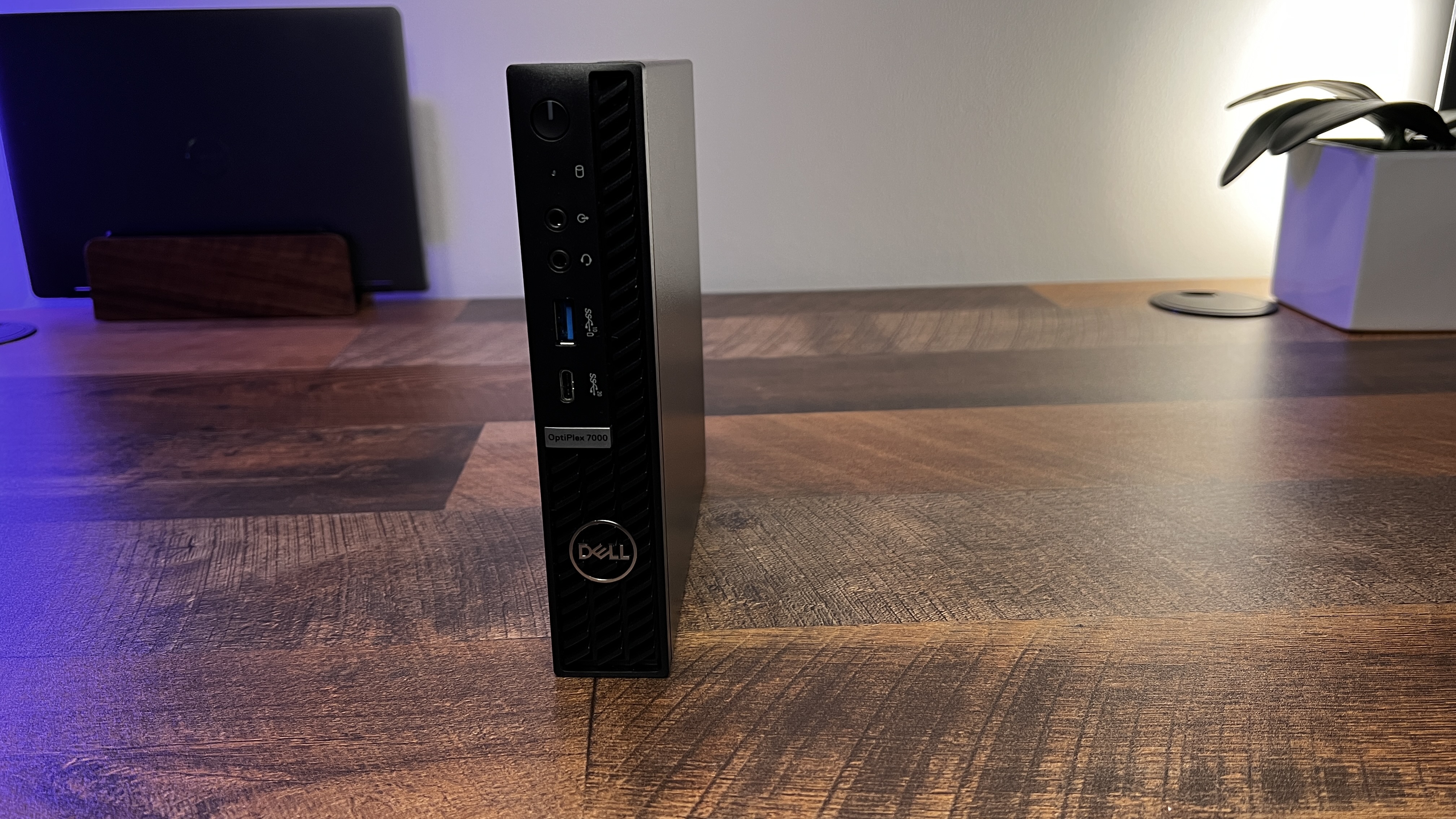 In Use
When we first booted up the Micro, we noted its size and assumed its performance would match its stature. However, after using this computer for a few weeks now, we can say with certainty that this is an impressive computer regarding power and performance.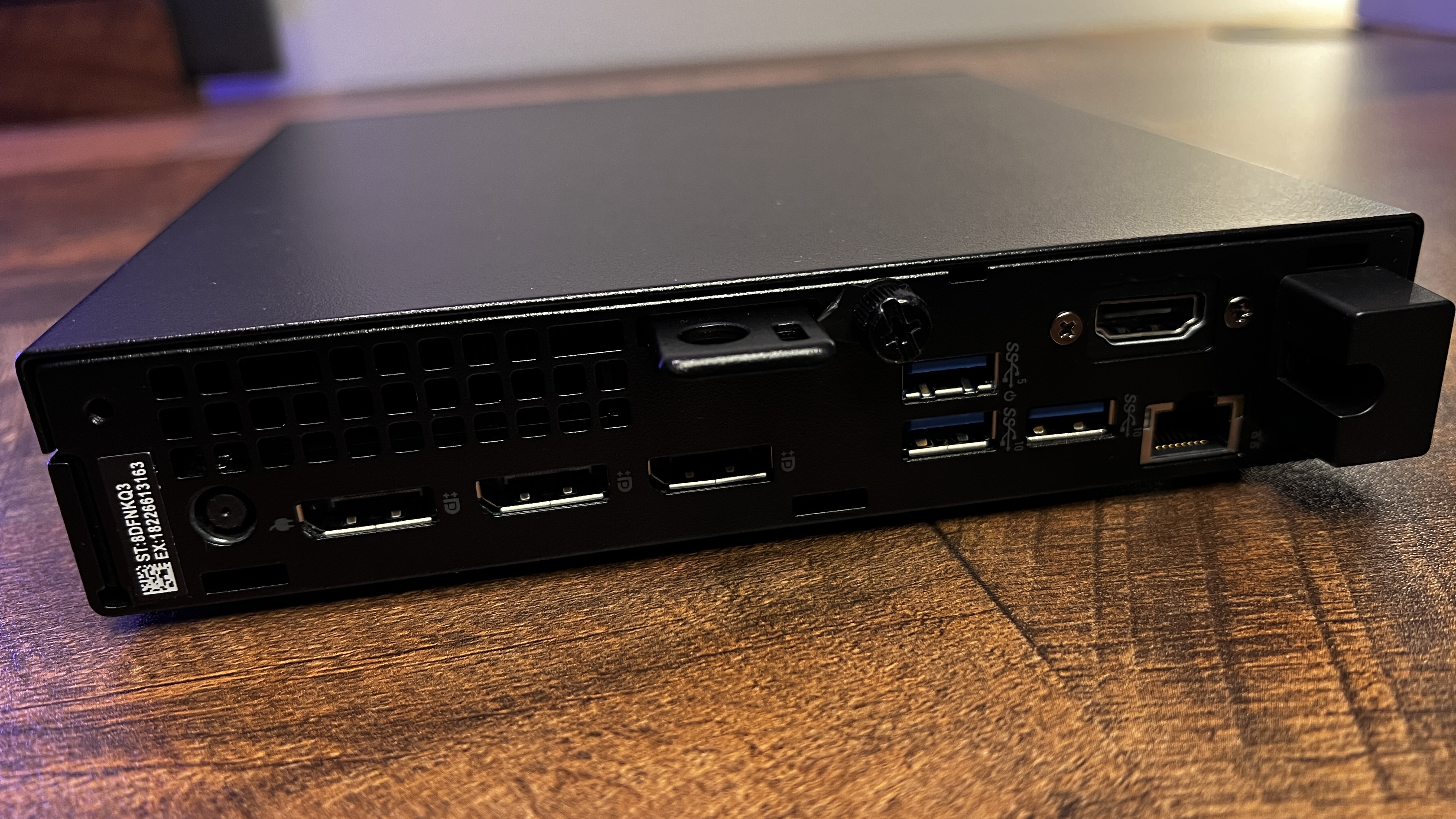 The ports mentioned above have proven to be well-placed. The DisplayPorts on the back, along with the network and HDMI, stay hidden behind the computer without having to see the cables. Additionally, the USB-A ports on the back are great for plugging in headsets, external drives, and more that do not require daily interaction. The ports on the front have been great for quickly plugging in thumb drives, charging devices, and other quick-access devices.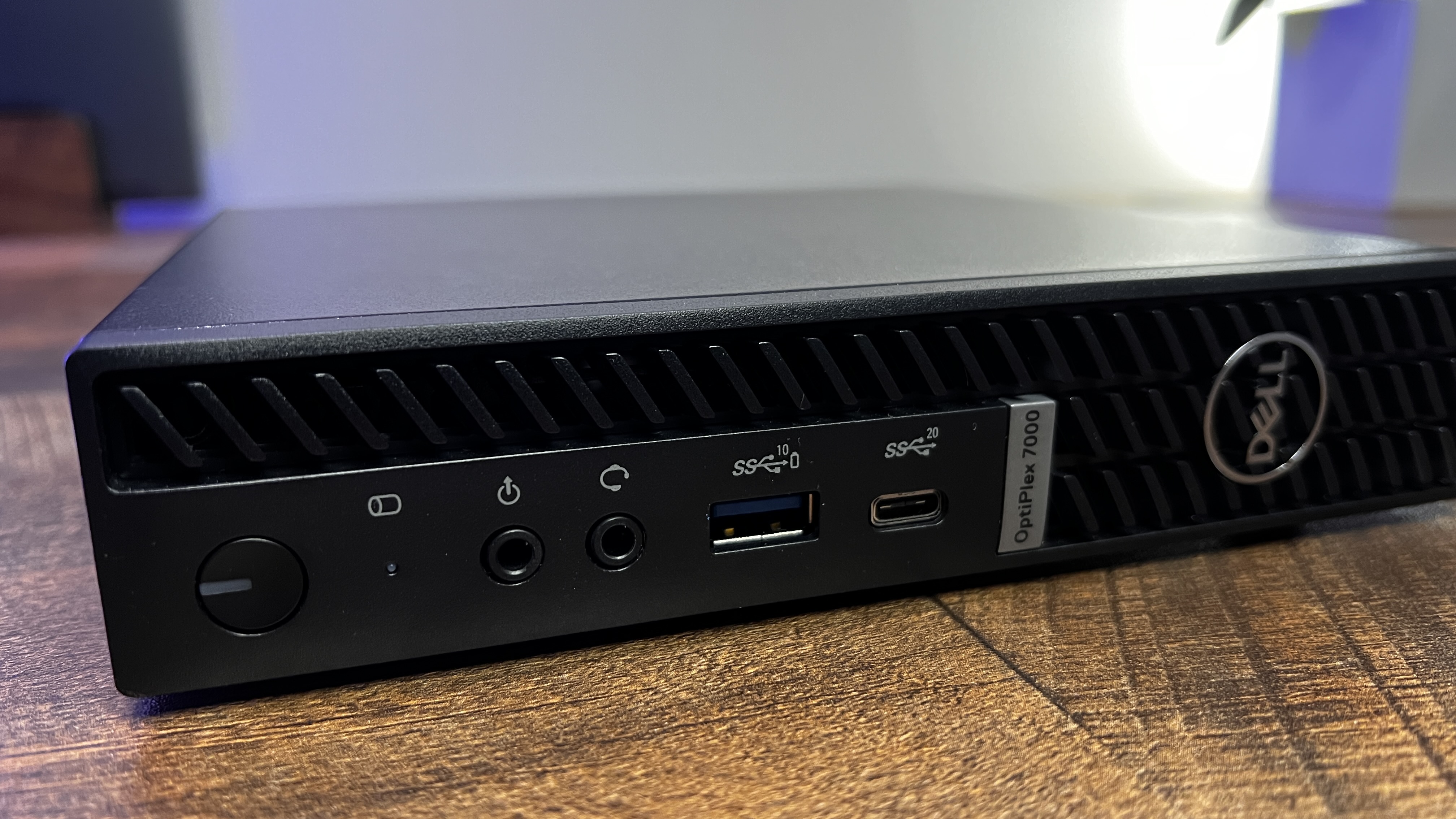 The Dell OptiPlex 7000 Micro has been our main computer for a few weeks, and thanks to its minuscule size, we can integrate it into multiple desk setups to test efficiently. Whether running one standard monitor or four 4K monitors at 60Hz, this microcomputer can perform and adapt to the setup well. 
Our day-to-day use of this machine has naturally been entirely business focused. We have used it for research, emails, virtual meetings, spreadsheets, text documents, light photo editing, project management, and things of that nature. 
For confirmation, we ran some benchmark tests to see how this machine would compare to the competition, and all in all, the Dell OptiPlex 7000 Micro has proven to perform far above what it looks like it can do. After rounds of PCMark testing, our exporting tests, and keeping an eye on the task manager to see how hard it was working, we can confidently say this computer is the little engine that could. 
The overall PCMark 10 score was 5,858, with essentials topping out at 11,870 and productivity hitting 7,606. What was quite impressive was that the digital content creation score was still up at 6,044, which was admittedly higher than we expected, as that is not the focus of this computer.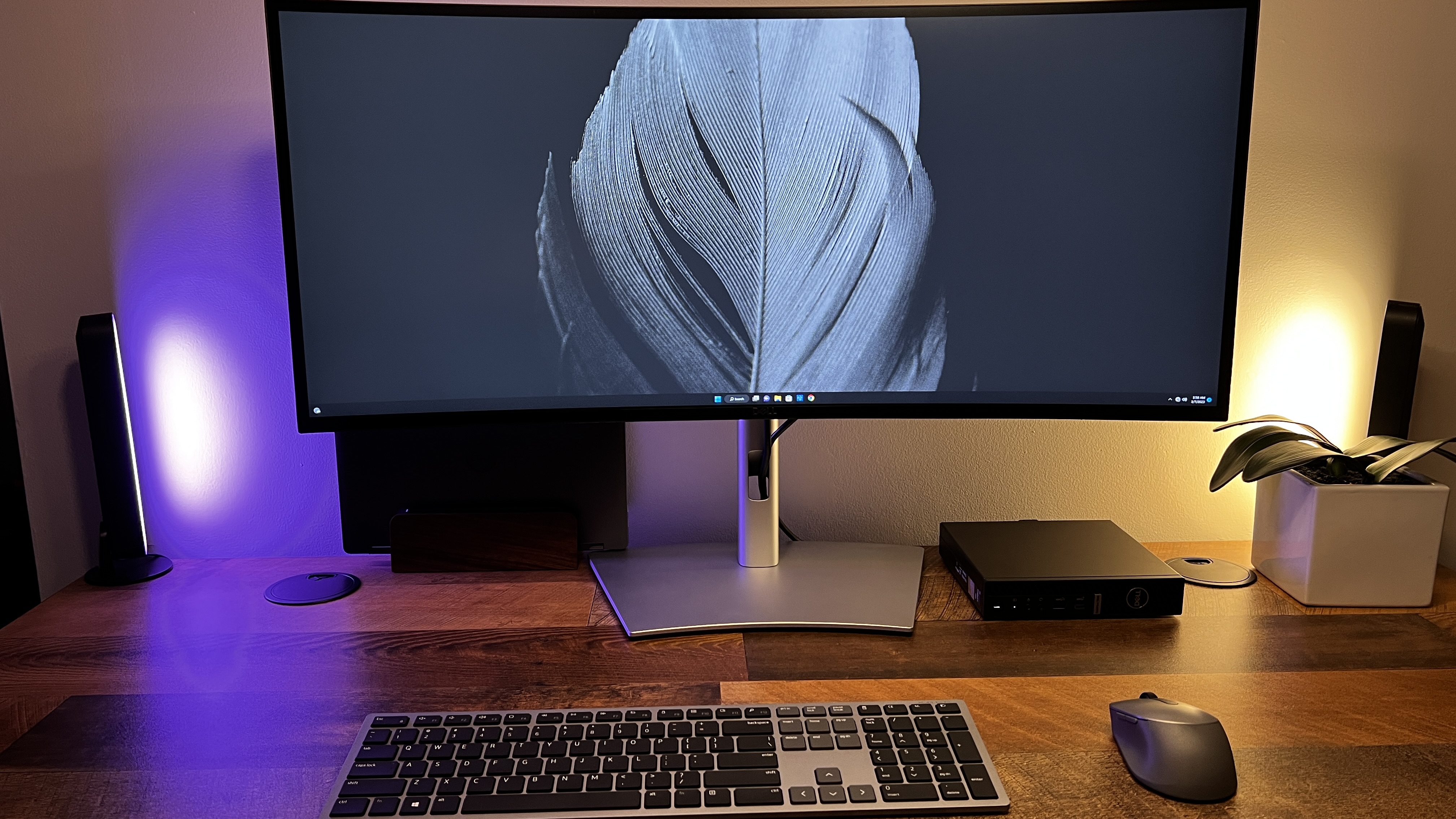 It's not the fastest computer in the world, nor should it be - it is a phenomenal solution for those looking for a more miniature PC in an office, a clinic, a business, or the like. While it's not meant to rip through 4K video at record speeds, like a professional video editing computer, this machine can operate as a business computer, maybe occasionally touching on those elements but not as a main purpose for the machine.
One thing that we were disappointed about was the lack of Thunderbolt 4 connectivity. However, as the design for this computer is business focused, we understood opting for USB-C instead.
Final Verdict
The Dell OptiPlex 7000 Micro is a small-form-factor PC that can get some serious work done. Its frame is well-built, durable, and easy to mount to just about anywhere you may need it in your workspace. 
---