MSI GT77 Titan (2023): Two-minute review
The MSI GT77 Titan (2023) is the first laptop I've gotten my hands on that features Nvidia's latest mobile RTX 4000-series GPUs and Intel's latest 13th-gen Core i9 HX processor, and I can confirm that the hype around this hardware is very, very justified. If anything, the media buzz can't even prepare you for how powerful this laptop actually is in practice, especially the RTX 4090 mobile GPU.
To start, the GT77 Titan can be configured with either an Nvidia RTX 4080 or Nvidia RTX 4090 mobile with the Intel Core i9-13980HX. There are no options for a Core i7 or lower, because that's for peasants, probably. There will be no scrimping with this laptop.
Obviously, the specs are the reason you are buying this gaming laptop. There is nothing all that compelling about its design, which is the same standard black stealth-bomber-car-transformer looking thing with twinkly RGB lighting that gaming laptops have been sporting for a very long time now. 
Yes, it's a stale design, but if you're worried that someone might see it and roll their eyes, this thing is never leaving your desk because it weighs close to 7.5 lbs / 3.5kg. This is strictly a desktop replacement. 
In terms of ports and other features, this is a very solid laptop, with just about every port you could ask for with a gorgeous 4K display running at 144Hz and seemingly as bright as a headlight on a car when turned all the way up. There's even a privacy shutter over the webcam, which is something you just don't see on too many gaming laptops out there.
Finally, when it comes to performance, there are some slips in terms of CPU performance (which is still generally outstanding) and the RTX 4090 GPU offers best-in-class gaming performance, but the premium you're paying for that performance might be too much for some to stomach.
MSI GT77 Titan (2023): Price & availability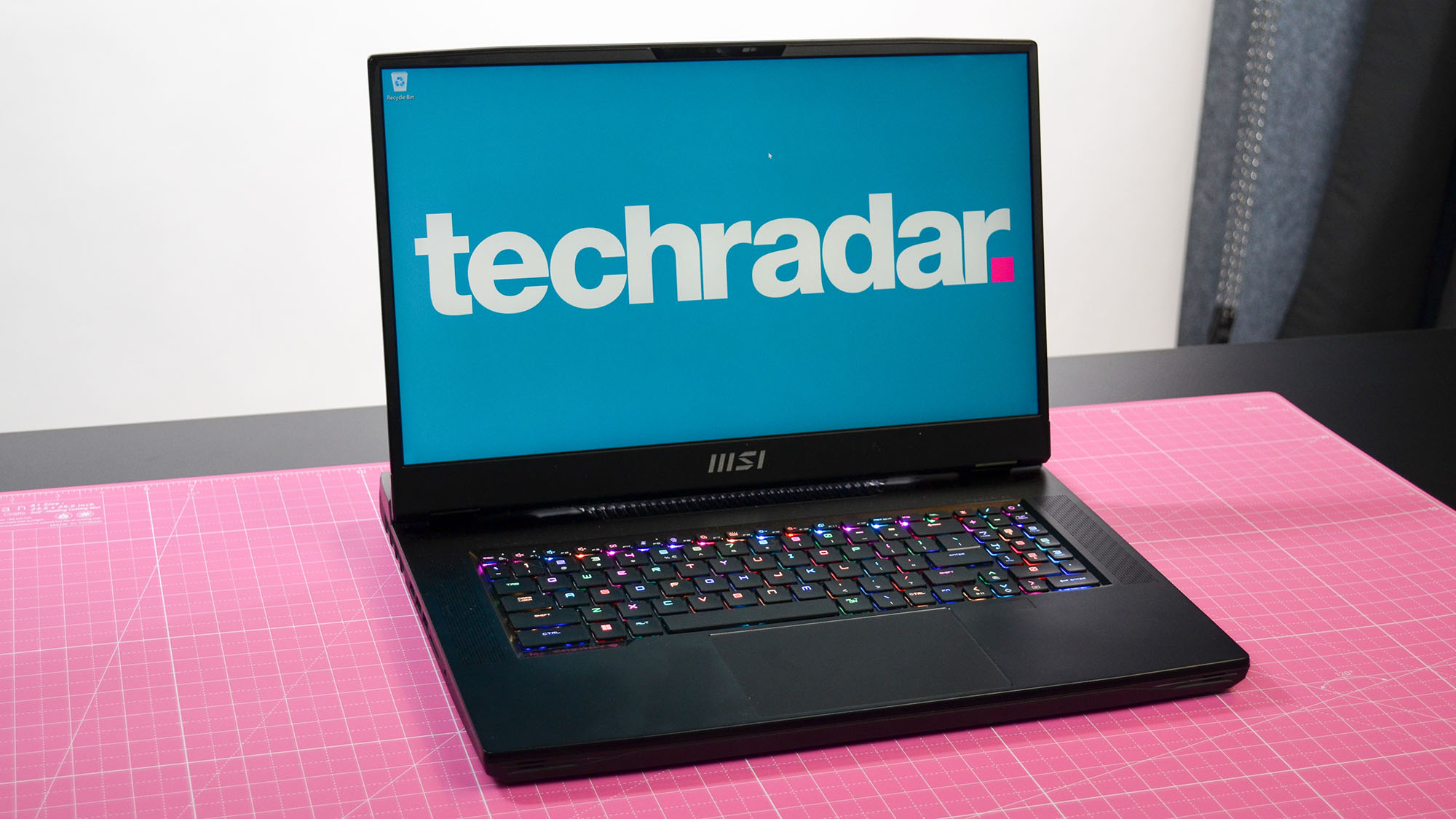 Starts obscenely expensive and goes up from there
More or less in line with competitors running the same hardware
Ok, so you will need to understand that the MSI GT77 Titan (2023) is more like a Ferrari than it is a Ford Focus or Dodge Neon. This is a top-tier kit, but you will be paying a very high price for entry, or about as much or more as the best gaming PC with comparable performance, and in terms of value, I don't very much that this laptop will compare well to the latest crop of gaming laptops set to start coming out in the first half of 2023.
The GT77 Titan is available in the US for $4,299.99 (about £3,570 / AU$6,240) as its starting price. This will get you an RTX 4080 GPU, 64GB DDR5 RAM, and a 2TB NVMe SSD. For $4,699.99 (about £3,905 / AU$6,820), you can get it with an RTX 4090 GPU, while a $5,299.99 (about £4,400 / AU$7,690) configuration can get you an RTX 4090, 128GB DDR5, and 4TB of storage. All three models come with the Intel Core i9-13980HX CPU.
I can (and I will) argue that this is possibly the best gaming laptop I have ever come across, performance-wise. But it is also something that most of us will only ever look at online and go "That's wild, man!" before going for something far more affordable, like the model in our Lenovo Legion Pro 7i review. 
If you're in the position of hitting the "Buy it now" button, then this is probably one of a small handful of laptops you should consider. But if that isn't you, the Legion Pro 7i is about half the price and is still going to give you outstanding performance.
As always with tech this premium, availability outside the US is also a bit of an issue, and we've reached out to MSI about when the GT77 Titan will be available in the UK and Australia and at what price. We'll update this review if and when we hear back from the manufacturer.
MSI GT77 Titan (2023): Specs
Latest Nvidia RTX 4000-series GPUs
Intel Core i9-13980HX processor
Bright, 144Hz refresh 4K mini-LED display 
The MSI GT77 Titan features the latest and greatest both Intel and Nvidia have to offer, with every model of GT77 Titan for purchase coming with the latest Intel Core-i9 13980HX CPU, which is as good as it gets for mobile processors this generation. 
Pair that with the new Nvidia RTX 4080 and RTX 4090 mobile GPUs, and you've got about as powerful a machine as you're going to find. You also start out with 64GB DDR5 RAM and can get as much as 128GB DDR5, with either 2TB or 4TB of storage space.
The display is one of the biggest draws here beyond the incredible hardware under the hood. The mini LED IPS panel is 144Hz at 4K resolution, so this is not only as crisp and fast a laptop display as you're going to get, but also makes it possible to get HDR 1000 as well as one of the brightest laptop displays I've seen outside of a MacBook or OLED panel.
Finally, it's packing a 99.9WHr battery, managing a decent amount of battery life for what it's packing. Though that also means it's absolutely huge and weighs a metaphorical ton at 7.28 lbs (3.30 kg). This is purely a desktop replacement-level kit.
MSI GT77 Titan (2023): Design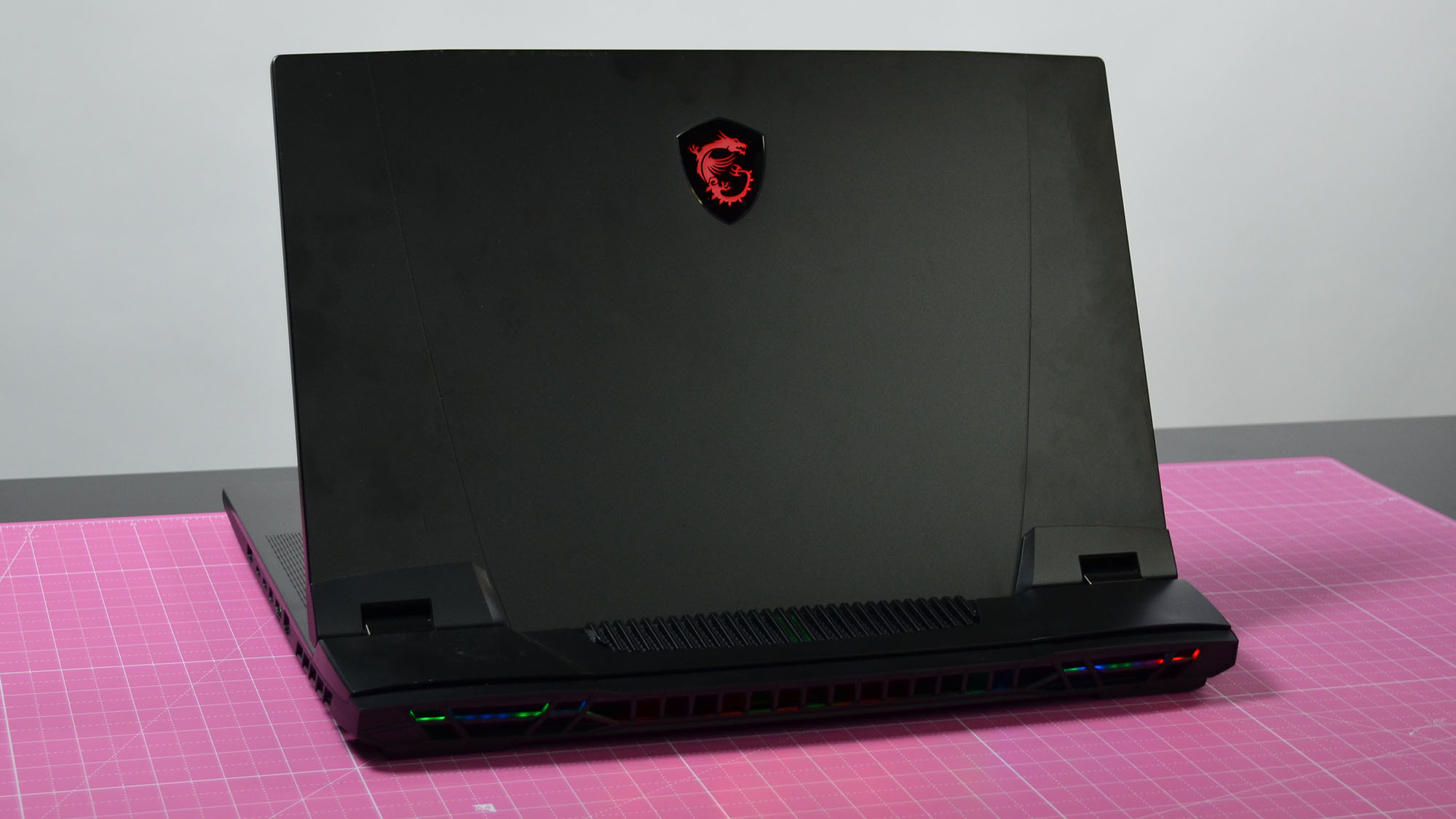 Plenty of ports
Full-sized keyboard
Physical webcam privacy shutter
Spec Sheet
Here is the MSI GT77 Titan (2023) configuration sent to TechRadar for review:
CPU: Intel Core i9-13950HX Processor
Graphics: Nvidia GeForce RTX 4090
RAM: 64GB DDR5 (32GB x 2)
Screen: 17.3-inch IPS, mini LED, 4K, 144hz
Storage: 2TB SSD
Ports: 3 x USB 3.2 Gen 2, 2 x Thunderbolt 4 w/ DP, 1 x HDMI 2.1, 1 x Mini DisplayPort 1.4, 1 x 3.5mm combo jack, 1 x SD card slot, 1 x RJ45
Camera: IR 720p HD w/shutter
Weight: 7.28 lbs | 3.30 kg
Size: 15.63 x 12.99 x 0.91 inches | 397 x 329.95 x 23.11 mm
Since this laptop is largely going to sit on your desk and nowhere else, we'll start with its rather massive footprint. At nearly 16 inches wide and over a foot deep, even the best backpack around isn't going to fit this laptop unless it's one of those massive hiking ones you see at Machu Pichu or something. 
And God help you if you try to carry this thing up the block, much less up a mountain. At 7.28 lbs (3.30kg), not including its brick of a power supply, only the strongest backs can support carrying this thing around anywhere.
Still, for something that's going to sit on your desk, it's the standard MSI sports car hood aesthetic. To its credit, it's about the pinnacle of the form, even if that form is getting a bit old. 
Open the lid, and you're looking at a per-key RGB backlit mechanical keyboard with Cherry MX switches for a very satisfying experience. Is it overkill for a gaming keyboard? Absolutely, but this entire laptop is overkill, and to its credit, the GT77 Titan leaves everything on the field.
Image 1 of 3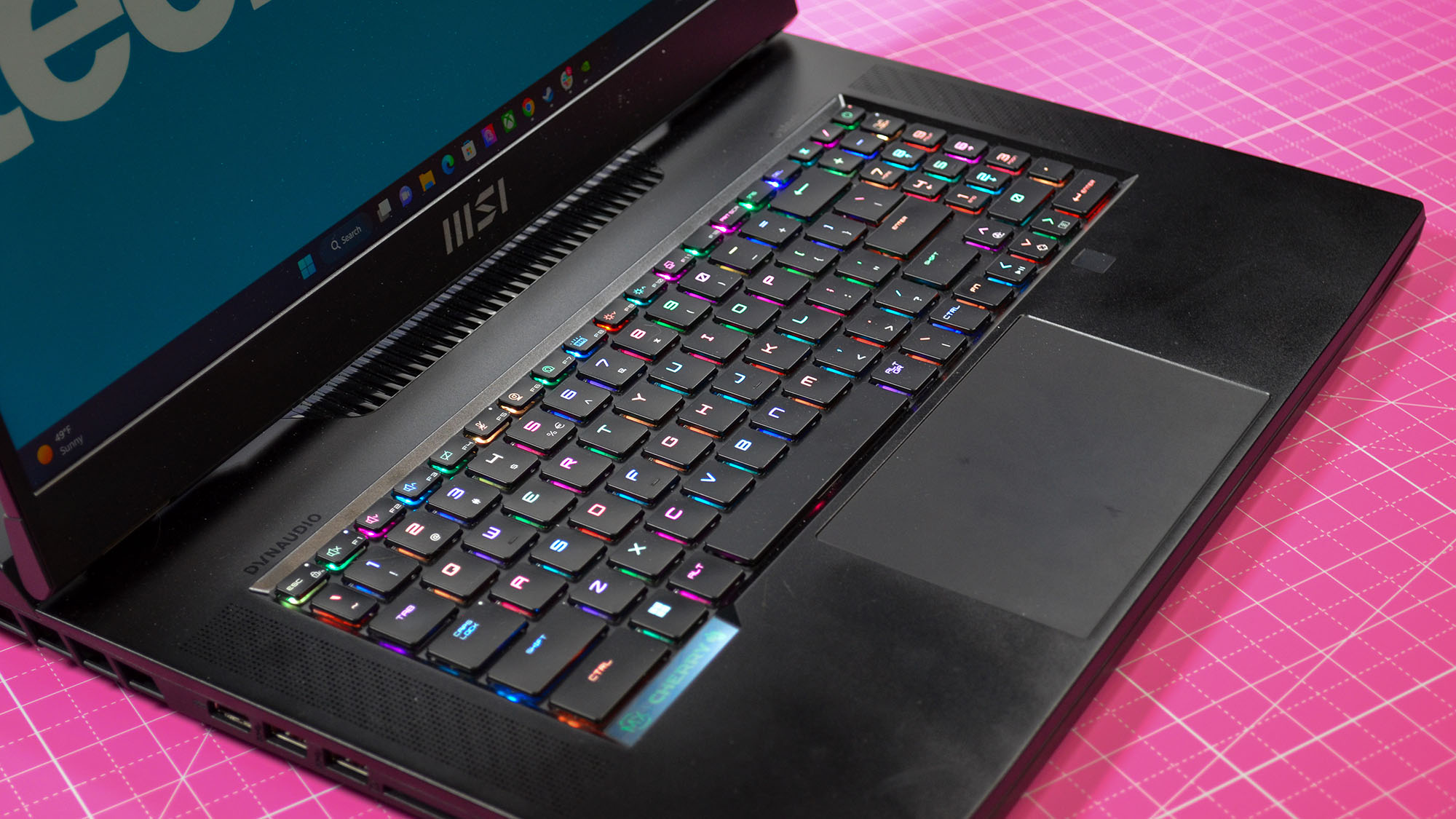 Image 2 of 3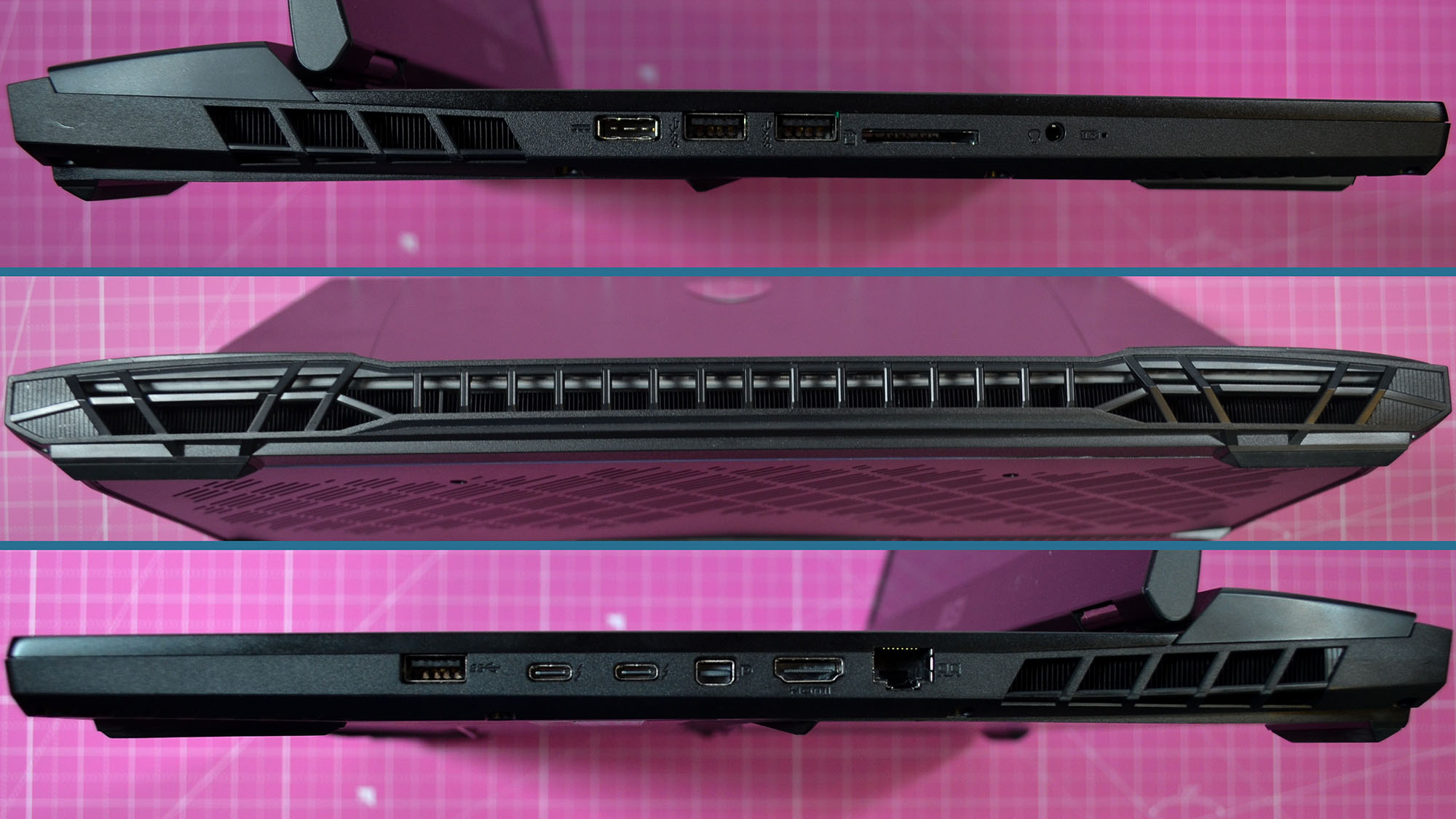 Image 3 of 3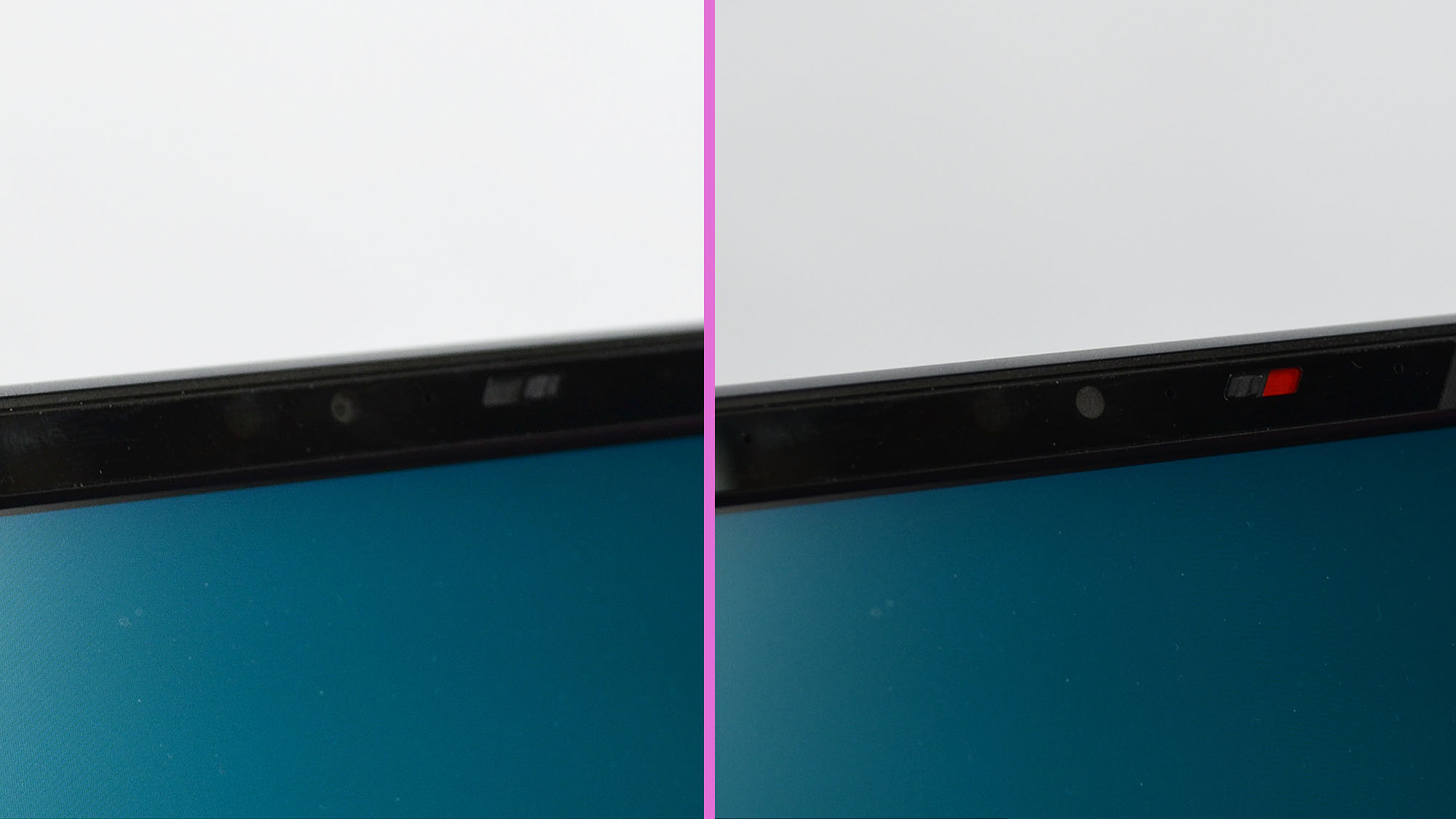 There are plenty of ports, which we would expect from something this huge, and there really isn't a need for a dock. With three USB 3.2 Gen 2, two Thunderbolt 4 (w/ display output), one HDMI 2.1, and one Mini DisplayPort 1.4 port — as well as a 3.5mm combo jack — you're not going to be left wanting. There's even an SD card slot and an ethernet port to round everything out.
Finally, I want to shout out the physical privacy switch on the webcam, which slides over to close the lens. It has been just over three years since the first Covid-19 lockdowns and everyone has been using the webcam on their laptops for just about everything, but not enough laptop makers have been including this essential privacy function. It's not hard, but it's not ubiquitous, so good on MSI for making sure this laptop is up to speed with the times.
MSI GT77 Titan (2023): Performance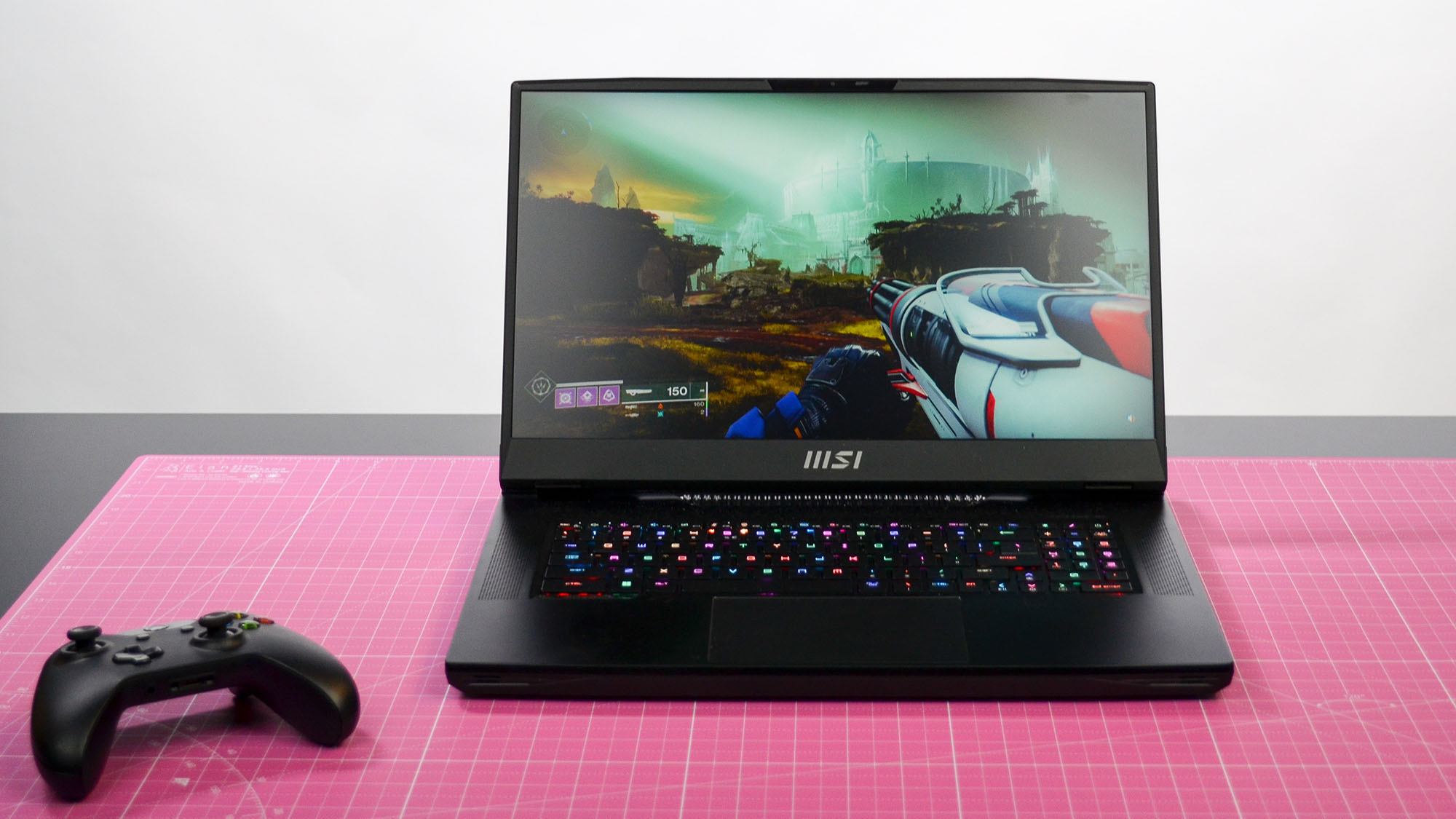 Best-in-class gaming performance
Sounds like a jet engine under load
Solid sound out of a laptop
It's still the early days of the new Intel and Nvidia mobile kit, so we don't have a whole lot to fairly compare the latest MSI GT77 Titan to. But it absolutely blows last year's Titan out of the water in our benchmark tests, and the model we tested is less powerful than the i9-13980HX that you would actually buy (though not that much less powerful).
In terms of gaming performance, both processors are fairly close in our Cyberpunk 2077 test on the low end of the resolution spectrum, with the GT Titan (2023) pulling out a solid gain of 9.09% over the previous year's model. Push that up to ultra settings at 1080p, however, and you get a 74.62% jump for 2023's GT77 Titan over the 2022 model.
Similarly, in Total War: Warhammer III, we get a much larger gain with the GT77 Titan (2023) over the 2022 model at low resolution (about a 75% improvement), while it doubles the frame rates at ultra resolution and 1080p. 
Things get somewhat more complicated when looking at the GT77 Titan (2023) against the Lenovo Legion Pro 7i (2023). These two gaming laptops aren't even in the same class really, with the Legion Pro 7i sporting a Core i9-13900HX and an RTX 4080. But the Legion Pro 7i still outperforms the GT77 Titan in processor performance by a decent amount.
The i9-13900HX is only slightly slower (5.4GHz boost compared to the i9-13950HX's 5.5GHz), but it can score anywhere from 12% to 15% better on processor benchmarks than the GT77 Titan's i9-13950HX. These advantages extend to gaming performance on low settings where processor speeds are more determinative, but all these differences fall away when the GPU comes into play, such as when playing on ultra settings or using features like ray tracing and DLSS. 
Now there are a lot of reasons for why this might be the case. If I had to pick, I'd argue that Lenovo is a much better system integrator than MSI, and so Lenovo is better able to squeeze some extra performance out of the same specs. But it could also be a matter of the settings used, the cooling, etc. Still, the difference is there, even though you're likely not going to see the same kind of performance I did since the only chips that will be going into the GT77 Titans to hit the shelves will be the faster i9-13980HX.
Another thing to note about gaming performance here is that we don't benchmark using DLSS or ray tracing generally, since not all hardware is capable of those features - though I will say that DLSS 3 is the 2023 GT77 Titan's secret weapon here.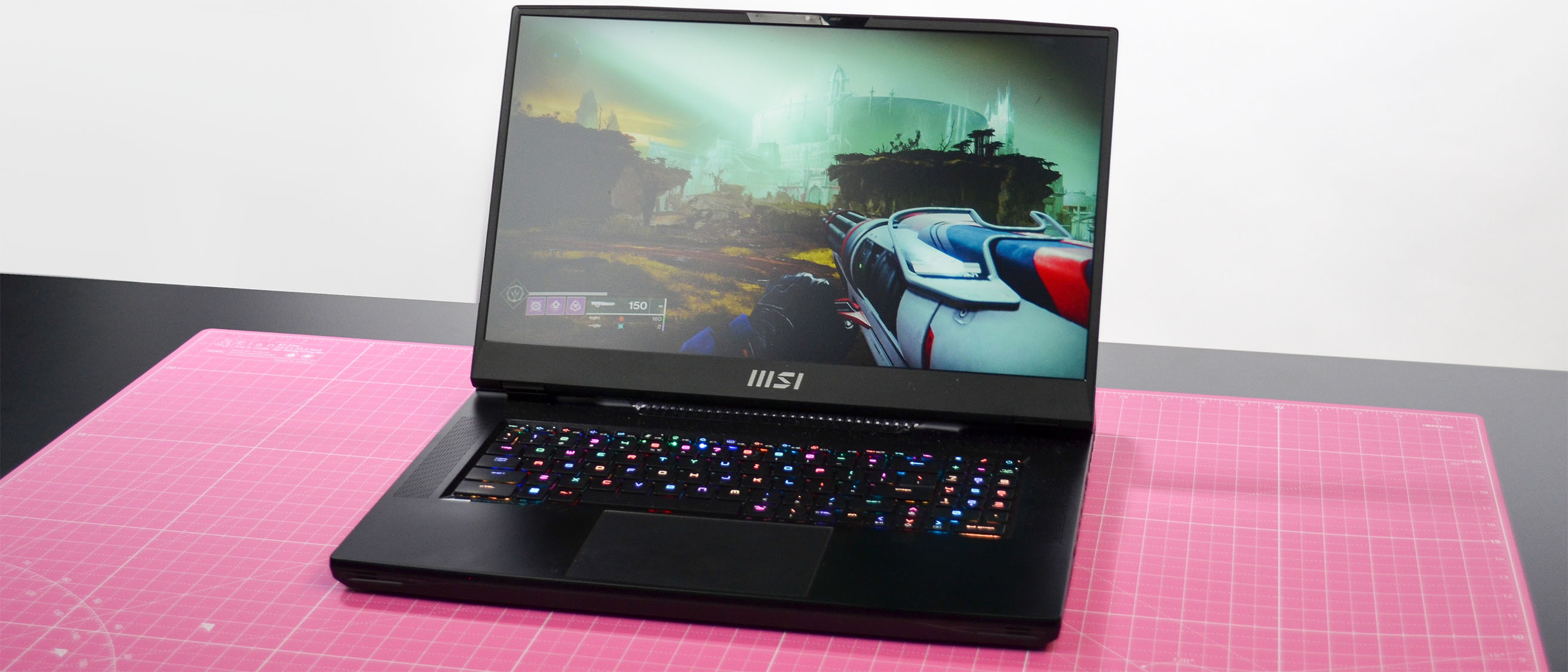 DLSS has been far more of a revolutionary graphics technology than even ray tracing, and DLSS 3 is absolutely next-level incredible in terms of the performance gains you can get.
Turn on DLSS 3 with Frame Generation, and you can get an average fps of 167 in Cyberpunk 2077 with ultra settings at 1080p, which is better than a lot of desktop PCs, and 30 fps better than the Legion Pro 7i with DLSS 3 turned on.
Turn things up to max settings with full ray tracing and DLSS 3 set to ultra performance with Frame Generation, and the GT77 Titan can get an average of 131fps, with a minimum of 100fps. Boost the resolution to 1440p, and you can get an average fps of 126 (59fps minimum), and at 4K, you can get an average of 110fps, with a minimum of 35fps.
To say these numbers are phenomenal is an understatement. These are high-performance desktop numbers, and the RTX 4090 mobile pushes out performance akin to an RTX 4070 Ti desktop card, which is the best graphics card most people can get right now. All of this is to say that the MSI GT77 Titan (2023) is a top-tier desktop-replacement gaming laptop, and few laptops are going to effectively compete at this level of graphics performance.
Something like the Legion Pro 7i might be configurable with an RTX 4090 at some point as well, and so it could theoretically get this kind of performance. Sadly, right now, you can't buy one with an RTX 4090 mobile in the US so the point is a bit moot.
MSI GT77 Titan (2023): battery life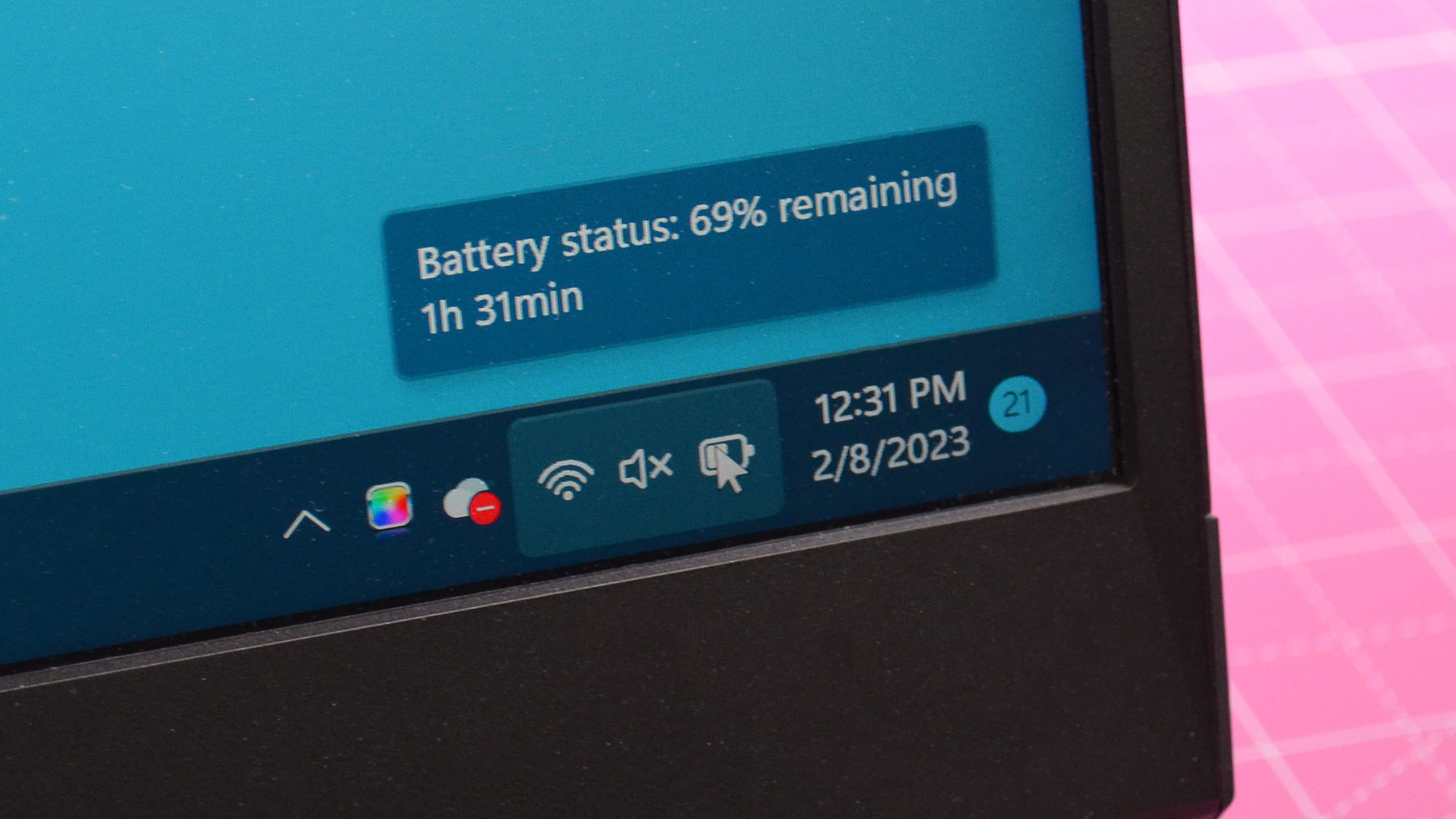 Pretty decent given the hardware
Charges reasonably fast
The MSI GT77 Titan isn't a laptop in name only, thanks to its 99.9WHr, as-large-as-legally-allowable-in-the-US battery. While you might think that the Nvidia RTX 4090 mobile chip would be the energy hog here, it's actually pretty decent. It's the Intel CPU that's really going to cut into that battery life if you're using this laptop for any length of time.
Still, it's good enough to get four hours and 30 minutes of video playback, though its PCMark 10 battery life test result is actually a smidge worse than its predecessor, coming in at three hours and one minute.
It charged from empty to full in about two hours, which is impressive given the enormous size of the battery that needs to be recharged. But considering the 330W power adapter you plug into this thing, it damn well better charge that fast.
Should you buy the MSI GT77 Titan (2023)?
Buy it if...
You want the best gaming performance around
With an Intel Core i9-13980HX and an Nvidia RTX 4090 mobile GPU and DLSS 3, no game will put up much of a fight here, even at 4K.
You want an absolutely gorgeous display
This is the best-looking gaming laptop display I've seen that wasn't a high-end OLED panel.
You want lots of customization options
With per-key, lid-logo, and accent RGB, you can really get that gamer twinkly light look exactly to your liking.
Don't buy it if...
You want something affordable
The price of this laptop puts it out of reach of just about everyone reading this review.
You want something portable
Lulz. Better get a donkey if you want to cart this one around.
MSI GT77 Titan (2023): Also consider
If my MSI GT77 Titan review has you considering other options, here's another laptop to consider...
How I tested the MSI GT77 Titan (2023)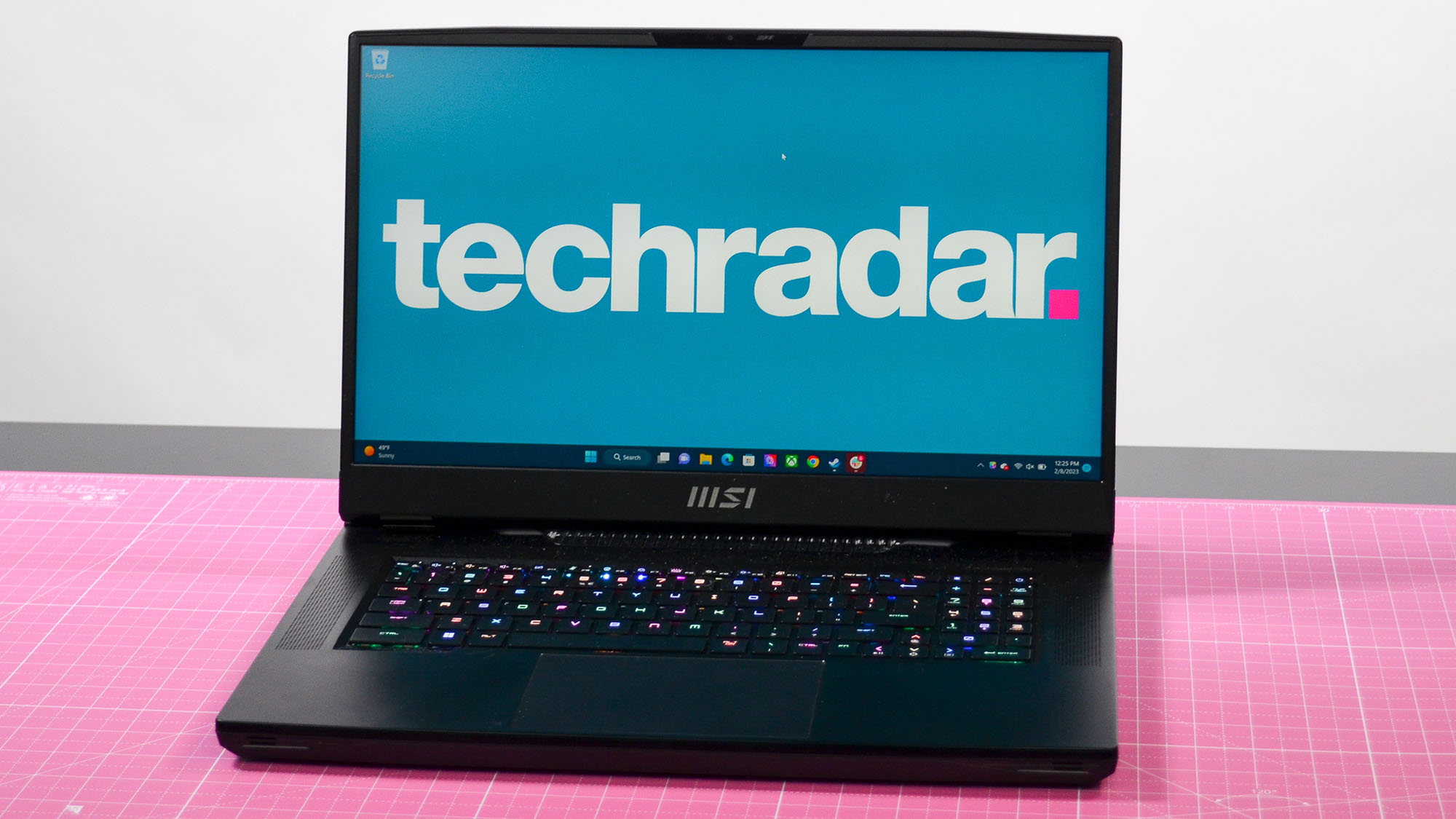 I spent about a month testing the GT77 Titan
I used it as my main PC gaming machine for several weeks as well as creative work
I used in-game benchmarks from titles like Cyberpunk 2077 in addition to 3D Mark, CineBench R23 and others.
To review the MSI GT77 Titan (2023) I set the Titan up at home as my main PC gaming and content creation workstation (Lightroom, Photoshop, etc). I used it extensively for over a month to get a true sense of how well it performed.
This is ultimately a gaming laptop, so I focused most of my efforts in that direction, but with 100% DCI-P3 coverage, I also tested out its creative chops by editing photos and videos. 
I've reviewed dozens of laptops in this class over the years, including high-end desktop replacements and professional creative workstations, so I'm very keen on the subtleties of HDR 100 vs HDR 400 and what it means to have proper color coverage. As a lifelong gamer, I am also very sensitive to performance issues that can trip up PC games.
First reviewed March 2023