IONOS has a prominent website-building platform that offers you an easy and intuitive way to create attractive websites. It's no secret that creating a website from scratch can be both time-consuming and expensive. 
IONOS has made it to get your site up and running in no time with one of the best website builder services on the market. But what exactly does IONOS offer? Is the platform actually worth your time and money? Let's take a closer look at the features and capabilities of this popular website builder.  
 What is IONOS?
Rated 4.4 on Trustpilot at the time of this review, IONOS is a comprehensive web hosting platform that offers everything from domain registration and storage space to email accounts and website creation tools. 
With IONOS Website Builder, you have access to an intuitive drag-and-drop interface that makes creating websites quick and easy - even if you have no coding experience. 
The IONOS Website Builder allows you to customize your sites with a variety of themes and templates. Themes range from simple one-page designs to more complex multi-page designs with multiple columns and elements. 
You can also customize each page's content with text, images, videos, forms, maps, and more. Additionally, IONOS Website Builder comes with built-in SEO features such as automatic meta tags and descriptions so that your site will be optimized for search engines right out of the gate.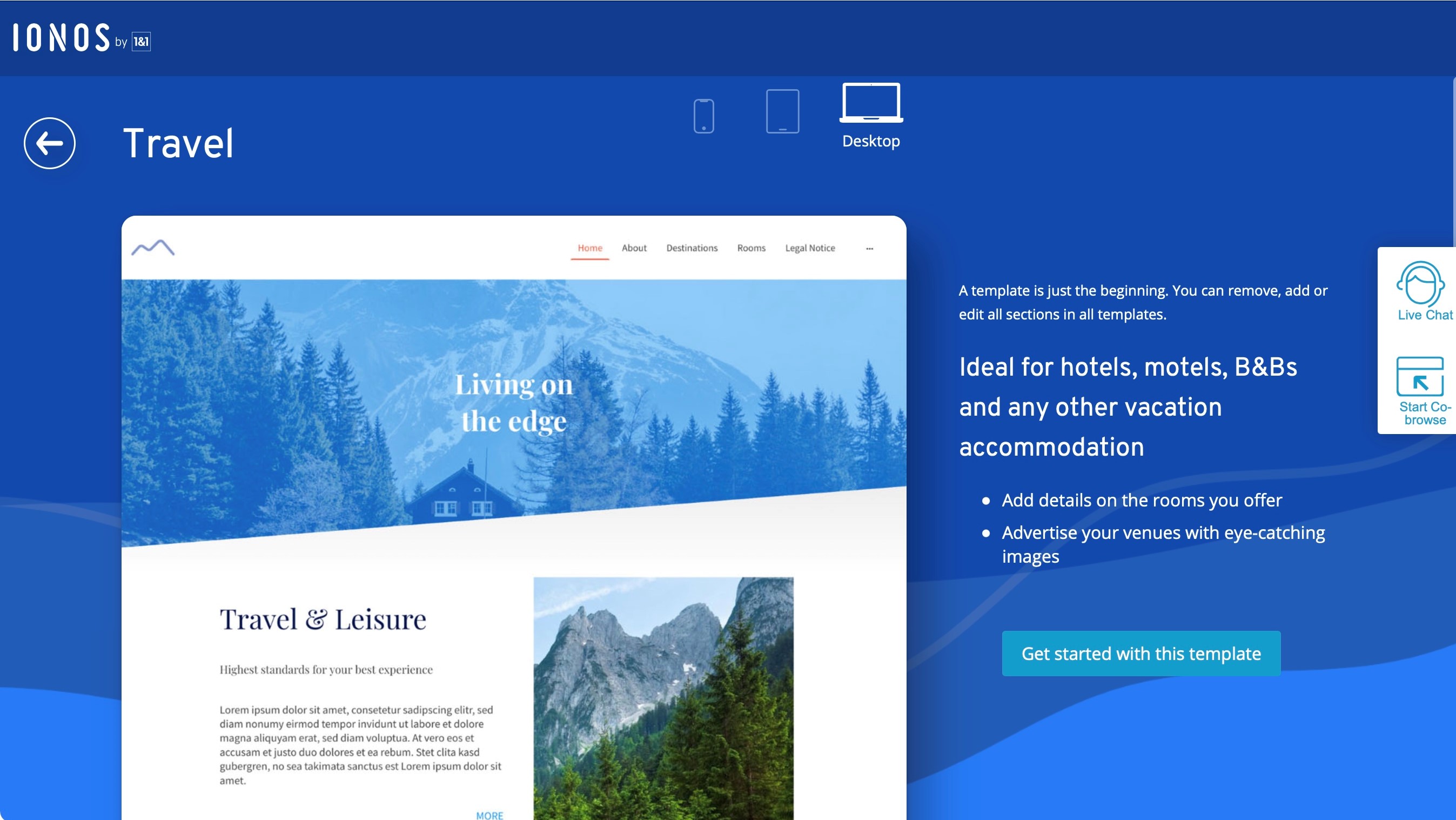 Features 
One of the first steps in creating a website is registering a domain name. With IONOS, you can register new domains or transfer existing ones in just minutes. Plus, all websites created with IONOS come with an SSL certificate included for free so that your customers can make purchases from your site securely. 
You can use the easy-to-use drag and drop editor to quickly create stunning websites with no coding knowledge required. You can also customize HTML and CSS to refine your webpages if you have coding experience. No matter what type of website you need, IONOS will have it covered; from portfolios and blogs to eCommerce stores and more! 
The ecommerce feature allows you to start an online shop without stress. With IONOS's ecommerce feature, you can create a fully functioning online store without having any prior coding knowledge or experience. You can add products and services easily and manage payments with secure checkout processes using the PayPal integration system available within the platform. 
All websites created using IONOS are hosted on reliable servers located around the world so that customers can access your site quickly no matter where they are located. Plus, if you don't want to use IONOS's hosting services, you can connect your own server instead. With the WordPress feature, you can install WordPress onto any domain connected to IONOS's hosting service so that you can get up and running quickly. 
The email feature allows you to create professional email addresses using your chosen domain name which allows customers and visitors alike to contact you directly without having to go through third-party emails such as Gmail or Yahoo. 
Interface
The interface is straightforward, and you're able to choose from hundreds of responsive templates. These are grouped by topics or you can search the collection by keyword, and most of our test searches returned plenty of good-looking designs.
If you'd rather start from scratch, you can select a blank template instead. You still get all the core layouts, but no graphics. These could make it easier to create your own vision, as you're no longer distracted by the big photo of a dog, or a skier, or a pizza, or whatever else is plastered over the front page of a regular template.
Click a template thumbnail and you're able to view larger images of the desktop, tablet and mobile views of the sites. Unfortunately, and unlike most of the competition, there doesn't appear to be an option to preview the template as an active site in your browser.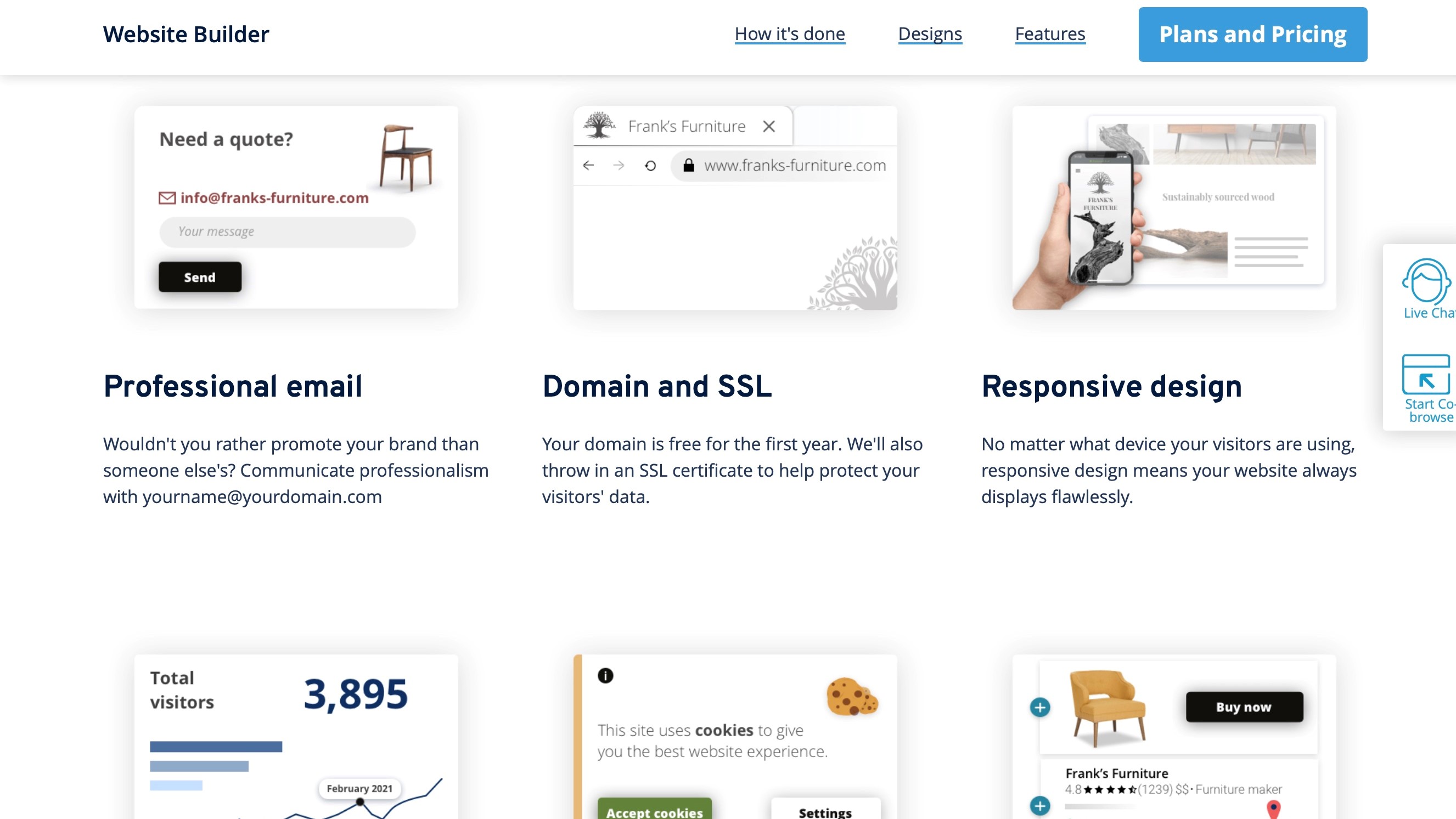 Tools
Tap into Google's massive network of customers with IONOS's Google Ads Management service tool. With this tool, you can handle all aspects of setting up and managing Google Ads campaigns – from keyword research to bidding strategies – so you don't have to worry about anything but results. 
Maximize your visibility on search engines with IONOS's SEO tool, rankingCoach! This unique tool provides personalized step-by-step instructions on how to optimize each page of your site for maximum SEO effectiveness. With rankingCoach, you can easily monitor and track your progress towards achieving high organic ranks on search engine results pages (SERPs). Plus, this tool helps guide you through any changes needed for better performance on SERPs without having to hire expensive consultants or agencies for assistance.
If you want a powerful ecommerce solution that offers great flexibility and scalability, then IONOS's Magento hosting or PrestaShop hosting tool may be right for you! Both tools offer reliable cloud server hosting tailored exclusively for those platforms, giving you complete control over your storefront while also providing advanced security measures to keep customer data safe from malicious actors. Additionally, both tools are perfect for businesses looking for comprehensive features such as inventory management systems and integrated payment gateways.     
Securely back up all of your data with the IONOS Cloud Backup tool – an easy way for you to protect your servers or cloud infrastructure against unexpected disasters or malicious attacks with automated backup processes that run continuously in the background without disrupting other tasks running on your systems.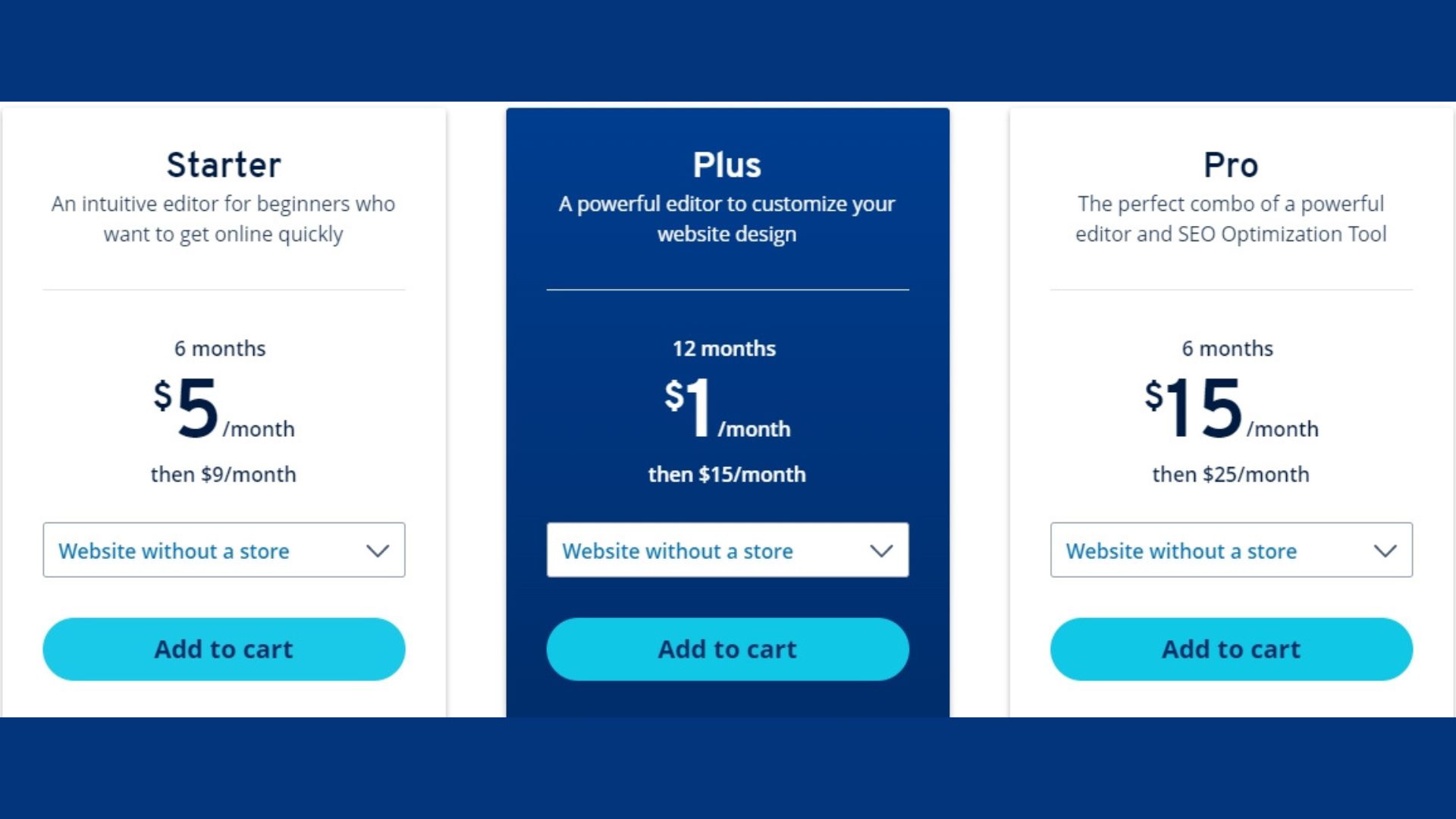 IONOS website builder pricing: Is it good value for money? 
The Starter Plan is an excellent option for those who are just getting started with their online presence. For $5 per month (for six months) or $9 per month (for 12 months), you'll get access to ready-made templates, content management tools, and customization options to help you create your own website. You can also add your own images, and text to make it unique. 
If you're looking for more creative freedom, this is the plan for you. For $15 per month (for 12 months), you get all the features of starter plus unlimited bandwidth, SEO optimization tools, and online bookable services. This makes it easier than ever to showcase your products or services on your own website and start growing your business quickly. 
For those who need even more features and customization options, there's the Pro plan. At $25 per month (for six months), this includes all the features of the previous plan plus a dedicated SEO optimization tool that will help get you seen by search engines like Google. It also offers unlimited storage space so that you never have to worry about running out of space for hosting images or videos on your website. 
 Is IONOS website builder easy to use? 
IONOS offers a variety of templates and themes from which to choose that are suitable for any type of website. Whether you're creating an online shop, blog, portfolio site, or something else entirely, IONOS has the perfect design for you. The platform also offers flexible customization options so that you can tweak the template or theme to your liking. 
In addition, IONOS provides you with powerful features and image editing tools that make it easy to customize your site without any coding knowledge or experience. This accessibility makes IONOS one of the most user-friendly website builders on the market today.  
IONOS website builder safety and security 
IONOS provides SSL certificates for secure web traffic between your site and its visitors. SSL stands for Secure Sockets Layer. It's an encryption technology that makes sure the data being sent between two computers is kept secure and private. 
This means that private information like credit card numbers or passwords can't be intercepted by malicious third-parties while in transit. By using an SSL certificate with IONOS, you can ensure that your customers' data is safe and protected, which is essential for building trust in your business. 
IONOS also offers domain security to help protect your site from malicious actors who may try to exploit vulnerabilities in the domain registration process. With domain security.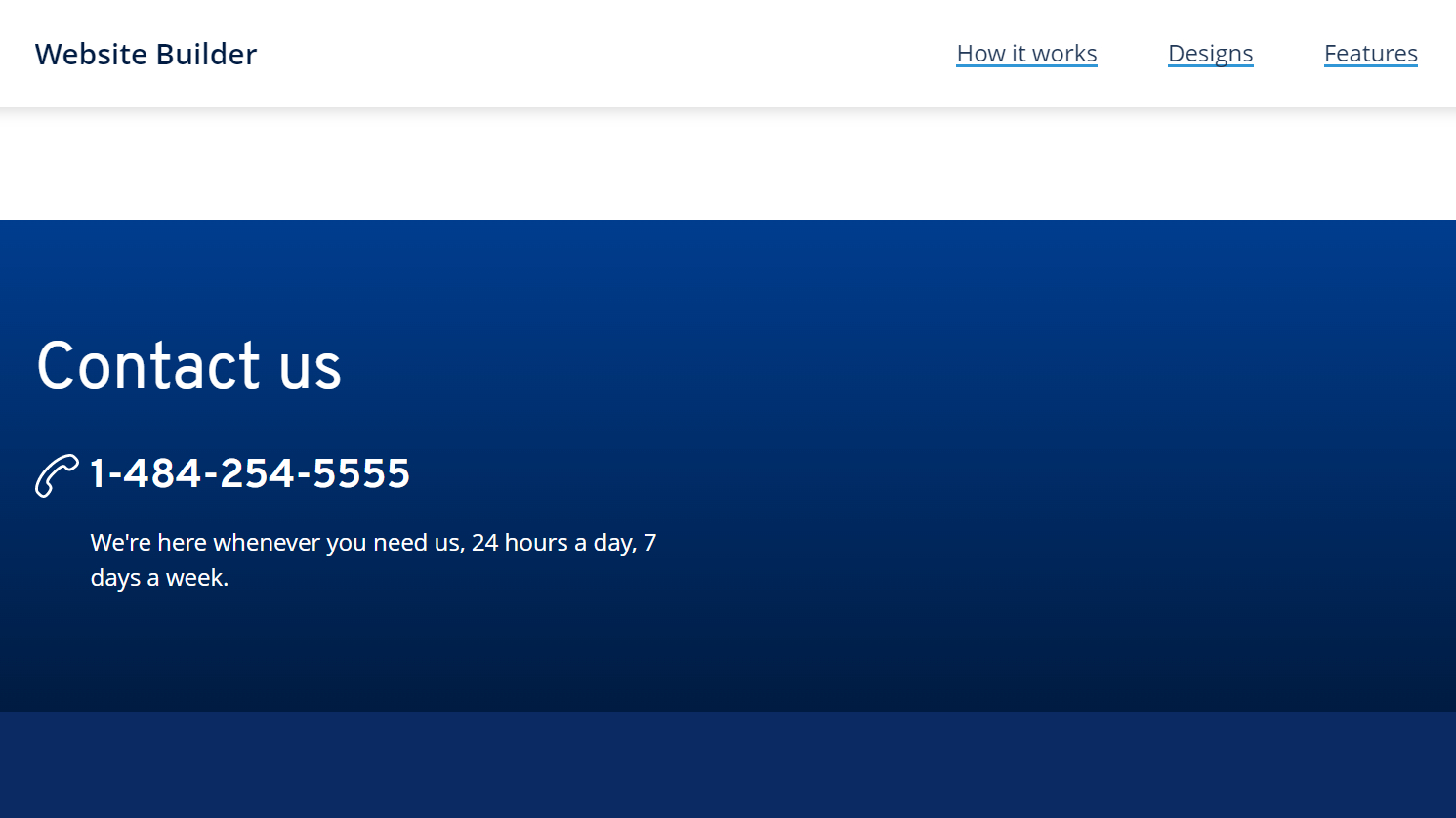 Help and support 
IONOS offers email support which allows you to reach out directly with your questions or concerns. We sent a message to the support team via email and got prompt replies within 10 minutes. 
If you need more immediate assistance, then live chat is also available on the IONOS website. This option allows customers to connect directly with customer service representatives in real time, making it easy to get help when it's most needed. 
IONOS website builder alternatives 
Squarespace is a popular website builder tool that offers a simple drag-and-drop interface. This platform makes it easy for you to quickly create stunning sites without any coding knowledge. It also provides an array of templates to choose from, making customization fast and easy. 
Wix is another IONOS website builder alternatives that has been around for some time now. It offers the same drag-and-drop interface as Squarespace but also includes additional features such as blog tools, photo galleries, and contact forms. Wix also offers unlimited hosting and bandwidth along with ecommerce solutions for those who want to set up.
Is IONOS website builder right for you? 
Whether or not IONOS is the right website builder for you depends on what kind of website you're looking to create. If you're looking for something simple but still professional-looking like a portfolio site or small business site, then IONOS could be the perfect solution. 
However, if you're looking for something more complex — such as a website built with PHP or python programming language, you may want to consider other options as well since IONOS doesn't offer much in terms of advanced coding scripts.