The floodgates have opened. For years, the thought of enjoying a truly portable PC gaming experience in a traditional handheld form factor, felt like a pipe dream. 
But the last couple of years years have seen companies like AyaNeo, Onexplayer and GPD push the boundaries of what's possible on the go. The Nintendo Switch cemented the popularity of mobile play, chip makers like AMD and Intel pushed the integrated graphics of their chipsets to new extremes, and then…BOOM. The Steam Deck happened, PC gaming had its portable poster child, and the race was on.
AyaNeo is a relative veteran in this burgeoning space, and its latest PC gaming handheld, the AyaNeo 2, is about as good as it gets at this point in proceedings. Building off the promising launches of the first AyaNeo, the AyaNeo Air and the AyaNeo Next, it's a cut above everything else on the market except for the Steam Deck itself, which it at the very least matches, and in some crucial ways surpasses, software aside.
In essence, AyaNeo has taken the general design of a landscape-oriented handheld device like the Switch Lite or PS Vita, and pumped it full of the best processing guts that can fit in its chassis. Those guts are built around the AMD Ryzen 7 6800U with its 680M graphics, making use of a 6nm process with eight cores and 16 threads, and tapping into the power of the RDNA 2 architecture (only recently surpassed by RDNA 3, which appeared in gaming laptops shown off at CES 2023). That's backed by either 16GB or 32GB of LDDR5 RAM, and between 512GB and 2TB of SSD storage. Running Windows 11 (in its Home variant), its gaming chops are presented on a gorgeous 7-inch 1920 x 1200 LCD display that's one of the richest we've seen, rivaling the quality of mobile OLED displays, and making the Steam Deck look almost washed out by comparison.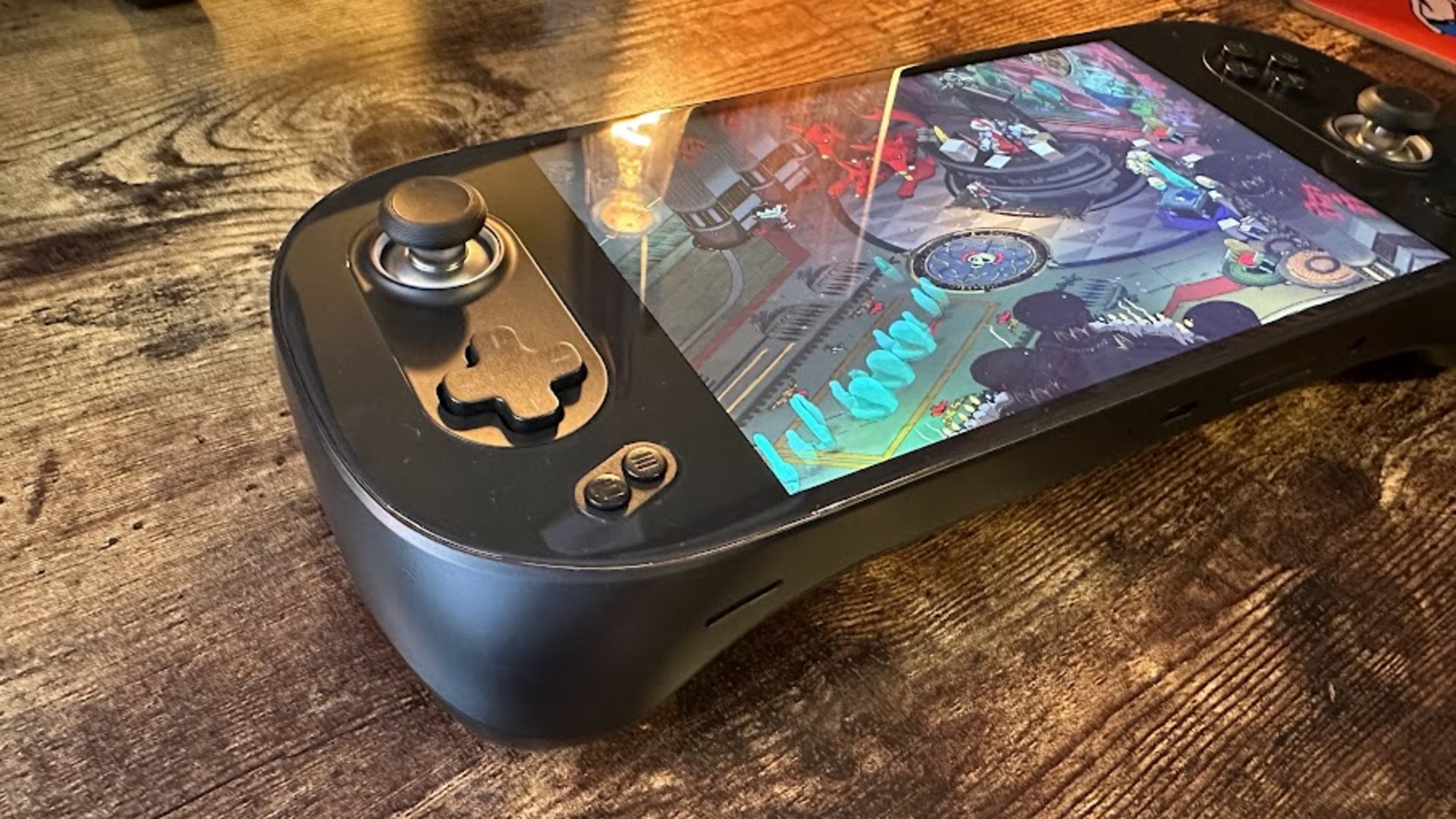 All of this combines to deliver an experience that went well beyond my expectations. You can legitimately sit down for full-fat sessions with triple-A PC games like God of War, Horizon Zero Dawn and Elden Ring, and really get stuck in. Yes, you may need to dial back some graphical bells and whistles; but we're talking God of War, in your hand, at 1200p, at a consistent 40fps. Sure, those numbers would be laughed at by those rocking beefy desktop gaming rigs, but this is a handheld, and one that's surprisingly ergonomic in the hand despite its 265mm length and 680g weight, running off a battery.
Granted, the battery life isn't phenomenal – you'll get at best an hour with something really demanding like God of War, although with older titles and indie games you can easily squeeze five hours from the AyaNeo 2 before reaching for the charging cable. There's a learning curve too – the built-in software that sits alongside Windows 11 here is designed to create a console-like experience, but it's far more finicky than the Steam Deck, even if its underlying Windows platform does make it a lot easier to access a wide array of PC gaming stores and software than on a Linux-based handheld. And there's no denying its expense, too – you're looking at a $1,099 retail price (about £885 / AU$1,550) for the 16GB / 512GB model.
But it's hard not to be charmed by the AyaNeo 2, and there's impressive power here in a portable form factor. You'll have to be prepared to learn its inner workings, and you'll want to keep that charger handy; but a handheld like this is something gamers of a certain vintage never thought possible.
Price and availability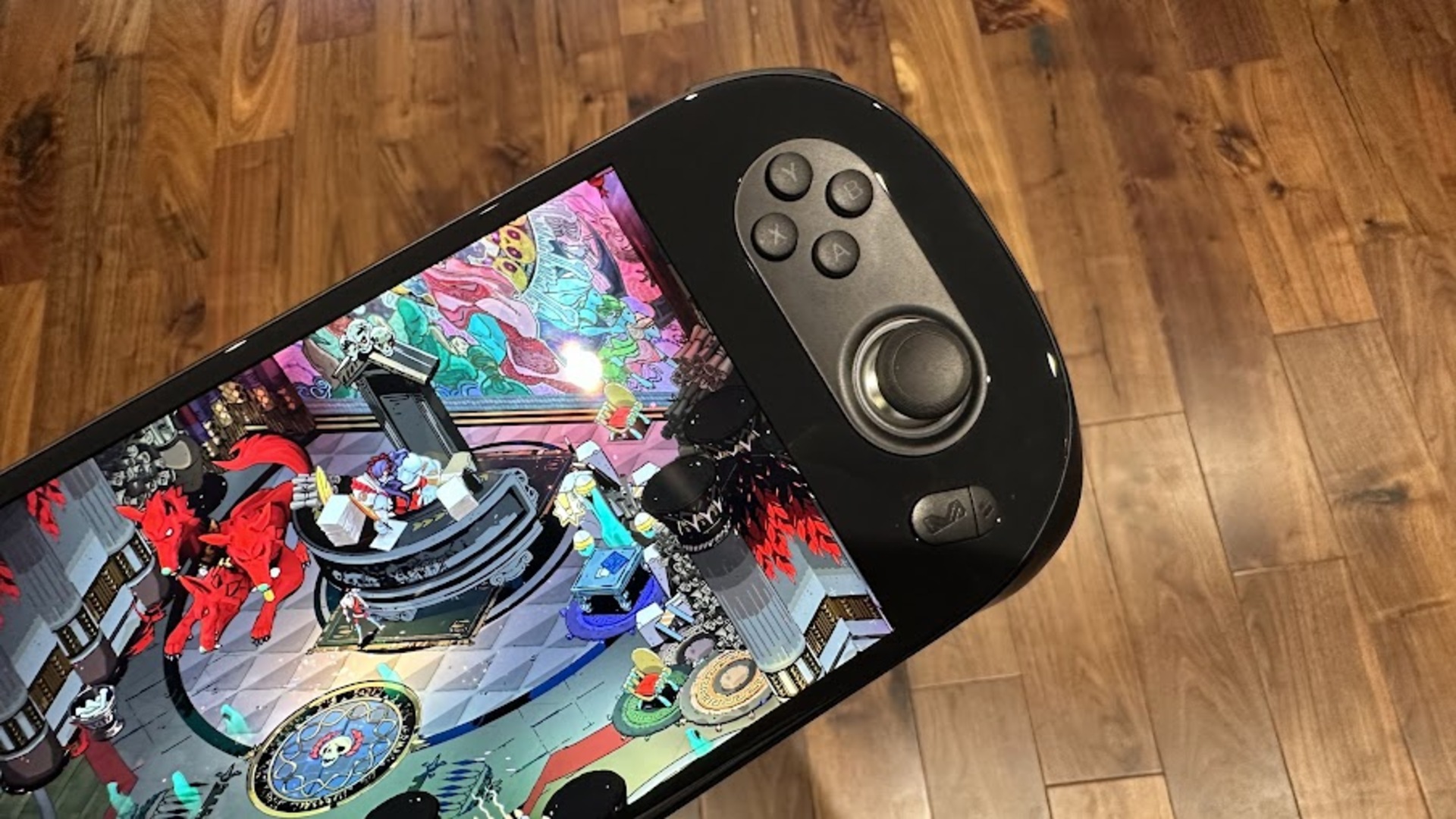 The Aya Neo 2 is shipping now direct from AyaNeo. Prices start at $1,099 (about £885 / AU$1,550) for the 16GB RAM / 512GB storage option, rising to $1,299 (about £1,050 / AU$1,830) for 16GB RAM / 1TB storage, and topping out at 32GB RAM / 2TB storage. For the purposes of this review, we're looking at that entry-level build – though we'd expect performance to be broadly similar even up to that 32GB RAM marker. Resellers such as DroiX are also selling the AyaNeo 2.
At the time of writing, there's still a (fully funded) IndieGoGo campaign running, which will let early adopters pick up one of the devices at a discount on those retail prices listed above.
It's an expensive purchase then, whether you're looking at it from the point of view of the entry cost of Valve's Steam Deck (starting at $399 / £349 and going up to $649 / £569), or even compared to some of the best gaming laptops on the market. 
Design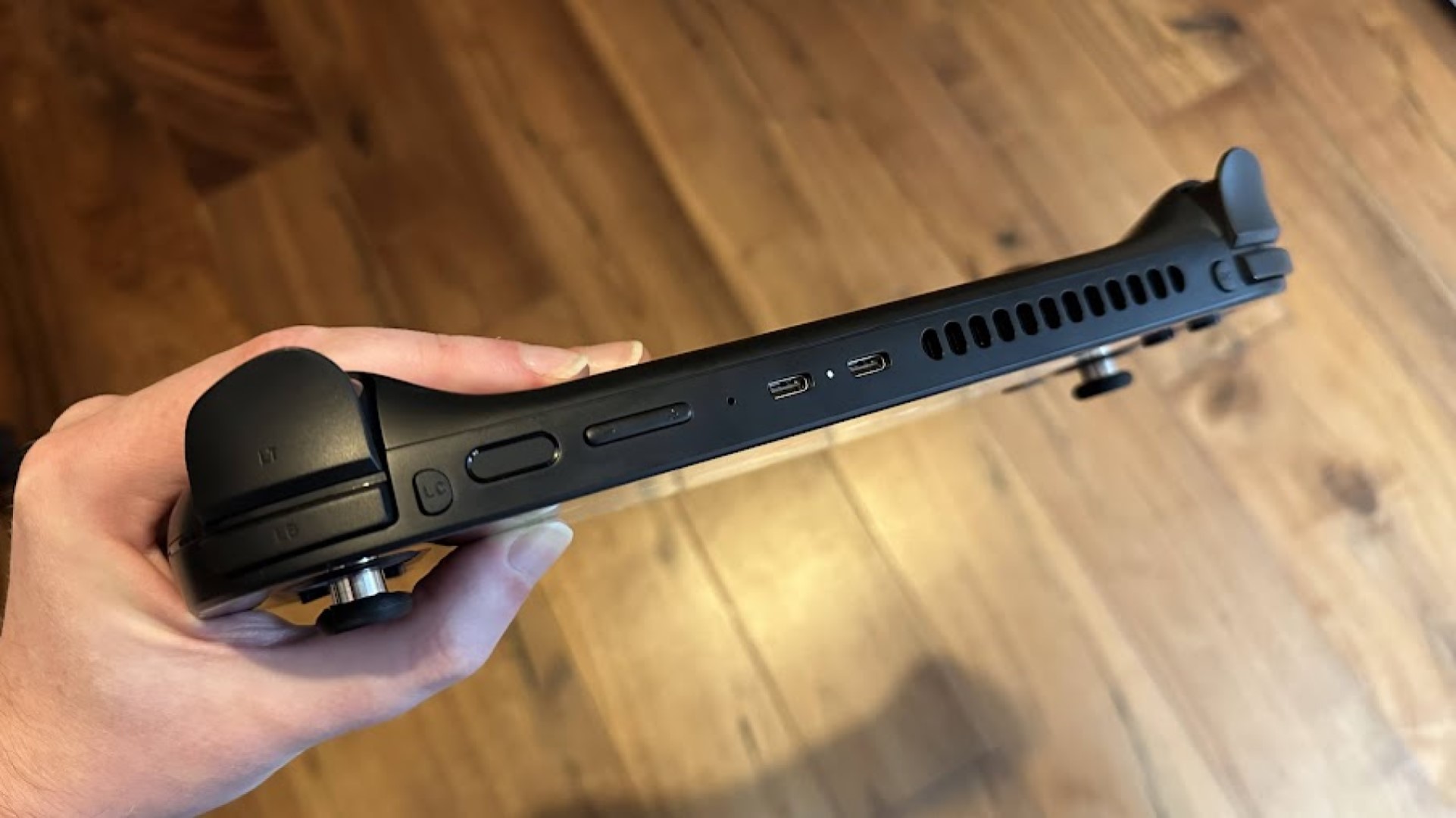 The AyaNeo 2 is a really attractive gaming handheld. We've been testing the all-black model, but there's also a Sky White option, a NES-aping Retro Power edition, and a somewhat-bizarre B.Duck themed option, that has the color scheme of a rubber duck.
Roughly pill-shaped, and built more in the traditional handheld mold than the trackpad-packing Steam Deck, it measures 26.45 x 10.55 x 3.61cm and weighs 680g. It's about as big a device as you could comfortably call 'handheld' then, and is best used rested on your lap. Wherever you place it, you'll be able to gawp at its 1920 x 1200 LCD touchscreen, which is rich with color, contrast and brightness, and far superior to the Steam Deck's lower-resolution, less punchy display. This sits under a glossy (but not overly reflective) glass panel that stretches right across the entire front of the device, save for the spaces where the buttons and sticks sit. It's a mighty fine-looking handheld, and feels built to last.
It's better in the hand than the Steam Deck too, thanks to its familiar analog stick and button layout. X,Y,A,B buttons and asymmetrical joysticks sit comfortably either side of the screen, with a D-pad below the left stick, and Start and Select buttons sitting side by side beneath that D-pad. Beneath the right stick are two shortcut buttons – one for quickly jumping back to the Windows desktop, the other for firing up the Aya Space gaming overlay.
Those analog sticks are superb: comfortably sized and rubber tipped, they use Hall sensor magnetic components to eliminate any potential dead zone or stick-drift issues of the kind that have plagued the Nintendo Switch. Their sensitivity is also fully customizable using the accompanying Aya Space software, making them easy to fine-tune for maximum headshot potential.
One the top edge are your shoulder buttons and triggers, the latter of which are satisfyingly deep, and again use Hall sensors for accurate analog control. In addition, along the top edge you'll also find two customizable shortcut buttons, the volume rocker, a power button (with a somewhat fiddly fingerprint scanner built in), two USB-C ports, and the large air output vent for keeping things cool. The bottom edge has the speaker output ports (sensibly placed where you can't obstruct them – they go surprisingly loud), a USB-C charging port, a covered microSD card slot, and a headphone jack.
Despite the handheld's size, everything feels comfortable to hold. The AyaNeo 2 has curved elements to its casing where your hands grip the device, making for natural bumps where your palms can rest.
A couple of additional tricks are worth mentioning too. There's the option for using built-in gyroscope controls, should that tickle your fancy, and also a neat trick for adding rumble to old games that don't officially support it, with the motors kicking in when certain deep frequencies are detected by the software, which was an unexpected treat when firing up some older emulated titles.
It's all boxed up nicely too, with a charging brick and USB-C cable in the box, along with a selection of international power adapters and a pair of USB-C-to-USB-A dongles, handy for additional storage and accessories.
Performance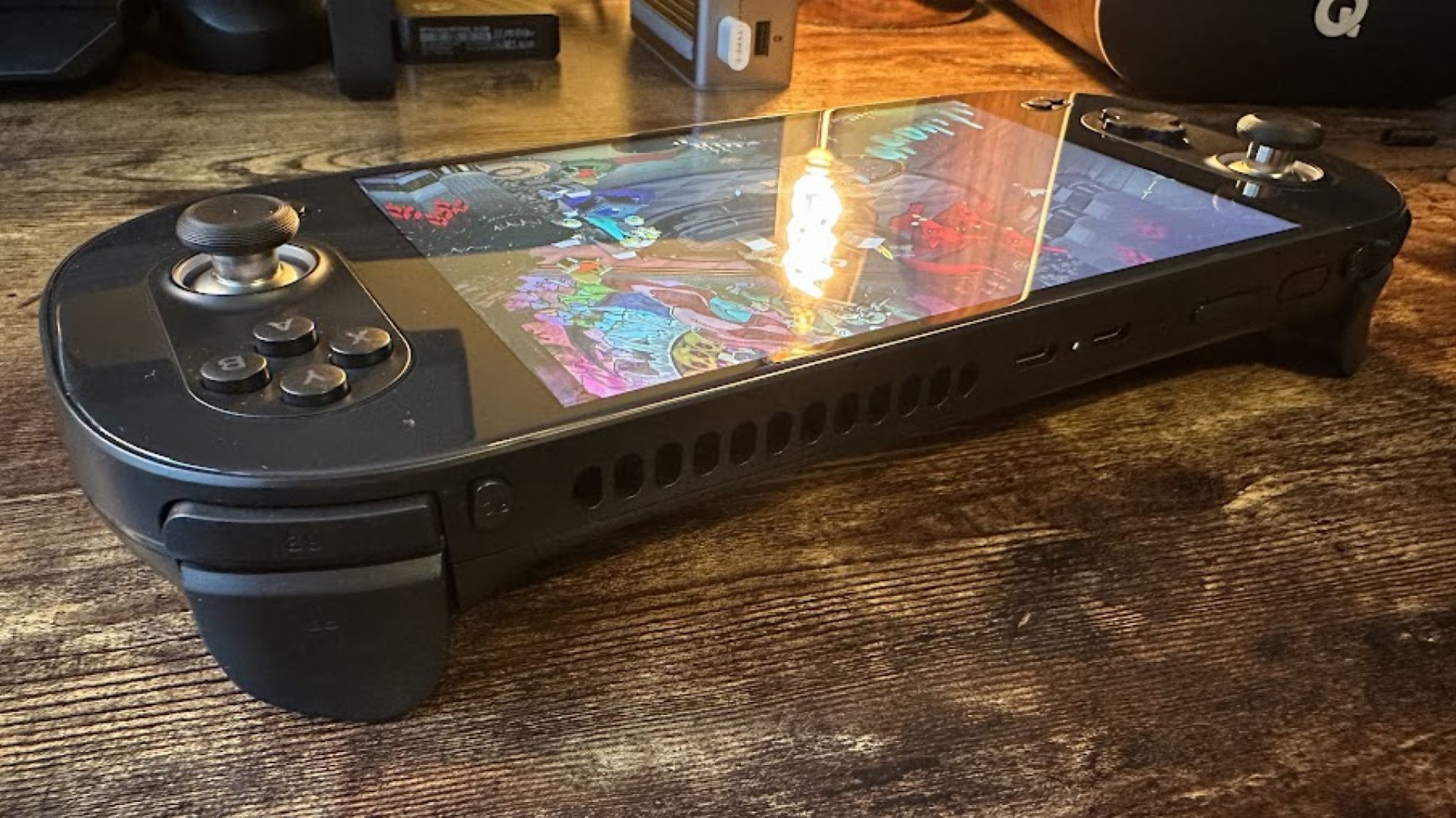 The AyaNeo 2 has some impressive components crammed into its shell.
Its chip is an AMD Ryzen 7 6800U with RDNA 2 680M graphics capabilities, with the processor topping out at 4.7GHz over eight cores. Its Thermal Design Power (TDP)can be tweaked to up to 33W for the most demanding titles. RAM (LPDDR5) scales from 16GB to 32GB, depending on your configuration, and speedy M.2 SSDs from 512GB to 2TB (with the handheld supporting up to 8TB of storage, which you can replace yourself). Super-fast Wi-Fi 6 connectivity is onboard, as well as Bluetooth 5.2 for wireless peripherals. From a pure power perspective, this is as good as it gets for a handheld PC.
If you keep your graphical expectations in check, this leads to consistently great performance when you're playing even demanding games, provided you're ready to tweak settings and the power draw.
So, even a wildly ambitious game like Cyberpunk 2077 is very playable on the AyaNeo 2 – with the Low graphics preset at a native resolution of 1200p with the power draw set to 28W, you'll breeze past 30fps, hovering around a 45fps average. Drop the resolution to 800p and you'll average over 60fps – at 66fps it's smooth and great fun. You're not going to get the fancy ray tracing effects, or top-tier textures, but this is a better experience than you'd get on a PS4, for instance. And it's in your hand!
You'll see similarly surprising performance for the likes of Doom Eternal and God of War. Doom Eternal will easily surpass 60fps at Medium settings, and you might be able to push those settings higher at the higher TDP settings. God of War requires dialing up the TDP to a high of 33W, which is a killer for battery life, in order to run at a native 1200p, and that's at 'Original' (i.e., Low) settings, with FSR upscaling turned on to take the load off of native resolution rendering. But that will keep you between 30fps and 45fps, so it's very much playable.
The AyaNeo 2 never got too hot to comfortably hold in our testing, and that's thanks to some aggressive fan work. You can leave the fans to work automatically, or tweak the settings to suit the game you're playing, but they're best left to kick in early and fast – expect to hear their background whirring as a regular feature in your gaming sessions.
Although everything's sitting on top of Windows 11 Home, AyaNeo has made an attempt to build a console-like, Steam Deck-baiting gaming interface of its own into the AyaNeo 2, called Aya Space. In theory, this is a launcher/settings menu hybrid, collating all your installed games in one space, as well as all the options you'd need to control the TDP power draw from the device, the fan levels, and any shortcuts or joystick sensitivity tweaks you might make. It also doubles up as a joystick-to-mouse input convertor, useful for navigating elements of the Windows interface without wholly relying on the touchscreen.
In reality, Aya Space is a mixed bag – it's currently generally poorly localized for English speakers, and as a result it doesn't do a great job of telling you what all of its functions do. Grow familiar with it, though, and it's a useful option for quickly changing performance settings, tweaking resolutions, and setting hotkeys for regularly used features and settings. It's accessed by pressing the AyaNeo button below the right stick, and a double tap of that button brings up a mini overlay that lets you make quick in-game changes. With time it could become an essential part of the AyaNeo ecosystem, but for now it's something you'll merely want to familiarize yourself with and dip in and out of, rather than being a one-stop shop for all your on-device gaming needs. Expect, then, to spend a lot of time in the standard Windows interface, which remains a challenge to navigate with a joystick/touchscreen combo.
The benefit this interface does bring, however, is that at no point are you locked into using one store front or gaming source over another. Though there are workarounds for the Steam Deck, it's designed (quite slickly, admittedly) around staying within Valve's Steam gaming ecosystem. The AyaNeo 2 is totally open to anything that's available to a general Windows user, be that Steam, Xbox gaming, the Epic Games Store, GoG, Blizzard's launcher, or any other imaginable download destination. If you want an emulator, or to play an old shareware DOS game, there's nothing stopping you with the AyaNeo 2 (beyond being ready to set up whichever source you're drawing from).
Battery Life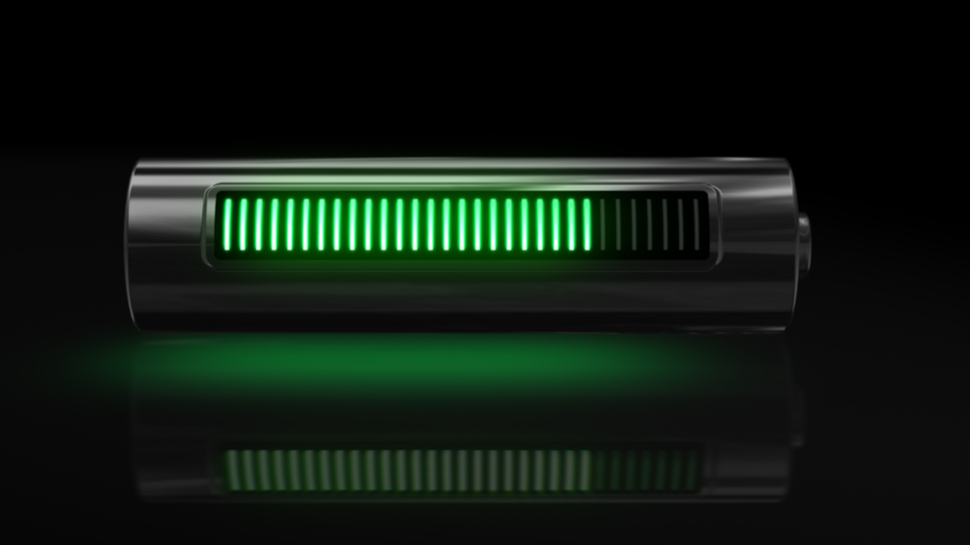 Here's where the AyaNeo 2, like many of its handheld PC counterparts, starts to struggle. PC gaming at the highest levels requires quite a bit of power, and there isn't a battery out there capacious and compact enough to run big-ticket titles for extended lengths of time. 
So that means you're going to have to be conservative as to how long you think you'll be able to spend away from a charger. With the TDP set at 33W at a native resolution on original settings, I squeezed about 56 minutes out of God of War before the unit abruptly died. That's far less than we got out of the Steam Deck, but that's also with the game running at a lower resolution on Valve's device. Grand Theft Auto 5 (TDP 15W, 1200p, normal settings) fared better at two hours and three minutes, and generally you'll see battery life extend in line with those tests as the TDP is dropped. As such, you'll get maybe five-ish hours of indie gaming with battery-saver settings switched on, and a sub-8W TDP limit active. That's a bit disappointing, given the efficiency of something like the Nintendo Switch OLED. But the stress the AMD Ryzen 7 6800U can be put under is a reasonable answer to those relatively low battery run-times.
It's worth noting also that, during my testing, I found the AyaNeo 2 and its accompanying charger to be a bit temperamental. The charger sometimes seemed incapable of drawing enough power to charge the device, and sometimes would give the impression of charging when it wasn't actually juicing the battery at all. In the end I had to settle on using another USB-C charger I had handily laying around – hopefully this is just a fault with my review unit, rather than a widespread issue, but it's something prospective buyers should be aware of.
Your mileage will vary then, depending on the sort of games you play, and your expectations around visual fidelity settings and appropriate TDP settings to power those games. But you're going to need to keep a charger handy regardless.
Buy it if...
 Don't Buy it if…