Firefox Focus is the lightweight, compact version of Firefox for mobile devices. Just as Opera has Opera Mini for phones, Firefox has Firefox Focus. 
What sets it apart from other browsers is its advanced security measures, customer-centric privacy policy, and lightweight design that's kind on almost every system.
Is Firefox Focus the best web browser for you? Time to find out! This detailed review will cover everything about Firefox Focus, including its features, pros and cons, competitors, and privacy policy.
Firefox Focus: Features
Firefox Focus prioritizes privacy and security, which is why it lets you erase all your browsing history and cookies in just one click so that the trackers can't follow you around. Sure, a lot of browsers offer private browsing or an incognito mode, but they still tag along with logging and data theft. A huge part of your data is still collected, and you might still be tracked. 
However, such is not the case with Firefox Focus. This browser provides a private browsing mode in its default settings. Also, since Firefox Focus is backed by Mozilla, the non-profit organization that fights for user rights on the web, there's little to no doubt about the authenticity of its private browsing feature.
Firefox Focus is also an expert in blocking trackers designed to keep an eye on you. Its current configuration has prepared it to block a massive range of common trackers, including sticky ones. It'll also protect you from social media trackers that come from Facebook and Instagram ads and follow you around to understand your buying tendencies.
Since all trackers and ads are removed by default, all pages on Firefox Focus naturally run faster. They also require less data to load, meaning you'll save a substantial amount on your data plans.
You can also pin up to four shortcuts on the home page to get to your favorite sites faster. While it may not sound like a lot compared to other browsers, this is the perfect way to give you the privilege of quick access without cluttering the main page.
Another benefit of using Firefox Focus is that it works on both Android and iOS. Other mobile-specific browsers often have different apps for different operating systems. 
For example, Opera Mini works only on Androids, whereas Opera Touch is its iOS variant. In this case, if you shift from Android to iOS, you'll have to create a new browser account and learn a new platform from scratch. Too much work. That's why we recommend Firefox Focus.
It's incredibly easy to set up. All you have to do is open the app, click on the three dots to enter "Settings," and set Firefox Focus as your default browser.
Firefox Focus: Privacy
Firefox Focus's privacy features are top-notch. Just like the web version, the mobile version doesn't disappoint, either.
For starters, it comes with a built-in ad blocker that blocks ads and prevents them from tracking your data. 
Often, even if you don't click on an ad, the tracker still latches on to you and follows your activities on-site. However, Firefox Focus puts a complete stop to this.
At the same time, it also blocks social and analytics trackers that track your actions and engagement patterns. Usually, this is done only for marketing and research purposes, but if you don't want to share your details, there's no reason you should — Firefox Focus has your back.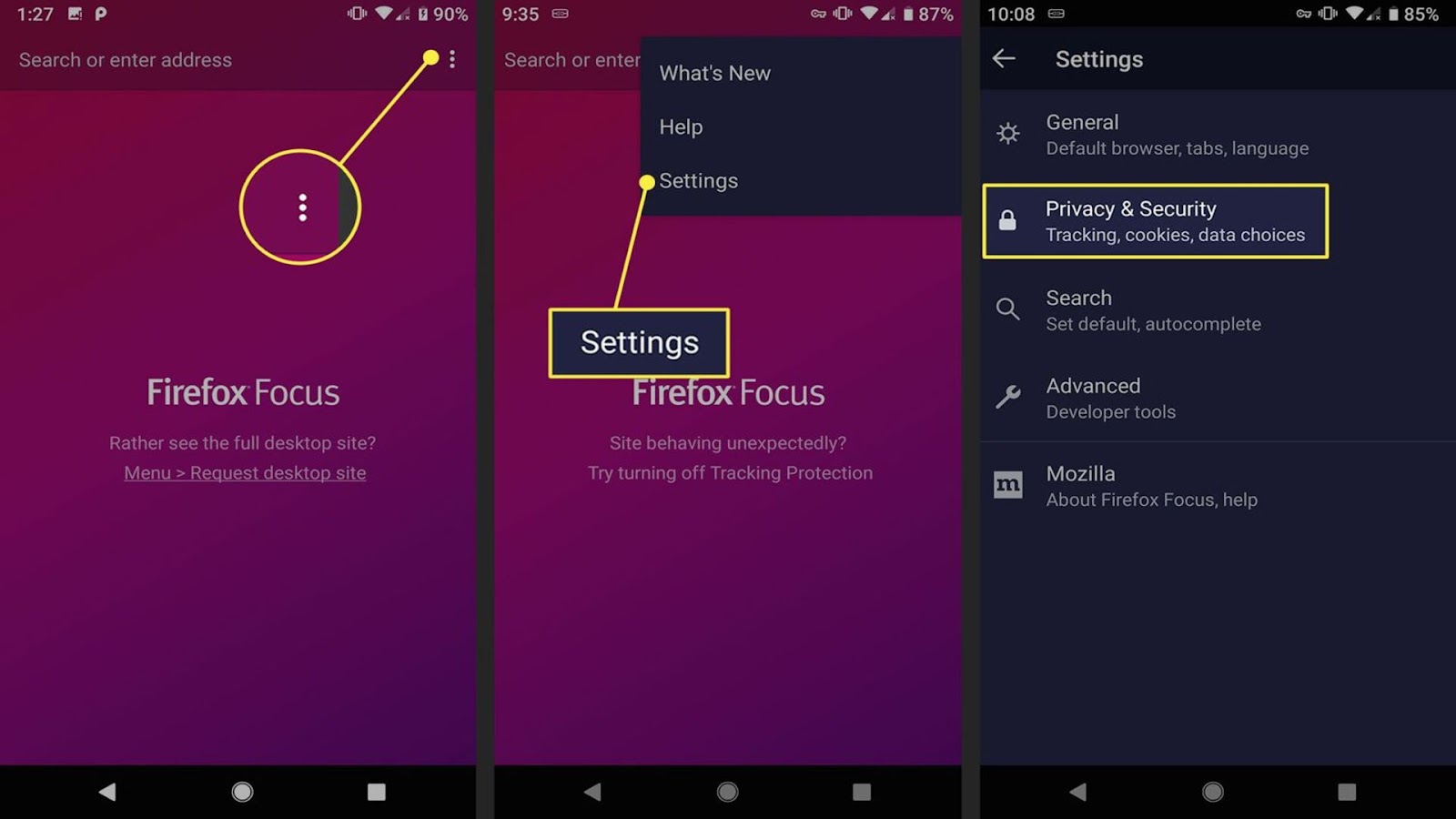 Firefox Focus: Ease of use
Firefox Focus is quite easy to use. Its lack of basic features, such as multi-tab support, makes the interface smooth and less chaotic. Also, it only supports 4 shortcuts on the home page at a time — more space and less chaos. 
Another amazing feature of Firefox Focus is that it lets you experiment with themes. You can switch between the light and dark modes or experiment with other color options. You can also change the language settings and choose from 27 different languages. 
Firefox Focus: Competitors
Although Firefox Focus tries its best to compete with other popular mobile browsers, it could be much better in some areas. 
For example, unlike Google Chrome or Microsoft Edge, it doesn't support tabbed browsing, which could help you work on multiple tabs at once. In fact, it doesn't even have bookmarks in the mobile version. These are some basic features that we all expect to see in a browser.
On the bright side, it makes up for these shortcomings with its superior privacy features. For instance, Google Chrome is infamous for collecting and sharing user data. It even has a bunch of consumer privacy lawsuits against it.
Now, comparing Firefox Focus with industry leaders is a tad unfair. After all, they've been around for years, if not decades, whereas Firefox Focus is only a few years old and has a lot of upgrades to make.
Even when compared to the Tor Browser and Opera Mini, both of which value privacy and user security, Firefox Focus needs to catch up. Opera Mini has a free built-in VPN, and Tor has a massive range of security features which is absent in Firefox Focus.
Firefox Focus: Final verdict
Firefox Focus is a well-rounded browser when compared to mobile browsers only. It impresses with its focus on user privacy and security. 
For example, despite being the most popular mobile browser, Chrome has a thing or two to learn from Firefox Focus. Be it its built-in ad and tracker blockers or the option to add a fingerprint lock on the app itself, Firefox Focus is one of the safest and cleanest platforms for your mobile internet activities.