Acer Spin 714 Chromebook: Two minute review
Chromebooks started their rise by being popular with students, who liked their web-based nature and long battery life, but eventually, businesses realised its virtues.
The Acer Chromebook Spin 714 (CP714-1WN) isn't a low-cost plastic Chromebook for students but an elegant Ultrabook concept with a 14-inch HD touchscreen and an aluminium body.
Designed as a web-based workhorse, Acer gave it a durable, full-size keyboard with a backlit design that makes it easy to type in low light.
Even with a lightweight metal and plastic exterior, the Spin is a hefty  3.09 lbs (1.4 kg) and is 0.7 inches (18.05 mm) thick. That's an almost identical weight to its predecessor and not so heavy that you would have trouble carrying it.
Acer has previously released two versions of its 713 design, and the new 714 builds on that legacy by providing more power and functionality while retaining much of the form factor and styling that made the 713 series so popular.
However, in this transition to 12th Gen technology, Acer managed to misplace the MicroSD card slot from the previous model, lost the terrific 2256 x 1504 resolution screen, and the battery life of 10 hours hasn't gotten any better.
What you do get here is a much better Intel 12th Gen processor with more powerful graphics, HDMI out, a Thunderbolt 4 port and a stylus that is neatly housed in the chassis.
The jury is still unsure if this constitutes a significant improvement over the 713, but it's a classy piece of hardware and a notch above most hybrid Chromebooks.
Acer Spin 714 Chromebook: Price and availability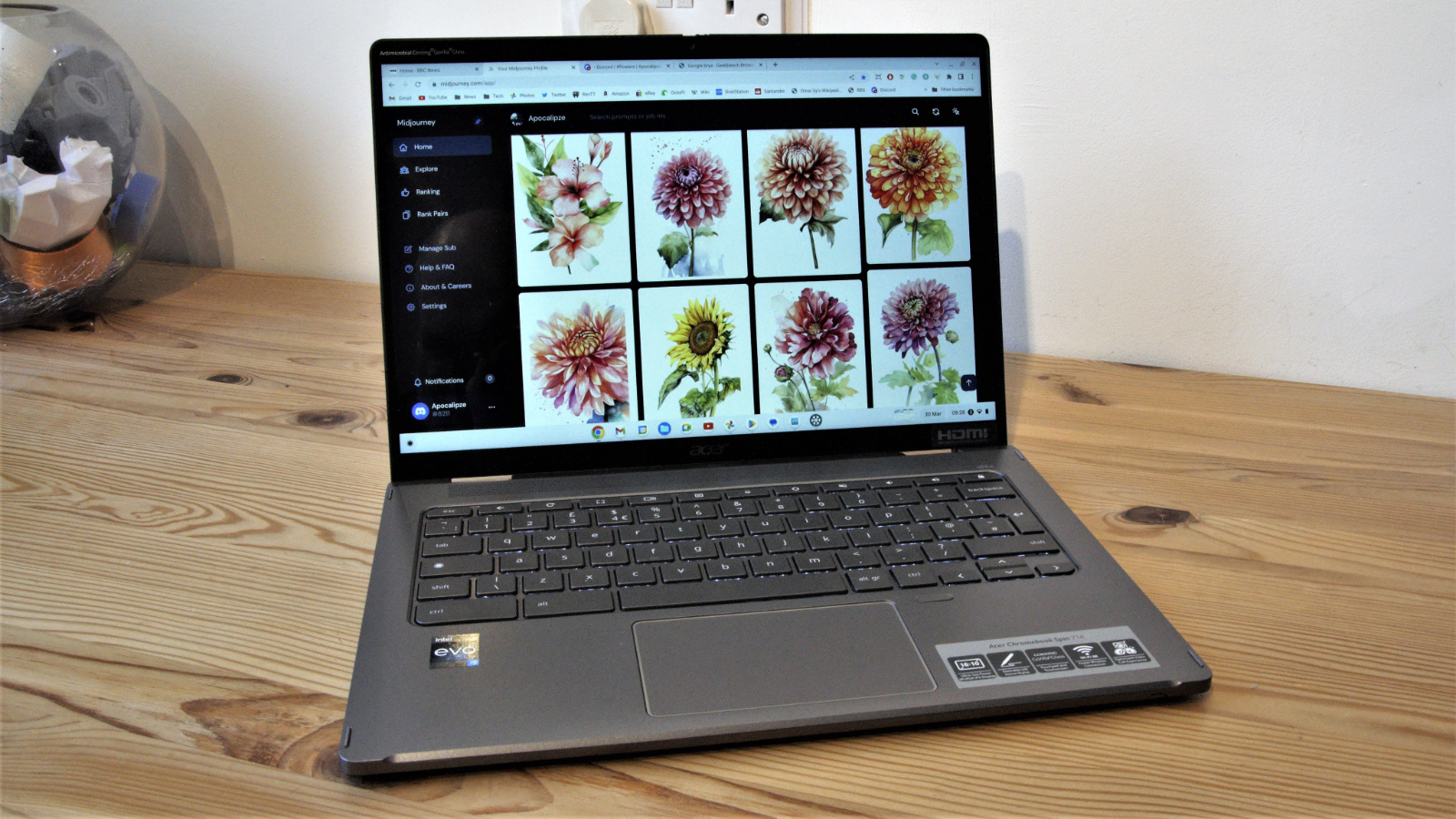 How much does it cost? $730/ £799
When is it out? It is available now
Where can you get it? You can get it in most regions direct from Acer or through an online retailer.
Acer Spin 714 Chromebook Specs
The Acer Spin 714 Chromebook that was sent to us for review came with the following hardware:
Model: CP714-1WN
CPU: Intel Core i5-1235U
GPU: Intel Iris Xe Graphics
RAM: 8GB LPDDR5
Storage: 512GB PCIe Gen 3, 8Gb/s, NVME
Screen: 35.6 cm (14") Touch screen
Resolution: 1920 x 1200
SIM: N/A
Weight: 3.09 lbs (1.4 kg)
Dimensions: 312.6 x 224 x 18.05 mm
Robustness: MIL-STD 810H
Camera: FHD MIPI webcam (1920 x 1080),1080 HD video at 60fps
Networking: WiFi 6E, Bluetooth 5.2
OS: ChromeOS
Battery: 56Wh 3-cell Li-ion battery
At more than $700, the Spin 714 is at the more expensive end of the Chromebook spectrum, but it is cheaper than ASUS CB9400CEA Chromebook and the Google Pixelbook.
Acer also makes an Enterprise edition of this model that costs £1,099.99 in the UK and is priced specifically for Corporate customers in the USA at around $1049.99.
The Enterprise versions typically come with more RAM, up to 16GB, and business administration tools are preinstalled on them for easier rollouts.
T1here are cheaper Chromebook options from Acer and other brands that can offer a similar specification for much less. Intel, Lenovo, HP, Asus and Acer all make ARM-based designs that are less than half this cost.
As a good example, the Lenovo IdeaPad Flex 5i is closer to $500 for a similar if less powerful design.
Acer Spin 714 Chromebook: Design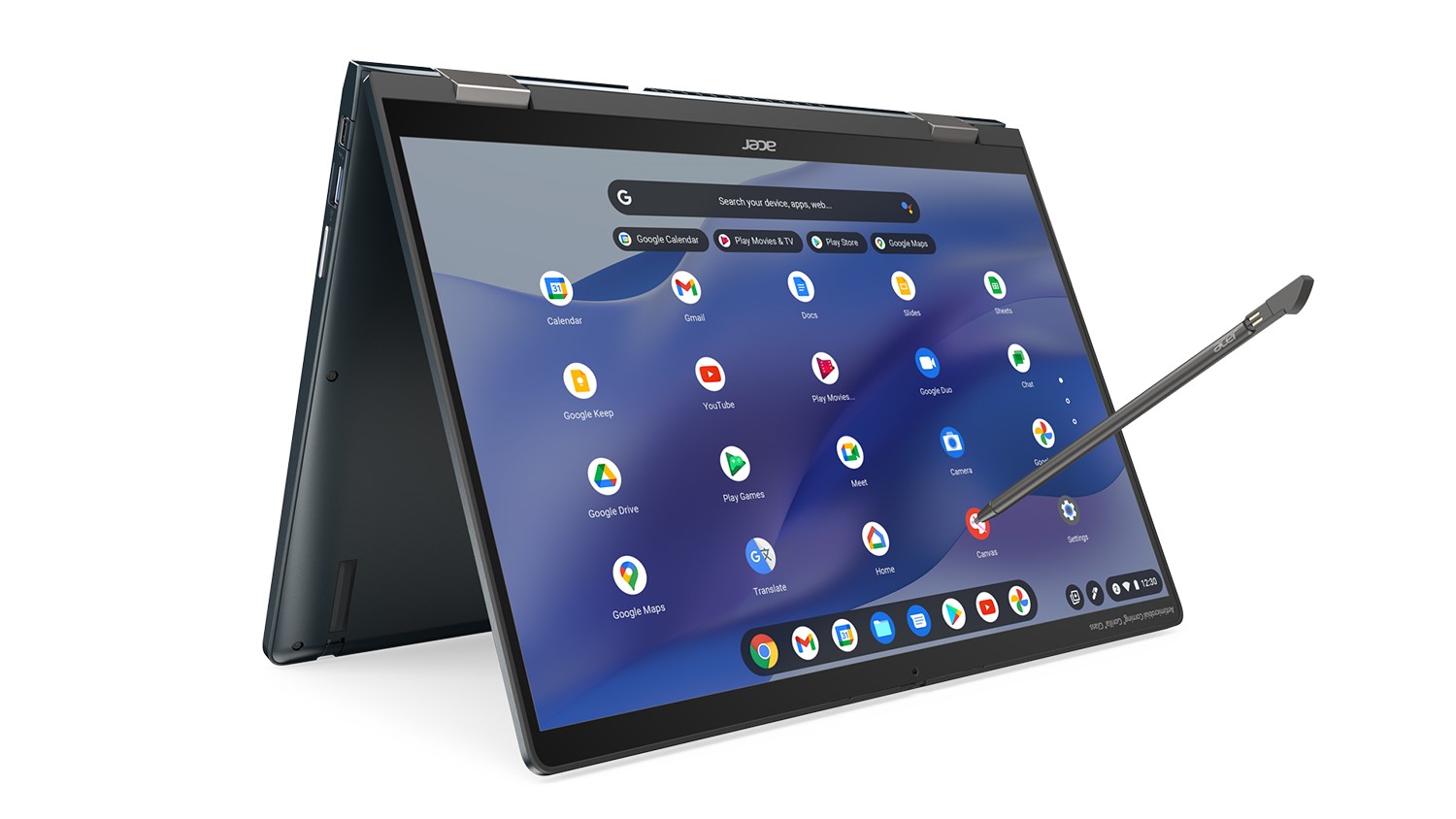 Attractive styling
Excellent port selection
Inbuilt stylus
We've seen enough broken Chromebooks to know that they can be abused by their owners, so being able to take a few knocks is essential for a business tool like the Spin 714.
The Spin 714 uses a very similar physical design to the 713, and given how successful that machine was, that Acer stuck with a similar plan isn't a big surprise.
However, the devil is most certainly in the detail here, and the Spin 714 has arguably lost as much as it gained from the 713.
For those unsure about the 'Spin' aspect of this design, this Chromebook has a fully extensible hinge that allows the screen to go from fully closed to 360 degrees open, allowing the machine to operate as a tablet. It can do all the positions between those extremes to provide tent mode for watching a presentation or streamed content.
This flexibility allows for a hybrid use model, where the 714 can be a conventional laptop or a tablet, depending on the demands.
Mostly for tablet mode, the screen is touch-sensitive, and Acer does include an integrated stylus if smudgy fingerprints annoy you as much as they do us. The stylus isn't a pressure sensitive one or has any buttons, but it's better than using your finger.
A nice touch is that the slot it lives in is also the charger for the stylus, and just 15 minutes inserted in its home is enough to recharge power for four hours of use.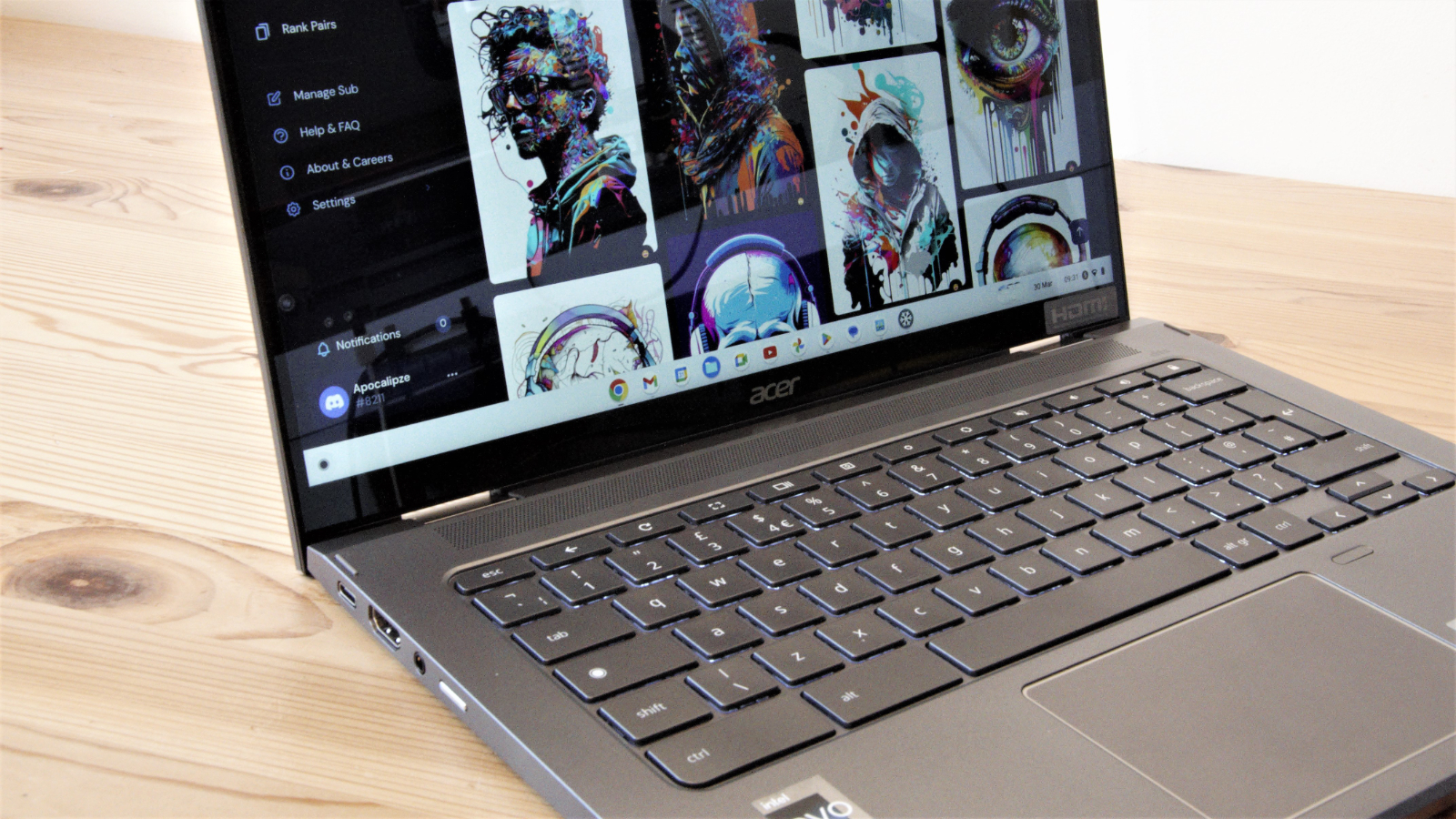 If it wasn't running ChromeOS, the same hardware could run Windows or Linux happily since it has all the ports and Intel x86/64 parts needed for a good computing experience.
On the left side is a Thunderbolt 4 USB-C port, a full-size HDMI out, the 2.5mm audio jack and a power button. And on the right is another Thunderbolt 4 port, a USB 3.0 Type-A port and a volume rocker.
We've seen some poor USB-C implementations on Windows laptops, where the port used for charging is exclusive to that job and can't be utilised for any other purpose. But here, the Thunderbolt 4 ports on each side are interchangeable, allowing charging on whichever side is most convenient.
This isn't the biggest keyboard we've seen on a machine this size, but it is backlit and has a pleasant key travel for typing. We're less convinced about the touchpad. It's small, but as you have a touch screen, you're not forced to use it without a mouse.
A fingerprint sensor below the keyboard and to the left of the touchpad, and a 1080p webcam at the top centre of the screen with a physical privacy cover (hooray).
Probably the most significant difference over the 713 is the display, which is a less bright and less impressive resolution than what came before.
For those that never saw the lovely 400 nit panel on the 713, the one on the 714 is fine, but it doesn't offer the same refined experience, sadly.
Acer Spin 714 Chromebook: Hardware
12th Gen CPU
Thunderbolt 4 port
Same battery size as 713
No LTE or SIM slot
Where the 713 used 10th and 11th Gen Intel parts, the 714 has the Intel Core i5-1235U, a 12th Gen CPU with ten cores. Depending on the 713 model, that machine either had a Core i7-1185G7, i5-1135G7, i5-10210U or i3-1115G4, but the i5-1235U used in the 714 is probably better than all of those options.
Because of the way ChromeOS works and its inherent web functionality, seeing the processing power in this machine in action is challenging. But, we did notice that when using the machine for standard tasks, it didn't run the fans, something the 713 did, irrespective of the processor model.
Keeping cooler has advantages for power consumption and the life expectancy of the chips, so we're all for those changes.
A major selling point on the Acer website for this model is that it offers a Thunderbolt 4 port, which has backward compatibility with USB 3.2. On a Windows laptop, this would be a desirable feature, as it would allow the connecting of external Thunderbolt or USB-C SSD storage and high-speed transfers.
However, moving files on and off the device is a 20th-century approach to problems. Because the advantage of a Chromebook is that everything is stored on the Cloud and not shuffled around using file managers.
The deeper we delved into the different strategies that a Windows PC and a Chromebook have to file management, the more we wondered why does this machine have a 12 Gen Core-i5 class processor? Can its power never be effectively used on web-based applications or data? This high-end class of Chromebook ends up wanting to be one thing but acting much more like a Windows PC, and the inclusion of Thunderbolt 4 only highlights this contradiction.
If you're an IT person who has a user that has a Chromebook that insists on moving files from the system to external storage and back, they evidently don't understand how to use it.
There are some exceptions to this, like video editing and graphics design, and it could be useful for bringing a media movie collection along on a trip, but the majority of owners that understand Chromebooks are unlikely to use it, ever.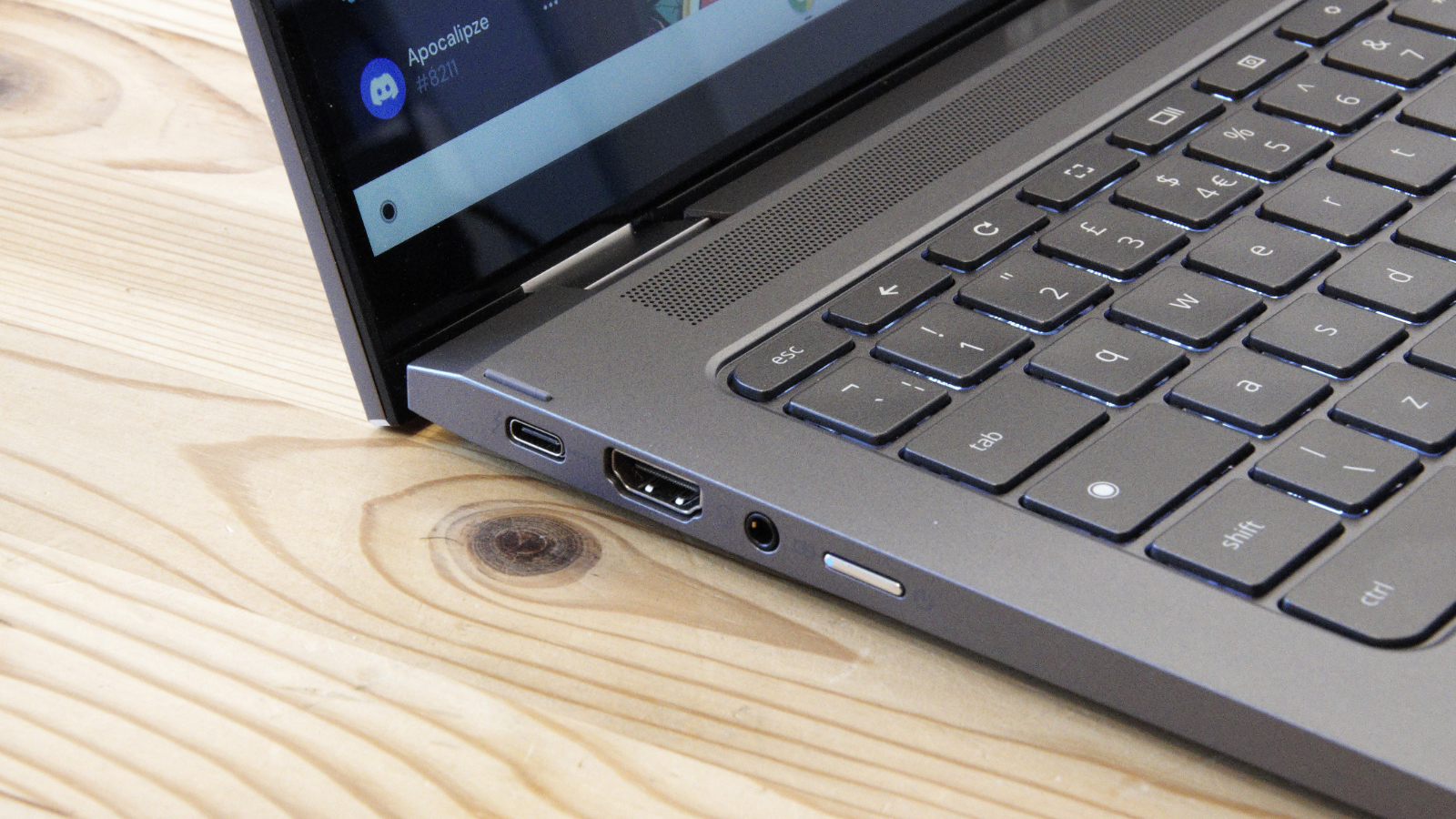 While we did see less fan activity and a cooler running processor, we didn't notice that this machine lasted any longer on battery.
The 56Wh 3-cell Li-ion battery seems the same as was in the 713, and the quoted ten hours of operating lifespan is effectively the same.
That the battery doesn't go further with a 12th Gen processor onboard hints that other factors, like the NVMe storage and the new screen, are consuming the extra power that the Core i5-1235U efficiency provides.
Whatever the power consumption equations are, it provides enough power for a good working day, and a 65W Liteon branded USB-C charger is provided that can give you four hours of running time for 30 minutes of charging.
A bigger battery would have been appreciated, but it might have made the 714 heavier than a Chromebook should be.
The missing part of the 714 hardware ensemble is mobile comms because when they're not connected to the Internet, Chromebooks aren't at their best.
Why Acer didn't include a SIM slot to allow for LTE and 5G connections on the move is a genuine head-scratcher, and it forces owners to use a phone as a WiFi access point to get it connected away from the office. That they didn't even offer this in the Spin 714 Enterprise edition (that has more RAM and preinstalled remote admin tools), is even more bemusing.
Removing the MicroSD card slot from the 713, we'll forgive, but not including any mobile comms options is less defensible.
Acer Spin 714 Chromebook: Performance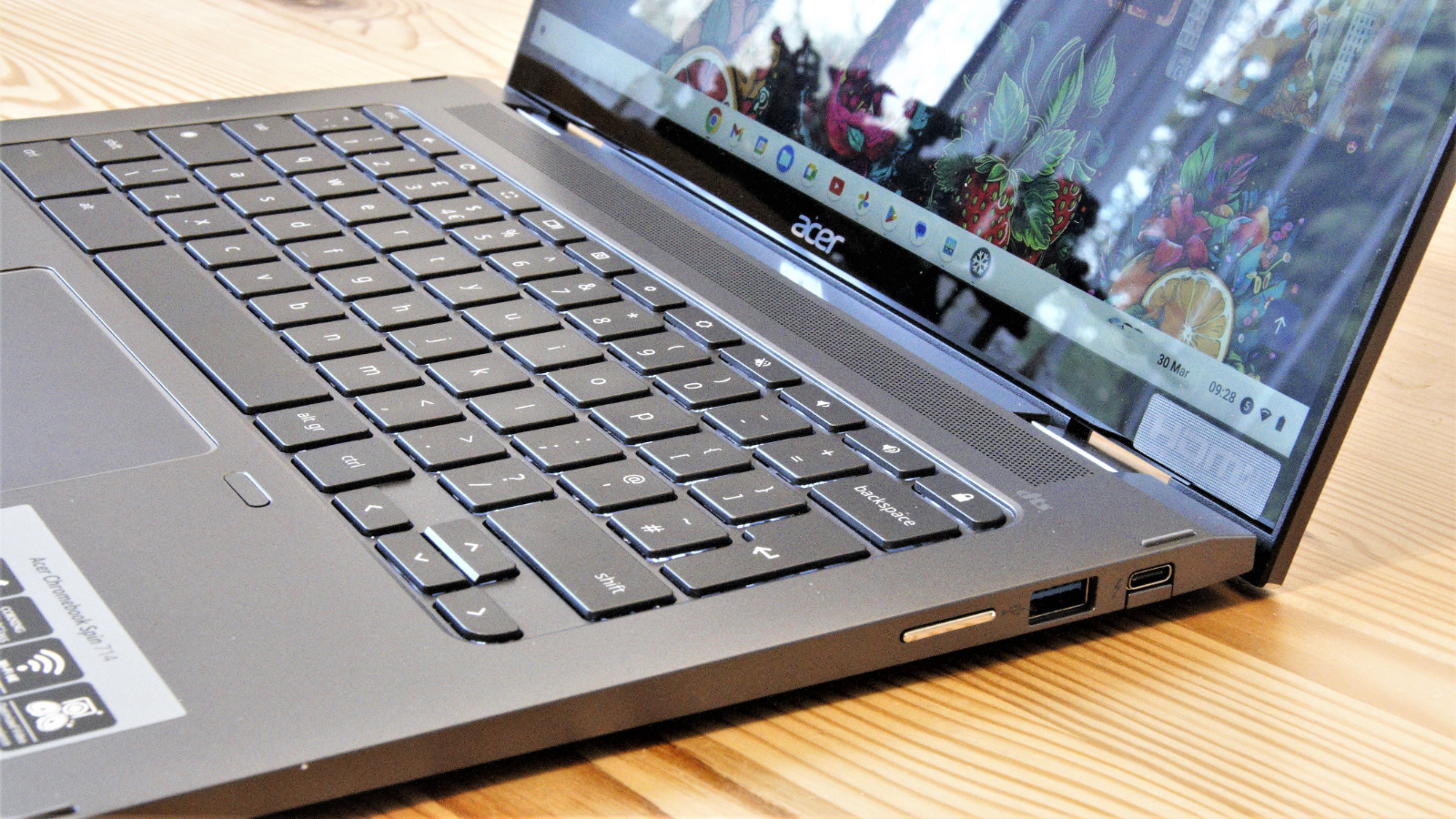 ChromeOS
Too powerful for some benchmarks
Acer Spin 714 Chromebook Benchmarks
Here's how the Acer Spin 714 Chromebook performed in our suite of benchmark tests:
Mozilla Kraken: 488.5ms
Speedometer: 202 runs/minute
JetStream 2: 214.896
GeekBench:  Single (1398), Multi (5555), Compute (10773)
3DMark Wild Life: 7830
PCMark Work 3.0: 12135
Chromebooks are difficult to judge from a performance perspective as they don't typically run predefined executables like Windows machines. This Chromebook can run Android applications, but this is done using hardware emulation. Making it not an apples-for-apples comparison with an ARM-based phone or tablet.
We ran PCMark for Android and 3DMark, with varying results. 3DMark refused to run most tests declaring the system to be too powerful, but we did extract a Wild Life result from it.
What scores we did get told us that this is a powerful machine, which isn't much of a shock. The performance of a Chromebook is dependent on many things that aren't internal hardware in most scenarios, so does the power in this one ever get fully exploited? We have our doubts.
The Acer Spin 714 Chromebook desperately wants to be a Windows PC, and that's somewhat at odds with running ChromeOS and being designated a Chromebook.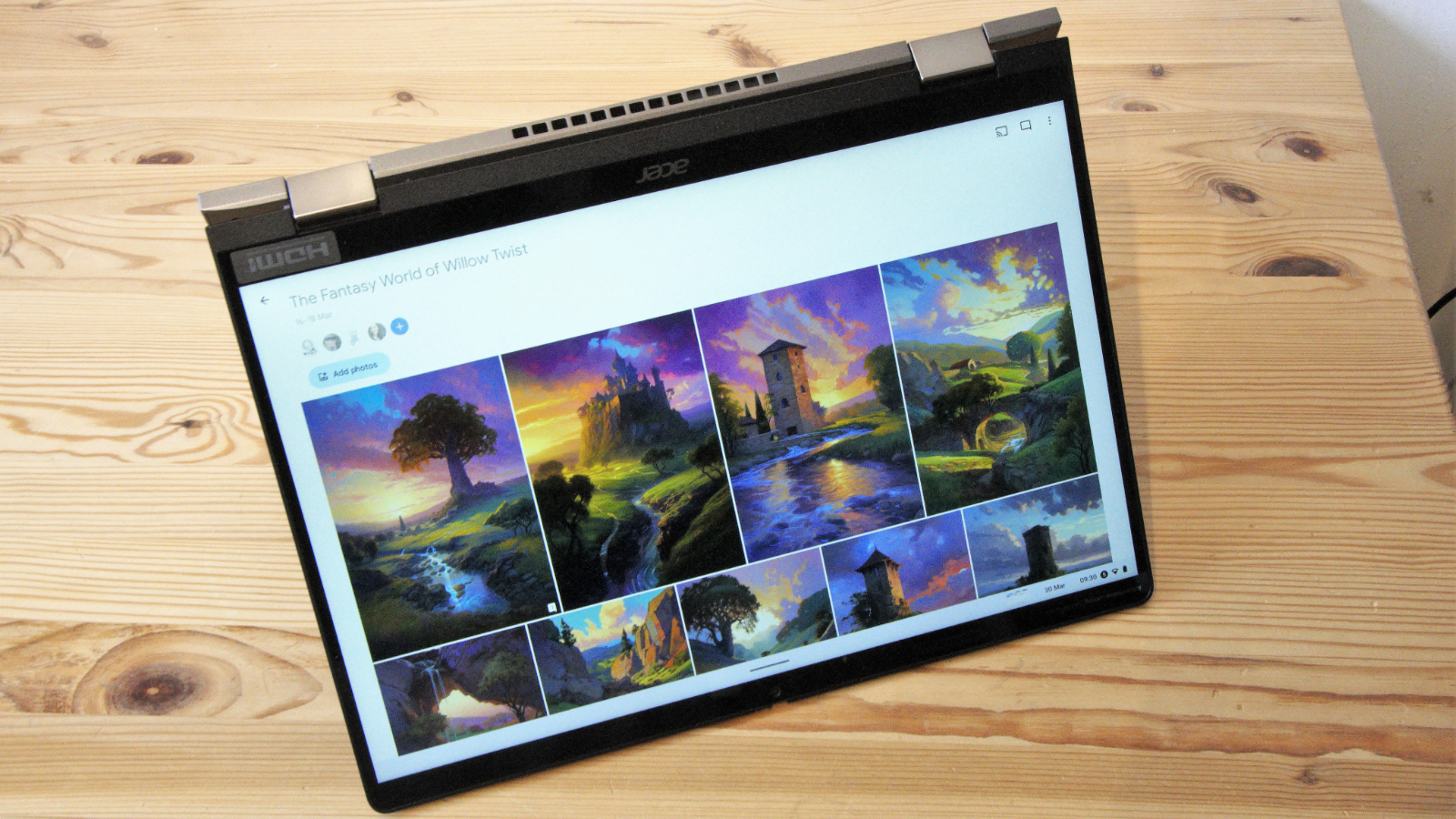 The Acer Spin 714 Chromebook is an excellent choice for anyone looking for a high-quality Chromebook and is prepared to pay for a refined experience. It has a sleek design, excellent performance, and works effectively with ChromeOS.
It is significantly cheaper than other Chromebooks in its class, but its special features, such as the 360-degree hinge, stylus, and Thunderbolt ports, make it more appealing to power users.
However, as this is a Chromebook and not a Windows PC, will the power in this machine ever be effectively leveraged? And, if it isn't, then what is the point of such a high specification?
The new 714 design does offer a few new twists over the 713, but owners of the previous generation might miss its superior screen and MicroSD card slot. But the technology that this design most needed was LTE/5G comms, and for whatever reason, Acer engineers didn't consider that to be something worth including.
Acer Spin 714 Chromebook: Report card
Acer Spin 714 Chromebook?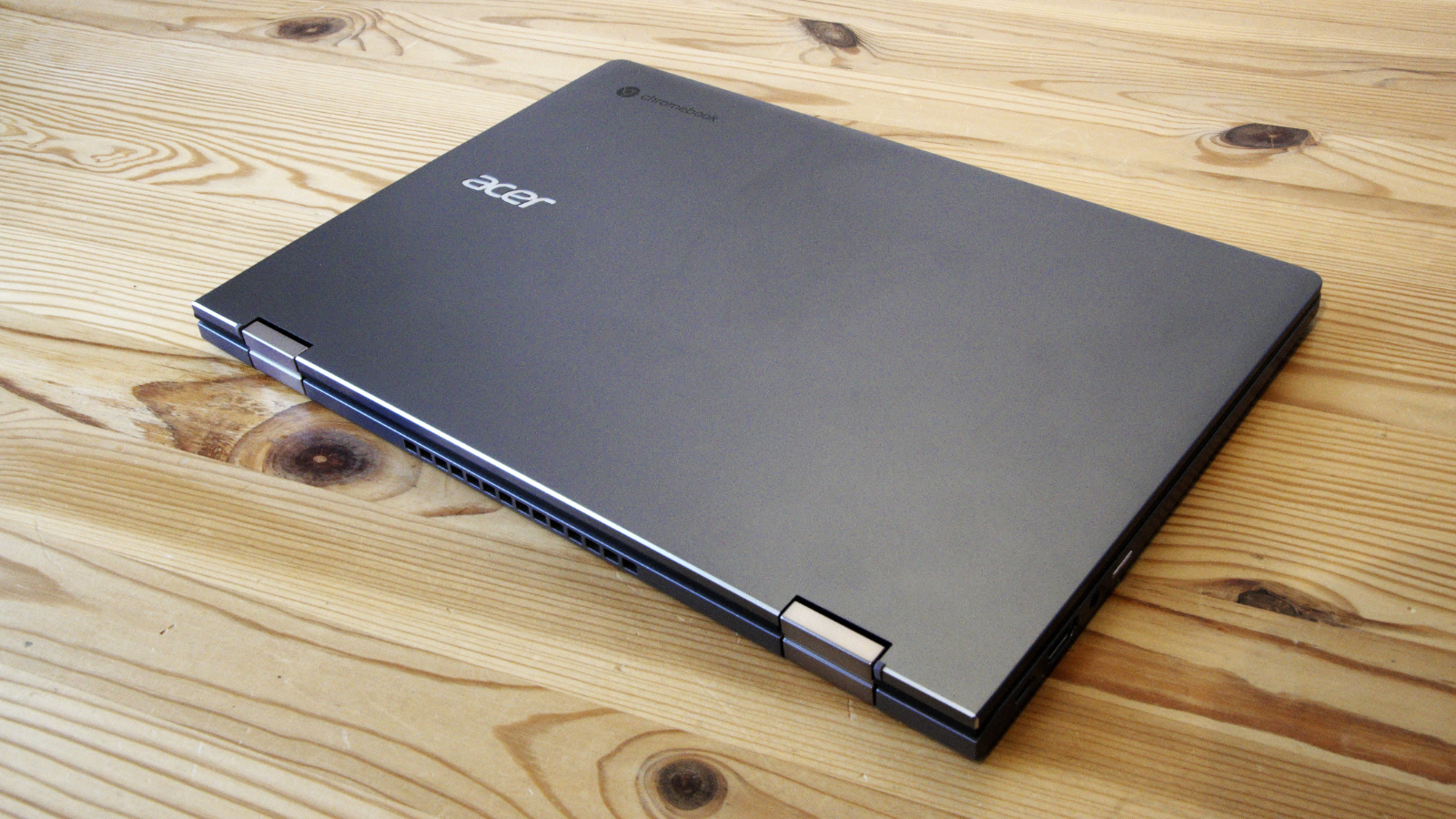 Buy it if...
Don't buy it if...
Also consider