Dell XPS Desktop (8960): Two-minute review
Once upon a time, the Dell XPS Desktop line had something to offer everyone, from the budget-minded to those who have the money to splurge. Not to be melodramatic or anything, but those days, just like the Dell XPS 2-in-1 we once knew and loved, are gone. 
That's what it looks like, at least.
It looks like Dell is making some massive changes to its lineups. The Dell XPS 13 2-in-1 has undergone a massive overhaul last year, abandoning its gorgeous chassis for a flappy keyboard folio. And now, it looks like it's abandoned the mid-range models of one of the best desktop PCs in existence in favor of the premium and therefore more powerful configurations. 
As I'm writing this review, I'm looking at a hefty $2,809.99 (about £2,230, AU$4,220) starting configuration, which is A LOT for a base model. And, Dell hasn't mentioned anything about cheaper models to follow later.
I'm not actually sure what Dell's next move is. It's possible that it is getting ready to roll out a budget desktop PC line – our Components Editor got excited at the prospect of a desktop version of the purple-and-teal Dell G15. And it's entirely possible that Dell is simply done making cheap desktop computers. We'll just have to wait and see, I guess.
Whatever Dell's intentions are, it's hard to deny its consistency when it comes to releasing impressive builds. The Dell XPS Desktop (8960) is a powerful piece of kit, one that isn't just for work but lends itself well to gaming. And not just gaming either but gaming on Ultra with DLSS and ray tracing turned on, making it one of the best gaming PCs in 2023.
It's an absolute powerhouse. The question though is it worth the splurge especially when the chassis itself looks design was more of an afterthought rather than an important consideration. That's what I'm here to find out.
Dell XPS Desktop (8960): Price & availability
How much does it cost? From $2,809.99 (about £2,230, AU$4,220)
When is it available? Available now
Where can you get it? Available in the US (UK and Australia have different configurations and prices)
I would love nothing more than to give the Dell XPS Desktop (8960) a five-star rating, but holy guacamole! That price tag will make your eyes water and your bank account implode into nothing. The base configuration alone will set you back a hefty $2,809.99 (about £2,230, AU$4,220), which is a hard and massive pill to swallow for most people, even business.
Go for our review configuration, which is available in both the US and the UK, and babe, you might as well sell your house. That $3,209.99 / £2,859 (about AU$4,925) will make you want to declare bankruptcy.
Bear in mind that the UK and Australia have their own configurations, with the UK offering a much cheaper if less powerful base model and Australia not having any of the RTX 4000-powered options on hand, which means they're slightly more affordable.
Dell XPS Desktop (8960): Specs
The Dell XPS Desktop (8960) comes in four configurations, our review model being the mid-range option with its Intel Core i7-13700K chip, RTX 4080 GPU, 32GB RAM, and 1TB SSD storage capacity. This configuration is available in the US and the UK.
The strange thing about the Dell XPS Desktop (8960) is Dell seemed to have forgotten to synchronize its configurations across regions and just went with it. So what we're dealing with is a hodge-podge of models that aren't available in all regions.
We've listed the US configurations below, but if you're in the UK and Australia, know that you likely have a different base model and top configuration available to you.
In the UK, all of the specs of the base model are the same with the US base model except for graphics: it comes with an Intel UHD Graphics 770, which does make it less powerful but has the advantage of being much more affordable. 
Sadly for Australian customers, the RTX 4000 series cards are not available in any of the Dell XPS Desktop (8960) at the time of writing. And you also only have the budget and mid-range RTX 3000 on hand.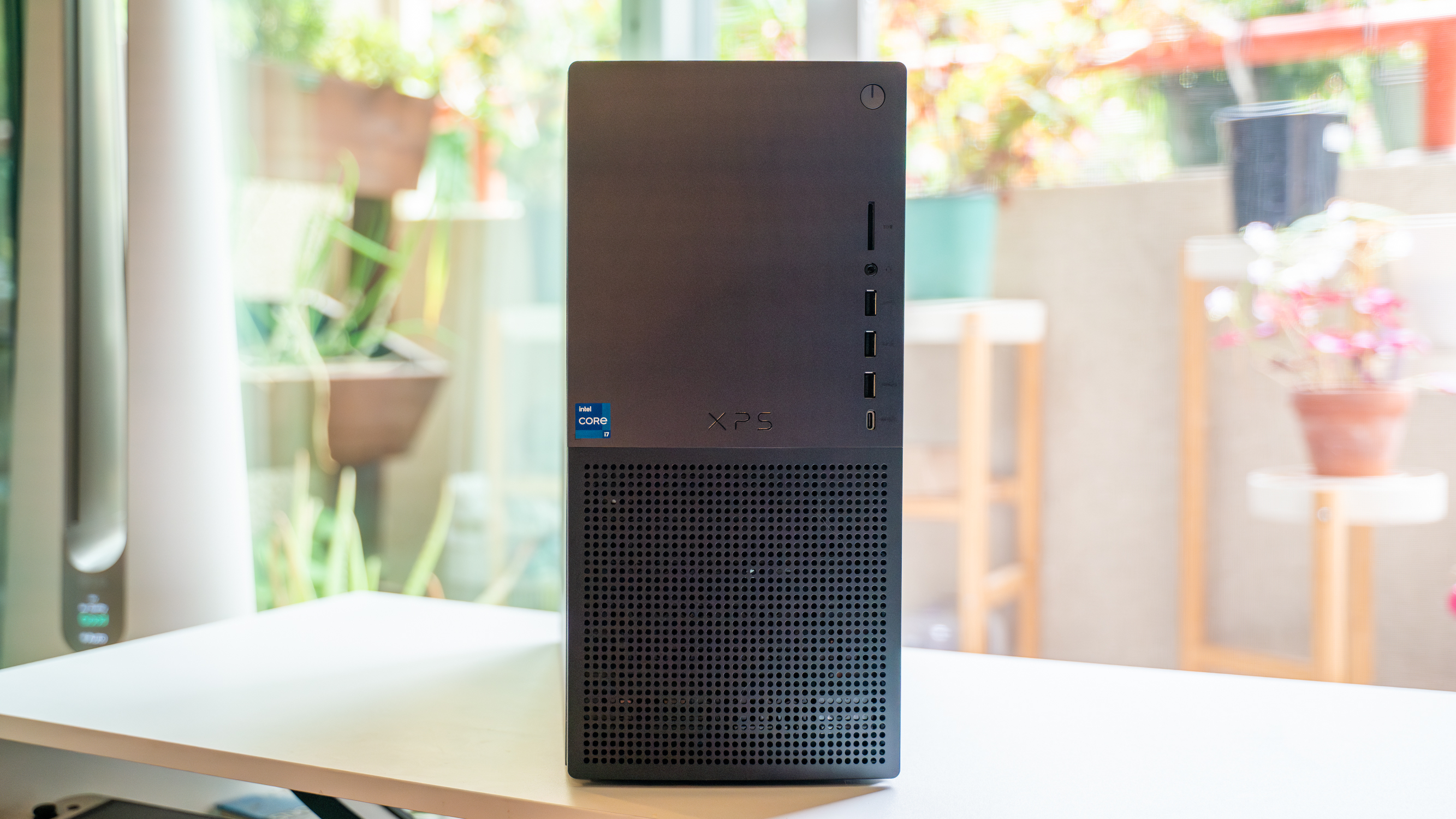 Dell XPS Desktop (8960): Design
Plain chassis
Lots of ports on hand
Great ventilation
The Dell XPS Desktop (8960) is neither small nor overly large, and it fits nicely just about anywhere – on top of your desk, under it. Use your leg power when lifting it, however, as it is pretty heavy, what with that massive GPU inside. 
Image 1 of 2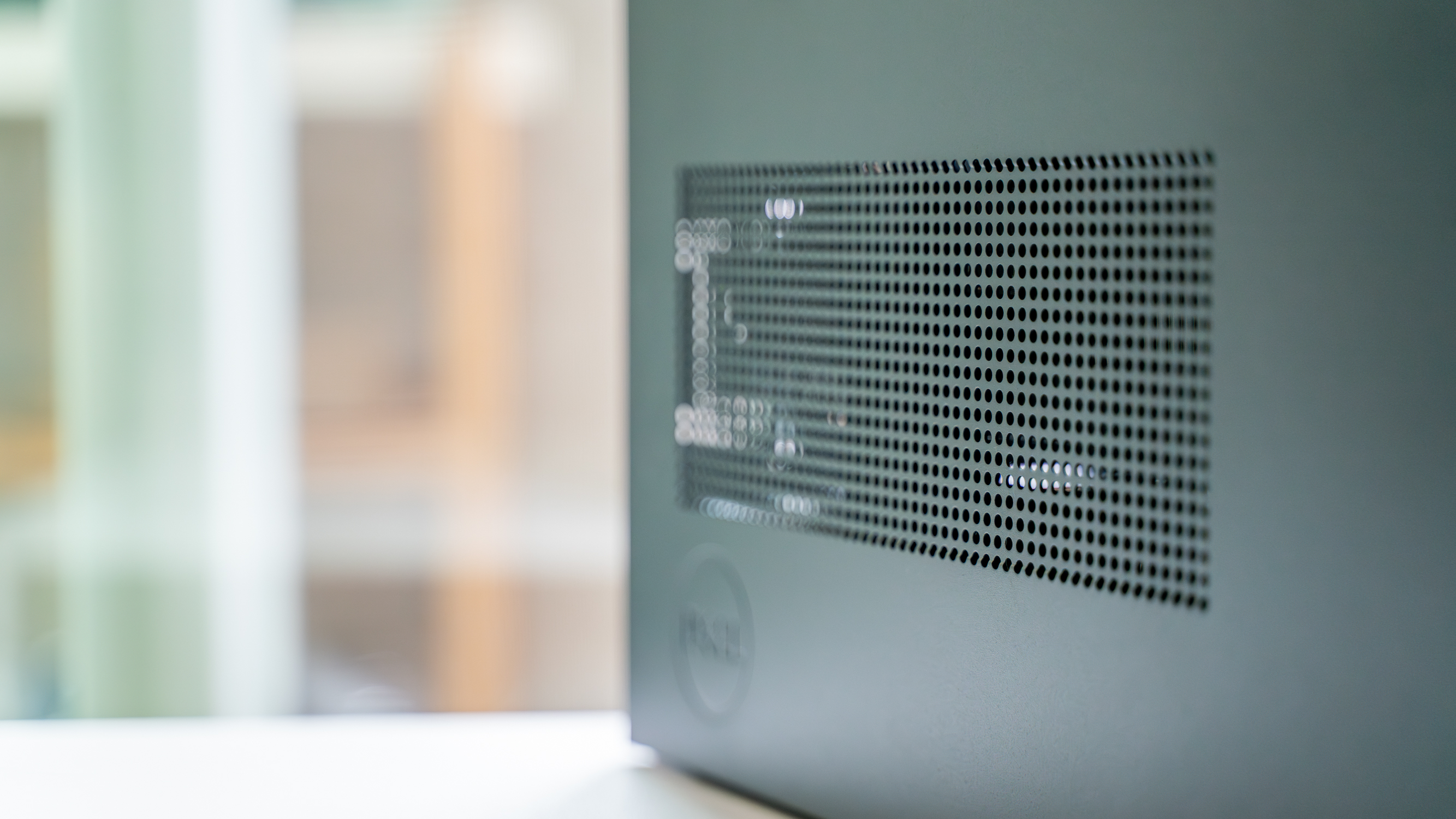 Image 2 of 2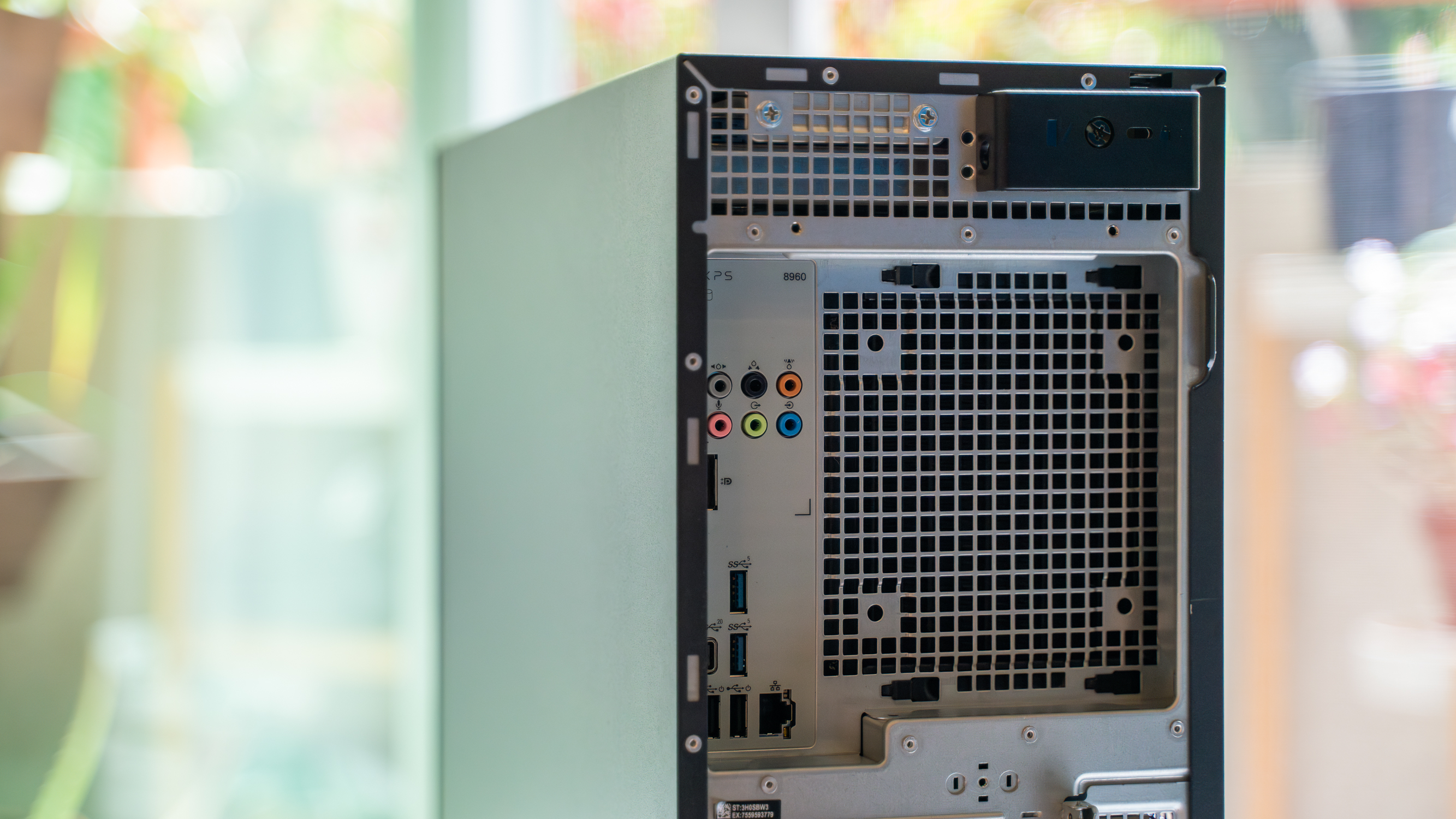 To ensure that those powerful internals are staying cool under pressure, by the way, Dell put vents in front, on one of the side panels, and in the back. And I'm pretty sure they help with heat dissipation, which is why not only is this PC cool and quiet even when handling intensive tasks, but it also delivers top-notch untethered performance.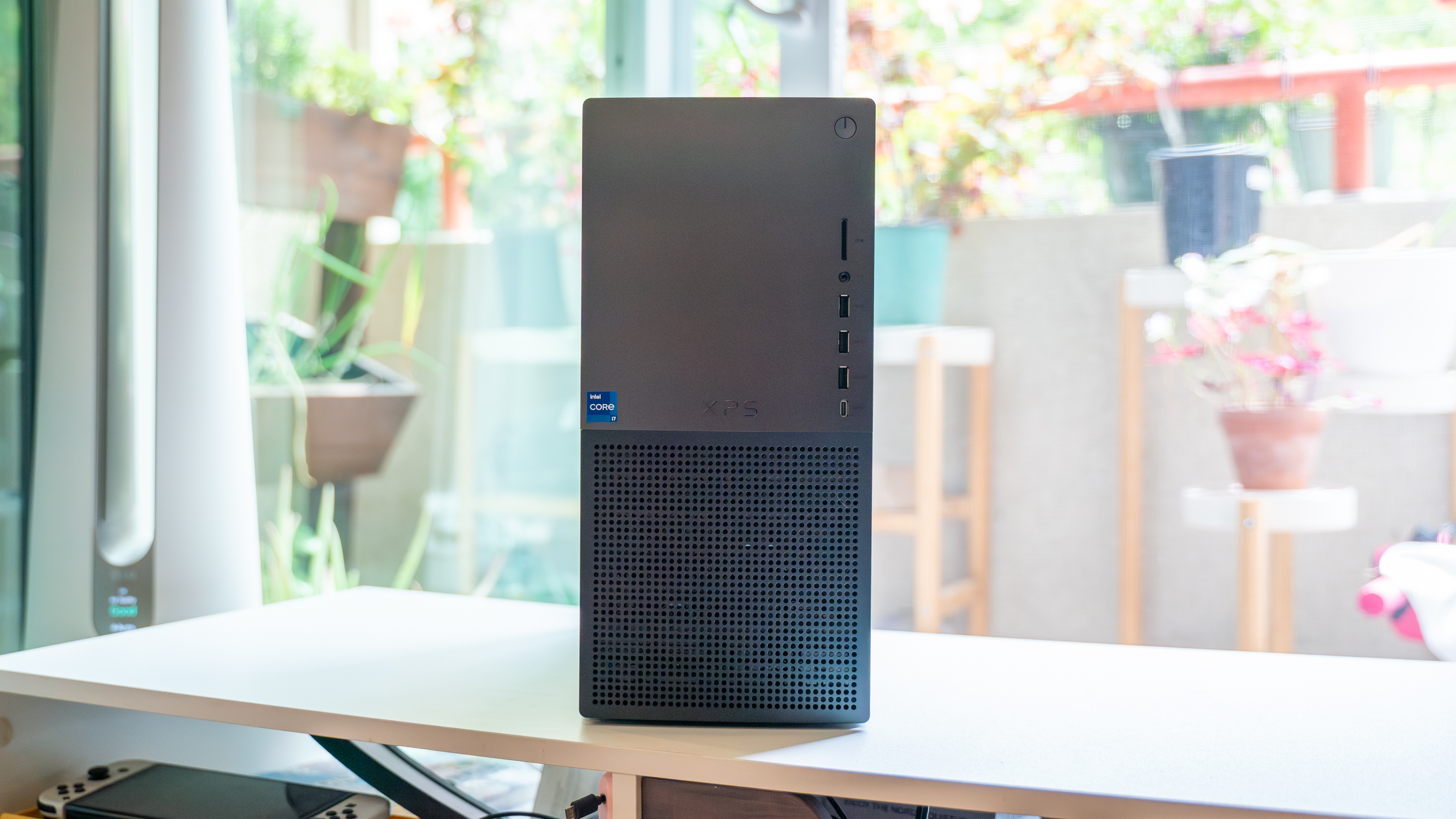 It has inherited that minimalist Dell XPS Desktop design from its predecessors, but I honestly question the design choice here. That design worked in the past few years, especially in the white colorway. But not only is that color option gone, but the look itself is becoming a little dated. 
I've said it before, and I'll say it again: we're in our maximalist era, and we want fun design and funky colors. And not updating this look – not to mention, making it available in lifeless platinum and murky graphite – was a huge oversight. Hopefully, Dell makes up for it on future models.
Image 1 of 2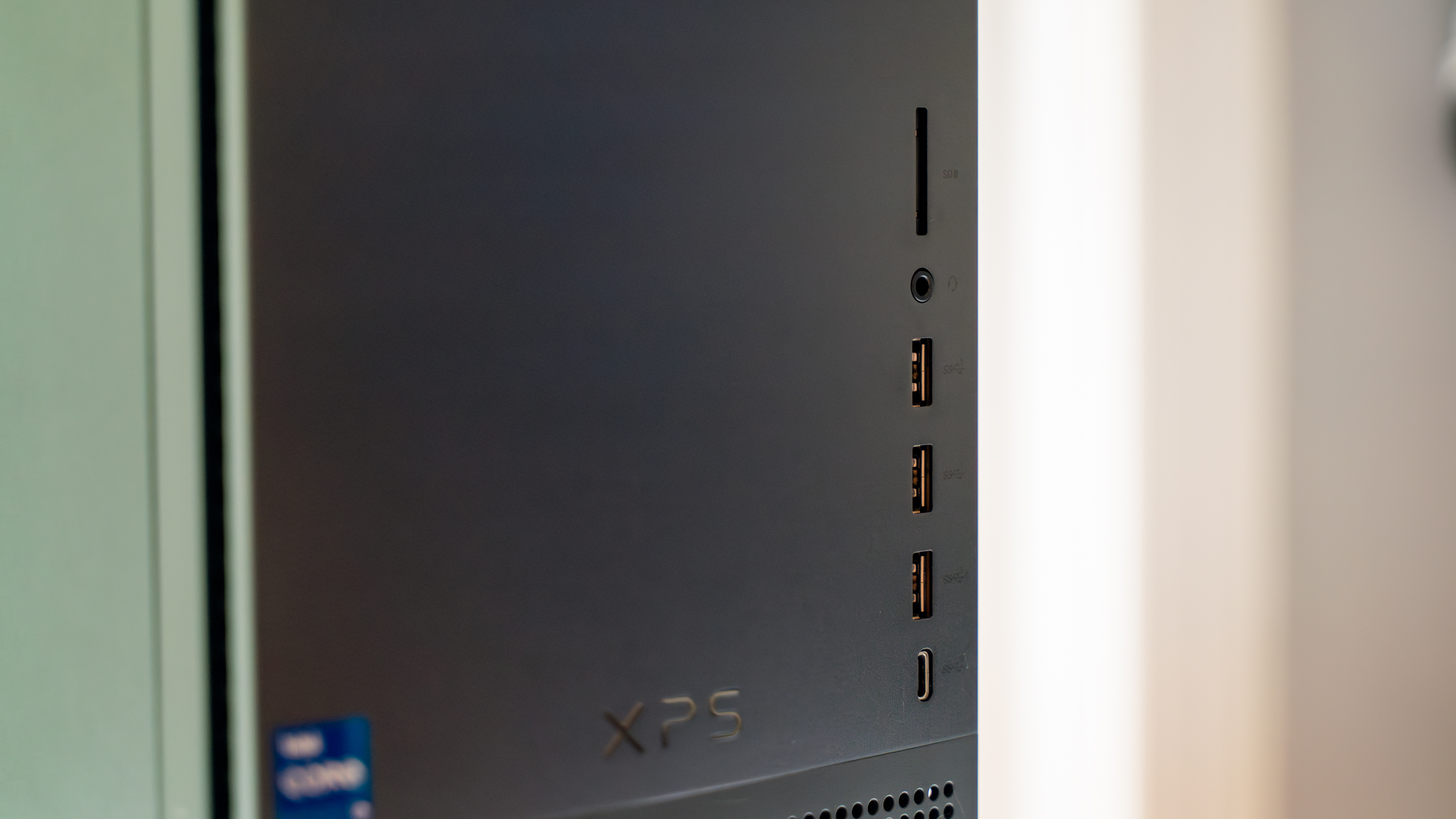 Image 2 of 2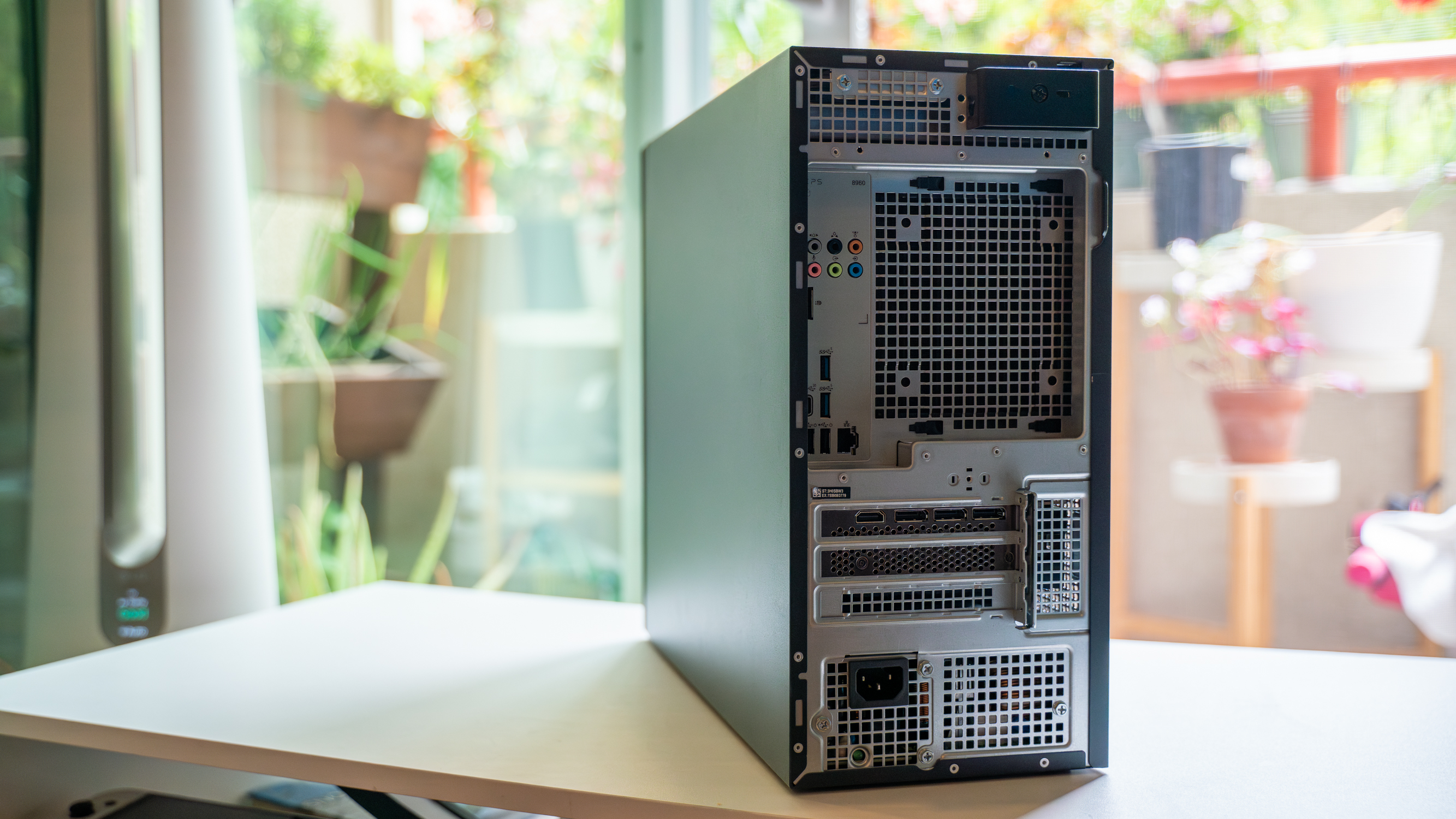 Luckily, there are a whole lot of ports to keep you (and your peripherals) connected. There are two USB ports, one USB-C, and one 3.5mm jack that are easily accessible in the front, of course. But a nice bonus is the SD card reader right above all of them. Since this desktop PC is ideal for content creation, that reader will definitely come in handy. Meanwhile, the back has a whole lot more: four USBs, one USB-C, an Ethernet, three DisplayPorts, a set of six audio inputs, and an HDMI port. If you're a multiple display kind of gamer or creator, you won't run out of ports to connect those monitors.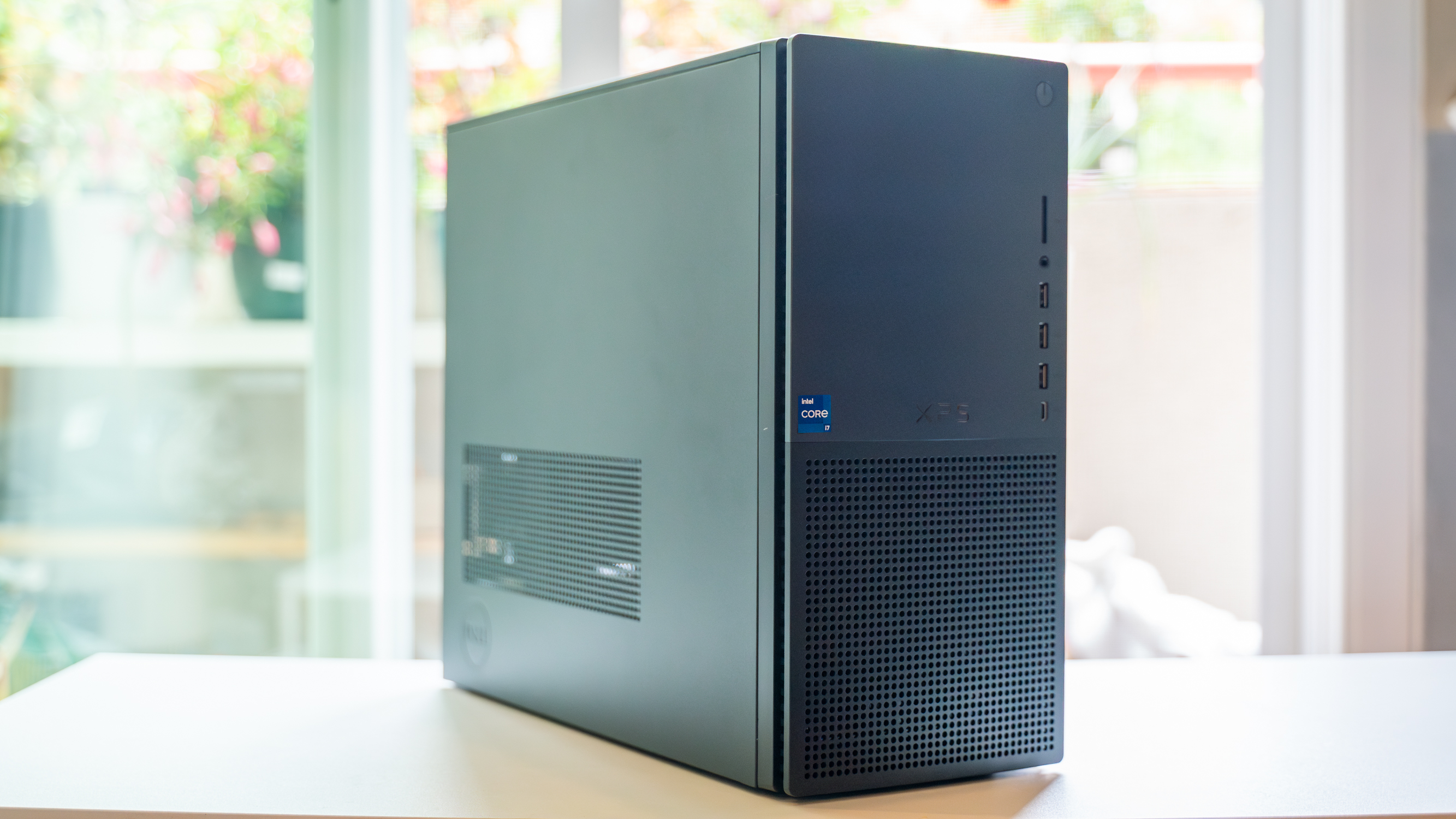 Dell XPS Desktop (8960): Performance
Breathtaking gaming performance
Excellent for content creation
Keeps it chill and quiet under pressure
Dell XPS Desktop (8960): Benchmarks
Here's how the Dell XPS Desktop (8960) performed in our suite of benchmark tests:
3DMark: Fire Strike: 48,208; Time Spy: 25,285; Fire Strike Ultra: 17,261
GeekBench 6: 2,676 (single-core); 16,957 (multi-core)
Metro Exodus Enhanced Edition (1080p, Ultra): 147 fps; (1080p, High): 153 fps
Red Dead Redemption 2 (1080p, Ultra): 77 fps; (1080p, Medium): 162 fps
Dirt 5 (1080p): 245.3 fps; (4K): 129.8 fps
25GB File Copy: 2,047 MBps
Handbrake 1.6: 2m 58s
CrossMark: Overall: 2,124 Productivity: 1,942 Creativity: 2,480 Responsiveness: 1,747  
Historically, the higher configurations of the Dell XPS Desktop have always made for great gaming PCs, but the Dell XPS Desktop (8960) is something else entirely. This kept up with the likes of the Lenovo Legion Tower 7i and the Alienware Aurora R15, both of which are made specifically for gaming.
Running it through our suite of benchmarks, it has managed to produce results in DiRT 5, Grand Theft Auto V, and Metro Exodus at 1080p that's comparable to the more powerful RTX 4090-powered Alienware Aurora R15. Although it is worth noting that the R15 leaves it in the dust in 4K gaming performance. Meanwhile, it comes neck and neck with the Lenovo Legion Tower 7i in both 1080p and 4K gaming.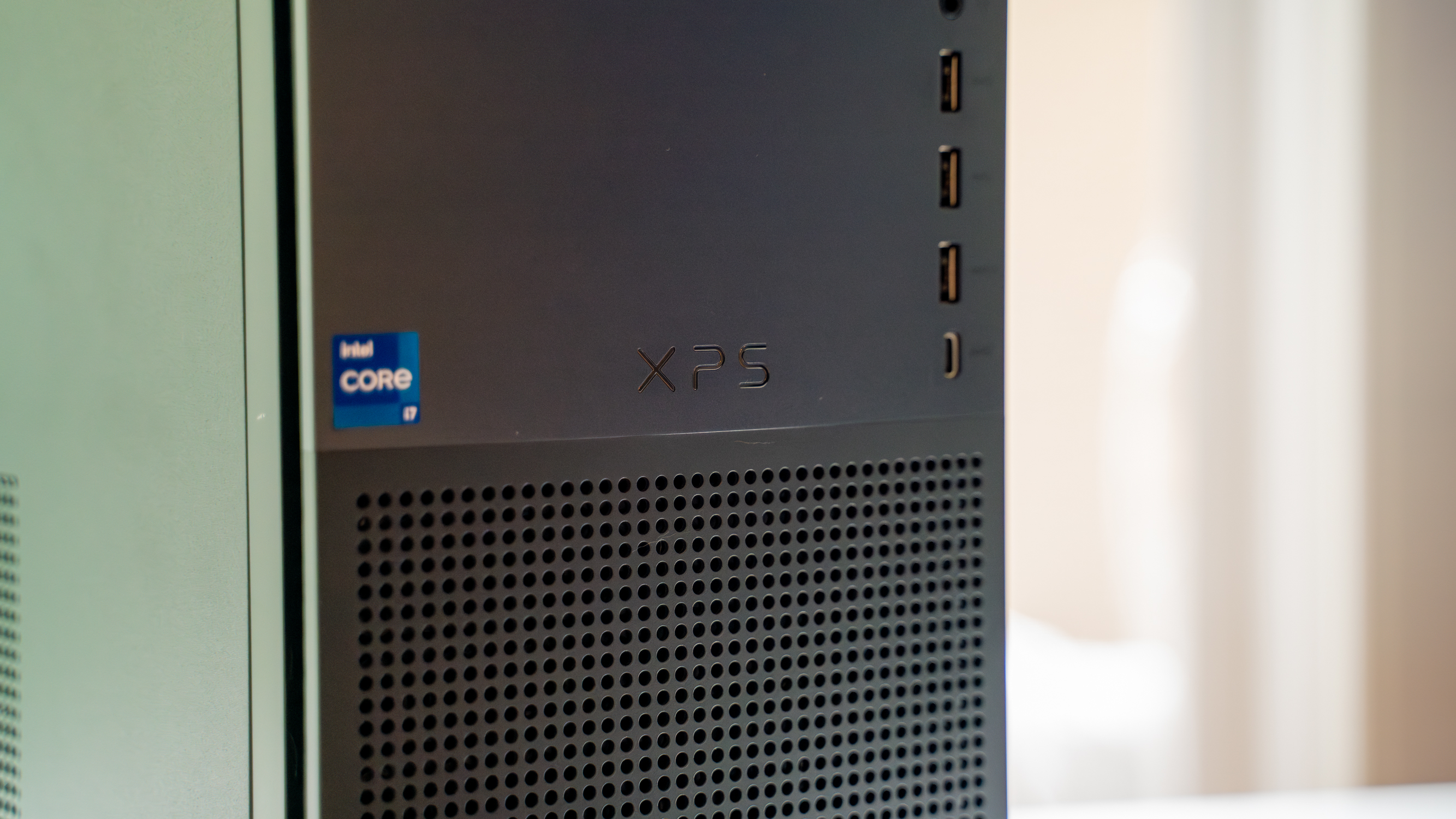 In the real world, it handles the most demanding games without breaking a sweat. During my testing, it ran Hogwarts Legacy at 4K 60fps on high settings and with ray tracing and DLSS on like butter, without signs of stuttering. Same with Cyberpunk 2077 on ultra also with ray tracing and DLSS on even during heavy combat. What's even more astounding here is that not once did it get loud or hot.
Editing and batch exporting high-res images in Lightroom on this computer is a breeze. As is opening 20 or more Google Chrome tabs at the same time, a few of which are running streaming services. There were no signs of slowdowns, with each succeeding tab opening a page quickly. What's more, it even zipped past both gaming PCs in our drive speed test, scoring a whopping 2,047MBps next to the Tower 7i's 1,152MBps and the R15's 1,340MBps.
If you are looking for brute strength and sheer power for both gaming and creative work, this one has proven itself to be an absolute ace.
Should you buy the Dell XPS Desktop (8960)?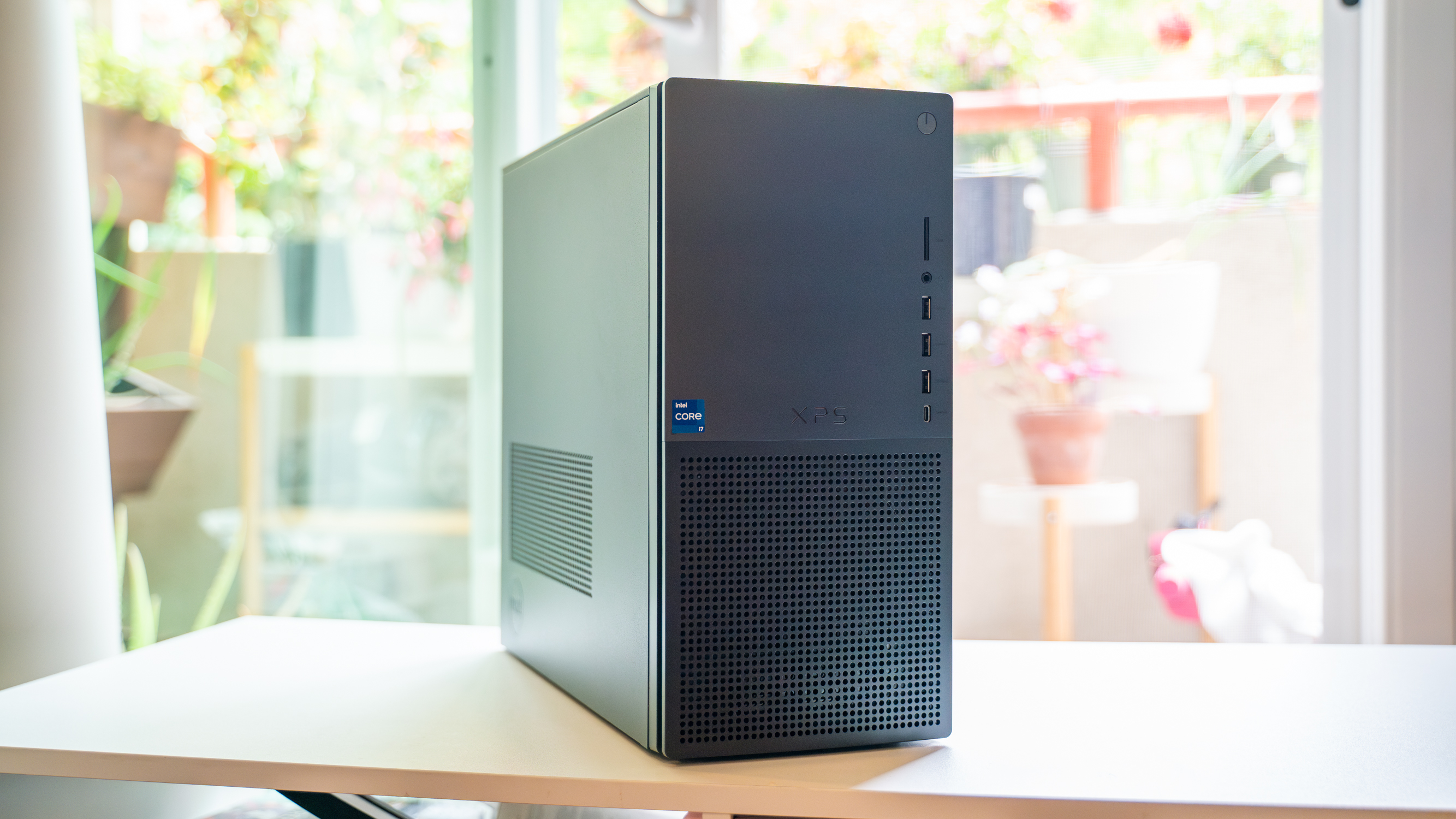 Buy it if...
You need an extra strength PC
If you want brute strength, you're definitely getting a herculean PC here that can handle demanding games like Hogwarts Legacy and Cyberpunk 2077 on Ultra settings and the heaviest content creation workloads.
You're not economizing like the rest of us
With sheer power comes an empty bank account, but hey, if you want to blow some of your savings – they're just sitting there anyway – or you have more money than you can spend, go get it then.
You like that nondescript aesthetic
That somber Dell XPS Desktop look may look great on a white finish, but Dells now only have a platinum and a graphite finish. If you like that though because you're not into showy devices, this is perfect for you.
Don't buy it if...
You don't really need all that power
If you don't need a premium discrete GPU – heck, I've been gaming and editing my photos on a 3060 PC, and I'm getting on just fine – then there are a lot of better value options out there. Shop around first before you decide to commit to this.
Dell XPS Desktop (8960): Also consider
If the Dell XPS Desktop (8960) has you considering other options, here are two more gaming PCs to consider...
How I tested the Dell XPS Desktop (8960)
Tested for five days, using it as my work and gaming PC
Besides putting it through real-world applications, our benchmarks team also ran it through our suite of benchmarks
Used games like Cyberpunk 2077, Hogwarts Legacy, Google Chrome, Lightroom and Photoshop on top of our usual benchmark apps
Whenever I'm testing a PC or a laptop, I typically use it for several days to a few weeks and utilizing it as my main work and gaming computer during that time. That's exactly what I did with the Dell XPS Desktop (8960), though I only used it for five days this time around.
Besides stress-testing it by putting it through real-world scenarios like playing Cyberpunk 2077 and Hogwarts Legacy on Ultra with DLSS and ray tracing on, I also used it for batch editing high-res images in Lightroom and Photoshop. Of course, our benchmarks team also ran it through our suite of benchmarks.
With years of extensive experience testing and reviewing computers, and as one of the Computing editors at TechRadar, I have all the right tools to determine whether or not a PC like this one is worth your time and money. You can trust me to put them through their paces and make the right recommendations.
First reviewed May 2023