The Sony Inzone Buds for PlayStation 5, mobile, and PC, are a seriously impressive pair of gaming earbuds that surpass the competition in several aspects. It's quite clear that Sony wanted its new gaming earbuds to be best-in-class, and there are many areas where it achieves as such.
It's absolutely nailed the design of the earbuds with premium build quality and intuitive on-board touch controls. But things get even better when it comes to the Inzone Buds' overall audio performance. Presenting richly detailed audio that's enhanced by a wide dynamic range and spatial audio support, they transcend being just ideal for casual music listening and are incredible for all media and games.
Performance in-game can vary, though, with a rather muddy register for audio on the lower end of the sound stage. Throw in an additional blemish when it comes to awkward Bluetooth connectivity and you'll find there are some frustrations to be had with the Inzone Buds. However, superb battery life does help to sweeten the deal here, and it's easy to place them among the best gaming earbuds you can buy today.
Price and availability
You can pick up the Sony Inzone buds right now for $199.99 / £179.99 / AU$249.95. That puts them in the same ballpark as the Apple AirPods 3 in terms of price range, and slightly more expensive than the PS5's Razer Hammerhead Hyperspeed gaming earbuds.
Design and features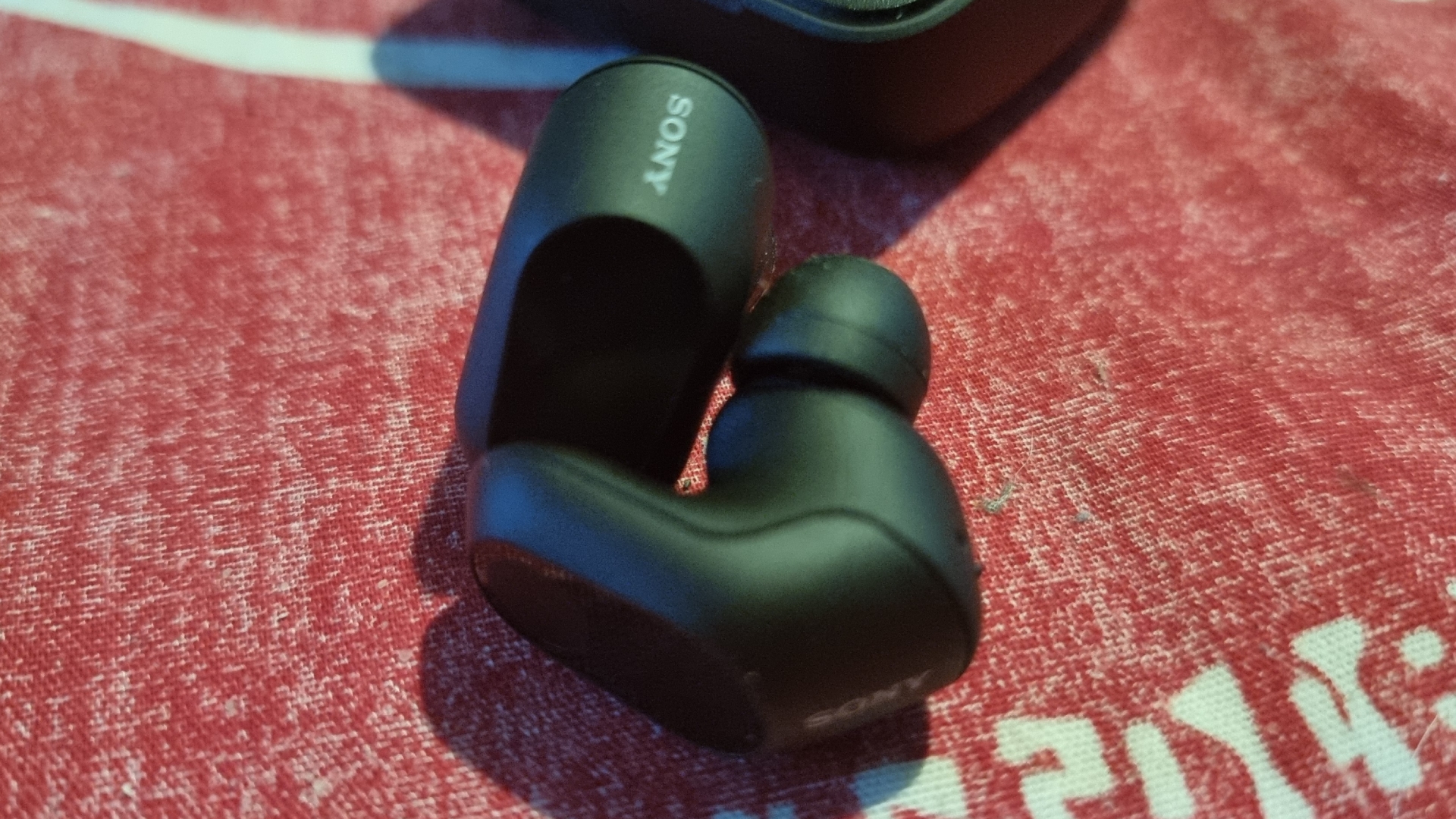 Out of the box, the Sony Inzone Buds come housed in a sturdy, but rather basic charging case. This features a pairing button, a USB-C port on the rear for charging, and a sole LED up front that handles signifiers for things like battery and pairing. Pop the magnetically-sealed case open to reveal the Inzone Buds themselves and the included USB-C 2.4GHz dongle slotted between them in a dedicated space. The package handily includes six additional tips of varying sizes and a USB-C cable for charging purposes.
The flat base of the carry case means it'll sit on any level surface easily. Though because the earbuds rest flat inside the case, it means it's got a rather wide build compared to the likes of the Turtle Beach Scout Air and Razer Hammerhead Hyperspeed. As a result, it's not really the most pocket-friendly carry case out there.
The Inzone Buds themselves are expertly crafted. Whether you opt for the white or black colorway, the simple yet classy design doesn't draw much attention, making the buds perfect for both indoor and outdoor use. I'm especially a fan of the contrast between the matte chassis and glossier material used for the on-board touch controls.
The ear-facing sides of the Inzone Buds are also handily marked with left and right ear designations. Lifting them out of the case and placing them in your ears, you'll hear brief but audible jingles letting you know they're switched on. A voice will also relay to you which mode the buds are currently in - either Bluetooth or USB transceiver.
One of the best things about the Sony Inzone Buds is their high level of comfort and non-slip design. During longer listening sessions, I never once felt I had to readjust the earbuds, nor did they ever run warm or begin to irritate my ears. This allowed for a sublimely unintrusive listening experience.
Lastly, the included USB-C dongle features a switch with two settings separating PS5 and mobile use from PC. A white LED on its base indicates it's turned on, and there's a handy reset button should you need to revert its settings back to the default USB transceiver option.
Performance and battery life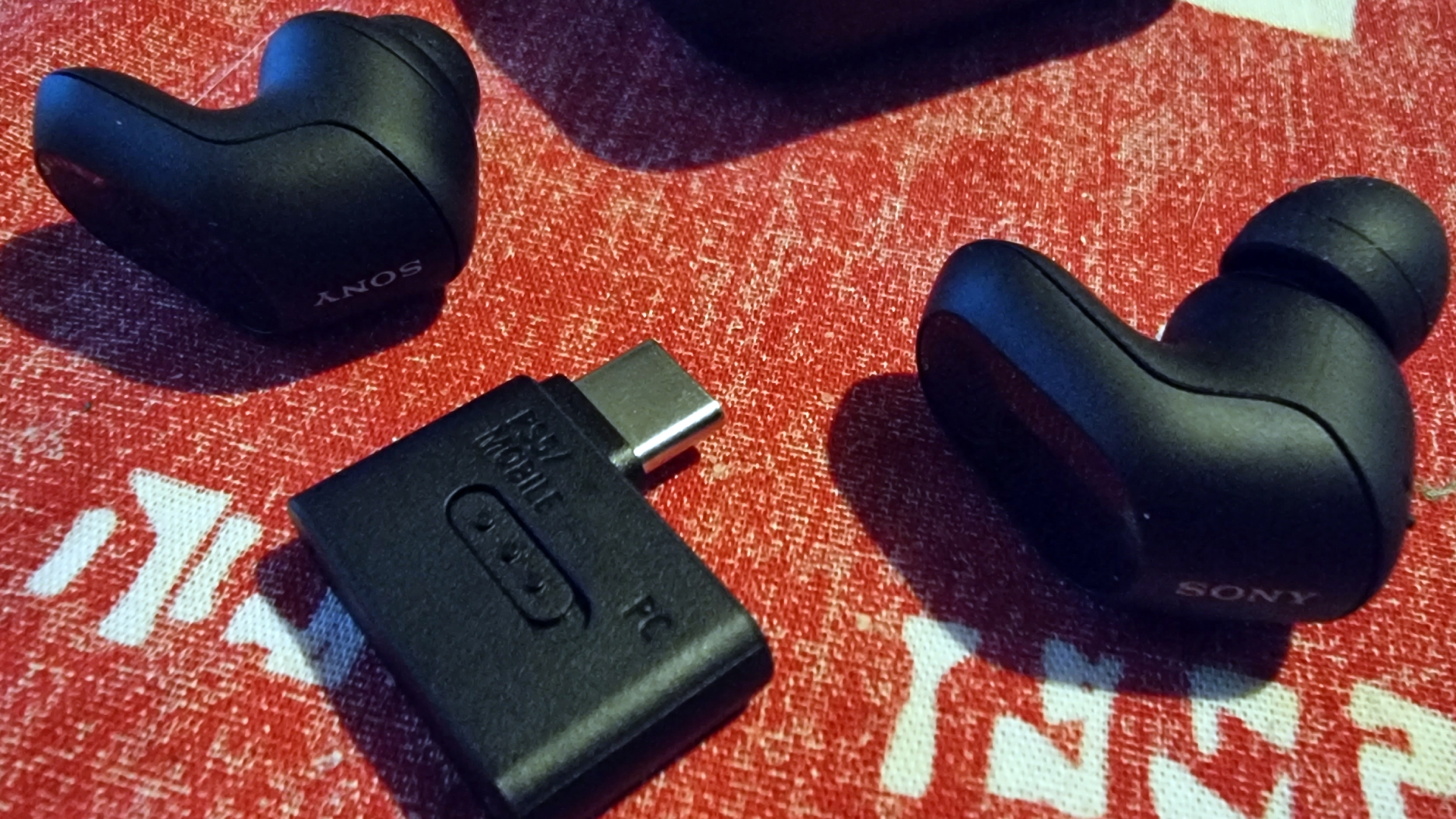 The Sony Inzone Buds provide a joyous listening experience. Music and vocals are rendered clearly and with rich detail. I found them to be especially nice for tracks led by electronic instruments or powerful vocal performances. Sonic Frontiers' EDM-laced Cyber Space levels sounded extra punchy, and in Final Fantasy 14 Online, Amanda Achen's impactful voice helped tracks like Flow and Return to Oblivion hit especially hard. That strong vocal register means the buds are similarly excellent for podcasts and audiobooks.
One area where the earbuds don't perform as well is in that lower profile. Bassier audio, or particularly loud sound effects, came across as fairly muddy and lacking in detail. It's by no means atrocious, but when playing Gran Turismo 7, I noticed that the low engine roars and tire screeching sounded noticeably lower quality. They're also not fantastic when several sound effects are occurring all at once. That's a common situation in Final Fantasy 14 Online, where there are weapon skill effects and character chatter happening constantly. In busier eight and 24-man raid content, it all registered as rather soupy.
On PS5, the Inzone buds are helped by support for 3D audio, be that Sony's own Tempest 3D or Dolby Atmos which was recently added to the current-gen console. While these modes did help to elevate the sound stage somewhat, it doesn't quite compare to the transformative effect offered by some of the best PS5 headsets or best wireless gaming headsets out there like the SteelSeries Arctis 9 or the Sony Inzone H9.
The spatial audio experience is improved somewhat on PC, as here's where you can download the Inzone Hub app for a greater degree of customization. There's a rather irksome setup process here, though, as you'll need to physically take pictures of your ear for the software to generate an audio profile that suits you best. The effort involved, sadly, isn't really worth it, as again the spatial audio provided isn't as rich or dynamic as you'd get on a traditional gaming headset with larger drivers.
There is also some frustration to be had with the Inzone Buds' approach to Bluetooth connectivity. While they paired just fine on my Android phone, my Nintendo Switch OLED wasn't able to recognize them at all. You won't be able to hook them up to an iOS device via Bluetooth, either. Once in Bluetooth mode, the right bud simply refused to switch back to USB transceiver mode, too, even when unpairing them from my phone and slotting in the USB-C dongle. A hard reset via the bottom switch of the dongle was required here. That fixed the problem but was an annoyance nonetheless.
The buds have a built-in microphone as well, and while it's fine for general phone calls, voice chat performance in games left something to be desired. My voice came across as fairly quiet, even when adjusting settings to compensate. They get the job done, for sure, but if you're getting caught up in the heated firefights of Fortnite or PUBG Battlegrounds, you may wish to swap out for a more traditional gaming headset for more reliable communication.
Thankfully, the Inzone Buds greatly impress when it comes to battery life. Offering a huge 12 hours of battery life on a single charge through 2.4GHz connection (and roughly 24 via Bluetooth), there'll be more than enough battery there for most users in a single day. The charging case also provides an additional 24 hours of battery before needing to be juiced up.
Should I buy the Sony Inzone Buds?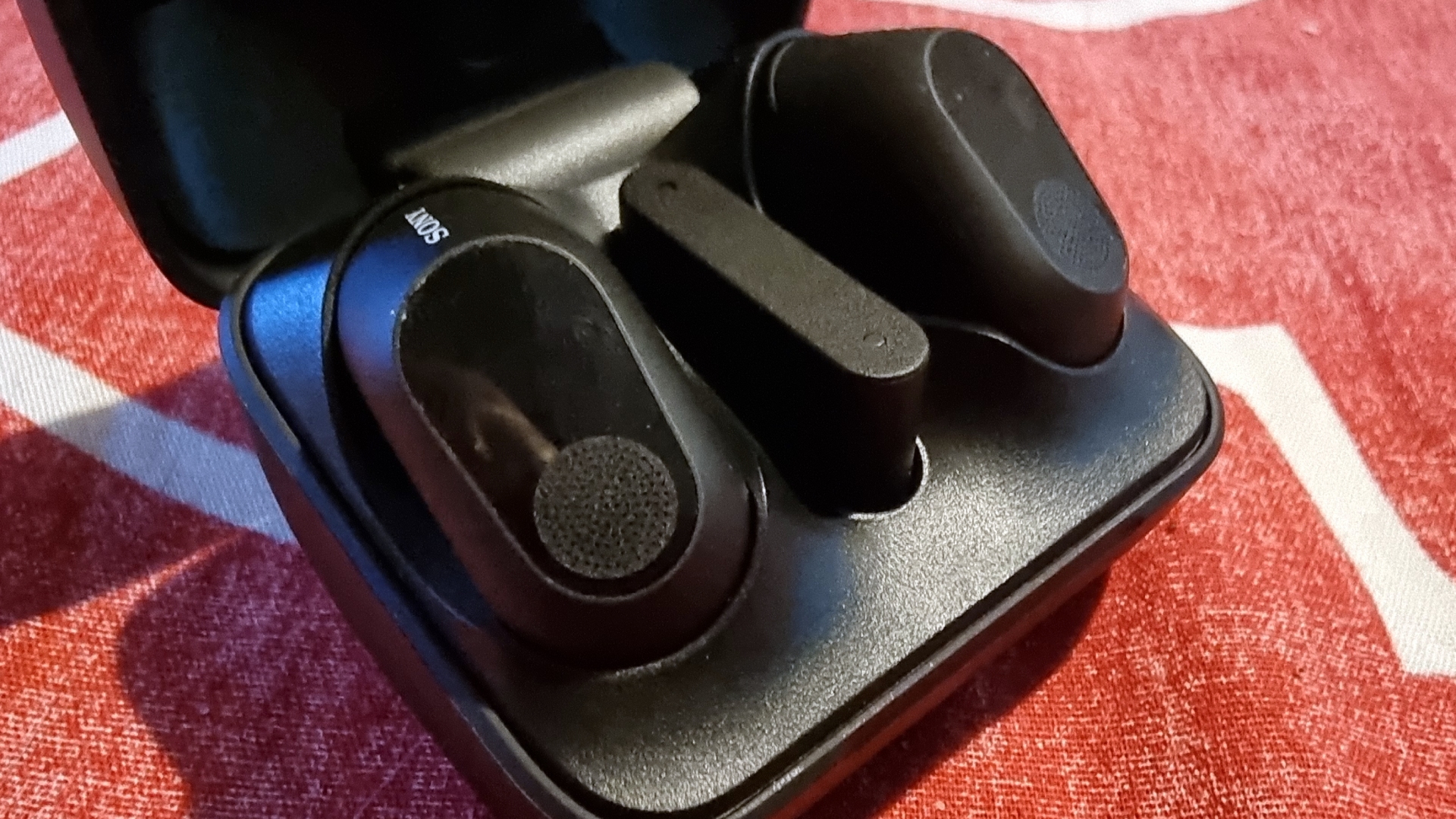 The Sony Inzone buds are easily some of the best gaming earbuds out there right now. With impressive audio in spite of those muddy lows, and superb noise canceling and battery life, they're absolutely worth the price of admission. While I do wish they had better spatial audio performance and a more consistent Bluetooth performance, they are overall a step up from most gaming earbuds on the market today. 
Buy them if...
Don't buy them if...
How we reviewed the Sony Inzone Buds
I tested the Sony Inzone Buds over the course of about a week, switching frequently between PS5, mobile, and PC use. As a versatile set of buds, it was important to get a feel for musical performance as well as how they handle gaming audio. As a result, much time was spent in games with excellent sound design, such as Gran Turismo 7, Control, Demon's Souls and Final Fantasy 14 Online.
Prefer a headset over earbuds? Be sure to take a look at our best Xbox Series X headsets guide, as well as our more general look at the best wired gaming headsets.